Nebraska Football: 4 Improvements the Secondary Must Make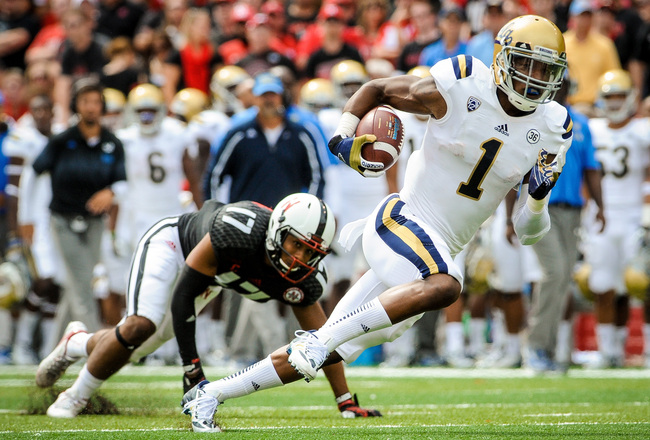 Eric Francis/Getty Images
Nebraska football fans were hoping that the defensive improvements between the Wyoming and Southern Mississippi games were signs of life for the Blackshirts. But they knew that given the quality of opponent the truth would not be known until Nebraska faced UCLA.
For a half, Nebraska looked like the Blackshirts of old (even while wearing actual black shirts). But in the second half, the same problems cropped up, and the same ugly loss got put on the season recap sheet.
So what has to happen? How do things get better?
Here are four things the secondary needs to work on.
Diagnose Play Action Better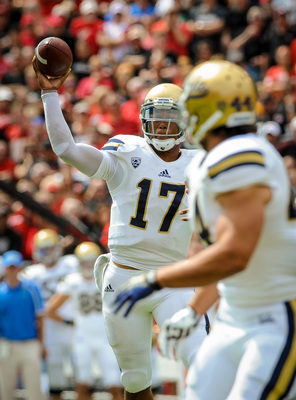 Eric Francis/Getty Images
Boy, that first half against UCLA was great, wasn't it?
Nebraska was shutting down UCLA's rushing attack, getting pressure on quarterback Brett Hundley, and putting the Bruins' offense into neutral. I guess Bo Pelini really hadn't forgotten how to coach defense, had he?
Oh, yeah, the second half. Specifically, the third quarter, where UCLA scored 28 points and racked up 236 yards of offense. That was problematic.
It's simplistic, of course, to think there was one thing that changed everything for UCLA. But the Bruins did come out in the second half and more effectively use play action to freeze the defense and get receivers open.
Nebraska's entire defense, including the secondary (and particularly the safeties) will need to do better when presented with that in the future.
Tackle in Space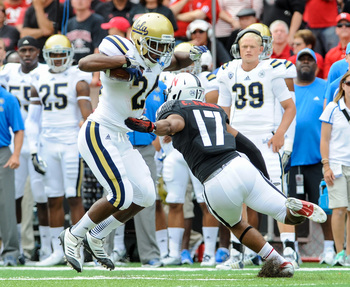 Eric Francis/Getty Images
I know, you've heard this before. But it remains true, and it is a huge issue for Nebraska's defense.
Teams run spread offenses, with four and five wide receiver sets, to stretch an opposing defense. The ball is intended to get to a playmaker in space, make a defender miss and take advantage of the holes created by the stretched-thin defense.
And that's still an issue, as observed by Jon Nyatawa of the Omaha World-Herald: "Jean-Baptiste missed an open-field tackle that led to a 33-yard play Saturday. Evans missed key tackles on two plays of 30-plus yards as well."
Just because it's a common refrain doesn't mean the advice is wrong. If Nebraska's defense is going to improve, the secondary must do a better job of tackling in space.
Create More Turnovers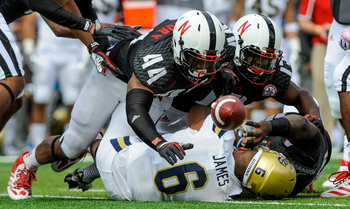 Eric Francis/Getty Images
Against Wyoming, Nebraska got two turnovers, both on high-risk (which is a polite way to say foolish) play calls from the Cowboys. Nebraska held on to win 37-34.
Against UCLA, Nebraska got one turnover. Nebraska lost 41-21.
Against Southern Mississippi, Nebraska got four turnovers, converting two for scores. Nebraska won 56-13.
Yes, it's simplistic to say that getting more turnovers will lead to better results. With all due respect, duh. And yes, turnovers are in some ways the result of success in other areas of a defense, such as an effective pass rush or forcing an offense into obvious passing situations.
But just because something is obvious doesn't mean it is not accurate. And if Nebraska's secondary can find a way—any way—to generate more turnovers, their defense will be much more effective.
Exorcise the Ghosts
Bruce Thorson-USA TODAY Sports
Of all the areas bedeviling the Blackshirts, this one is the most puzzling. Take a look at these post-game quotes from Nebraska coaches, from Jon Nyatawa of the Omaha World-Herald:
"It looked like they'd seen a ghost," said head coach Bo Pelini about the reaction of his team to UCLA's rally.
"We let the avalanche continue. We helped the avalanche. We might have started it," said offensive coordinator Tim Beck.
"I get the feeling, at times, that our guys — instead of playing to win — they're playing not to lose," Pelini said. "That's the wrong way to go about it. I'd like to see our football team turn it loose and have fun. And, I don't know. It's like they — I don't know."
It's strange to see a team that got to the Big Ten title game last year on the strength of late-game comebacks would have such mental fragility to not respond to adversity.
Nebraska has a bit of a soft landing in the next four games, facing an FCS foe and three B1G conference opponents that won a total of five conference games in 2012. Whether those games will present the type of adversity that would raise the specters of doubt haunting Nebraska remains to be seen.
But Nebraska will face adversity, and those ghosts will return to NU's sidelines.
If the secondary—which has the most experience of any Nebraska defensive unit—is not able to dispel those ghosts, NU's struggles will continue.
If you'd like to contact Patrick, send an email to patrickrunge@gmail.com.
Or, you could always use the Twitter machine to follow @patrickrunge.
Keep Reading

Nebraska Huskers Football: Like this team?