Sebastian Vettel Must Leave Red Bull to Convince Fans He's an F1 Great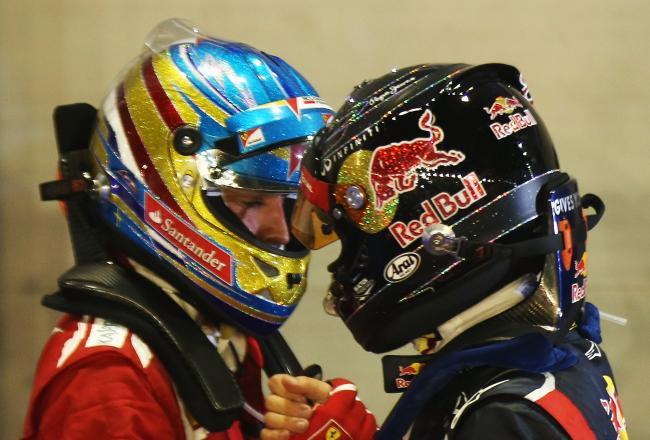 Will Vettel go head-to-head against Alonso at Ferrari in 2016?
Mark Thompson/Getty Images
There are only nine drivers in the history of the great sport of Formula One to have won three world drivers' titles or more.
They are Juan Manuel Fangio, Jack Brabham, Jackie Stewart, Niki Lauda, Nelson Piquet, Alain Prost, Ayrton Senna, Michael Schumacher and now Sebastian Vettel.
Each and every one of them will go down as a legend of the sport. With Vettel poised to win his fourth world title on the bounce, he may even have his sights set on surpassing his famous compatriot's total of seven championships.
Does Sebastian Vettel need to win a world title with another team to be regarded as one of the greatest?
Vettel, of course, has won all of his titles driving arguably the quickest car in the field. Adrian Newey's Red Bull chariots have taken the field by storm since the 2010 season and bar a stiff challenge in his maiden championship year he has never been seriously tested.
It's one of the reasons why Red Bull teammate Mark Webber expects Vettel to up sticks to Ferrari in two years time when Kimi Raikkonen's contract ends.
"For lots of reasons Ferrari need to be winning again in Formula 1," Webber told Sky Sports F1. "Two years for probably both of them actually I think. And then what they do after that obviously [is] pick Seb up off the back of Red Bull and they keep moving from there. But it's a very short-term aggressive statement from Ferrari to put the team at the front."
To go down as the greatest driver of all time, Vettel knows he will have to prove he can win the title by moving to another team as the doubters are still out there.
Michael Schumacher won his first two titles for Benetton when Williams was arguably the better car before working tooth and nail to turn Ferrari's fortunes around.
In fact, all of the sport's three-time world champions with the exception of Senna have won titles for different teams and some of them arguably against opposition driving stronger machines. Senna, of course, had to win once against an exceptional teammate and once in a McLaren that was at best the equal of Mansell's Williams FW14 for his last title.
All of Vettel's titles have come driving against the same teammate. Whilst Webber is certainly a fine driver in his own right, there is no question that he isn't quite in the league of Alonso or Lewis Hamilton.
Vettel is a keen student of the history of his great sport and whilst he sportingly laughs off the now customary podium boo boys, it's obvious that he doesn't like playing the role of the pantomime villain and wants to be a popular and successful champion.
Should Webber have forecast things correctly, it would mean a showdown with Alonso at Ferrari in 2016. The two best drivers on the grid driving the same car.
Then we'd really see who the greatest driver on the grid really is.
This article is
What is the duplicate article?
Why is this article offensive?
Where is this article plagiarized from?
Why is this article poorly edited?