Tour Championship 2013 Leaderboard Day 1: Scores, Standings and Results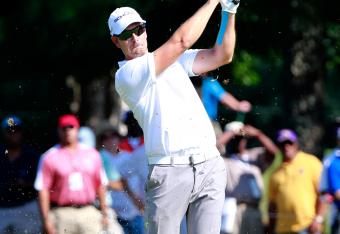 Sam Greenwood/Getty Images
The opening round of the Tour Championship is in the books and it's no surprise to see red-hot Henrik Stenson in the lead with a six under par 64.
However, his playing partner did not fare as well. Even though Tiger Woods went into the crowning event of the 2013 golf season with the No. 1 FedEx playoff rating, he struggled from start to finish and shot a three-over 73.
Tiger didn't make a single birdie in the round, the first time since the 2010 U.S. Open he has failed to do that.
Stenson has a one-shot lead over Adam Scott, who got hot on the back nine and shot a 65. Billy Horschel and Steve Stricker are two strokes back.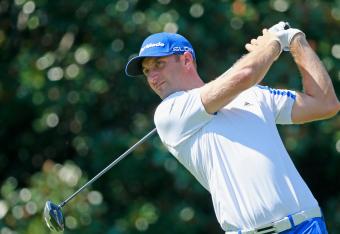 Dustin Johnson had the longest drive of the day at 355 yards. However, Adam Scott ended up leading the field in average driving distance with a mark of 325.7 yards.
Billy Horschel hit 94.4 percent of his greens in regulation to lead the field in that category, while Stenson and Scott led the way in putting as they each averaged 1.571 putts per hole.
That's just the seventh time in his professional career that .@TigerWoods has played a round without a birdie. It was his 1,121 round.

— Steve DiMeglio (@Steve_DiMeglio) September 19, 2013
Tiger had a 63-foot putt on the 18th hole for what would have been his first birdie of the day. He made a great run at it, but nobody makes a 63-footer and he has to settle for his par.
Meanwhile, Stenson makes his birdie and had the lead alone at six under par.
Great round for Stenson as he was all over the flagstick at the start and the finish and he is in an excellent position to make a run at the Tour Championship if he can continue with his hot play.
Stenson is ready to close it out in style. His tee shot on the par 3 18th is two feet from the flag. He'll have a kick-in birdie to close the round at six under par.
Scott with a great birdie run at the 18 for the lead, but it rimmed out. He settles for the par and he close with a five under par 65 and is tied for the lead.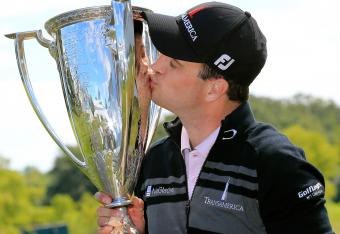 Zach Johnson burns the edge of a long birdie putt on 17 and stares at the hole. "How dare you?" That's the expression wears regularly whenever he misses a putt.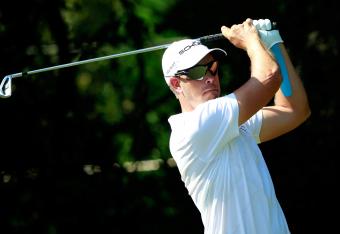 Stenson misses that par putt and it's his first bogey of the day. He heads to the 17th tied with Scott at five-under. Stenson has quite a temper himself—so much for placid Swedes—and he could be getting ready to explode.
Well, not just yet. But he can't be happy with his play on the 16th.
Correction. Stenson's ball did not go into the bunker. It stayed just on the outside edge and he was left with an awkward stance and hit his next shot about 12 feet past the pin. He'll need that putt to avoid his first bogey.
Stenson with some trouble on the 16th as he drives the ball into the right rough and it comes to rest on a tree root. That's not a good thing when you have a sore wrist and Stenson looked at the shot with quite a bit of trepidation.
He picked it fairly clean and did not appear to hurt his wrist. However, the shot went left and he is in a greenside bunker.
It has been a long time since Tiger went a full competitive round without a birdie.
Tiger still only player without a birdie on the scorecard today. Last time he went entire round without one: 2010 U.S. Open, Rd. 1. #pgatour

— Brian Wacker (@pgatour_brianw) September 19, 2013
By the way, Stricker made his birdie putt to get to four under, but Stenson ended his string of pars with a birdie on the 15th to get to six-under. Meanwhile, Scott continue his charge with a birdie on the 16th to get to five-under.
It's quite a horse race in the opening round, but still no birdies from Tiger.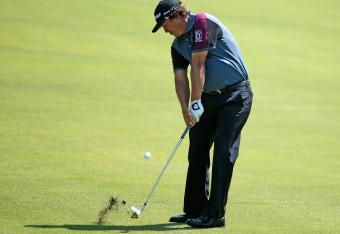 PGA Champion Jason Dufner had an awful time of it today, shooting a four over par 74. He is alone in last place, but Tiger is still on the golf course and he could have company.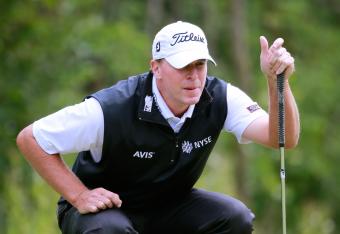 Steve Stricker is right there as well. He has great touch with his iron shot at 16, and lands it softly on the green and rolls it to within eight feet of the hole. If he makes his birdie putt, he'll be at four-under and just one stroke behind Stenson. Stricker looked quite pleased with himself after that near-perfect shot.
Jim Furyk with a long par putt on 18 and he drains it to the bottom of the jar. However, he closes the day at one over par.
The sad truth for Tiger. He still hasn't had a birdie and he just bogeyed the 14th to go to three over par.
Great word. Awful leaderboard position. RT @_Adrien_99: @GCTigerTracker penultimate...

— GC Tiger Tracker (@GCTigerTracker) September 19, 2013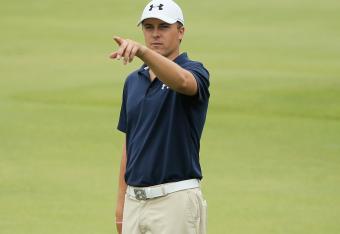 Superb youngster Jordan Spieth did not play his best round today, but he still closed with a two under par 68. Spieth's putting saved him today. He averaged 1.583 putts per hole, ranking third in the first round.
One of the Golf Channel analysts just called Scott one of the "chic" picks of the week, as if he was a hot fashion trend. Scott just birdied the 14th to go to four-under. He's not a "chic" pick, he just may be the best golfer out there after winning the Masters and The Barclays this year.
DeLaet bogeys the 14th hole and then finds himself with a tough bunker shot on 15. He usually struggles from the beach, but this time he gets it to within six feet and makes his birdie to get him back to four-under. After the putt, I didn't notice if he gave his playoff beard a tug or not.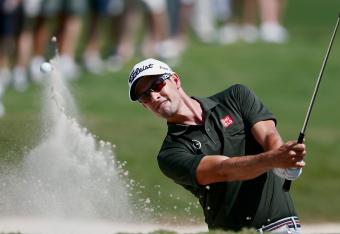 Adam Scott has started to get it in gear. He has birdied 10, 11 and 12 to get to two-under before settling for a par on the 476-yard, 13th hole. He's starting to strike the ball with authority and he could be ready to make a move.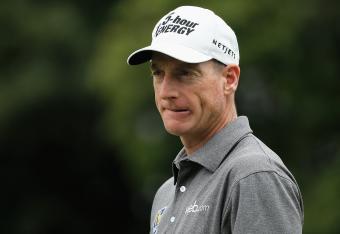 Jim "Mr. 59" Furyk does not have it in gear today. He's one over par with three holes left to play.
It just goes to show you can't bottle that success and take it with you the next week.
After playing the first seven holes in five-under, Stenson has parred five straight holes. He remains in the lead through 12 holes by one shot over Horschel and DeLaet, although DeLaet is in trouble on the 14th hole.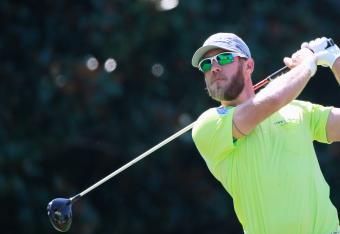 Graham DeLaet continues with his sharp play. The Canadian star is just one stroke behind Stenson at four-under, and his playoff beard remains intact.
DeLaet as grown a thick playoff beard as an homage to his hockey-playing homelanders.
Tiger has his share of supporters and his share of detractors.
Despite 10 million reasons to play well #Tiger doesn't have it today. +2, 7 shots behind his playing partner @henrikstenson thru 11 holes

— Robert Lusetich (@RobertLusetich) September 19, 2013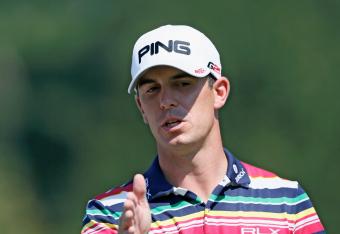 Billy Horschel was just interviewed on the Golf Channel, and his assessment of East Lake was that it's the kind of course you have to play from the fairway and not from the rough. He said that if you're not accurate, the course will punish the golfers. Horschel finished his first round at four-under and he is one stroke out of the lead.
This article is
What is the duplicate article?
Why is this article offensive?
Where is this article plagiarized from?
Why is this article poorly edited?