FC Barcelona: 5 Things Neymar Is Already Contributing to Barcelona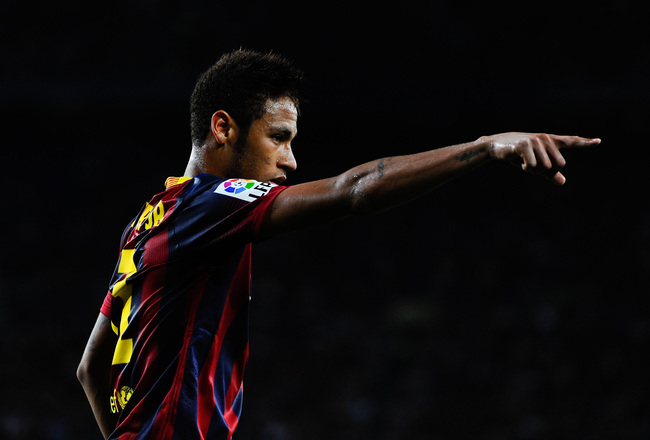 David Ramos/Getty Images
Neymar became one of the most talked about transfers this season when Barcelona purchased the Brazilian for €57 million.
Though the 21-year-old is not yet the goal scorer he was at Santos, he has been one of the most influential players for the Catalan club. Neymar is contributing in his own way thus far and has been very successful alongside Lionel Messi.
Neymar seems to have acclimated well to Barcelona's style of play and it is starting show. If he can begin to add goals to his tally this will be a very successful season for the Brazilian.
Continue reading as we now take a look at the five ways Neymar has already contributed at the Catalan club. And as always, feel free to have your say below!
Note that all statistics are courtesy of WhoScored.com
An Unquestioned Starter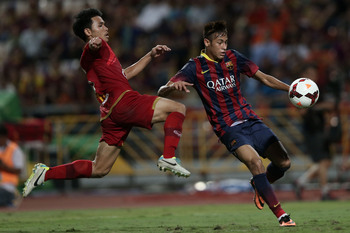 Chris McGrath/Getty Images
Last season Barcelona had a real issue to deal with as none of the wingers seemed to step up and earn a regular starting place.
Not having regular starters beside Lionel Messi caused confusion. It seemed as though the forwards spent the entire season learning how to play beside each other, which caused problems late in the season.
With Neymar that has completely changed.
The Brazilian is without question the starting left-winger for Barcelona and earns his place every match. He may have started the season coming off of the bench, but that won't be happening any more.
But Neymar has not merely given Barcelona a starter on the left wing. He has given the forwards stability. Knowing who will regularly start gives a team cohesion, and Neymar is quickly building familiarity between himself and his teammates.
Spacing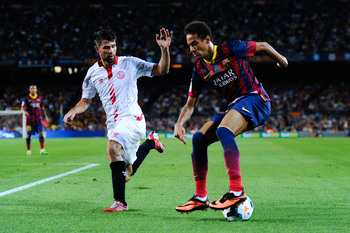 David Ramos/Getty Images
Every time Neymar steps on the pitch there is always added spacing. The Brazilian knows how to get the ball out wide and pull defenders out further than they would like to be.
In the last few seasons, Barcelona has struggled against teams that sit back and park the bus. Spacing was always needed to beat a packed defense, but there was never anyone who could really force spacing.
Neymar's ability to play on the touchline is already creating holes for Andres Iniesta, Jordi Alba and others, which has paid dividends already this season.
Combine Neymar's spacing with manager Tata Martino's love for working the ball vertically and you have a recipe to beat a parked bus.
Neymar will not beat heavy defending by himself, but what he offers allows Barcelona to have more options as a team and opens up passing lanes that can be exploited. As long as Neymar can continue to draw defenders out of position, there will always be chances for Barcelona.
Defending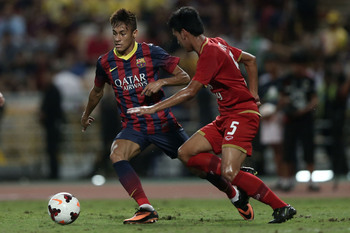 Chris McGrath/Getty Images
If you watched Neymar during his time at Santos you would rarely see the young Brazilian contribute to the defensive side of the game. But that has changed drastically.
In his recent matches against Ajax and Sevilla, Neymar tracked back constantly and could often be seen around his own box winning the ball back.
No one was really expecting the 21-year-old to do much on the defensive side of things. But what he has done already is more than a pleasant surprise.
Neymar gives cover to the left-back and midfielders and is playing as part of the team. His work rate has been outstanding and luckily his ability going forward has not suffered one bit.
The Brazilian knew when he joined Barcelona that he would have to work hard. It seems as though he accepted that fact without any reservations as he has been one of the hardest working players on the pitch in every match he has played for La Blaugrana.
Creativity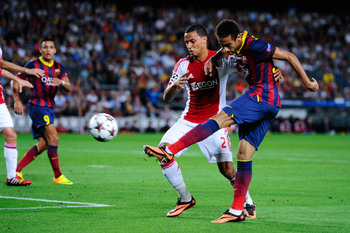 David Ramos/Getty Images
Neymar was purchased to provide a second scoring option for Barcelona and command the attention of opposing defenders. Though the Brazilian was also a capable creator at Santos, no one really expected him to be as creative at Barcelona as he has been.
The 21-year-old has already given two assists in La Liga and one assist in his first ever match in the Champions League.
His ability to create chances from the wing and cross the ball into the box has become a dangerous weapon for Barcelona, and opponents have yet to figure out how to stop the Brazilian.
Neymar's creativity stems from the fact that he is not looking to do more than he is able to.
When Neymar has the ball, defenders focus on him trying to make sure he cannot have a chance on goal. But what their focus also does is free up other players to run into space. Neymar has recognized this and is looking to capitalize whenever possible.
It may only be a month into the new season, but Neymar is providing exactly what Barcelona needed. He is playing well, creating chances, working hard and isn't trying to do too much. So far, the Brazilian has been very successful.
A Worthy Partner for Lionel Messi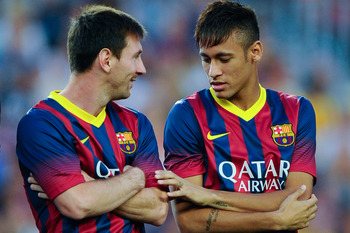 David Ramos/Getty Images
Above anything else, Neymar has finally given Lionel Messi the partner he deserves.
Neymar seems to realize that his role is to help Messi lead Barcelona. He does not overstep his bounds and is always looking for ways to link up with his Argentine counterpart.
Whether it is creating space for Messi, drawing the attention of defenders or setting up chances, Neymar is doing it all. Messi is already reaping the rewards of having someone like Neymar beside him and the partnership is quickly blossoming into something beautiful.
With Messi and Neymar working together, opponents really don't stand a chance.
It is impossible to give the proper defensive attention to both Messi and Neymar. They are able to create chances as well as score brilliant goals, and the season has only just begun.
Early on it appeared as though Neymar was trying to help Messi too much and refused to attack opponents. Against Ajax that seemed to change, though, as Neymar was much more direct.
The more matches he plays the more Neymar will learn how to attack in the Barcelona system without taking away from his teammates.
Expect Neymar to continue to become a terrific partner for Messi while also blossoming into his own important role apart from the Argentine. Neymar may not be scoring tons of goals for Barcelona, but it is safe to say that he has already arrived.
What has Neymar given to Barcelona? Will he continue to be successful beside Lionel Messi? Leave your thoughts and comments below!
Tre' Atkinson. Follow me on Twitter for more discussions on Barcelona and all Spanish football!
Keep Reading

FC Barcelona: Like this team?