UFC Rankings for Each Weight Division Following UFC 165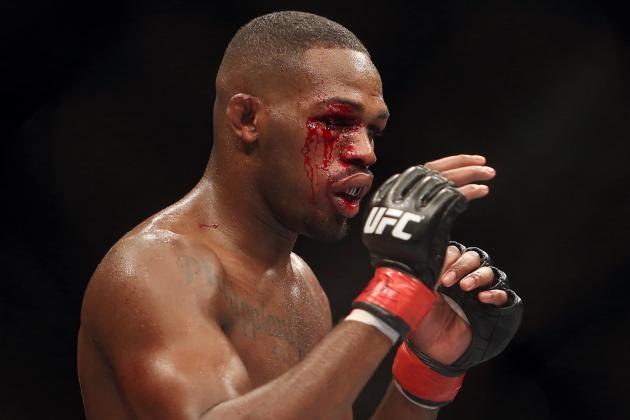 Tom Szczerbowski-USA TODAY Sport

Dominant light heavyweight champion Jon Jones was humanized and hospitalized at UFC 165, but he still found a way to win against Alexander Gustafsson.
Gustafsson bloodied Jones early and shut down the titleholder's usually unstoppable wrestling. However, Jones kept his composure and really turned the momentum with a spinning elbow in the fourth round. Clear edges in the fourth and fifth stanzas were enough to earn Jones his record-breaking sixth straight 205-pound title defense.
While Jones displayed new championship characteristics on Saturday, he lost some of his aura of invincibility. Did a show of vulnerability cost Jones his spot atop the pound-for-pound rankings?
With UFC 165 in the book and UFC Fight Night 29 ahead, here are the latest official UFC rankings.
Begin Slideshow

»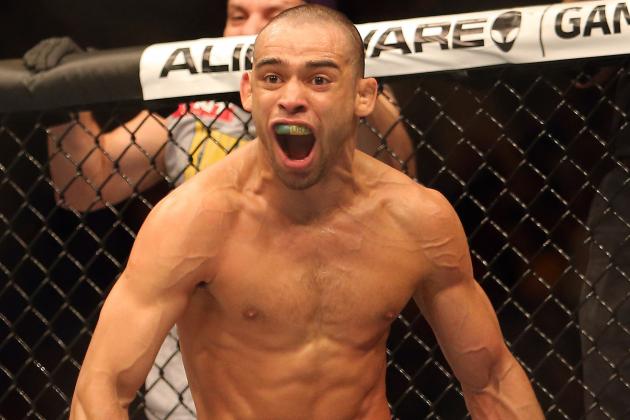 Tom Szczerbowski-USA TODAY Sport

Jon Jones received a scare at UFC 165, but he held onto his No. 1 position in the pound-for-pound rankings by rallying in the championship rounds.
Although Jones stayed put, some changes were made to the pound-for-pound rankings.
With a second defense of his interim bantamweight championship, Renan Barao inched closer to the top five by knocking out Eddie Wineland. If Barao meets Dominick Cruz in a title-merging fight, he should have a chance to break through and become recognized as one of the five best fighters in the world.
Also, Jose Aldo surpassed former middleweight champion Anderson Silva in an adjustment unrelated to the fights that took place over the weekend.
Official UFC Pound-for-Pound Rankings
Jon Jones

Georges St-Pierre
Jose Aldo (+1)
Anderson Silva (-1)
Cain Velasquez
Renan Barao (+1)
Demetrious Johnson (-1)
Anthony Pettis
Chris Weidman
Benson Henderson
UFC 165 Pound-for-Pound Fights
No. 1 Jon Jones defeated Alexander Gustafsson by decision.
No. 6 Renan Barao defeated Eddie Wineland by knockout in the second round.
UFC Fight Night 29 Pound-for-Pound Fights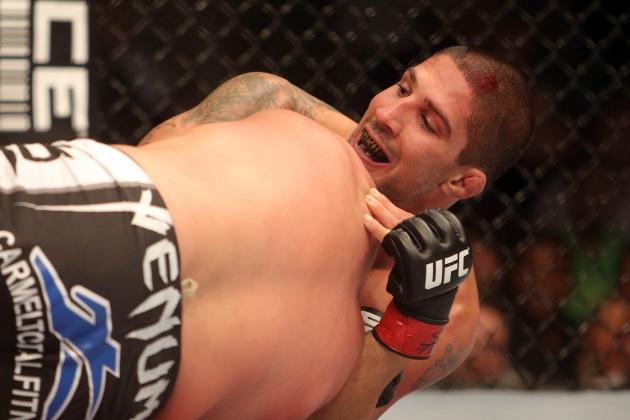 Tom Szczerbowski-USA TODAY Sport

Brendan Schaub silenced his critics on Saturday, submitting Matt Mitrione after taking a bunch of heat for his conservative grappling.
While he has now won back-to-back fights, Schaub is still a few victories away from the top 10, as is fellow UFC 165 heavyweight winner Daniel Omielanczuk. However, one change was made to the heavyweight rankings.
Less than two months ahead of his UFC 167 meeting with the former Strikeforce champion, Frank Mir moved ahead of Alistair Overeem. Mir and Overeem will have a chance to prove which fighter is superior on Nov. 16 in Las Vegas.
Official UFC Heavyweight Rankings
Champion: Cain Velasquez
Junior dos Santos
Daniel Cormier
Fabricio Werdum
Antonio Silva
Travis Browne
Josh Barnett
Frank Mir (+1)
Alistair Overeem (-1)
Roy Nelson

Stipe Miocic
UFC 165 Heavyweight Fights
Brendan Schaub defeated Matt Mitrione by submission in the first round.
Daniel Omielanczuk defeated Nandor Guelmino by knockout in the third round.
UFC Fight Night 29 Heavyweight Fights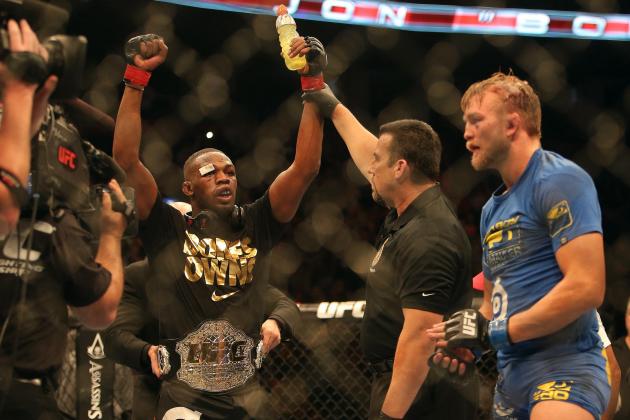 Tom Szczerbowski-USA TODAY Sport

The light heavyweight division became much more interesting with the result of Saturday's main event between Jon Jones and Alexander Gustafsson.
With Gustafsson still considered the No. 1 contender at 205 pounds, a rematch seems likely. Although Jones and Gustafsson remained in the top spots in the light heavyweight rankings, some changes were made to the division's ladder.
Another Jones rival, Rashad Evans, moved closer to the top by surpassing Lyoto Machida, who has begun to slide downward as a result of his move to the middleweight division. Evans' UFC 167 opponent, Chael Sonnen, also rose on the heels of his submission win over Mauricio Rua.
UFC Fight Night 29 will see two light heavyweight bouts. Veterans Thiago Silva and Matt Hamill will meet on the main card following a fight between fellow 205-pounders Fabio Maldonado and Joey Beltran.
Official UFC Light Heavyweight Rankings
Champion: Jon Jones
Alexander Gustafsson
Glover Teixeira
Phil Davis
Rashad Evans (+1)
Lyoto Machida (-1)
Antonio Rogerio Nogueira
Dan Henderson
Chael Sonnen (+1)
Gegard Mousasi (-1)
Mauricio Rua
UFC 165 Light Heavyweight Fights
(C) Jon Jones defeated No. 1 Alexander Gustafsson by decision.
UFC Fight Night 29 Light Heavyweight Fights
Thiago Silva vs. Matt Hamill
Fabio Maldonado vs. Joey Beltran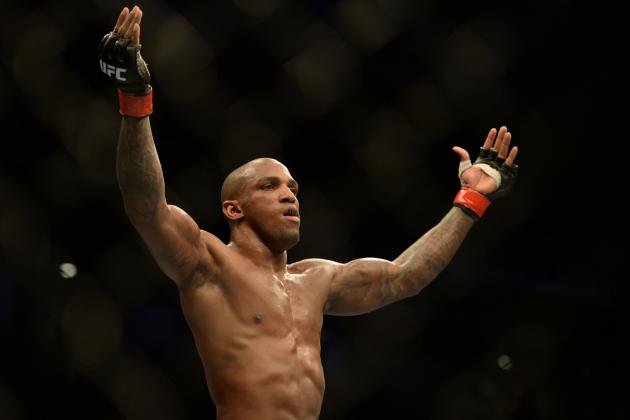 Kyle Terada-USA TODAY Sports

Francis Carmont became the newest addition to the middleweight top 10 with an upset victory over Costa Philippou on Saturday.
A teammate of welterweight champion Georges St-Pierre, Carmont used wrestling to shake up the lower portion of the middleweight division's top-10 rankings. Carmont's victory bumped Philippou down two pegs and bounced Tim Boetsch from the top 10 altogether.
While he's booked for another fight at light heavyweight, Chael Sonnen continues to cling onto a spot among the top-10 middleweights. Sonnen has not fought at 185 pounds in over a year, but he'd be a serious contender upon his potential return.
Official UFC Middleweight Rankings
Champion: Chris Weidman
Anderson Silva
Vitor Belfort
Ronaldo Souza
Michael Bisping
Mark Munoz
Yushin Okami
Luke Rockhold (+1)
Francis Carmont (NR)
Costa Philippou (-2)
Chael Sonnen (-1)
UFC 165 Middleweight Fights
No. 8 Francis Carmont defeated No. 9 Costa Philippou by decision.
UFC Fight Night 29 Middleweight Fights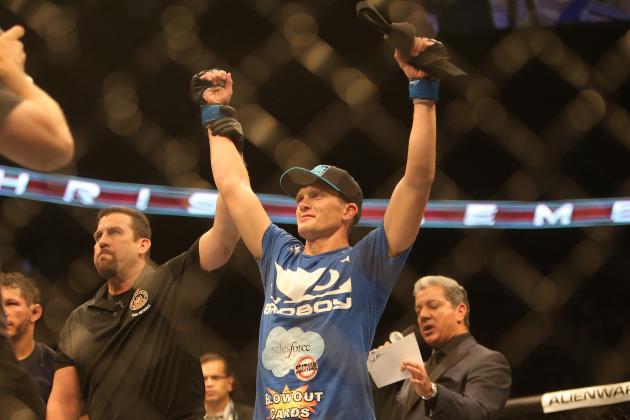 Tom Szczerbowski-USA TODAY Sport

Stephen Thompson impressed on Saturday, knocking out Chris Clements to record his second straight UFC win.
A victory over Clements isn't nearly enough to earn Thompson a spot among the top-10 UFC welterweights, though. With Thompson and Clements being the only 170-pounders to fight at UFC 165, that means no changes were made to the division's rankings.
Five welterweight bouts will be contested at UFC Fight Night 29, which will be a big event for the 170-pound division. Most notably, former middleweight Demian Maia will try to continue his momentum against fellow grappler Jake Shields.
Official UFC Welterweight Rankings
Champion: Georges St-Pierre
Johny Hendricks
Carlos Condit
Rory MacDonald
Demian Maia
Jake Ellenberger
Martin Kampmann
Nick Diaz
Robbie Lawler
Tarec Saffiedine
Matt Brown
UFC 165 Welterweight Fights
Stephen Thompson defeated Chris Clements by knockout in the second round.
UFC Fight Night 29 Welterweight Fights
No. 4 Demian Maia vs. Jake Shields
Erick Silva vs. Dong Hyun Kim
Rousimar Palhares vs. Mike Pierce
Ildemar Alcantara vs. Igor Araujo
Yan Cabral vs. David Mitchell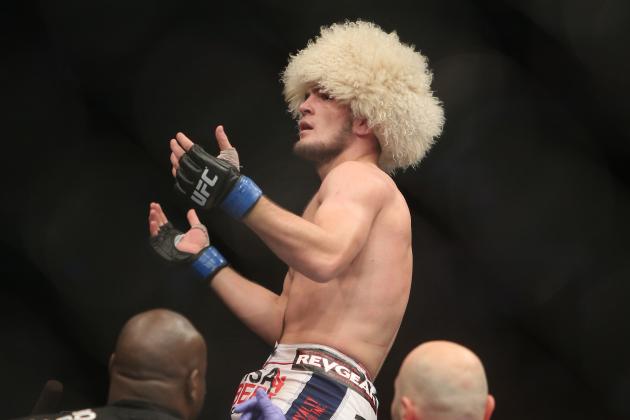 Tom Szczerbowski-USA TODAY Sport

It was only a matter of time, but Khabib Nurmagomedov is now a legitimate lightweight contender.
By beating Pat Healy, the Russian went from being unranked to sitting at No. 7 in the list of top 155-pound contenders fighting under the UFC banner. Healy, as a result, was bumped out of the top 10 to make room for Nurmagomedov.
Named the next title challenger, Josh Thomson also moved up in the lightweight rankings. Thomson will battle newly crowned 155-pound champ Anthony Pettis at UFC on Fox 9 in December.
At UFC Fight Night 29, two UFC newcomers, Alan Patrick and Garett Whiteley will be the only lightweights to step into the Octagon.
Official UFC Lightweight Rankings
Champion: Anthony Pettis
Benson Henderson
Gilbert Melendez
TJ Grant
Josh Thomson (+1)
Gray Maynard (-1)
Rafael dos Anjos
Khabib Nurmagomedov (NR)
Nate Diaz (-1)
Jim Miller (-1)
Donald Cerrone (-1)
UFC 165 Lightweight Fights
No. 7 Khabib Nurmagomedov defeated Pat Healy by decision.
Myles Jury defeated Mike Ricci by decision.
John Makdessi defeated Renee Forte by knockout in the first round.
Michel Prazeres defeated Jesse Ronson by decision.
UFC Fight Night 29 Lightweight Fights
Alan Patrick vs. Garett Whiteley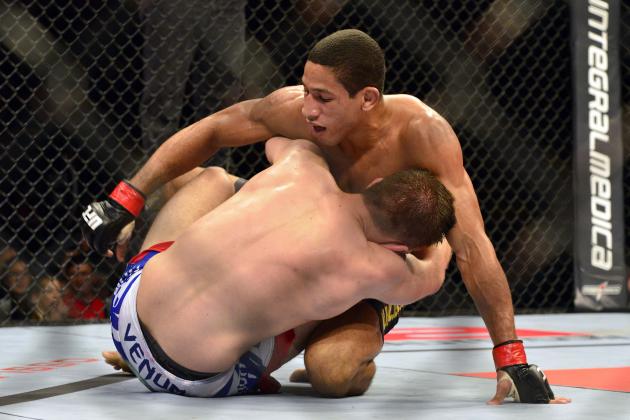 Jason da Silva-USA TODAY Sports

No featherweights competed at UFC 165.
As a result, no changes were made to the 145-pound rankings.
Coming off of his first UFC loss, the promising Hacran Dias will meet fellow Brazilian Rodrigo Damm at UFC Fight Night 29. In the past four years, Dias has only lost to No. 8 featherweight Nik Lentz, making the 29-year-old a potential future contender.
Official UFC Featherweight Rankings
Champion: Jose Aldo
Chad Mendes
Ricardo Lamas
Frankie Edgar
Cub Swanson
Chan Sung Jung
Dustin Poirier
Dennis Siver
Nik Lentz
Clay Guida
Erik Koch
UFC 165 Featherweight Fights
UFC Fight Night 29 Featherweight Fights
Rodrigo Damm vs. Hacran Dias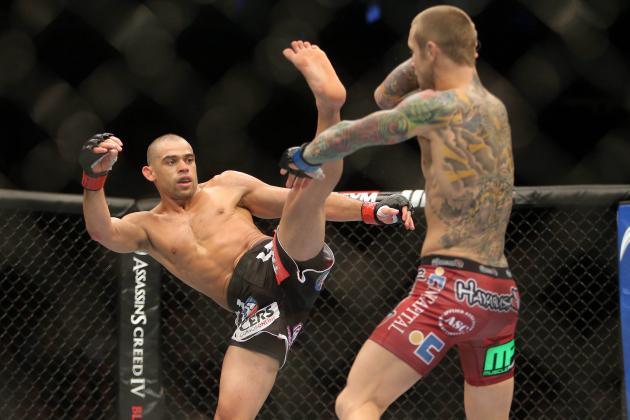 Tom Szczerbowski-USA TODAY Sport

Renan Barao likely set up a battle of the two best bantamweights in the world by beating Eddie Wineland. As long as Dominick Cruz is able to return in early 2014, Barao will likely have a shot to prove he is the undisputed 135-pound champion.
While Barao's victory over Wineland didn't cause any changes in the bantamweight rankings, Wilson Reis bounced Ivan Menjivar from the top 10 with a decision win at UFC 165.
At UFC Fight Night 29, Raphael Assuncao and TJ Dillashaw will meet in a bout that will push the winner very close to a shot at the bantamweight championship.
Official UFC Bantamweight Rankings
Champion: Dominick Cruz
Renan Barao (interim champion)
Urijah Faber
Michael McDonald
Eddie Wineland
Raphael Assuncao
Brad Pickett
Scott Jorgensen
Mike Easton
TJ Dillashaw
Takeya Mizugaki (NR)
UFC 165 Bantamweight Fights
(C) Renan Barao defeated No. 4 Eddie Wineland by knockout in the second round.
Wilson Reis defeated Ivan Menjivar by decision.
Mitch Gagnon defeated Dustin Kimura by submission in the first round.
Alex Caceres defeated Roland Delorme by decision.
UFC Fight Night 29 Bantamweight Fights
No. 5 Raphael Assuncao vs. No. 9 TJ Dillashaw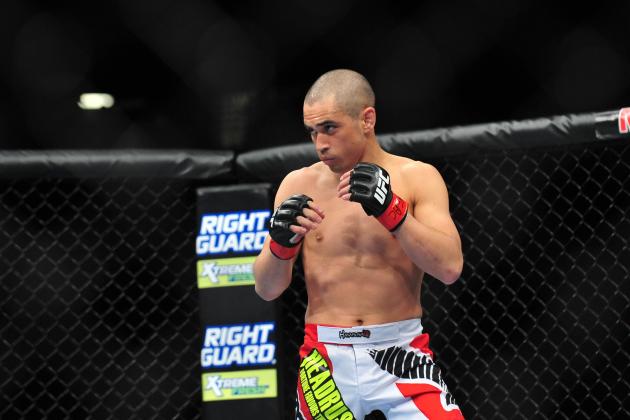 Gary A. Vasquez-USA TODAY Sports

No flyweights were on display at UFC 165.
However, the 125-pound division will return to action at UFC Fight Night 29.
Chris Cariaso will try to hold onto a spot in the top 10 against Iliarde Santos, who was defeated by Ian McCall after moving down to the flyweight division earlier in 2013.
Official UFC Flyweight Rankings
Champion: Demetrious Johnson
Joseph Benavidez
John Dodson
Ian McCall
John Moraga
John Lineker
Jussier Formiga
Tim Elliott
Chris Cariaso
Louis Gaudinot
Darren Uyenoyama
UFC 165 Flyweight Fights
UFC Fight Night 29 Flyweight Fights
No. 8 Chris Cariaso vs. Iliarde Santos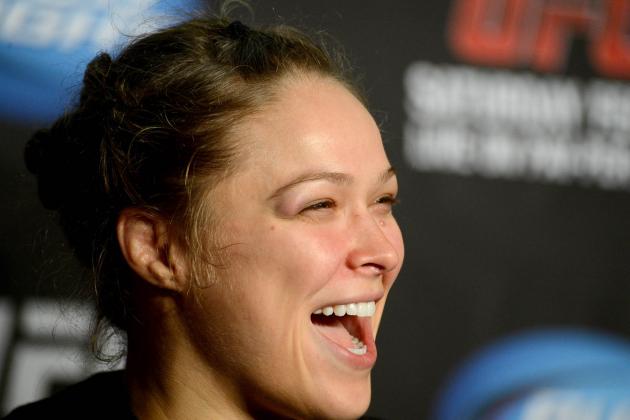 Jayne Kamin-Oncea-USA TODAY Sports

While several ladies battle for UFC roster spots on TUF 18, the women's bantamweight division will be on a hiatus.
Aside from the women competing under TUF coaches Ronda Rousey and Miesha Tate, no females will be seen inside the Octagon until a UFC 166 bout between Sarah Kaufman and Jessica Eye.
Later this year, though, Rousey and Tate will compete in a rematch that will likely be the biggest draw in the short history of the UFC women's bantamweight division.
Official UFC Women's Bantamweight Rankings
Champion: Ronda Rousey
Cat Zingano
Sarah Kaufman
Miesha Tate
Sara McMann
Liz Carmouche
Alexis Davis
Amanda Nunes
Germaine de Randamie
Julie Kedzie
Rosi Sexton
UFC 165 Women's Bantamweight Fights
UFC Fight Night 29 Women's Bantamweight Fights