Formula One's Latest Rumours and Talk: New Jersey Still Set for 2014 and More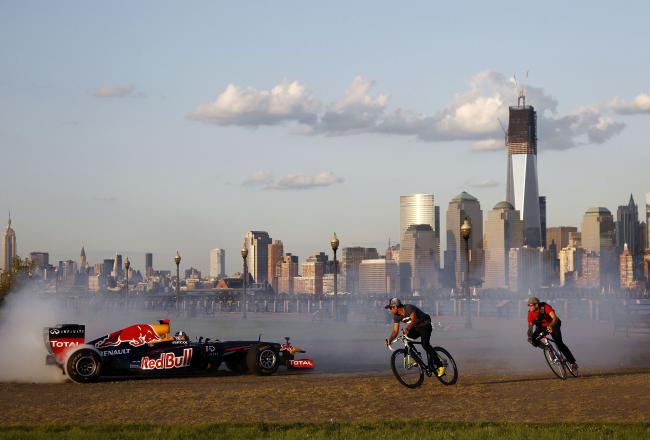 New Jersey plans to be ready for 2014 despite being left off the provisional calendar
Jeff Zelevansky/Getty Images
Despite there being a Grand Prix to occupy the minds of most F1 teams and fans alike this coming weekend, much paddock talk still focuses on what will happen in 2014.
Of particular interest is the new Ferrari driver lineup and how this will work, but some teams have still to finalise their pairings for next season.
Here then, is the juiciest gossip from the world of F1 over the past couple of days.
Ferrari 'Insane' to Hire Raikkonen
Are Ferrari 'insane' to hire Kimi Raikkonen?
While most observers see the partnership of Kimi Raikkonen and Fernando Alonso at the Ferrari team for the 2014 season as a mouth-watering prospect, one former world champion sees it another way.
Jacques Villeneuve, who won the world title with Williams in 1997, told German newspaper Bild as quoted on motorsport.com that the Finn will do nothing to aid the development of the team.
"Ferrari are completely insane. He can drive a car fast, but he can't work with the engineers, he can't develop the car, he won't go to sponsor appointments."
Former Ferrari driver Rene Arnoux actually thinks Raikkonen will be the quicker driver and that Alonso's fiery temperament may work against him as he told Italy's La Gazzetta dello Sport.
As far as character, I see Alonso's as the weaker. Remember him with Hamilton at McLaren? The peace was short lived, and while I am the first to hope I am wrong, for winning the constructors' title you need two very strong drivers and characters. But, of these two, one is angry and one doesn't care. Every Sunday there is the possibility that it explodes. Yes, as a neutral spectator, I like Ferrari's choice.
McLaren Set to Announce Driver Lineup
The McLaren team is set to announce its driver lineup for the 2014 season "soon" according to Sky Sports.
Jenson Button on McLaren contract talks & why Alonso "won't get it all his own way" with Kimi at Ferrari http://t.co/zCvmFjOP9d #skyf1

— Sky Sports F1 (@SkySportsF1) September 18, 2013
It is assumed that the team will stick with the current partnership of Jenson Button and Sergio Perez, although team managing director Jonathan Neale refused to disclose reasons for the delay.
I can't tell you when, but obviously it won't be too much further now when I hope we'll be able to clarify what's going on. Right at the moment we're focused on our preparations for this [Singapore GP] weekend, making sure that we wring every bit of learning out of the season and prepare well for next year.So that is our priority at the moment. That's not to say the drivers are a second priority, but when we have something to say we will let you know.
New Jersey Race Still On
Unfazed by being left off the provisional 2014 calendar, organisers of the New Jersey Grand Prix insist that there is still a strong possibility of the race going ahead.
The race was initially scheduled for next year, but missing payments and slow progress with the circuit's construction led to it being left off the calendar.
In an interview with PA Sport via ESPNF1, race organiser Leo Hindery says he fully expects the race to be on the official calendar when it is rubber-stamped later this month.
We never had any expectation of being on a preliminary schedule. But it took on a life of its own because so many of us are aspiring to be on the calendar that haven't been there before - ourselves, Russia, Mexico, and with Austria also returning. In our particular case we were told not to do anything but stick to the date of the September 20, which we intend to do. Bernie told us if we stayed consistent with the rules and applications then he would expect there to be a New Jersey race. Time-wise, we have done everything we have been told to do, and when to do it. The calendar decision will be made later this month, and although I can't guarantee anything, we fully expect to be on it.
This article is
What is the duplicate article?
Why is this article offensive?
Where is this article plagiarized from?
Why is this article poorly edited?