Deron Williams Injury: Updates on Nets Star's Ankle and Recovery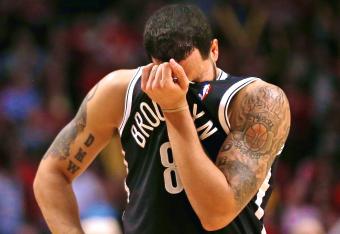 Brooklyn Nets point guard Deron Williams sprained his right ankle earlier this offseason, but it isn't considered serious.
The Associated Press, via NBA.com, has the news:
Deron Williams has a sprained right ankle and a bone bruise, but the Brooklyn Nets say their point guard will be ready for the start of training camp.

The Nets said Wednesday that Williams was hurt recently while working out in Utah and is wearing a walking boot. Brooklyn has its first practice Oct. 1 at Duke University.
The Nets indicated Williams will return vs. the Heat in the team's preseason finale.

According to ESPN.com's Mike Mazzeo, Williams has returned to practice:
Brooklyn Nets point guard Deron Williams, continuing to progress, practiced fully Thursday, a team spokesman confirmed.

It's the first time Williams has done so since suffering a sprained right ankle injury during an offseason workout in Utah.
Brian Lewis of the New York Post has an update on Deron Williams, who was unable to give a timeline for his return to the Nets:
"I appreciate your concern for my health. I really do. Thank you for that,'' Williams said while pedaling on a stationary bike, before playing in a Globetrotter-esque 5-on-0 portion of open practice at Barclays Center. He admitted full-contact is the next step for him, but he had no answers when that will come.

"I would definitely think you'd need to scrimmage before you go out and play an NBA game. I would think. I don't know, I'm not sure. I would think you'd have to do that, so when that happens I'll let you guys know. … Listen I think you guys should go talk to [trainer] Timmy Walsh and [team Dr.] Riley Williams, because they can answer the questions better than I could.''
UPDATE: Saturday, Oct. 12
From New York Daily News reporter Stefan Bondy:
Jason Kidd raised the possibility of Deron Williams not being ready to start the season.

— Stefan Bondy (@NYDNInterNets) October 12, 2013
UPDATE: Friday, Oct. 4
New York Daily News reporter Stefan Bondy has an update on Williams:
Deron Williams, who has yet to practice fully with the Nets while resting his injured ankle, said he will miss the preseason opener on Tuesday and "probably" the following game four days later.

Williams sprained his ankle and suffered a bone bruise during an offseason workout in Utah last month. After most of his last season was sabotaged by ankle pain, Williams said the Nets are being extra cautious about the ankle inflammation discovered as a result of the sprain .

"They don't want me to go this week because they know, when you're in training camp, there's no half-speed. There's full-go 110 percent," Williams said. "After this, I'll start slowly easing into it more and more."
UPDATE: Friday, Oct. 4
From Tim Bontemps of The New York Post:
Deron also confirms the obvious, that he won't play Tuesday and likely won't play Saturday.

— Tim Bontemps (@TimBontemps) October 4, 2013
UPDATE: Thursday, Oct. 3
From Tim Bontemps of the New York Post:
Same injury report as the past two days. Terry was still limited, as was Williams. Toko remains out.

— Tim Bontemps (@TimBontemps) October 3, 2013
UPDATE: Tuesday, Oct. 1
From Rod Boone of Newsday.com:
#Nets say Deron (ankle) and Jason Terry (offseason knee surgery) were both limited in practice today. Plan is to take it easy with Deron.

— Rod Boone (@rodboone) October 1, 2013
UPDATE: Thursday, Sept. 19
ESPN's Mike Mazzeo has the latest on Williams:
"(My ankle's) good. It's good. As long as I'm ready for the start of the regular season (Oct. 30 in Cleveland), that's all that matters, but I'll be ready for the start of camp," Williams said Thursday at his Dodgeball charity event in Manhattan.

Williams said he's in the boot as a preventative measure, and the team being cautious because he was plagued by inflammation in both of his ankles for the majority of last season.

"They're just more protecting me from myself," he said.
UPDATE: Thursday, Sept. 19
Jared Zwerling of Bleacher Report has a photo of Deron Williams in a walking boot after his ankle injury:
Original Text:
Well, that isn't exactly what Nets fans want to hear going into a year with monstrous expectations.
After going 49-33, finishing fourth in the East and being ousted by the Chicago Bulls in a thrilling seven-game series in the first round of the playoffs last season, the Nets had an extremely busy summer.
In addition to hiring Jason Kidd as head coach, they brought in Kevin Garnett, Paul Pierce, Jason Terry and Andrei Kirilenko, giving them one of the most tantalizing rosters—at least on paper—in the Association.
Williams will be the crucial maestro of the entire show.
The 29-year-old point guard averaged 18.9 points on 44.0 percent shooting to go with 7.7 assists and 1.0 steals per contest last season. He has always had tremendous talent, and now he has the best supporting cast of his career—even though last year's was quite solid.
This newest malady doesn't sound like a major concern. He's expected to be ready for training camp in a couple weeks, so it can't be that bad.
But when you consider Williams' talent, his importance to this year's new-look squad and his history of injuries—including a problem with his ankle last year—this is at least something to keep a close eye on.
This article is
What is the duplicate article?
Why is this article offensive?
Where is this article plagiarized from?
Why is this article poorly edited?