NFL Schedule Week 3: Complete Viewing Info for Must-See Matchups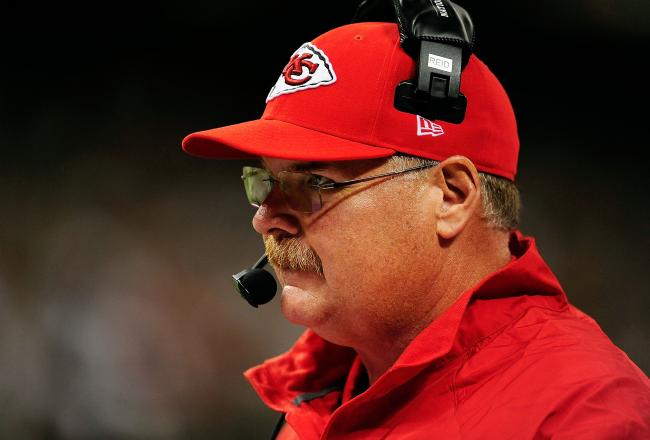 Stacy Revere/Getty Images
Week 3 of the NFL season features some must-see matchups that will bring great storylines with them.
The New York Giants and Carolina Panthers are both 0-2 to start the season and will be squaring off this week at Bank of America Stadium.
In what will be a more emotional game, the Philadelphia Eagles will play host to the Kansas City Chiefs.
After a stunning trade on Wednesday, the Indianapolis Colts will be the talk of the NFL town on Sunday when they head west for a battle with the San Francisco 49ers.
Let's take a look at each of these games and why they are must-see matchups. More importantly, we'll take a look at when and where to watch these exciting showdowns.
The entire NFL schedule with television information can be found on the league's official site. Check local listings for exact channels.
NFL Schedule Week 3

| | | | | |
| --- | --- | --- | --- | --- |
| Date | Away | Home | Time (ET) | Channel |
| Sept. 19 | Chiefs | Eagles | 8:25 p.m. | NFL Network |
| Sept. 22 | Texans | Ravens | 1 p.m. | CBS |
| Sept. 22 | Giants | Panthers | 1 p.m. | FOX |
| Sept. 22 | Lions | Redskins | 1 p.m. | FOX |
| Sept. 22 | Chargers | Titans | 1 p.m. | CBS |
| Sept. 22 | Cardinals | Saints | 1 p.m. | FOX |
| Sept. 22 | Buccaneers | Patriots | 1 p.m. | FOX |
| Sept. 22 | Packers | Bengals | 1 p.m. | FOX |
| Sept. 22 | Rams | Cowboys | 1 p.m. | FOX |
| Sept. 22 | Browns | Vikings | 1 p.m. | CBS |
| Sept. 22 | Falcons | Dolphins | 4:05 p.m. | FOX |
| Sept. 22 | Bills | Jets | 4:25 p.m. | CBS |
| Sept. 22 | Colts | 49ers | 4:25 p.m. | CBS |
| Sept. 22 | Jaguars | Seahawks | 4:25 p.m. | CBS |
| Sept. 22 | Bears | Steelers | 8:30 p.m. | NBC |
| Sept. 23 | Raiders | Broncos | 8:40 p.m. | ESPN |
NFL.com
Kansas City Chiefs at Philadelphia Eagles: Thursday, Sept. 19 at 8:25 p.m. ET on NFL Network
Emotions will be running high in Philadelphia on Thursday night as Kansas City's new head coach, Andy Reid, will be returning to his old stomping grounds for the first time since his 14-year tenure ended with the team.
With all of his success in the regular season not amounting to a single Super Bowl win in all that time, it'll be interesting to see if Eagles fans cheer or boo their former coach. Because of his loyalty and the winning culture he instilled in Philly, it's safe to say Reid deserves an ovation from the hometown crowd.
Also of note in this matchup is the third installment of Eagles new head coach Chip Kelly's frantically paced offense. While it's been successful in the first two weeks, the Eagles will be on short rest, and it could be a long night if their defense doesn't come to play once again.
Philly will be up against the toughest defense it has played yet this season, and Chiefs quarterback Alex Smith will make certain that his opponent doesn't get extra possessions. Furthermore, the Chiefs will be looking to continue their climb out of last year's ineptitude with an improbable 3-0 start to the season.
New York Giants at Carolina Panthers: Sunday, Sept. 22 at 1 p.m. ET on FOX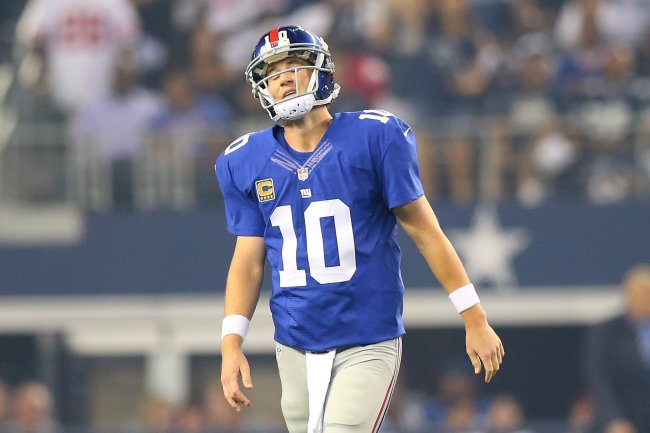 Ronald Martinez/Getty Images
Considering the fact that both teams are 0-2, this is as close to a must-win game as these teams can get this early in the season.
To put it into perspective, Art Stapleton of NorthJersey.com relayed some information on the lack of success 0-3 teams have had making the playoffs in the past:
How important is #NYG game in Carolina this weekend? Since 1990, only three 0-3 teams have made the NFL playoffs + none since 1998

— Art

Stapleton

(@art_stapleton) September 17, 2013
So, it's safe to say that whatever team loses this game is not going to be a participant in the playoffs.
Panthers head coach Ron Rivera is already on the hot seat, and a winless record in three games certainly won't help him. Since taking over in 2011, Rivera has failed to record a winning record as coach, and his best season came in 2012 when he led the team to a 7-9 mark.
For the Giants, turnovers have been the overwhelming theme throughout the first two games. Quarterback Eli Manning has done more to hurt his team than help it with seven interceptions, and running back David Wilson's butter fingers have turned the Giants backfield into an utter disaster.
The Panthers and Giants both had higher expectations than the reality of their respective starts, but one of these teams will have its hopes shattered just three games into the 2013-14 campaign.
Indianapolis Colts at San Francisco 49ers: Sunday, Sept. 22 at 4:25 p.m. ET on CBS
The Niners are going to be a team on a mission in Week 3 after getting beaten badly by the Seattle Seahawks on the road last week. This team has Super Bowl aspirations, and the Colts are just another stepping stone toward that goal.
Quarterback Colin Kaepernick had a ton of issues in Week 2 at CenturyLink Field, but returning home to play against a porous defense like Indy's will help Kaepernick play better and show all the incredible skills he possesses that make him one of the most exciting players in the sport today.
In what will be a far more interesting storyline, running back Trent Richardson will be making his Colts debut after being traded on Wednesday from the Cleveland Browns in exchange for a first-round pick, per Adam Schefter of ESPN, in what was a shocking move to say the least.
Filed to ESPN: Browns RB Trent Richardson to Indy for Colts' first-round pick.

— Adam

Schefter

(@AdamSchefter) September 18, 2013
Richardson will add a whole new element to the Colts offense, which has been predictable as a pass-first, pass-heavy offense. The addition of a talented back like Richardson will only serve to add more balance to the offense and give future star quarterback Andrew Luck more weapons to work with.
It's going to be a rough way to start with his new team, however, as Richardson will be going up against one of the best defenses in the NFL.
This article is
What is the duplicate article?
Why is this article offensive?
Where is this article plagiarized from?
Why is this article poorly edited?