Florida Football: 10 Biggest Developments for the Gators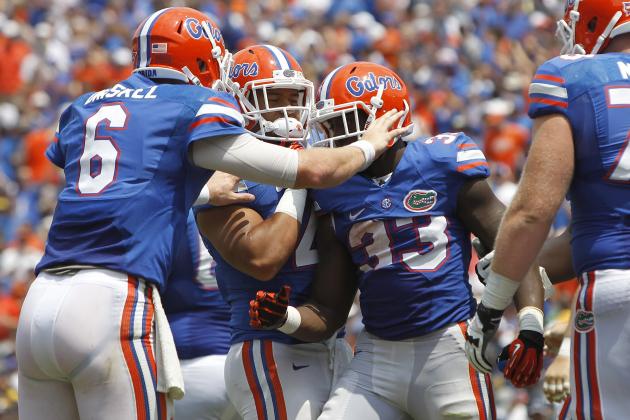 Kim Klement-USA TODAY Sports

Two games into 2013, No. 19 Florida is staring at a 1-1 record following a turnover-stained loss to Miami on Sept. 7.
Questions loom large as to whether or not this year's Florida team can replicate the success in 2012, which earned the Gators an 11-2 record and BCS bowl birth against Louisville.
Turnovers, red zone deficiencies and a lack of viable receiving options are a few concerns for Florida this season. Meanwhile, it's easy to forget that Florida's defense is as good as any. Playmakers such as Trey Burton are producing and offensive coordinator Brent Pease is getting creative in 2013.
And with that we bring you a complete list of Florida's earliest developments, both good and bad, this season.
Begin Slideshow

»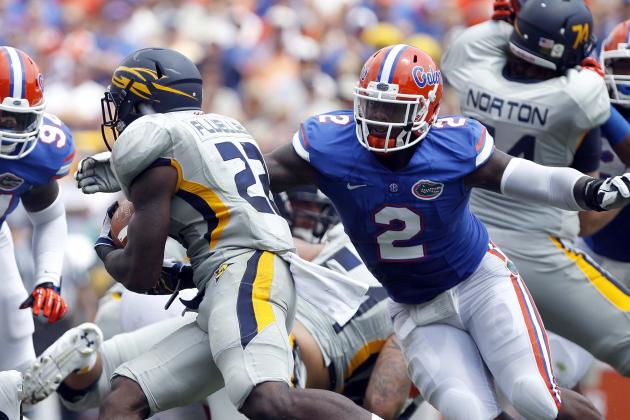 Kim Klement-USA TODAY Sports

With the likes of Jonathan Bullard and Dominique Easley, Florida's defensive line was highly advertised before the start of the season.
The two together—along with Leon Orr and a few rotating lineman—make Florida's defensive front arguably the best in the country.
Together, the defensive line has combined for two sacks, 12 quarterback hurries and 10 tackles for loss in two games. Not coincidentally, Florida ranks third in the country in total defense.
And with a healthy Ronald Powell putting his hand in the ground on occasion as Florida's "Buck" linebacker, the Gators will continue to make strides as the season progresses.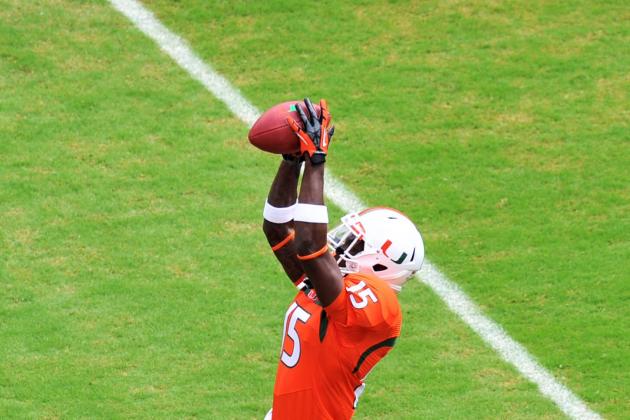 Steve Mitchell-USA TODAY Sports

Florida's red zone weakness reared its ugly head against Miami and continues to plague the Gators' scoring opportunities in 2013.
Heading into today's matchup versus Tennessee, Florida sits alone as the Southeastern Conference's worst red zone scoring offense, converting on 6-of-12 such opportunities.
Against the Hurricanes, the Gators reached the red zone on three consecutive series in the second quarter and each time came away without points.
Gators have been awful in the red zone here in the second quarter. Could have the halftime lead, but trail 14-6.

— Robbie Andreu (@RobbieAndreu) September 7, 2013
Driskel was intercepted on an ill-advised throw across the middle at the 4-yard line, the Gators turned the ball over on downs after Driskel was stopped on a QB keeper at the 16 and Trey Burton fumbled after a short grab to derail promising drive late in the second quarter.
With little confidence in the kicking game, Florida is still searching for answers.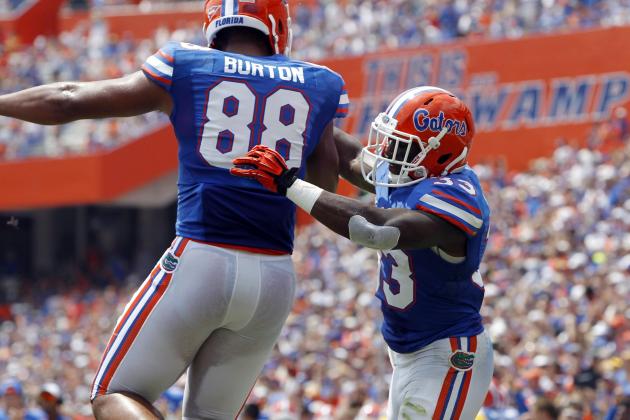 Kim Klement-USA TODAY Sports

Last year, the Gators' most dangerous player in the passing game was tight end Jordan Reed. He led the team with 45 catches for 559 yards and caught three touchdown passes as a junior, proving to be a reliable option for Driskel in the passing game.
And in 2013, Florida does not seem to have a replacement for him—an issue that has left Driskel without an option underneath.
The only Gators tight end with a catch in the first two games is Tevin Westbrook, a converted defensive lineman. Florida's other tight ends, Clay Burton and Kent Taylor, are without a single catch.
"Last year, by design, Jordan Reed was our leading receiver because he was a playmaker," coach Will Muschamp said (via Gatorzone.com). "We're going to circle the guys who are going to make plays and yards after the catch. That's not been the strong point of that position at this point."
Trey Burton's versatility certainly masks some of Florida's issues in passing games, specifically at the tight end position. But without a viable receiving option as of now, it only hurts Florida's passing game.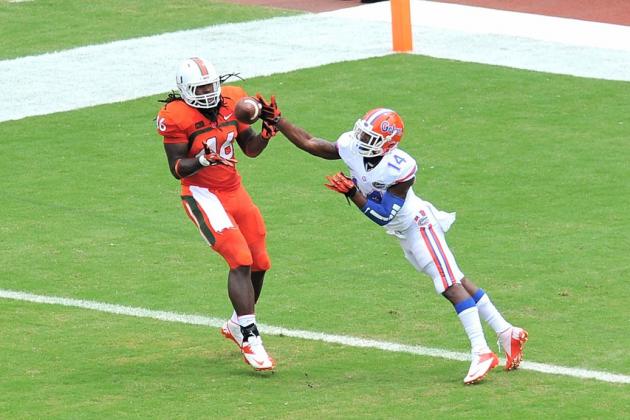 Steve Mitchell-USA TODAY Sports

Rarely before has Florida ever had two elite cover corners on the same team garnering as much first-round consideration as juniors Loucheiz Purifoy and Marcus Roberson.
Together, the two have led Florida's secondary, which has allowed just 158.5 passing yards per game—good for sixteenth in the country.
Both corners are intriguing NFL prospects for a multitude of reasons: aggressive styles, athleticism and ball skills to make plays in both man or zone coverage.
The two have combined for seven tackles, one for loss, and one pass break-up. And the box-score certainly doesn't speak to the success of their 2013 campaigns.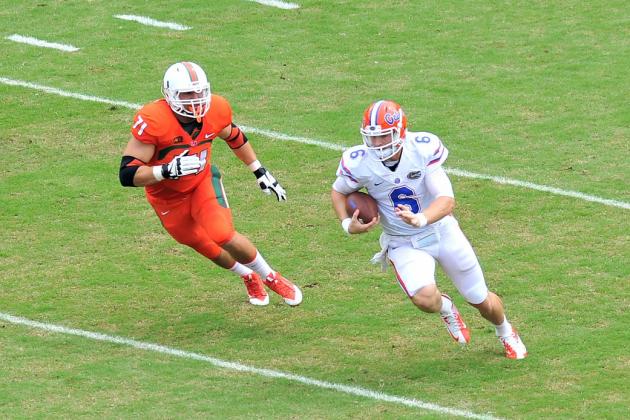 Steve Mitchell-USA TODAY Sports

Brent Pease has been creative in 2013, using formations both the Green Bay Packers and San Francisco 49ers made famous en route to their Super Bowl runs in 2010 and 2012.
Versus the Hurricanes two Saturdays ago, Pease dialed up both the "full house" and "diamond" formation to create mismatches at the line of scrimmage. Florida lined up in these formations on 10 occasions and combined for 45 yards, including an 18-yard strike to Solomon Patton, three first-downs and a touchdown.
Amidst all the discussion surrounding Florida's efficiency and explosiveness on offense, Pease appears to be putting his players in position to make plays in 2013.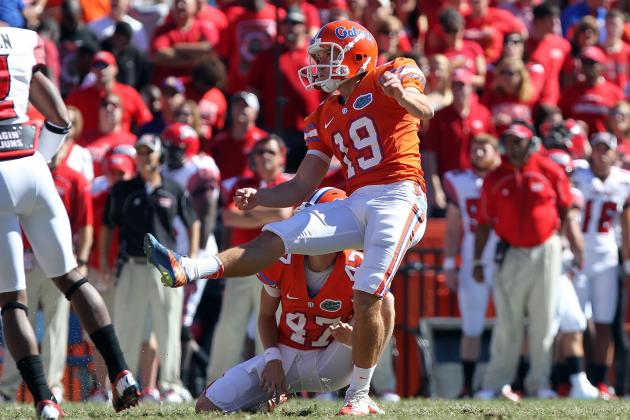 Kim Klement-USA TODAY Sports

The loss of Caleb Sturgis has left a void in Florida's offense in 2013.
Florida's coaching staff has little, if any, confidence in its kicking game.
Consider this: Florida elected to try and convert a 4th-and-one on Miami's 16-yard line rather than attempt to kick a chip shot to trim the score down to five.
Redshirt Austin Hardin is an untested kicker, but has connected on 2-of-3 field goals, including a 33-yard field goal versus Miami.
But as Florida's red zone woes continue, leaving scoring opportunities on the board will certainly hurt the Gators in close contests.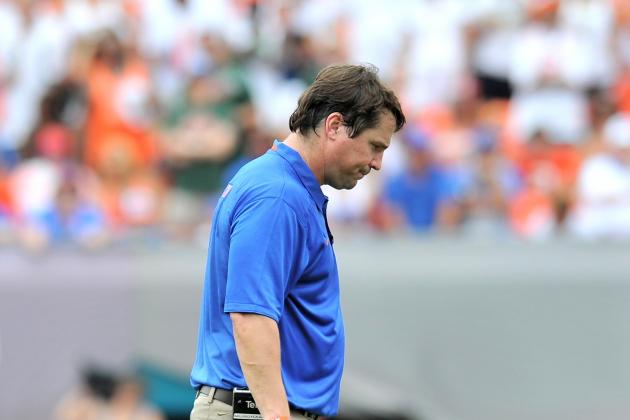 Steve Mitchell-USA TODAY Sports

Will Muschamp plays the part of a disciplinarian. His team hasn't been receptive.
In 2012, Florida was the most penalized team in the SEC, averaging 68.8 yards per game.
Their recurring struggles with penalties has continued into 2013. Against Miami, Florida finished with 10 penalties for 69 yards.
Easley called for roughing the passer. That's 3 penalties for 35 yards and a turnover for #Gators in half a quarter.

— Chris Harry (@GatorZoneChris) September 7, 2013
For a team that lacks offensive explosion, racking up penalties can be the difference between winning and losing.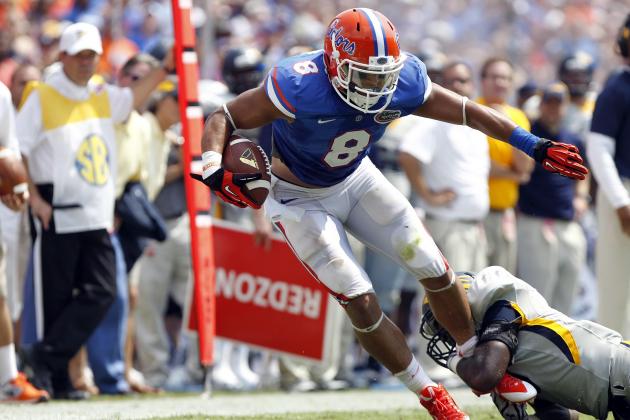 Kim Klement-USA TODAY Sports

The wheel that makes Brent Pease's Wildcat formation go-round, Trey Burton, has proved to be Florida's most versatile player.
Given his scheme versatility, lining up in the flex, slot and outside the core formation, Burton gives offensive coordinator Brent Pease plenty to work with.
"He knows where to get in the zones or when it's man, whether to pull out of routes, stuff like that," Driskel said (via GatorZone.com). "He's been a reliable guy ever since he's been here, so he's definitely going to get a lot of touches this year."
Thus far, Burton has recorded a team-high 11 receptions for 133 yards. His 12.6 yards per reception average is third amongst Florida receivers. With the loss of former tight end Jordan Reed, Driskel has been in search of a reliable security blanket in the passing game. And with few, if any, flashes from Florida's current group of tight ends, Burton could very well be that guy.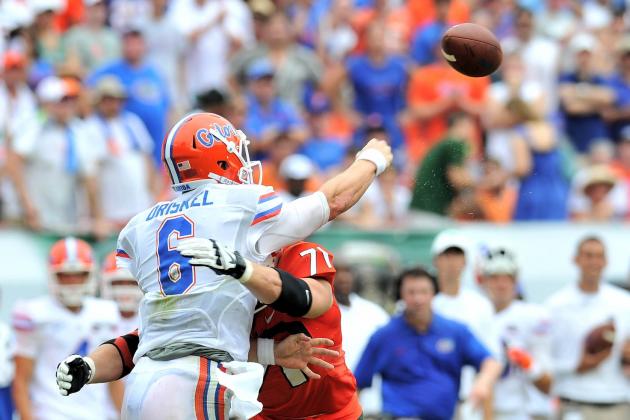 Steve Mitchell-USA TODAY Sports

In Florida's three losses against Georgia, Louisville and Miami, Jeff Driskel has accounted for 71 percent of the team's turnovers.
Simply put: When Driskel turns the ball over, the Gators lose.
Luckily, a majority of Driskel's mistakes are correctable, such as not throwing the football over the middle of the field late.
But as Florida moves forward, ball security from its quarterback will certainly be a priority.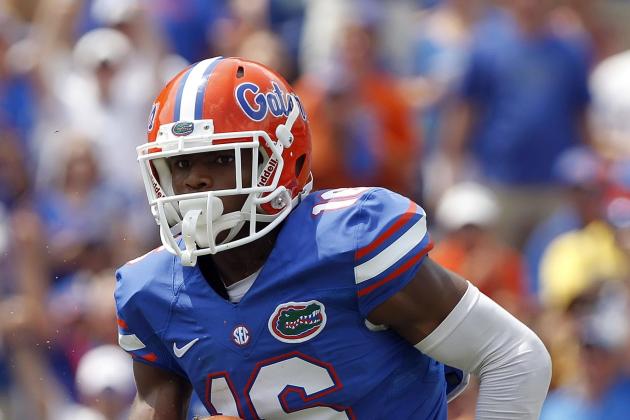 Kim Klement-USA TODAY Sports

Vernon Hargreaves III is Florida's lone contributing freshman.
And he's made his presence known in the early going.
The 5'11', 206-pound cornerback has filled in as the primary No. 3 cornerback in Florida's nickel defense for much of the first two games. And he's certainly maximized his playing time.
Hargreaves III has recorded two interceptions in as many games, including a 20-yard return against Toledo on Aug. 30.
The son of a coach, Hargreaves III has shown Florida's coaching staff just how much of a technician at the position he is. He's flashed in off-coverage, trail and man-to-man technique, and has surrendered few yards in his freshman campaign.
More importantly, he's added enough depth at the cornerback position to allow defensive back Jaylen Watkins to transition back into a safety role - a sign of Florida's confidence in his abilities.