Breaking Down 5-Star DE Da'Shawn Hand's Highlight Tape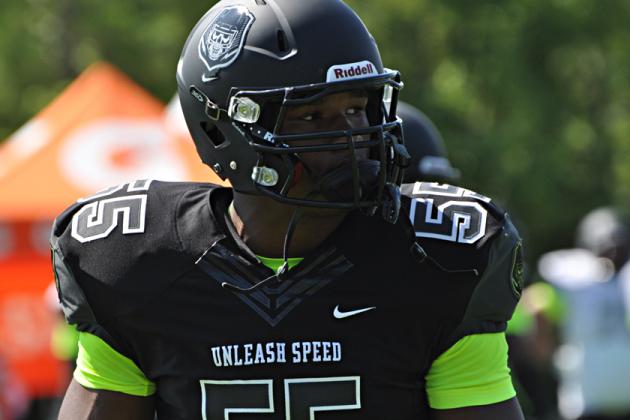 Steve Dykes-USA TODAY Sports
Photo courtesy of 247Sports
As a 5-star defensive end, Da'Shawn Hand is a terror to offenses in Virginia. He is a 6'4", 254-pound monster on the edges who can make a variety of plays.
Hand displays solid quickness at the snap, can get a jump on blockers in a hurry and has impressive strength. He can rush the passer with speed while also possessing the temperament to be a good defender versus running plays.
Hand's skills can be seen on his impressive highlight tape, which was constructed by the Full Ride video team. His highlights are so impressive that they warrant a closer look.
Player evaluations are based on review of tape at Scout.com, Rivals, 247Sports and ESPNU.
Begin Slideshow

»
On the opening play of the tape, Hand is lined up as a 3-4 defensive end. He raises his pads too high, but his ball-location skills are evident.
He recognizes the pulling of the play-side lineman, uses his strength to fit into the gap and quickly finds the ball. Then, Hand explodes in short-area pursuit to make the play. This is why it is believed Hand could develop into a defensive tackle in college.
On this play, Hand flashes good hand usage. This is important among defensive linemen, because if they can't use their mitts as weapons, they will be blocked by offensive linemen who have good technique.
Hand shows off quick hands but also displays great athleticism during the rush. Watch how he breaks down on the ball in a quick and subtle manner, changes directions with ease and continues his pursuit to make the play.
This isn't a bull-rush move by Hand, but rather him attempting to convert speed to power.
He shows a good first step at the snap, explosive short-area quickness to make sure his speed converts to power at the point of attack and the strength and fight to pressure to drive through his opponent and walk them into the backfield.
Hand then powerfully and violently sheds his opponent to escape and finish the play.
At 0:50, Hand flashes the ability to "get skinny," although it is on the edge. However, he quickly slips a block, flashes solid hand usage again and shows off good pursuit speed.
Another notable element to this play is the hustle Hand shows, as it is evident he has has a good motor.
At 1:17 of this tape, Hand makes a play that shows why he is such a coveted recruit. Watch how he quickly gets out of his stance on the edge, plays stout at the point of attack, sets the edge with his upper-body strength, sheds and makes the tackle at the line.
This is the type of plays Hand consistently makes that leads one to believe he can play on the strong side at defensive end and as a defensive tackle in certain packages.
This is a play where you would like to see Hand lower his pads and play with better leverage. He will have to improve in this area in college should he kick inside to defensive tackle on passing downs as his career progresses.
However, a good part of this play is how he shows what is called "a fight to pressure." Watch how Hand keeps battling blockers, playing with a good motor and fighting to get to the quarterback. He finally escapes and displays his great pursuit speed.
Hand shows off his quickness at the snap on this play. He jumps on top of the blocker, penetrates the inside gap before his opponent can re-square his shoulders and fires into the backfield.
Another notable part of this play is how Hand uses good wrap-tackling technique on the ball. It's important for high school defenders to use this style of tackling, as it is the most fundamental way to make a stop.
Another simple play here, but Hand shows off another great trait: backside pursuit ability. The talented defensive end comes off the ball, quickly recognizes a run and squeezes down the line from the backside to hawk the running back.
This is a trait many college coaches want to see in a defensive end recruit, and Hand shows it off on this play.
Hand displays good strength, a fight to pressure and flashes good hand usage on this play. He comes off the ball with quickness, has a violent intent with his rush and bullies his way into the backfield.
The power, strength, force and tenacity he showcases is impressive. Hand could play strong-side and weak-side defensive end in a 4-3, defensive tackle in a 4-3, 5-technique defensive end in a 3-4 and possibly see time standing up as a rush end/3-4 outside linebacker.
Don't forget to use the 2014 Bleacher Report College Football Recruiting Heat Map to locate Hand and other top recruits in the country!
Edwin Weathersby is the College Football Recruiting Analyst for Bleacher Report. He has worked in scouting/player personnel departments for three professional football teams, including the New York Giants and Cleveland Browns.