Why Alex Killorn Is Tampa Bay Lightning's Biggest X-Factor for 2013-14 Season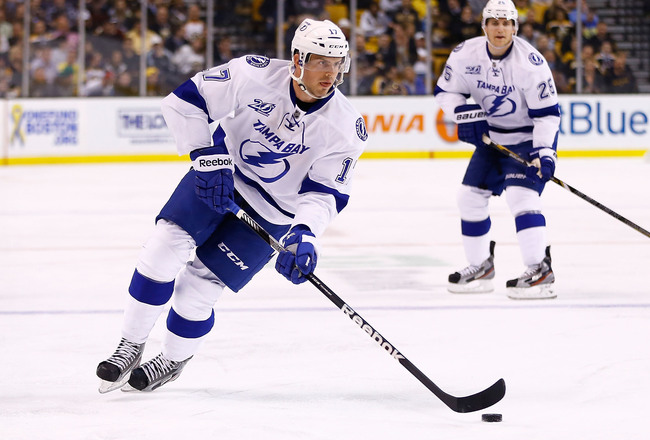 Alex Killorn could be the player who delivers the Bolts to the postseason in 2013-14.
Jared Wickerham/Getty Images
The Tampa Bay Lightning have no shortage of rising stars, but there is one player who stands out as this season's X-factor. Alex Killorn is one of the bright young stars for the Bolts who will be that player in 2013-14.
Ben Bishop is this year's X-factor. But, with Anders Lindback waiting as a capable option, the goaltending situation isn't in dire straits.
Rule changes like smaller goalie pads and more shallow nets could mean more goals will be scored at the expense of goaltending around the league. The emphasis gets placed on team defense led by Killorn's two-way play.
Here is why Killorn will be Tampa Bay's biggest X-factor this season.
Secondary Scoring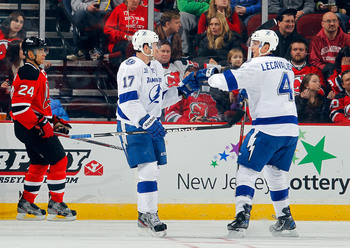 Killorn showed sparks of greatness last season. The Bolts are hoping for more production in his second season.
Jim McIsaac/Getty Images
Let's face it: Steven Stamkos can score in buckets. Martin St. Louis is probably good for another 50-assist season. Depending on who joins those two on the top line, the Lightning could have one of the more dynamic top lines in the league.
But who helps when the top line has an off night? That's where Killorn's offensive skill comes to the forefront. Possibly a second-line forward, Killorn got a taste of the NHL last season. He had 19 points in 38 games last season.
He added two game-winning goals and finished ninth on the team in points.
Quality Minutes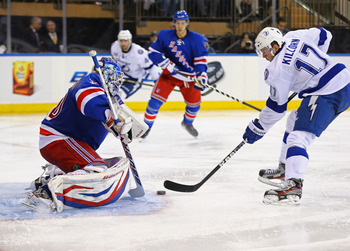 Despite a negative rating, Killorn provided quality minutes for a poor defensive team last year.
Al Bello/Getty Images
Killorn provided quality minutes for the Lightning last season. He notched 16:49 of ice time per game—fourth among Bolts forwards. It might be his AHL minutes from last year that are most memorable for Lightning fans.
According to Mike Morreale of NHL.com, head coach Jon Cooper said that Killorn "took the 2012-13 Syracuse team on his back" and he expects big things from Killorn this season. Despite a young NHL career, Killorn isn't the typical young prospect.
His minus-six rating leaves something to be desired, but the Lightning weren't a solid defensive team. They were minus-two on the season en route to their disappointing 18-26-4 record.
Two-Way Play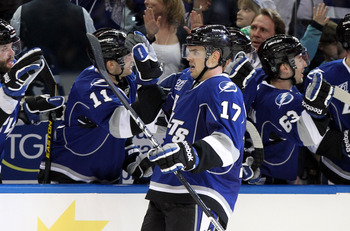 A rare player, Killorn has excelled at every level. The Lightning are hoping for similar results on the game's biggest stage.
Kim Klement-USA TODAY Sports
The Hockey News says that Killorn is a versatile, two-way forward who can put points on the board. That should sound pretty good to Lightning fans. THN's biggest question is if he can score enough to maximize his potential. With enough opportunity in Tampa Bay, he could and should fulfill that potential.
Two-way play is huge for the Lightning if they want to take the next step as a franchise. The Lightning don't have a Martin Brodeur or Patrick Roy to carry the franchise through weak stretches of defense. The Bolts need players who will make smart plays and keep mistakes to a minimum to help the defense and goaltending situation.
Killorn flies a bit under the radar with Stamkos, St. Louis and Jonathan Drouin garnering a lot of attention. However, he could still be the biggest X-factor for the team this season. One thing is for sure, the Lightning are excited about his potential.
Per Mike Morreale of NHL.com, Tampa Bay director of amateur scouting Al Murray said:
"He progressed every year as a player both offensively and defensively," "He's got a quick release and a nose for the net offensively, and is a real big body and hard player to play against without the puck. Alex is a player we've been waiting for and are excited about."
Keep Reading

Tampa Bay Lightning: Like this team?