Week 3 NFL Predictions: Teams That Will Blaze Past Shaky Opponents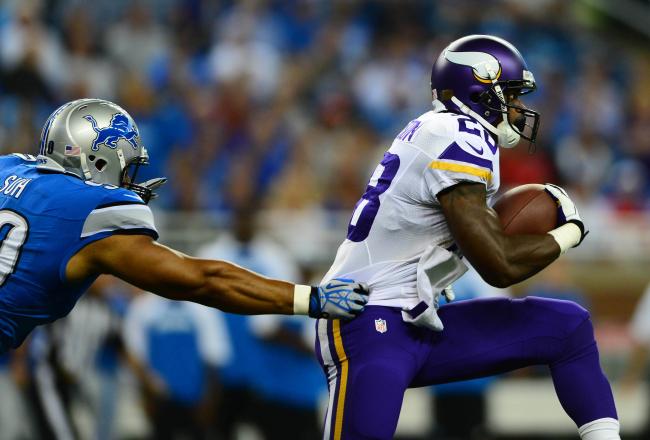 Andrew Weber-USA TODAY Sports
Sometimes an unworthy foe is all a team needs to discover the win column.
Not every game can qualify for Fox's America's Game of the Week, which refreshingly no longer belongs to the Dallas Cowboys every time. Some teams just look so bad that a close contest is virtually impossible against a capable opponent.
Two of these teams are far from perfect, but they're good enough to take care of business this weekend.
The other two are the class of the league squaring off against dunces. Those clashes will be over before they begin.
Let's take a look at some organizations bestowed with a favorable opponent this weekend. But first, here is Week 3's full schedule with predictions for each game.
Week 3 NFL Schedule and Predictions

| | | | |
| --- | --- | --- | --- |
| Away Team | Home Team | Time (ET) | Predicted Winner |
| Kansas City Chiefs | Philadelphia Eagles | 8:25 p.m. (Thur.) | Chiefs |
| Green Bay Packers | Cincinnati Bengals | 1:00 p.m. | Packers |
| St. Louis Rams | Dallas Cowboys | 1:00 p.m. | Cowboys |
| San Diego Chargers | Tennessee Titans | 1:00 p.m. | Chargers |
| Cleveland Browns | Minnesota Vikings | 1:00 p.m. | Vikings |
| Tampa Bay Buccaneers | New England Patriots | 1:00 p.m. | Patriots |
| Arizona Cardinals | New Orleans Saints | 1:00 p.m. | Saints |
| Detroit Lions | Washington Redskins | 1:00 p.m. | Lions |
| New York Giants | Carolina Panthers | 1:00 p.m. | Giants |
| Houston Texans | Baltimore Ravens | 1:00 p.m. | Texans |
| Atlanta Falcons | Miami Dolphins | 4:05 p.m. | Falcons |
| Buffalo Bills | New York Jets | 4:25 p.m. | Bills |
| Indianapolis Colts | San Francisco 49ers | 4:25 p.m. | 49ers |
| Jacksonville Jaguars | Seattle Seahawks | 4:25 p.m. | Seahawks |
| Chicago Bears | Pittsburgh Steelers | 8:30 p.m. | Bears |
| Oakland Raiders | Denver Broncos | 8:30 p.m. (Mon.) | Broncos |
NFL.com
New England Patriots (vs. Tampa Bay Buccaneers)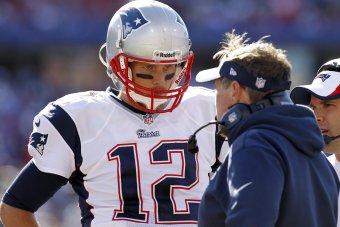 Kevin Hoffman-USA TODAY Sports
New England's offense looks bad. This is hardly the finely tuned machine we are accustomed to watching, but bad things happen to people who doubt Tom Brady and
Bill Belichick
.
If the Patriots had to deal with the Seattle Seahawks or San Francisco 49ers, then I'd be joining the panic posse. Luckily for them, they get the Tampa Bay Buccaneers, whose offense is trapped in an identity crisis of their own.
Josh Freeman's 335 passing yards rates 30th among NFL quarterbacks. His 45.3 completion percentage ranks 33rd, which places him behind both Jacksonville Jaguars signal-callers and every other starter in the league.
To make matters worse, Doug Martin is averaging a mere 3.9 yards per carry. So nobody in the offense is getting anything accomplished.
The Patriots have nine days to prepare, so that's nine days for Brady to yell at Kenbrell Thompkins and Aaron Dobson until they start catching the ball.
Even if they have to win a bit ugly again, the Patriots will display enough offense to grind to 3-0.
Prediction: Patriots 23, Buccaneers 13
Minnesota Vikings (vs. Cleveland Browns)
In the most Cleveland news in the history of Cleveland sports, the Browns traded away their 22-year-old running back touted as the future of the franchise because that totally seems like a solid move.
According to ESPN's Adam Schefter, the Browns traded Trent Richardson to the Indianapolis Colts for a future first-round draft pick.
Filed to ESPN: Browns RB Trent Richardson traded to Indy for Colts' first-round pick.

— Adam Schefter (@AdamSchefter) September 18, 2013
Most rational fans would not give up on Richardson despite his 3.5 yards per carry since he has faced such grueling circumstances. Then again, how much worse can Cleveland's Plan B, C or D perform against the Minnesota Vikings?
Probably a lot worse, since Brian Hoyer is their starting quarterback. Here's Schefter to give Browns fans more bad news.
Browns named Brian Hoyer their starting QB.

— Adam Schefter (@AdamSchefter) September 18, 2013
Minnesota can routinely pack 11 men in the box. If Richardson was still in town, the Vikings would probably have 10 guys on him with the other one guarding Jordan Cameron.
While the Vikings are 0-2, at least they haven't hit the panic button and traded Adrian Peterson. One or two big runs from him will be enough to land them their first win.
Prediction: Vikings 17, Browns 3
Seattle Seahawks (vs. Jacksonville Jaguars), Denver Broncos (vs. Oakland Raiders)
These games are going to get ugly.
The initial two weeks have cemented the Seattle Seahawks vs. Denver Broncos as a highly feasible Super Bowl matchup. Right now, both teams have to be favored to represent their respective conferences.
Jacksonville's offense, which ranks last in the NFL and has yet to score a touchdown, faces Seattle, whose defense ranks first and has surrendered one score.
It would be a nice gesture if Seattle gave up its powerful home-field advantage to instead play in Jacksonville.
Oakland only has a win after defeating Jacksonville in the battle for a top draft pick. The formula has not been perfected, but allowing 241 passing yards to Chad Henne probably projects to 467 against Peyton Manning.
The Broncos have scored 91 points this season against the NFL's past two Super Bowl champions. The Raiders are not a past Super Bowl champion or even a .500 club.
Close your eyes, look away and keep Jacksonville and Oakland in your thoughts.
Predictions: Seahawks 23, Jaguars 0; Broncos 44, Raiders 13
This article is
What is the duplicate article?
Why is this article offensive?
Where is this article plagiarized from?
Why is this article poorly edited?