Predicting the Strength and Weakness of Each Boston Bruins Line in 2013-14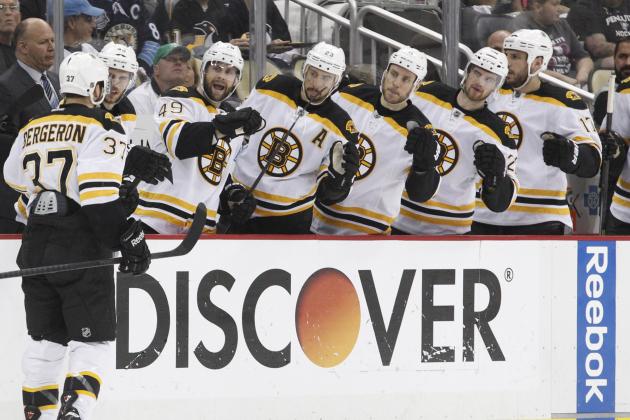 Charles LeClaire-USA TODAY Sport

The NHL preseason has begun and we're finally getting our first looks at the new rosters of various teams.
The Boston Bruins will have new faces on each of their top-three lines, with the fourth line the only unit that will remain unchanged from last year.
How will the new additions impact the lines for this season? Will it be hard for Jarome Iginla to develop chemistry with Milan Lucic and David Krejci? How good defensively will the second line be with Loui Eriksson on the wing? What will the third line look like?
Here are is a prediction of the strengths and weaknesses for each Bruins line entering the 2013-14 season.
Begin Slideshow

»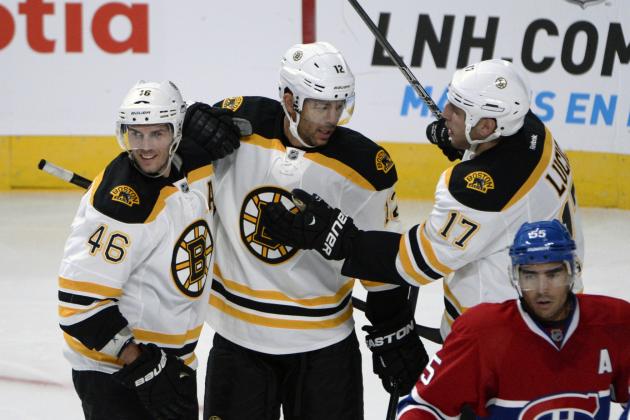 Eric Bolte-USA TODAY Sports

The Bruins first line will look 33.3 percent different this year, with the veteran Iginla replacing Nathan Horton. The line now features two power forwards and a dynamic playmaker.
Strengths—Scoring punch, size
Iginla last year had his streak of 11 straight seasons with at least 30 goals snapped due to the lockout. And in all that time in Calgary, he never had linemates like he will in Boston. Iginla is deadly by the hash marks with the puck on his stick and will continue to produce offensively.
Along with his scoring prowess, Iginla also has size. At 6'1" and 214 pounds, he has utilized that frame throughout his career to win puck battles, register hits and drop the gloves to defend his teammates. He'll be the perfect compliment to the towering Lucic, who stands at 6'4" and 230 pounds. Krejci is the smallest guy on the line, but he is still 6'0".
The addition of Iginla to the line will give Krejci another scoring threat to pass to. Iginla is better offensively than Nathan Horton ever was or will be, and Krejci's assists should go up this season. Lucic will be in front of the net to bang in Iginla's rebounds, and vice versa.
The top line will clutter the score sheet and wreak havoc along the boards with its size and strength.
Weakness—Speed
The only thing lacking for the No. 1 line is speed. Lucic is the weakest skater among them, and neither Iginla nor Krejci have exceptional wheels. Most of the time, Iginla and Lucic's size makes up for it, and Krejci is a gifted enough playmaker that his speed isn't exposed.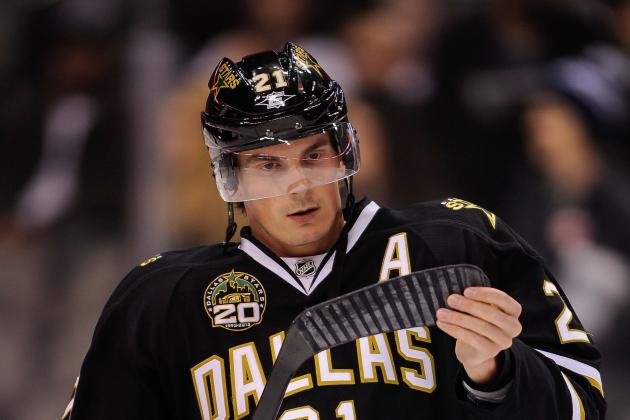 USA TODAY Sports

Loui Eriksson booked a one-way flight from Big D to Beantown in July and couldn't be happier. He's now skating with the one of the best two-way players in the game in Patrice Bergeron and super-pest Brad Marchand.
Strengths—Defense, leadership
All three of the forwards on the second line are great penalty-killers, good stick-checkers and hustle back to the defensive zone. Scoring against this line will be harder than getting SportsCenter to show a lot of hockey highlights.
Eriksson wore the "A" in Dallas and was a leader by example in his seven seasons with the Stars. Joining Bergeron and Marchand will be the perfect fit for the Swede, as Bergeron is more of a vocal leader in the locker room. Marchand is just vocal, period.
Weakness—Lack of chemistry
This is a tough one to predict. Eriksson and Bergeron are both 6'2". Marchand and Eriksson both have speed, and goal scoring and defense aren't question marks. The only area that could be in doubt is the ability for Eriksson to fit in right away.
Bergeron and Marchand have played together for a while now, but the right wing on their line hasn't been consistent. Tyler Seguin and Jaromir Jagr both saw time with the second line last year, and it will be beneficial to have a permanent wing to rely on this season.
The Boston Globe's Amalie Benjamin wrote a piece last week on the second line, and asked Bergeron about developing chemistry with Eriksson. From Benjamin's story:
"I don't know," Bergeron said. "I think we're all smart players, smart enough to realize where to be on the ice and read off each other, so a little bit of time, but I don't think that much. Obviously games are going to be the best indicator of where we stand and help us the most to work on that chemistry. I'm not sure exactly how long but so far it was pretty good."
Bergeron doesn't seem too worried about the aspect of getting everyone on the same page. Only time will tell for the Bruins, and the time is approaching quickly.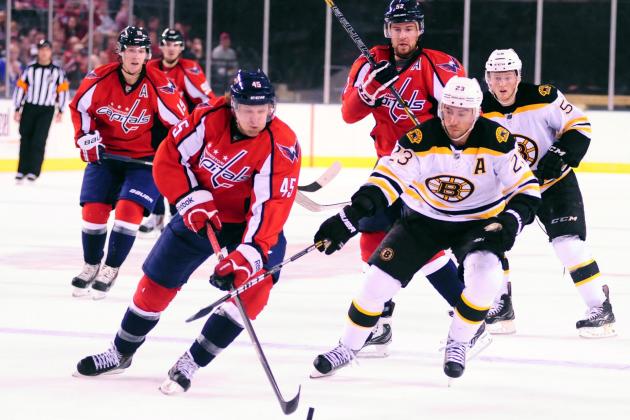 Evan Habeeb-USA TODAY Sports

The only sure thing about the third line is Chris Kelly centering it. Daniel Paille saw some action on it during last year's Stanley Cup Final, but will most likely be sticking with his usual guys on the fourth unit. The wingers who will be joining Kelly are still up in the air, but they will most likely be either Carl Soderberg, Matt Fraser, Jordan Caron or Reilly Smith.
Strengths—Eagerness, effort
With Kelly being the only established player on the unit, the other two wingers—whomever they may be, will no doubt be trying to prove they belong in the NHL. As a result, they will be eager to make a name for themselves and will give more than 100 percent. This is not to say that veterans don't try their hardest and give it all they have—they obviously do. But there's no denying that the new youngsters will be battling for roster spots and will be looking to make it hard for the coaching staff to send them down to the minors make them healthy scratches.
They're going to give it their all. And without any experience, that might be all they have.
Weaknesses—Inexperience, lack of chemistry
The eagerness and effort are a plus of young. The downside is a lack of experience. The wingers have never been a regular on an NHL team yet, with the exception of Reilly Smith, who played the majority of last year with the Stars. But even that was a lockout-shortened season. How will these players acclimate to the demands of an 82-game schedule?
Soderberg is 27, but has only played in six regular season NHL games. Jordan Caron has only played in 88 games over three seasons. Matt Fraser has skated in 13 and the aforementioned Smith has played in 40. These guys, like a 16-year-old who just got a driver's license, are young and inexperienced. Can they take dad's car out for a spin without crashing it?
Besides the fact they lack NHL experience, this will be their first time playing on a line together. It will be an extremely difficult task to develop a rapport with their linemates in time for the season, especially when the line hasn't been finalized yet. There will be growing pains along the way, and Bruins fans should be prepared to deal with the issues that come with it.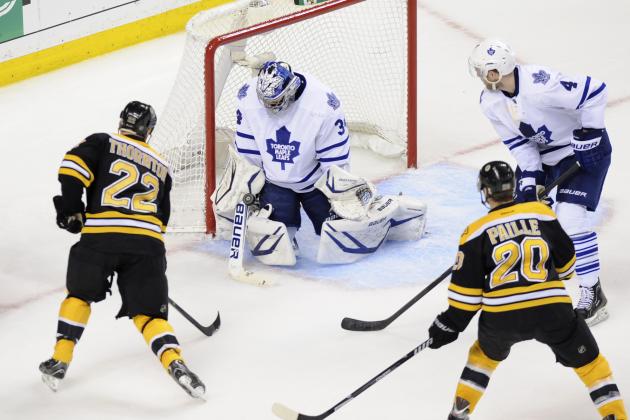 USA TODAY Sports

If Gregory Campbell is healthy for the start of the season, the fourth line will most likely remain intact from last season. There has been some talk of Paille filling in on the third line, but until that happens, we'll assume he is staying put.
Strengths—Grit, checking
As per the job requirements that come from being on a fourth line, the Bruins' bottom three forwards are great at battling in the corners and stick-checking their opposing forwards to prevent scoring chances from developing. The line will dump the puck in from the neutral zone and battle in the corners for possession. The fourth line isn't flashy; the forwards are not goal scorers. But they know they have a specific role, and they do it perfectly. They hit and take pride in making it tough for their opponents to move anywhere on the ice.
Thornton will drop the gloves when the bell rings, and Paille seems to provide a clutch goal every so often. These guys are tough.
Weakness—None that are glaring
The only thing that can prevent the fourth line from doing its job is the possibility that Campbell isn't completely healthy by the start of the regular season (which isn't likely) or that Paille does end up getting moved to the third line. If the latter happens, then Thornton and Campbell will have to develop some camaraderie with their new linemate.