Bold Predictions for Brad Stevens' First Year as Boston Celtics Head Coach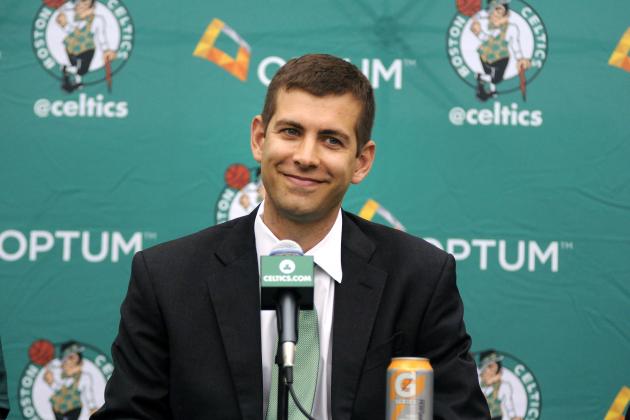 Darren McCollester/Getty Images

Now that Doc Rivers is coaching the Los Angeles Clippers, and Kevin Garnett and Paul Pierce are battling on behalf of the Brooklyn Nets, very few people expect the Boston Celtics to see the type of success in 2014 that they experienced in the previous six years.
Brad Stevens is now the team's head coach, an intuitive 36-year-old who spent the past seven years at Butler University, where he lead the Bulldogs to two straight appearances in the NCAA Championship.
He's a coach built for basketball's information age, prone to implementing analytics into his game plans while simultaneously understanding that numbers aren't everything. Being that he has virtually no experience at the NBA level, it will be interesting to see what strategic decisions Stevens makes in his first season with the team.
Here are five bold predictions as to what he might end up doing, ranked in no particular order.
Begin Slideshow

»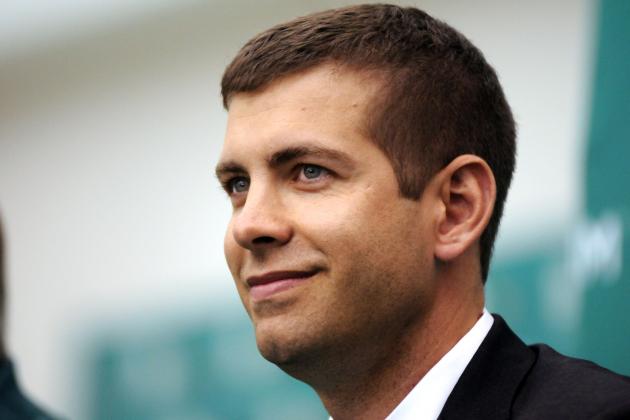 Darren McCollester/Getty Images

Last year the Celtics averaged 93.98 possessions per 48 minutes, good for 17th in the league, per NBA.com/Stats. The year before they were 22nd, with a pace of 92.65. In 2011, the Celtics ranked 23rd; their pace was 92.51.
As younger pieces were brought in to supplement Boston's aging core, the team got faster, ever so slightly, over the past three seasons. Next year the Celtics aren't expected to be as competitive, and one way Brad Stevens can try leveling the playing field is by increasing his team's tempo.
By duplicating how the Houston Rockets played last season—which is to say, very fast—Stevens can increase the game's total number of possessions and give his team a fighting chance against superior rosters.
In theory (though not necessarily in practice), more possessions means more opportunity for the Celtics to succeed, and, conversely, their opponents to make mistakes.
(Eight of the league's 10 fastest teams last season qualified for the playoffs.)
It'll make the Celtics an exciting, unpredictable basketball team, especially now that the probable rotation contains a slew of players in their early or mid-20s (and one, Gerald Wallace, whose game craves this methodology).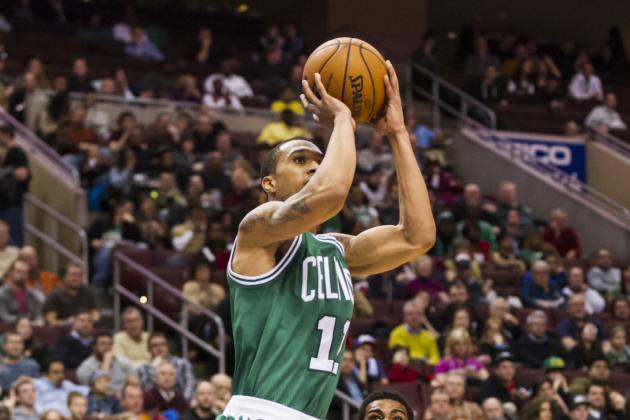 USA TODAY Sports

Similar to the first slide, one of basketball's ultimate equalizers is the three-point shot. If used properly, it's a weapon that can potentially skew any modest differential in talent.
Last season the Celtics attempted 17.2 three-pointers per game, which was 26th in the league. Despite having several players on their roster ranging from above average to elite as long distance marksman (Jason Terry, Courtney Lee, Paul Pierce, etc.), Boston made just 35.7 percent of all their shots from behind the arc, which was right around league average, according to NBA.com/Stats.
Of the top 15 three-point-happy teams in the league last season, 11 of them made the playoffs. Next year the Celtics have several players who wouldn't mind bombing it away, including Avery Bradley, Jeff Green, Lee, Kelly Olynyk, Keith Bogans, Jordan Crawford and MarShon Brooks.
Not all of these players could accurately be described as "good" three-point shooters. But if Stevens can design his offense around setting them up for wide open looks, their results should be better than expected.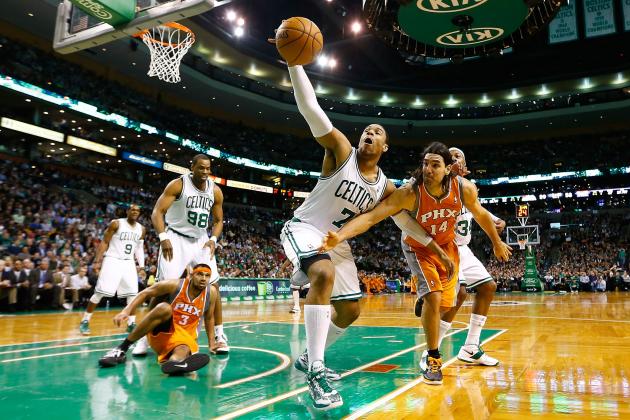 Jared Wickerham/Getty Images

Boston's former coach, Doc Rivers, is a staunch supporter of instructing his players to retreat back on defense once a shot goes up on offense.
This line of thinking is based on making sure that half-court defense is set, limiting the vulnerability that might come after an attempt is made to fight for an offensive rebound.
Boston's results over the past six years support Rivers' philosophy. But he had the personnel to make it work. Kevin Garnett was one of the best half-court defenders in NBA history, Kendrick Perkins was an elite post-defender and the team's much-replicated strategy of overloading the strong side (installed by Bulls head coach Tom Thibodeau) made transitioning back the smart move.
The two ideologies are in direct conflict with each other, and they leave us with no definitive right answer. But since Stevens now has a roster that could struggle mightily defending in the half-court (with no rim protectors and a congregation of either total inexperience or known ordinary play on that end) the idea of creating multiple possessions over getting back early just to be picked apart is enticing.
Kris Humphries and Jared Sullinger are much more useful fighting on the glass than they are hedging on a pick-and-roll; this strategy would highlight their strengths.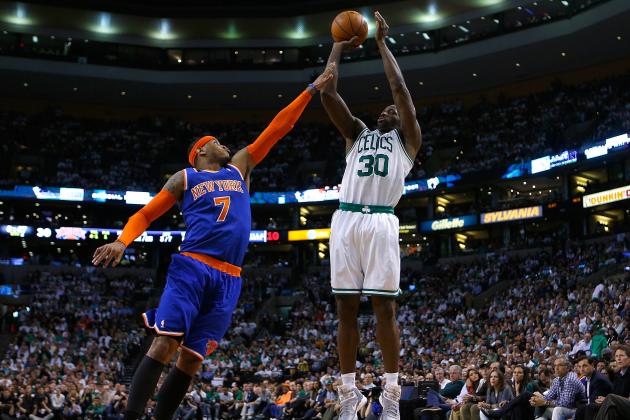 Jim Rogash/Getty Images

It's now common knowledge that mid-range jumpers are the least efficient shot in basketball. Good offenses reluctantly accept them only after they can't get to the rim or launch up an open three.
But over the past three seasons, the Boston Celtics have decided to go against the grain. Starting in 2010 up until last season, they ranked 8th, 3rd and 6th, respectively, in field goal attempts per game from 16-23 feet, according to Hoopdata.
Part of their rationale for doing so was based on their ability to knock them down at a high rate (Kevin Garnett and Brandon Bass are two of the league's best mid-range shooters).
Stevens knows this has to change now that Garnett, Paul Pierce and Jason Terry (all lovers of long twos) are gone. In order for Boston's offense to increase its efficiency, it needs to prioritize attempting more efficient shots.
It's about time Boston joined other smart teams around the league and stopped settling for mid-range jumpers, even when they're wide open.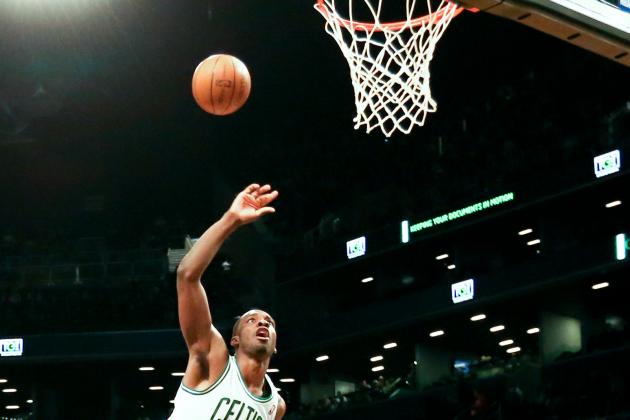 Anthony Gruppuso-USA TODAY Sports

No lineup configurations are set in stone before training camp begins, but Gerald Wallace backing up Jeff Green at small forward figures to be a near certainty.
Given the team's lack of size—but certainly not numbers—in the frontcourt, there's a good chance Stevens eventually starts to experiment with smaller, more versatile lineups. That means playing Wallace and Green together quite a bit.
These units have the potential to be incredibly effective, with both Wallace and Green capable of defending more than one position. And when Rajon Rondo returns, Boston's hopefully faster tempo with Green and Wallace racing down the court, past larger, slower opponents, could make for an exciting plan of attack.