Tiger Woods at Tour Championship 2013 Tracker: Day 1 Highlights and Updates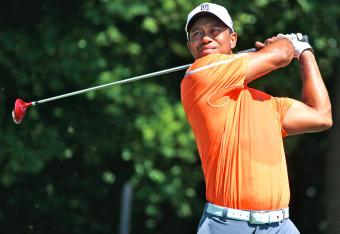 Top-ranked FedEx Cup player Tiger Woods opened the playoff field right up on Thursday at Day 1 of the Tour Championship.
Woods went birdie-free for the first time since the 2010 U.S. Open as he struggled to finish three over par at East Lake Golf Club, a course that is normally kind to him.
As he has in recent weeks, a lethargic-looking Woods struggled again on the greens in the front nine, then added some fairway adventures as well on the back half of the course.
By contrast, despite suffering from tendinits in his wrist, Woods' playing partner Henrik Stenson lit up East Lake on Thursday, finishing at the top of the leaderboard at six under par.
Tiger will start in the first group with Jason Dufner on Friday morning. Perhaps that change of pace will help to shake out the malaise and get the year's best golfer back on track for the potential $10 million payday.
Tiger is in no mood to talk about his day.
Tiger declines all interview requests after the round.

— GC Tiger Tracker (@GCTigerTracker) September 19, 2013
They can talk physiques RT @RonGreenJr Tiger shoots birdie-free 73 with 34 putts. He's 29th of 30. First off tomorrow with Jason Dufner.

— Brian Wacker (@pgatour_brianw) September 19, 2013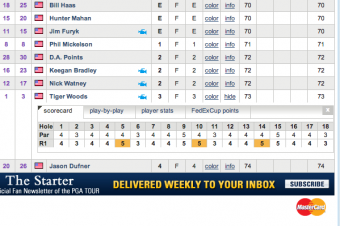 As for Tiger, his long putt gets him in good position to save par.
He finishes Day 1 in 29th place out of 30 golfers at three over.
I've heard Stenson referred to in the crowd as both Henry and Hendrick today. No respect.

— GC Tiger Tracker (@GCTigerTracker) September 19, 2013
Henrik Stenson caps off his tee-shots with the best of the day on 18, landing just a few feet from the pin of the par-three.
Tiger's on the green but it would take a miracle putt—on a good day—to break the birdie curse.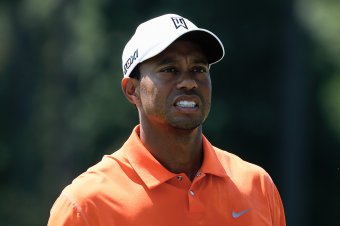 Scott Halleran/Getty Images
Birdie on 17? Not a chance.
He even gives a half-heated fist-pump as it rolls wide, like "I didn't miss by much!" is now a good result.
That's 32 putts so far on the day. Tiger is going to need a major reset if he hopes to get back into this tournament tomorrow.
From right rough on 17, plays a nice little draw that looked good and sounded good based on the greenside gallery's applause.

— GC Tiger Tracker (@GCTigerTracker) September 19, 2013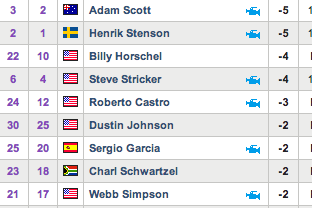 He's fallible! And Tiger beat him on a hole!
Henrik Stenson bogeys the 16th to drop to five under. He and Adam Scott are now tied for the lead.
By my (rough) math, Tiger has played 1,198 rounds on the PGA Tour. Made a birdie in 1,192 of them (99.4%).

— Jamie Kennedy (@jamieonsport) September 19, 2013
The putt rolls a little high.
Tiger's so bummed out, his body language is a blank slate at this point. It's like he's now expecting to miss the shots he used to make.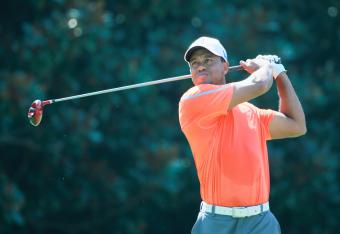 Maybe all this no-birdie talk is the inspiration that Tiger needed? He's on the green neatly in two, with a birdie-putt of about 10 feet waiting for him on the tough 16th.
Make that a one-shot lead.
Adam Scott has birdied six of seven holes so far on the back nine and is now just one stroke behind Stenson.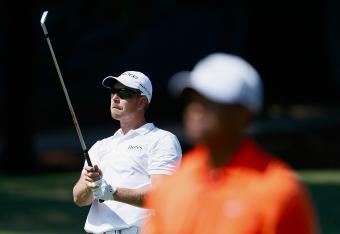 Speaking of birdies, Stenson nails his shot to take a two-shot lead at six under.
Tiger is the only golfer on the course without a birdie today.
The last time Tiger went an entire round without a birdie was the U.S. Open in 2010.
He has a chance at the par-five 15th, with a putt of less than 10 feet. Today, nothing seems to be dropping—that's another par.
Tiger better start making some birdies if he wants to win this week #fedexcup

— Patrick Sicula (@PsicGolf) September 19, 2013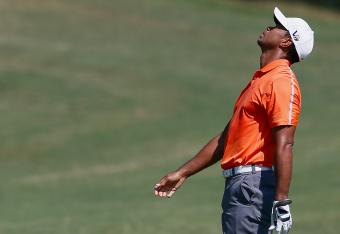 Definitely not the start that Tiger wanted and yes, he's setting himself up for an early tee time tomorrow.
But let's not forget that despite his below-standard play through the FedEx Cup playoffs, he entered this series ranked No. 1 because he was the most consistent golfer over the course of the entire season.
Whatever the reason for Tiger's current malaise, he has three days—and four holes today—to try to flip the switch.
Good start on the 15th.
Tee shot! Middle of the fairway! BOOM!!!

— GC Tiger Tracker (@GCTigerTracker) September 19, 2013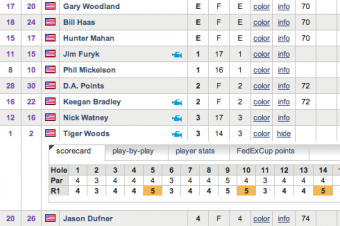 With his bogey on 14, Tiger's now tied with Nick Watney and just one shot ahead of last-place Jason Dufner.
Putt looks good, but doesn't drop. Another bogey for Tiger and he's +3 with four to play.

— GC Tiger Tracker (@GCTigerTracker) September 19, 2013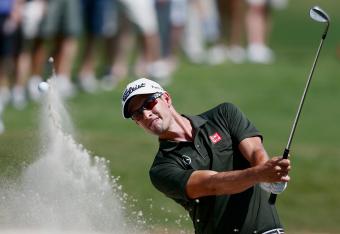 It can be done, folks! Adam Scott has escaped from the Tiger zone with four birdies in five holes on the back nine. He's up among the leaders now at three under par—that didn't take long at all!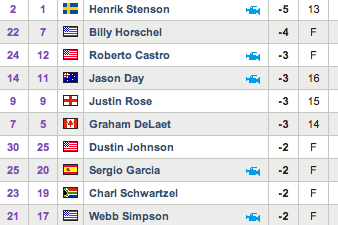 Meanwhile, things have settled down at the top of the leaderboard.
Henrik Stenson has made six straight pars to stay at five under, while Billy Horschel is in the clubhouse, currently alone in second place.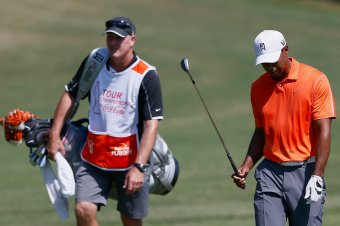 Kevin C. Cox/Getty Images
A long, arduous journey on 13 ends with a nice putt to save par. That's been one of the more uplifting moments of Tiger's day so far.
He's been surprisingly even-keeled considering his frustrating results. No sign of back issues but not much emotion, either.
This article is
What is the duplicate article?
Why is this article offensive?
Where is this article plagiarized from?
Why is this article poorly edited?