Wayne Rooney's Top 30 Manchester United Moments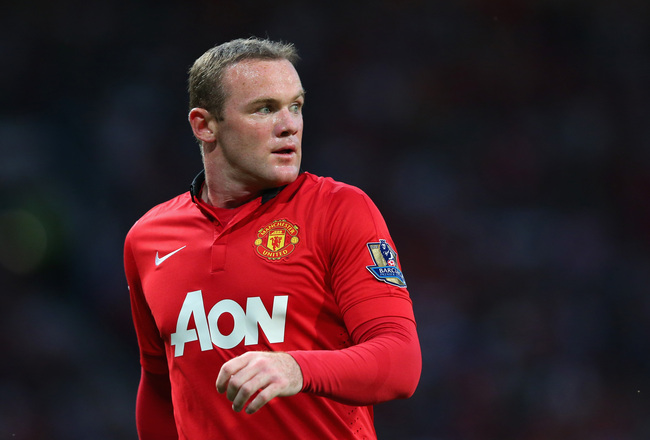 Alex Livesey/Getty Images
Wayne Rooney's status as a Manchester United legend is complicated.
Though the fans still chant his name, there is a real conflict over whether he should be celebrated after at least one transfer request saga and numerous anecdotes of underhand contract negotiation tactics and poor lifestyle choices affecting his performances.
However, looking at his and the club's achievements during Rooney's time at Old Trafford, it's impossible to say that he isn't already one of United's greatest players ever.
He may not be the "White Pele" as Sven Goran-Erkissen once christened him, but having scored his 200th club goal for United against Bayer Leverkusen - climbing to fourth in the list of all-time scorers for the club - and amassed an impressive haul of trophies, to say that he hasn't fulfilled his potential while wearing red would be wrong.
David Moyes has set his former Everton protege the challenge of scoring 30 goals for United this season, a feat that would put him within touching distance of Sir Bobby Charlton's club record of 249 goals.
With that target in mind, and just under 10 seasons worth of action for United to sift through, now feels like the right time to rundown Rooney's 30 greatest moments in a United shirt, from 2004 to today.
What are your favourite Rooney moments for United?
30. Four Goals Against Hull City
We begin with a landmark goal haul for the England striker from back in January 2010.
In a slick performance that delighted the Old Trafford crowd, Rooney scored all four goals in a 4-0 victory over Hull City, with the final three coming during the final ten minutes of the game.
As well as being the first, and so far only, game of his career in which he scored four goals, the win lifted United back to the top of the Premier League table.
29. Driving Run and Assist for Van Nistelrooy
Rooney has always been a creative player, but in his first few seasons at United he was especially prolific in creating opportunities for others.
After spending his first year getting up to speed with the club, the youngster proceeded to lay down 14 assists each season from 2005-2008.
The assist for Ruud van Nistelrooy, captured in the clip above, was one of Rooney's earliest and best goal set-ups showcasing his raw, irresistible talent.
Surging into the box from the halfway line, using his power and tenacity on the ball to brush off his challengers, the young forward was able to look up, assessing his options before firing a high ball over to his Dutch counterpart, ready and able to take it down before spinning a finish into the net.
It's an excellent example of Rooney's abilities as a provider and team player, and well worthy of a place on his top 30.
28. Leading the Comeback Against Chelsea from the Spot
Though Rooney's penalty record may have come under-fire of late, back in February 2012 his ability to coolly dispatch spot kicks was vital to United regaining parity with a Chelsea side that had raced into a 3-0 lead early in the second half.
Although it was Javier Hernandez who scored the dramatic equaliser in the 84th minute, ably assisted by Ryan Giggs, Rooney also played his part in the build-up to the Mexican's late strike.
Regardless of the last minute ecstasy, the goal would have been little more than a consolation without the Englishman's focus from the spot in front of a vocal Stamford Bridge.
Having been judged to be something of a loose cannon as a fiery youngster, at United Rooney was able to mature into a largely dependable and composed leader on the field, proving he could keep his head amid adversity in order to compete.
Leading the fight-back away to Chelsea after going three goals down is a good example of his drive, determination and control over his on-field emotions.
27. At the Heart of a Famous Second Half Against Tottenham
United's 5-2 second half comeback against Tottenham Hotspur is a modern classic when it comes to the club's canon of their best, recent Premier League games.
Darren Bent and Luka Modric put Spurs up 2-0 in the first half before the game was turned on its head.
First, Ronaldo scored a penalty after Michael Carrick was brought down in the box. Rooney then set about ensuring United got the three points, scoring the equaliser with a highly composed finish from just inside the box and then delivering the cross for Ronaldo's header to notch up the club's third.
The Englishman then put the result beyond doubt with another score from just left of Heurelho Gomes' goal. Having managed to palm the initial shot, the ball eventually squirmed over the line to make it 4-2. Dimitar Berbatov finished the turnaround with another goal that completed the final scoreline: 5-2.
Ronaldo's goals may have been the most decisive on paper - scoring the opener and the third goal - but with his selfless industry, movement and link-up play Rooney was more influential, at least as far as his teammates were concerned.
United needed a catalyst in order to claw their way back into the contest, and that's exactly what the Englishman provided to his team.
26. First Time Volley Against Middlesbrough
Long range pile drivers were a speciality of the young and raw Rooney.
His goal against Middlesbrough from 2005 remains one of the most immediately impressive finishes of his career. Hitting a knock down from Louis Saha, first time on the volley, the Englishman connected perfectly with the ball on its sweet spot, sending his shot fizzing into the net at pace.
Unsaveable? Unmissable as far as spectators are considered.
Although such goals have mostly disappeared from his game of late, his early missile-like finishes are still more than worthy of inclusion on a list of his greatest moments.
25. Impressing Against AC Milan
AC Milan may have been a shadow of their former selves against United in 2010, and Rooney took full advantage during the away leg in Italy.
In their previous visits to Milan, United never scored. Yet here they managed to triumph 3-2 mainly due to Rooney's prowess as the team's attacking fulcrum.
Questions lingered however around the forward's form going into the game following a brief period in which his performances had begun to decline.
Whether it was the opposition or the spectacle of the Champions League, Rooney snapped into focus and set about destroying the Milanese with his aerial presence. A cross from Antonio Valencia and a delivery from deep by Darren Fletcher were both diverted into the goal by the Englishman's head.
One of Rooney's most assured performances on football's biggest stage, his turn against AC Milan goes into the top 30.
24. Getting the Basics Right and Back into Action
A more mundane goal perhaps, but having suffered from injuries throughout the season, Rooney made sure he dot the basics right and was able to slide home an important finish for his team against a rival.
So often regarded as overrated and under-skilled by his detractors, goals such as the one above from 2006 underline the fundamental quality at the heart of his success.
23. Bolton Hat-Trick to Wash Away 15 Hour Dry Spell
Going into this game in 2006 against Bolton Wanderers, Rooney hadn't scored in almost 15 hours of football.
What a relief then that he decided to break his duck with a hat-trick against United's minor local rivals.
First scoring with his left foot and following with two more on his right, it wasn't just the number of goals scored that was impressive but the crispness and accuracy of the finishes.
Not a bad way to get the juices following once more.
22. A Last Minute Winner in Europe
False hope.
That's what Rooney's late, late winner at home against Milan in 2007 offered.
It was the first leg at Old Trafford before the ill-fated away trip to the San Siro in which Kaka ripped United to shreds.
However, taken in the context of the game in which it was scored, this was Rooney at his last-minute, match-winning best, with a finish befitting of the goal's status in the tie.
Squeezing his shot past the goalkeeper's near side, at an impressively tight angle, the goal lifted the stadium and appeared to offer the team a real chance to progress should they be able to weather the storm back in Italy.
While that wasn't to be the case, it doesn't take away from the character and clarity in front of goal Rooney showed that night.
21. Chipping the Keeper in the FA Cup
We've already seen one of Rooney's long-range canon shots, but they aren't the only type of strike the Englishman has added to his armoury during his career.
The chip is arguably his favourite method of beating goalkeepers; a preference suggested by his often bizarre and inappropriate attempts to pull such a shot off even when it's not on.
When such goal attempts do come off though it almost feels worth the wait. Cheeky, skillful and unexpected - a predictable chip is a failed chip - Rooney's best chipped goals make up some of his most memorable moments on a football pitch.
20. Central to the Fall of Roma
Much like his performance in the 5-2 comeback against Tottenham, United's 7-1 demolition of AS Roma in 2007 featured Rooney in full, team-enhancing flow.
With Carrick opening the scoring with his first of two pinpoint long-rangers, Rooney seemed to take it upon himself to ensure the momentum of the performance was maintained, shuttling up and down the left and cutting into the box.
The sacking of Roma also proved to be something of a dress rehearsal for the Champions League-winning campaign the following season, with Rooney and Ronaldo's seemingly telepathic relationship in attack further improving, to lead the team onwards to glory.
Call it a 4-6-0 formation or something more standard without a normal, recognised striker, but however you describe United's system in the years between 2006-2009, Rooney's work rate, versatility and skillful team-play was absolutely vital to its development and success.
Without Rooney, the team's careful balance and fluidity wouldn't have been possible.
19. Part of the Perfection of Ronaldo's Goal Against Arsenal
Is this the perfect modern United goal?
Fast, decisive and efficient, Ronaldo's box-to-box, three pass strike was explosively effective and beautifully simple.
With Park bursting up through the middle from a Ronaldo back heel, it was Rooney who made the final delivery to complete the move, as he sprayed the ball into the box for his Portuguese partner to slot it home.
Although not specifically a Rooney moment, his important role in something so flawless is more than worthy of inclusion.
18. Scoring a Hat-Trick on His Debut Against Fenerbache
It was as if it had been written.
Arriving at Old Trafford, fresh from making his international breakthrough at Euro 2004 as England's best player at just 18, it was decided that Rooney would first be let loose on Turkish giants Fenerbache in the Champions League.
The new signing wasted no time in making an impression, scoring a hat-trick that displayed both his talent and his range. Opening with a blasted shot into the net of the net from distance, after racing onto a through ball, he soon added on a low finish into the corner of the net from just inside the box, and the finishing touch of a direct free kick, struck over the wall and into the top corner of the net.
A new star at United had been bought, and with three goals under his belt to begin with Rooney's Old Trafford legend was born.
17. Scoring His 34th Goal in 2008-09
When Untied sold Ronaldo to Real Madrid for £80 million, Rooney lost more than just a partner on the field.
He has also had to give up his freedom to some extent, to become a more direct goal threat who could make up for the missing contributions of the La Liga-bound winger.
Converted to a more traditional No. 9, Rooney blossomed as a goalscorer under the added responsibility and service, scoring 34 goals in 44 games.
The 34th goal came in United's Champions League semi-final against Bayern Munich, with the England striker finding himself in space in the middle of the box from a corner, to smash home the delivery.
While United didn't progress past Bayern, partly due to an injury suffered by Rooney, the final tally of goals was indeed impressive, whetting the appetites of fans hungry for more, and convinced their idol had turned a corner.
That season it seemed as though Rooney was about to make the step up to Messi and Ronaldo's level. While he may not have quite scraped into such exalted company he did finally assert himself as United's main man, a work horse no longer.
16. Counter-Attacking Brilliance Against Bolton
Another excellent counterattacking goal created through the combination of Ronaldo, Park and Rooney, this time scored by Rooney against Bolton.
It was also Rooney who began the surge up-field and provided the back heel for Park to run onto.
United fans hope Shinji Kagawa and Robin van Persie can create a similar understanding with the Englishman soon.
15. Back-to-Back Hat-Tricks in 2011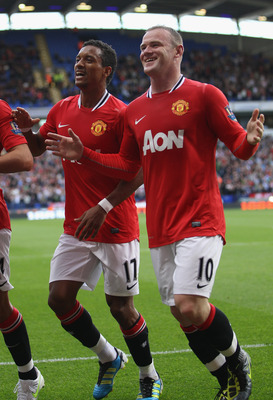 Michael Steele/Getty Images
On September 10th 2011, Rooney became the fourth player in the Premier League era to score back-to-back hat-tricks after he put three past Bolton in a 5-0 thrashing of Owen Coyle's team at Old Trafford.
His trio of goals came a week after another hat-trick against Arsenal in the Gunners' humiliating 8-2 defeat at the hands of United.
14. Cantona-Esque Chip Against David James
Viewed from the reverse angle, with the camera positioned behind Rooney as he takes his shot, his second goal against Portsmouth in 2007 FA Cup is uncannily similar to Eric Cantona's famous lob against Sunderland in 1996.
Finding himself on the edge of Portsmouth's penalty box, and with David James off his line, Rooney took the opportunity to chip the keeper, floating a ball over the hapless stopper.
Maybe it's the fake telegraphing of a powerful shot in the making, or the similar balance and body poses struck by Cantona and Rooney after letting their respective balls sail off into their arcs towards goal; it's hard to say.
Considering the affection reserved for many of Rooney's other moments, Rooney's chipped finish against Portsmouth didn't rustle him up a Cantona moment, but it was a goal worthy of the enigmatic Frenchman.
13. A Brace Against the Old Enemy
This was the game in which Luis Suarez refused to shake the hand of Evra, yet Rooney didn't let the events of the day distract him from his purpose.
Putting away a brace that would in the end secure United a 2-1 victory, he was a menacing presence in the box again, pouncing on a loose tap-in with a truly venomous shot on his rights for his first while his second was a nicely placed left foot shot, fired as Liverpool's defensive line dissolved into nothing.
Rooney: the player for the big occasion.
12. Running Arsenal into the Ground 8-2
In a similar vein to the Tottenham and Roma entries, Rooney's performance against Arsenal in the 8-2 thrashing conjured up a hat-trick as well as a well-rounded display that once again allowed those around him to multiply their talents for the benefit of the team.
Everything seemed to go right on the day for United and Rooney, while a demoralised Arsenal team eventually buckled completely under the intense pressure directed at their shattered lines by the ruthless Englishman.
11. That Screamer Against the Magpies
If you're going to remember one early goal from Rooney's extensive back catalogue of hits, it's probably this one.
Turning away from the referee seemingly in mid-argument, the hotheaded youngster threw himself into the air to connect with the incoming ball - half through blind rage and half through his intuitive anticipation for spectacular goals - for the sweetest of volleys into the roof of the net from 35 yards out or so.
Rooney may have changed as a player of the years, but his furious strike against Newcastle still defines him and his style of play in the memories of many fans.
10. Winning His First Premier League Title in 2007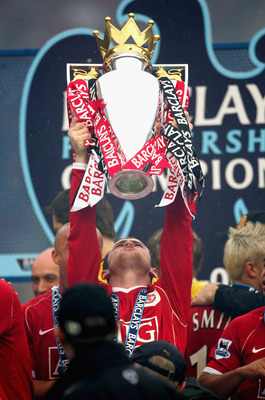 Alex Livesey/Getty Images
Though Rooney joined United in the summer of 2004, the former Evertonian had to wait until the summer of 2007 to lift his first Premier League title.
As of September 2013, Rooney has won the Premier League four times, contributing to the club's historic 19th and 20th league wins. The year after his maiden victory in 2007, he would play a decisive part in completing a league and Champions League double with United.
Winning titles is what Rooney came to Old Trafford to do, and as such, his first landmark win in the league stands as a fitting entry point to our medal-filled top ten.
9. Exquisite Assist for Van Persie for Title Number 20
While van Persie's finish was stunning, the quality of Rooney's ball over the top to set the Dutchman up, and all but confirm United's 20th title against Aston Villa in April 2013, was equally exhilarating.
Taking the ball from deep in the midfield, Rooney's perfectly weighted and ranged long ball forward took the majority of the opposition's defense off the game in one deft delivery.
Rooney hadn't enjoyed the best of seasons in 2012-13 due to a cold war over striker supremacy with van Persie, frosty relations with Ferguson and the appearance of a worryingly nonathletic paunch poking through the front of his jersey.
Yet this assist illustrated that the player, who had for so long been United's golden boy and then Mr Indispensable, still had the technique and imagination to thrive for the Premier League winners.
He may have rediscovered his form and physique so far this year after a fractious summer of Chelsea transfer offers, but van Persie's second goal against Paul Lambert's Villa was the first sign that there may be some life left in Rooney's United career.
After all, watching the bullish and stocky former Evertonian rise to the occasion and beat back adversity, more individually and for his team, has been one of his greatest attractions and strengths. This moment was a timely reminder of just how decisive Rooney can be after a difficult year at Old Trafford.
8. Scoring Against Barcelona in the 2011 Champions League Final
Rooney has so often been United's big game player, and games don't come much grander than the Champions League final.
Although the 2011 final turned out to be the second chapter in a brutal dissection of Ferguson's late-era squad by the period's greatest club team, Pep Guardiola's Barcelona, Rooney's goal was a consolation.
During the match, while United may have looked even more outclassed and outplayed than their 2-0 defeat two years previously, the goal was a rush of blood to the head that seemed to fire up renewed hope that this could be the year Barcelona were found out.
That may have not been the case, but as the team's talisman, Rooney once again displayed his coolness and focus under pressure to score a very good goal on the greatest stage in world football.
7. Putting Arsenal to the Sword on the Counter
It is said that imitation is the sincerest form of flattery, yet Rooney's goal against Arsenal - almost identical to the one scored by Ronaldo in a similar kit, and the flowing counterattack against Bolton, both of which we've already touched on - was perhaps an improvement on the original.
Scored in United's 3-1 Premier League defeat of Arsenal in 2010 - Ronaldo's goal came in a 3-1 Champions League win over the same club in 2009 - the goal features an upgraded finish by Rooney following another lightning quick charge by United's three-pronged attacking line-up.
Rooney starts and finishes the move, as it surges from box-to-box, worked up field through three scalpel sharp passes.
As a goal it features two excellent examples of the Englishman's clinical passing and shooting ability, as well as being a testament to Rooney's ability to direct and drive-on those around him.
6. Scoring the Winning Goal in the 2010 Carling Cup Final
Over the past two decades, winning silverware has been a requirement rather than an ambition for players wearing the colours of Ferguson's United, and Rooney became a serial champion under the legendary, knighted Scottish manager.
The League Cup, then sponsored by Carling, may be the lowest hanging fruit of the trophies available to win to top-flight English teams, but as has so often been the case with Mourinho's Chelsea in 2005, and United in 2006, it can be a springboard to inspire greater victories in the future.
A trophy is a trophy, let's not forget, and in 2010 Rooney stepped up once again to score the winning goal in the Carling Cup final against Aston Villa.
Once again showing off his impressive heading technique and dominance in the air, Rooney rose above Alan Hutton to bat the ball into the goal.
5. Winning the 2008 Champions League Against Chelsea
The Champions League is now the greatest prize in football, having eclipsed the international scene and the World Cup in the minds of all but the most sentimental football followers.
In 2008, Rooney lifted his first and so far only European title, and although he was substituted in the 101st minute and absent from the deciding penalty shoot out, the trophy was a fitting reward for his contributions to the season as a whole.
The video above shows the United squad arriving at their hotel after the final, with Rooney visibly delighted at the team's triumph.
Perhaps it was his desire for more European glory that led the Englishman to seek a move to Chelsea, where a re-installed Mourinho may at first have looked a better bet for Champions League success than Moyes.
Regardless, with Rooney reaching 200 club goals with his two strikes against Leverkusen, he's back in the goals and the team for United in Europe's premier competition.
In the meantime, winning the biggest trophy in club football isn't a bad way to break into the top five.
4. Knocking Manchester City out of the Carling Cup in 2009
Having become into one of the richest clubs in the world overnight by the takeover of Sheikh Mansour, it was only a matter of time before Manchester City began to pick up trophies, and eventually titles.
For the first few years of City's new era, United did their best to block their "noisy neighbors" at every opportunity, while Premier League derbies gained a even greater competitive and emotional intensity.
The Manchester rivalry was back!
While the Carling Cup was hardly a priority in 2009, preventing Roberto Mancini from winning the trophy, and potentially using any such success as a springboard to galvanise the club into legitimate title rivals, was a mission that United felt they could not fail.
Having been beaten 2-1 by City in the first leg of their semi-final showdown, thanks to two goals by Tevez, United were heading into extra time at home in the return fixture, having cancelled out the previous result with another 2-1.
Enter Rooney.
In the 92nd minute, with United pouring forward, the striker once again provided a decisive headed goal to knock City out of the competition and secure passage to the final, in which he scored the winning goal as we've already seen.
3. The Title-Winning Penalty for Number 19
It may not have been the most glamourous goal of Rooney's career, nor was the game particularly memorable.
Even the opposition was lacking in terms of reputation for inclusion in a top three list of a player's greatest moments.
However, when Rooney coolly slotted home his penalty, he scored the winning goal for United's historic 19th league title, pipping their grand old rivals Liverpool in the ranks of the nation's most prolific title winning clubs.
Van Persie will forever be synonymous with title number 20, but let's not forget the responsibility and work load shouldered by Rooney in the previous seasons that, beyond his disloyalty and regrettable decisions off the pitch, led the Englishman to make meaningful contribution to United's list of honours.
While it may have been a penalty in a turgid away draw against Blackburn Rovers, it was also the goal that handed United supremacy in list of top division winners, a goal scored by Rooney.
A fitting third place in the list of his greatest ever moments for United.
2. The Bicycle Kick Against City
Overhead and iconic, Rooney's acrobatic finisher against City in February 2011 is without doubt one of his best goals, and his spectacular volley was even named the Premier League's Best Goal in their list of awards to celebrate 20 years of the new-look English top-flight.
As a goal it had everything. It was decisive (Rooney's bicycle kick won the match), unexpected, unusual and dramatic, as well as unlikely considering that up until that point its scorer hadn't enjoyed the best of games.
It also proved to be a vital strike in the context of the season's title race, which United went on to win thanks to a Rooney penalty in the third-to-last game of the season, as we saw in the previous slide.
Considering how popular Rooney's overhead winner against City is, and how much it has come to define him and his celebrity within the game over the past couple of years, what ever could beat it in a list of his greatest achievements in a United shirt?
1. Signing for Manchester United in August 2004
In August 2004, Rooney signed for United from Everton for a fee thought to be around £25.6 million plus performance-based bonuses, a transfer that made all the other 29 moments in this list possible.
While Rooney may not have developed into the player that some expected, his contributions to the United cause over the past nine years have been immense, even if his behaviour at times has overshadowed the good he has done for the club.
Is his current run of form an attempt to place himself in the shop window for Europe's biggest clubs or a sign that his recent problems with United have eased? It's impossible to say.
Regardless of what the future may bring however, Rooney can play a pivotal role in any potential title challenge or adventure into the latter stages of the Champions League and domestic cups this year.
Yet should he stay there will be plenty more incredible moments to rival those featured in this list.
Keep Reading

Manchester United: Like this team?