10 Things Every Fan Needs to Know About the San Antonio Spurs for 2013-14 Season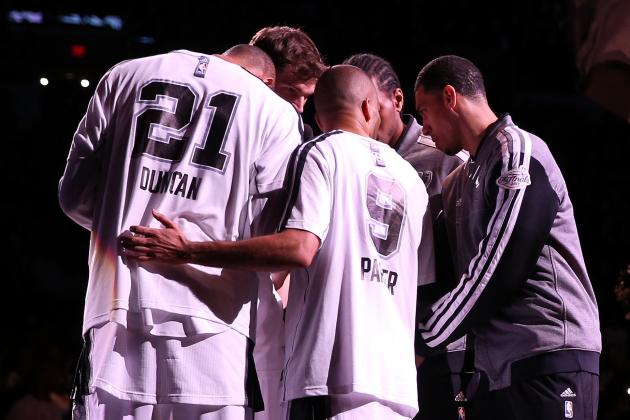 Mike Ehrmann/Getty Images

It was a fairly boring summer for the San Antonio Spurs, but after nearly escaping with the 2012-13 championship, what did you expect?
Despite the relative inactivity, the defending Western Conference champions will look to begin the season where they left off—at the top.
With their core players back and ready to produce, there's plenty to be excited about—even for the "boring" Spurs.
Begin Slideshow

»
Ronald Martinez/Getty Images

Tiago Splitter's subpar performance against the Miami Heat in the Finals last season resulted in vast scrutiny and criticism for the Brazilian big man.
Even Spurs fans—who had grown increasingly more fond of their starting forward during the regular season—were quick to give up on the talent who was projected to be Tim Duncan's frontcourt successor.
Well, Splitter supporters and naysayers alike can push their feelings aside, as the team inked a $36 million deal in the summer that lasts throughout the 2016-17 NBA campaign.
With the money in his pocket, all Splitter has left to do is prove himself to the world—a feat that he is most certainly capable of.
Over the past two seasons, the 6'11'' Brazilian has improved, as a slight growth before the 2011-12 campaign preceded a watershed year in 2012-13.
The raw talent is there; Splitter can contribute on both ends, as manifested in his regular season performance. He can defend the post and finish underneath without problem, and his quality passing skills are rare for someone of his stature.
But with the world holding a collective breath due to his shoddy Finals showing, it's up to Splitter in 2013-14 to allow them a sigh of relief.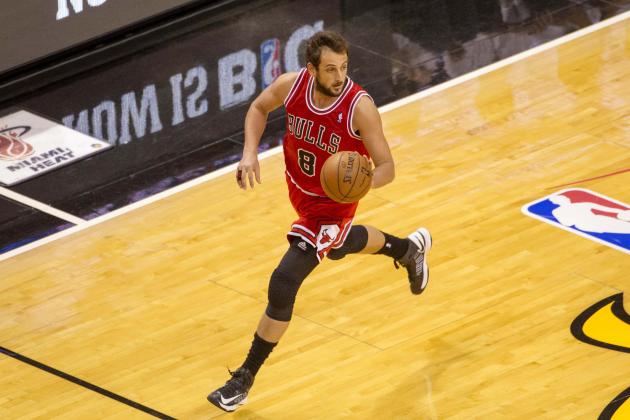 Steve Mitchell-USA TODAY Sports

For most teams, the offseason is a period of excitement—a period when franchises are altered forever.
Rarely has this been the case for San Antonio. The front office's penchant for remaining quiet has become a tradition that remained unbroken this summer.
That said, while nothing too drastic occurred within the borders of the Alamo, the under-the-radar acquisition shouldn't—and won't—go completely unnoticed.
Belinelli, an Italian journeyman, has made his latest stop in the Spurs' foreign-filled roster, where he'll add to the team's shooting guard depth. He'll also provide assistance behind Kawhi Leonard at the 3.
The 6'5'' talent is by no means a star, but he'll leave his impact nonetheless.
He can shoot, slash and orchestrate an offense when asked.
Though Belinelli's signing will take a backseat to the larger-scale transactions, his fresh face coupled with adequate talent should be enough to spur excitement in the San Antonio community.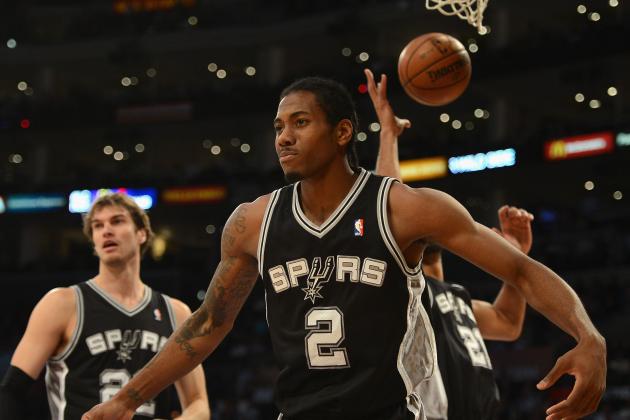 Harry How/Getty Images

Following his breakout sophomore campaign—specifically his performance opposite LeBron James in the Finals—few NBA analysts aren't gushing over the potential of Kawhi Leonard.
He's been included on just about every list of rising stars, and rightfully so. Leonard has not only shown supreme talent in the early stages of his career, but his work ethic and veteran-like attitude have ensured a bright future for the rising small forward.
He made a large jump from his outstanding rookie season to his noteworthy sophomore one, but he'll make the ultimate leap in 2013-14.
After seeing Leonard not only hold his own, but succeed against the league's best player in the national spotlight, it's safe to say that he's ready.
Defensively, the San Diego State product is already a stud. Blessed with unprecedented arm length and hand size, Leonard's physical tools coupled with his overall tenacity has allowed him to lead the Spurs' perimeter defense despite his young age.
He's still improving offensively, though his series of double-doubles against the Heat was proof that, when needed, he can fill the stat sheet.
As Popovich continues to dole out opportunities for the younger prospects, Leonard will undoubtedly continue his development, transitioning from a standout role player to a fringe All-Star.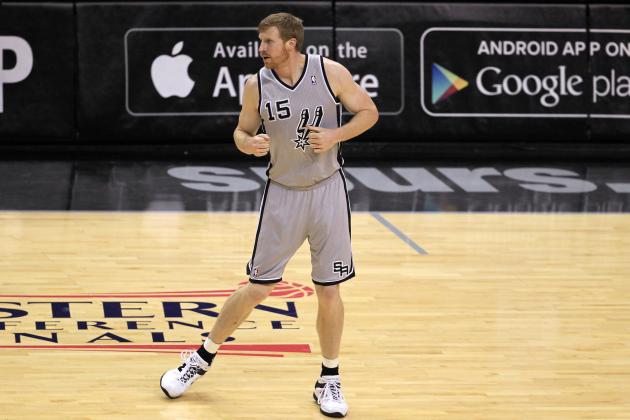 Ronald Martinez/Getty Images

Amongst the narratives accompanying the team in the upcoming campaign, a certain storyline has gone unnoticed by the majority of the Spurs' fanbase.
The 2013-14 season may very well mark the end of Matt Bonner's tenure in San Antonio.
Obviously Bonner's contributions won't be missed; his one-dimensional game can be replaced by the plethora of long-ball shooters currently on the roster.
However, Spurs fans have developed a sentimental attachment to the three-point specialist, and his eventual departure will invoke an inevitable feeling of sadness in many.
Unfortunately, Bonner's playing time will be minimal, as he no longer possesses enough upside to garner much court time.
Still, we should all grasp his final moments as a Spur, as the Red Mamba may never again be featured in black and silver once the season draws to a close.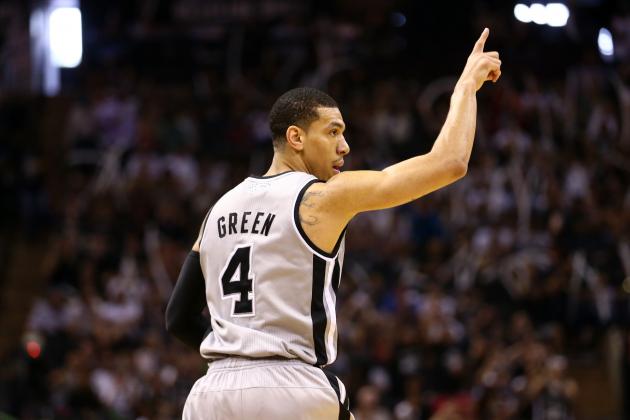 Ronald Martinez/Getty Images

In case you were living under a rock during last year's postseason, a certain shooting guard by the name of Danny Green completed his journey from anonymity after a brilliant three-point shooting performance earned him a spot in the all-time record books.
So what's next for Green, who faded towards the end of the Finals?
Well, given the number of other options in the San Antonio rotation, Green should rarely find himself with consistently tight coverage.
He'll be the defense's fourth priority in the starting lineup, and the number of opportunities should allow Green to repeat his success from beyond the arc—if not improve upon it altogether.
He'll also continue to display his defensive aptitude, as he—like Leonard—will make a jump in the upcoming season.
An All-Star game may not be in his future, but as an ideal role-player, don't be surprised if Green competes for the three-point title alongside Stephen Curry in 2013-14.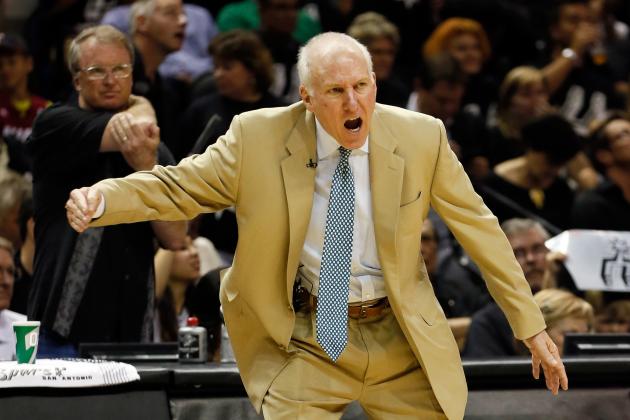 Kevin C. Cox/Getty Images

The players haven't been the only constant over the past few years; the coaching staff, too, was rarely altered.
This isn't the case in 2013-14, however. Though Gregg Popovich will return to lead his squad to success, the collection of assistant coaches will be extremely different.
Both Mike Budenholzer and Brett Brown—Pop's former left- and right-hand men—have departed to assume head coaching roles elsewhere.
Chip Engelland, the team's resident shot doctor will return, as will Chad Forcier, who specializes in player development. However, neither of the two has a large role on the bench.
Replacing Brown and Budenholzer will be Ime Udoka—a former player who is entering his second year of coaching—and the newly added Jim Boylen.
With Pop leading the front, the lack of "depth" at the coaching position won't be an issue, though it is still something to consider.
Ronald Martinez/Getty Images

Two years ago, Tony Parker made the long-awaited jump from a talented point guard to an elite one. Last year, he was arguably the best in the league.
Though he's in his thirties, you can assume that Parker is in the midst of the prime of his career.
The timing—unsurprisingly—coincides with the passing of the torch from Duncan to Parker, and with Duncan another year older, increased limitation should result in even more Parker excellence.
He's finished as a dark horse MVP candidate in each of the last two seasons, but if the Spurs repeat their success, don't be shocked if Parker ends up being a favorite.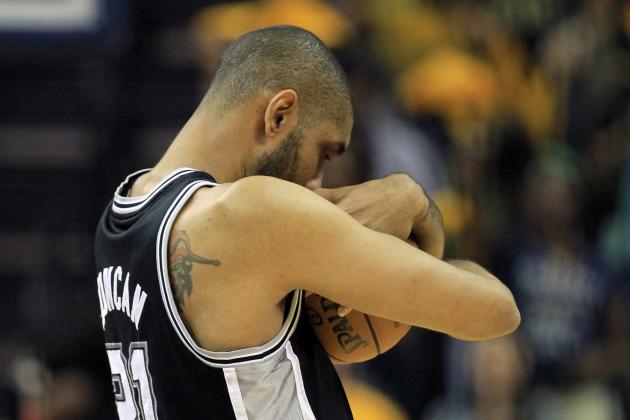 Ronald Martinez/Getty Images

When Duncan signed his contract prior to last year, it was widely assumed that he would retire after two seasons; the final, third year is a player option.
What people didn't assume was that the Spurs' veteran big man would continue to play at a superstar level even at 37 years of age.
Despite his all-around excellence last year, it's a brand new season and Duncan—who is yet another year older—will have to engage in another battle with Father Time.
Though nothing is definite, especially if he turns in another All-Star campaign, Duncan's potential retirement is something to prepare for—especially considering the terms of his contract.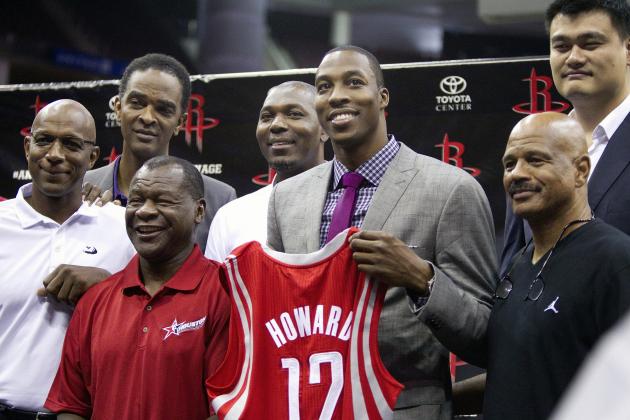 Bob Levey/Getty Images

The whole game changed when Dwight Howard joined the picture.
Last season, the Houston Rockets barely made the playoff cut. This season, after convincing arguably the league's best center to sign with them, the Rockets will contend for a championship.
But they aren't alone in the Western Conference playoff picture.
The Oklahoma City Thunder—now at full health—will be back eyeing an appearance in the Finals. The Los Angeles Clippers, whose star-studded roster now has an elite coach, shouldn't be excluded either.
The Memphis Grizzlies will have another season to improve upon their collapse in the Western Conference Finals, and the rising Golden State Warriors cannot be ignored, especially after adding Andre Iguodala.
Bottom line: the West is overflowing with talent. The Spurs are always surround by competition, but they'll face a higher number of higher quality opponents in the upcoming season.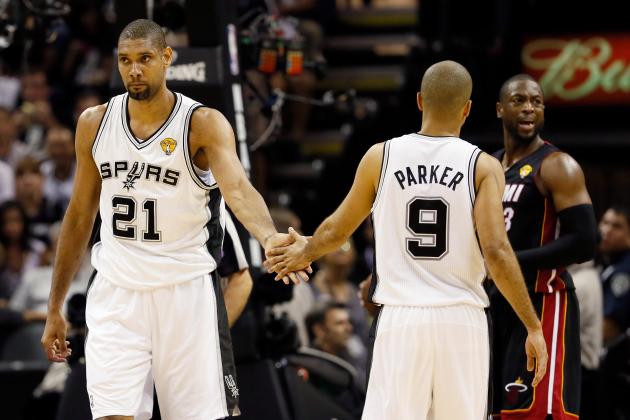 Kevin C. Cox/Getty Images

If there's one thing that all NBA fans know about the Spurs, it's to never count them out. Ever.
So while the revamped Rockets may cause a bit of a stir, neither they, nor the Clippers, Thunder, Warriors or Grizzlies can be immediately placed above the San Antonio-based team.
They're another year older, sure—but that has never stopped them in the past.
If there is anything that has come to define the Spurs recently, it would be consistency.
And just as they have in each season since Tim Duncan's arrival, San Antonio will find itself in the playoff race, where the champs will assume a position in the top tier once again.
Consistently excellent, you can bet that the Spurs will put up a fight against any and all contenders.