Cleveland Browns Trade Trent Richardson to Indianapolis Colts for 1st-Round Pick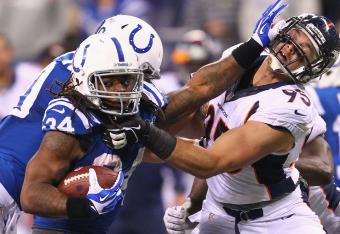 Dilip Vishwanat/Getty Images
The Indianapolis Colts needed to bolster their backfield, and they certainly did so by making the biggest NFL trade splash in recent memory on Wednesday.
ESPN insider Adam Schefter was first to report that the Colts have traded a first-round draft pick to acquire Cleveland Browns running back Trent Richardson:
Filed to ESPN: Browns RB Trent Richardson to Indy for Colts' first-round pick.

— Adam Schefter (@AdamSchefter) September 18, 2013
The Colts later confirmed the move via their official website, noting that the pick will come in the 2014 draft.
From Chris Wesseling of NFL.com:
Sources tell @RapSheet Colts would "absolutely" still trade for Richardson if they had to do it over again. Love his violent running style.

— Chris Wesseling (@ChrisWesseling) November 14, 2013
NFL.com's Ian Rapoport provides more reasoning behind why the Colts don't regret the move:
"There's a couple reasons why. He's young. They love the violent way that he runs. Plus, he's cheap. The Browns are picking up a ton of his tab. ... He's had several head coaches, he's had several offensive coordinators. The Colts really think that once he immerses himself in their offense, he's going to go off."
In the same report, Colts legend Edgerrin James provides his projections for Richardson:
"Listen, this kid's going through a lot," James told Silver. "His family is coming to town, he's adjusting to a new city and it's a new offense. Give him an offseason, you'll see him roll, you'll see the guy that everyone fell in love with out of Alabama."
UPDATE: Sunday, Sept. 22
From ESPN's Ed Werder:
Colts RB Trent Richardson wants to prove this was a "good trade for the Colts, a stupid trade for the Browns." Coaches plan 10-15 touches.

— Ed Werder (@Edwerderespn) September 22, 2013
UPDATE: Thursday, Sept. 19
From Kevin Bowen of Colts.com:
Trent Richardson: "I'm ready to open up this new chapter in my life especially w/ the Colts, a great coaching staff & a great locker room."

— Kevin Bowen (@KBowenColts) September 19, 2013
Richardson: "I want to be that guy that wants to put the team on his shoulders."

— Kevin Bowen (@KBowenColts) September 19, 2013
Richardson on Andrew Luck: "People can't just stack 9 in the box no more. If you stack 9 in the box, Andrew's got an arm for you."

— Kevin Bowen (@KBowenColts) September 19, 2013
From the Indianapolis Colts:
Richardson on Luck "We are going to be here for a while. We are not planning on going no where. We are planning to win a lot of games."

— Indianapolis Colts (@Colts) September 19, 2013
UPDATE: Thursday, Sept. 19
From NFL.com's Around the League account on Twitter:
Pagano got texts from Ravens players thanking him for getting Richardson out of the division.

— NFL: AroundTheLeague (@NFL_ATL) September 19, 2013
UPDATE: Thursday, Sept. 19
From Michelle Beisner of NFL Network:
@Colts HC Pagano on whether Richardson plays this weekend, "We did not bring him in to be a water boy. He'll do as much as he can handle"

— Michelle Beisner (@MichelleBeisner) September 19, 2013
From Mike Chappell of The Indianapolis Star:
Pagano: With Richardson acquisition -- you do what's best for the team.

— Mike Chappell (@mchappell51) September 19, 2013
Pagano: on power-running game. Richardson is a rolling ball of butcher knives. Ahmad Bradshaw is the same way. Fits offense to a T.

— Mike Chappell (@mchappell51) September 19, 2013
UPDATE: Thursday, Sept. 19
Kevin Bowen of Colts.com has the latest on which number Richardson will wear in Indianapolis:
Trent Richardson will wear No. 34 for the @Colts.

— Kevin Bowen (@KBowenColts) September 19, 2013
Original Text
To compensate for the huge void in their backfield, the Browns are planning on signing free agent Willis McGahee. Jason La Canfora of CBS Sports reported the news:
Browns will be signing free agent RB Willis McGahee if he passes a physical.

— Jason La Canfora (@JasonLaCanfora) September 18, 2013
Colts owner Jim Irsay, known to be a prolific tweeter, hinted that something big was in the works earlier in the day:
This day of MONSTER TRADE,The Tidal Wave Of Deal making...Shocks the system of "..Didn't see THIS ONE COMING!!!!!!" Grig's Rollin' Dice!

— Jim Irsay (@JimIrsay) September 18, 2013
It's a rather shocking move considering the Browns selected Richardson with the No. 3 overall pick in the 2012 NFL draft. However, there is a new regime at the helm in Cleveland, with a new general manager, Michael Lombardi, and a new head coach, Rob Chudzinski, taking over this season. Clearly, the team was unafraid to gamble.
The Browns will now have two first-round picks in next year's draft, to go along with two second-round picks to help with the rebuild. The Colts on the other hand, have now given quarterback Andrew Luck an explosive weapon out of the backfield in Richardson.
Richardson ran for 950 yards and 11 touchdowns and caught 51 passes as a rookie, but has gotten off to a slow start this season. Playing alongside his new, highly-touted second-year quarterback should only help his production and make the Colts offense even more dangerous.
This offseason, the Colts acquired Ahmad Bradshaw as a free agent, and he did well in his first appearance as the full-time starter in Indianapolis' Week 2 loss to the Miami Dolphins. Bradshaw ran for 65 yards on 15 carries and a touchdown, adding three receptions for 19 yards.
Second-year back Vick Ballard started out 2013 in a timeshare with Bradshaw, but suffered a season-ending ACL injury in practice last Friday.
Prior to the trade, the Colts didn't have much else in terms of running back depth aside from former first-round pick Donald Brown, who has never quite lived up to expectations. The former Connecticut star has only carried the ball seven times over two games this season.
One could argue that Richardson hasn't yet lived up to expectations either, but then again, it's still early in his career. Plus, the Browns have been one of the more putrid franchises in recent memory, particularly since reentering the league in 1999, so this fresh start could be the change of scenery he needs to truly become a star.
A big reason the Colts are fifth in the NFL in rushing so far this season is Luck's 38 yards on the ground in each of the team's first two games. However, the less he is needed for rushing yards, which open him up to hard tackles in the open field, the better off he is in the long run.
In any case, Richardson represents an instant upgrade for Indy, and should prove worthy of 2014 first-round pick if he can stay healthy.
This article is
What is the duplicate article?
Why is this article offensive?
Where is this article plagiarized from?
Why is this article poorly edited?