CM Punk and Ryback's Second Feud Will Not Fail Like Their First Program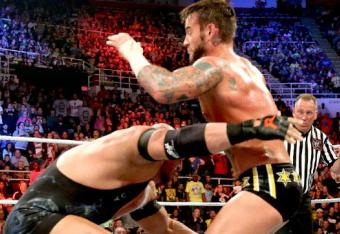 At Night of Champions, Ryback rushed the ring and speared CM Punk through a table propped up in a ring corner. (WWE.com photo)

The second act of CM Punk vs. Ryback definitely will be better than the first time they met.
In fact, this feud may even make fans think that the first time never existed.
Why? The circumstances surrounding this program are more conducive to success than the last Punk-Ryback program late last year.
For one thing, it is not appearing as manufactured as the feud last year when Ryback seemed like an innocent bystander drawn into the fracas.
In late 2012, Ryback was an upper mid-carder who had built his reputation as a Samsonesque strongman who threw around jobbers—sometimes two at a time—in the ring. Punk was a ruthless heel almost two-thirds of the way through his 434-day reign as WWE champion who had Paul Heyman in his corner.
At the time, John Cena was injured and WWE was looking for someone to not only step in the ring with Punk, but also headline a WWE pay-per-view with the champion. Ryback was a fresh face and was expected to bring a new and powerful angle to the program.
It fell flat. Ryback's inexperience headlining a card showed tremendously. Instead of sizzling, the feud was fizzling.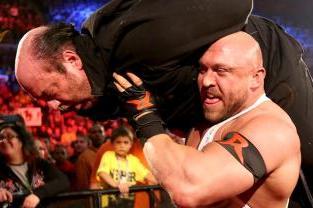 Move forward to the new feud. Punk no longer is champion, and after a post-WrestleMania 29 hiatus, he returned and began to unleash vengeance against Heyman. Ryback turned heel earlier this year and was beginning to build steam as a bully character who claimed to hate bullies, yet he never passed a chance to push people—particularly backstage staffers and announcers—around.
Night of Champions was the perfect launching pad. Punk had dispatched of Curtis Axel and was midway through his beatdown of Heyman when Ryback ran into the ring and practically broke Punk in half by powerfully spearing him through a table.
That move was so forceful that it appeared to take not only Punk but also everyone else in the arena by surprise. Ryback's calling card had left its marks all over Punk's back.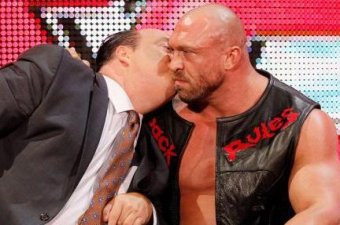 Speaking of back, Heyman now has Ryback's back, and vice versa. They sealed their partnership with a kiss—literally—on Monday night's Raw show.
The Heyman influence on this feud is the biggest reason why Punk-Ryback II will far surpass Punk-Ryback I and could even be the top feud in WWE heading into the end of 2013.
Punk's character is hell-bent on destroying everything associated with Heyman. Heyman's character is throwing everything and everyone he can at Punk in an effort to ward him off.
Ryback is in the best position of his WWE career—maybe his entire wrestling career—to finally become a true main-event character. And he has perhaps the industry's finest modern-day star maker in Heyman now advising him.
This will be the feud that many WWE fans had hoped to see with another "Heyman Guy," Brock Lesnar. The promise that feud possessed was never realized, thanks in part to Lesnar's limited contract and in part to the fact that Punk and Lesnar never really had ring chemistry.
It definitely will overshadow anything that Punk and Curtis Axel, the Intercontinental Championship titlist, could ever put together in the ring. That was turning out to be worse than the first Ryback feud.
But the possibilities with Punk-Ryback II are so much greater. Heyman knows how to push buttons, so he definitely will push the right ones on Ryback to unleash the fury within him. And Punk is like a box of dynamite just waiting for the right spark to make things explode—the spark that only anything associated with Heyman will ignite.
Look for this to turn into a real blood feud before all is said and done. Maybe even with real blood.
Follow Bill Atkinson on Twitter at @BAtkinson1963.
This article is
What is the duplicate article?
Why is this article offensive?
Where is this article plagiarized from?
Why is this article poorly edited?