Predicting the Strength and Weakness of Each New Jersey Devils Line in 2013-14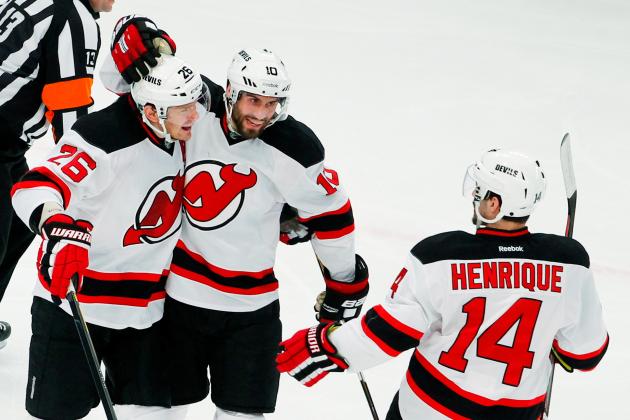 Paul Bereswill/Getty Images

Although the New Jersey Devils' training camp is more than a week old, we are no closer to obtaining an idea of how their lines will be composed.
With the departure of two key players and the addition of four new players over the offseason, coupled with a group of talented youngsters trying to break into the NHL, the Devils lineup is as up in the air as ever.
The announcement that Damien Brunner will join New Jersey for a professional tryout only further complicates the already logjammed forward competition.
So, with no clear picture of what New Jersey's lines will look like on opening night, we can only guess which players will compose them and what their strengths and weaknesses will be.
Begin Slideshow

»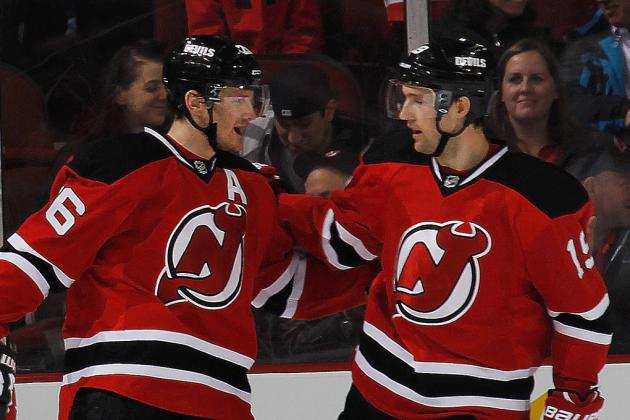 Bruce Bennett/Getty Images
Jaromir Jagr, Patrik Elias and Travis Zajac can score, but can they stay on the ice?
It is probable that the Devils top line will be composed of Patrik Elias, Travis Zajac and Jaromir Jagr, though I believe Adam Henrique could easily take Zajac's place here.
Strength
The strength of this line would be its scoring potential. Patrik Elias is the most prolific scorer in New Jersey's history and Jagr is one of the most successful scorers in the history of the league.
A possible issue within this line is that all three players are more accomplished set-up men than actual goal scorers, but this is not something that should concern Devils fans too much.
Jagr is clearly the best finisher of the bunch, but Elias and Zajac will put the puck in the net more times than not when given an opening.
Overall, New Jersey could do a lot worse than a trio that put up 91 points in 49 games last year.
Weakness
The most glaring weakness of this line is its sustainability.
Despite nearly flawless track records of durability, Jaromir Jagr (41 years old) and Patrik Elias (37 years old) are old. Travis Zajac is still a young man, but a major injury kept him out of all but 15 games in 2011-12.
That does not mean that any of those players will miss extended time, but suffering a serious injury certainly raises the probability of that happening.
Further illustrating my point is the fact that Jagr and Elias both missed time due to lower body injuries early in training camp. Head coach Peter DeBoer told Rich Chere of The Star-Ledger that he is not concerned about either, but it can still be construed as a bad omen for the health of the Devils top line.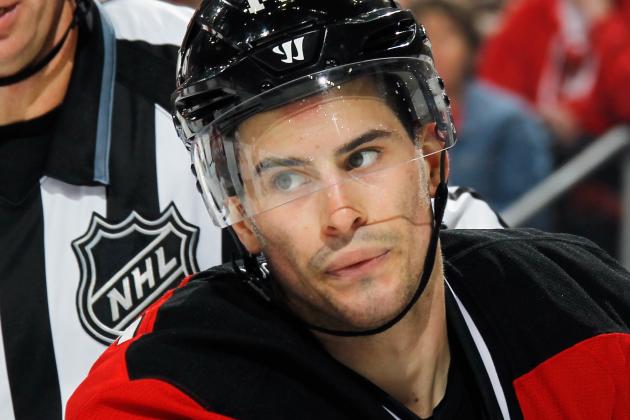 Bruce Bennett/Getty Images

Whether Adam Henrique or Travis Zajac ultimately center this line, it should have the same major strength and weakness.
Strength
The greatest strength of the Devils second line, regardless of who plays center, will be how dynamic it will be. Each player will bring a different skill set that, when combined with the others', can create a lethal combination.
First and foremost, all three players have the ability to create offense. Henrique can play the wing, but if the Devils use him to center this line, look for him to put up some big assist numbers. In his rookie season, he replaced Travis Zajac and was able to set up Zach Parise and Ilya Kovalchuk on numerous occasions.
If he's back to playing center for the majority of 2013-14, he should be able to do the same for Ryder and Clowe, while scoring goals himself.
On top of that, Clowe would add a physical dimension to the line. He was brought in to replace David Clarkson in that regard, and if he can rediscover his scoring touch, it would make the line all the more dynamic.
Weakness
The major weakness of this line would be its inexperience within head coach Peter DeBoer's system. This obviously does not apply to Henrique, but Clowe and Ryder will be playing in their first year with New Jersey.
I suspect that the new system will be tougher to grasp for Clowe than it will be for Ryder, due to Clowe's lack of speed.
Peter DeBoer's offense requires aggressive forechecking, including quickly getting to the puck in the dirty areas.
Nobody is concerned with Clowe's toughness, but he is a notoriously slow skater. Will he be able to keep up with the blazing pace of the New Jersey offense?
If he cannot, it might mean missed opportunities, and the Devils are not in a position where they can let goals slip away.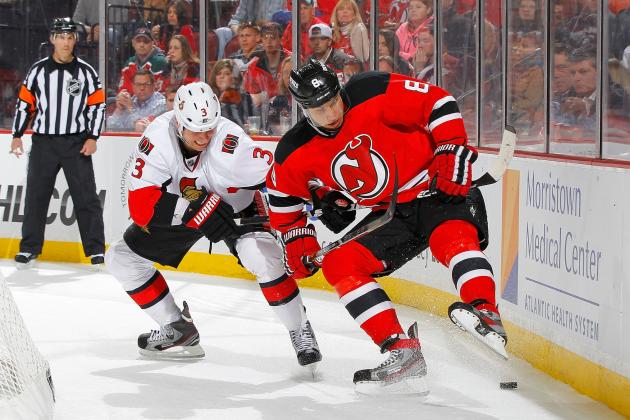 Jim McIsaac/Getty Images

Although Damien Brunner is not officially signed with the Devils yet, he is a clear cut above the rest of the Devils forwards battling for a roster spot.
Strength
Without Damien Brunner in the fold, it would be a lot harder to find a major strength in this line.
Zubrus is a solid player and we can't be sure what Loktionov is going to give us this year, but Brunner gives the Devils another legitimate scoring threat deep in the roster.
Once the Devils sign Brunner, they will have gone from a team that seemed doomed to finish near the bottom of the division to a team capable of surprising people.
At the same time, I do not want to get ahead of myself.
In Brunner's first season with Detroit, he put up 26 points in the regular season and added nine more in the playoffs.
That, however, is the only sample we have of his play on the the NHL stage, which leads to this lines biggest weakness.
Weakness
This line, as I have it composed, would be very inexperienced.
Zubrus is a proven veteran, but Loktionov and Brunner are anything but.
Last year, Loktionov jumped on the stage after being traded from Los Angeles and impressed with eight goals in 28 games. He has more NHL experience than Brunner, having played a bit with the Kings over the last few years, but he was not nearly as impressive with them (14 points in 58 games).
The good news for New Jersey is that if Brunner and Loktionov come out in 2013-14 and prove that they are more than flashes in a pan, then this weakness disappears.
If, on the other hand, they struggle to score, they may put DeBoer in the tricky situation of having to move players around.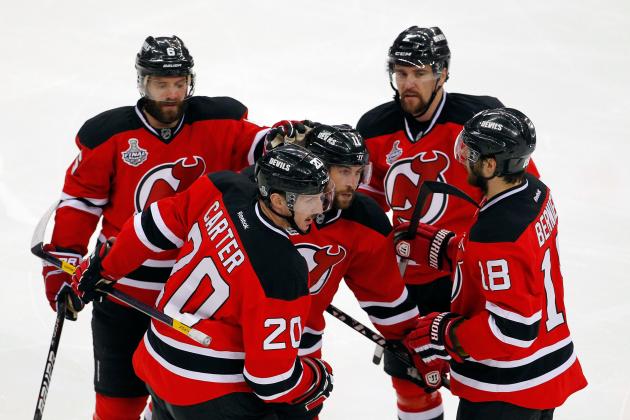 Paul Bereswill/Getty Images

Is the CBGB line gone or reloaded?
Strength
Obviously, without Stephen Gionta, the Devils fourth line would need a new nickname, but Mattias Tedenby can add a new level of energy to the already intense line.
The CBGB line, which deserves a lot of credit for New Jersey's deep playoff run two years, has likely seen its last days. The fact of the matter is the Devils have too much forward depth to not plug in a new guy here.
Gionta would likely be the weakest link and the one to go. Tedenby may not be capable of replicating Gionta's physical game, but he is just as fast and has the ability to score goals, as he showed in the Devils' first preseason game.
There's no doubt that the line of Gionta, Bernier and Carter had great chemistry, but the addition of Tedenby would do nothing to lower the energy of New Jersey's fourth line.
Weakness
The greatest weakness of this line is the high expectations that have been placed on it.
Typically, too much is not expected of a team's fourth line. Not many teams in the NHL can confidently roll all four lines throughout the entire game. Over the past few years, the Devils have been able to do that.
While it may be a luxury in the NHL to have four solid lines, it is somewhat of a necessity for Peter DeBoer, this year more than others. With the top of the lineup aging and the fast pace of the Devils system, the Devils will have to rely on their fourth line more than most.
It should be interesting to see if this new fourth line can continue to defy expectations and help carry this team as it has over the past few years.