Predicting the Strength and Weakness of Each Minnesota Wild Line in 2013-14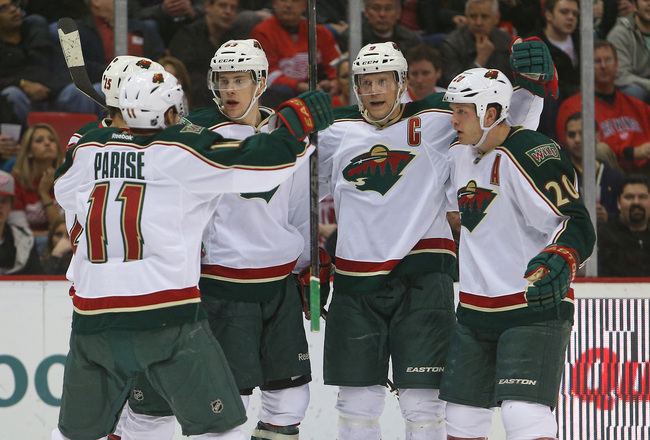 The Wild are unlikely to tinker with the top line and defensive pairing, but things are up for grabs after that.
Tom Szczerbowski/Getty Images
The Minnesota Wild are expected to shuffle their lines quite a bit this season.
With the exception of the top forward line (Zach Parise, Mikko Koivu and Jason Pominville) and the top defensive pair (Ryan Suter and Jonas Brodin), every other spot is pretty much up for grabs, meaning head coach Mike Yeo will likely tinker quite a bit in the beginning of the season until he finds the right chemistry.
Charlie Coyle could easily be the second-line center, but if Mikael Granlund steps up and is the player he's capable of being, Coyle will likely find himself on the wing, a spot he had success with last year.
Nino Niederreiter is another young talent that could be a scoring threat on the second line, but he'll lose that spot if he slips or Dany Heatley, who has seen his production drop recently, suddenly starts looking like the player he was in Ottawa.
Defensively, Suter will be paired with Brodin unless the latter has a sophomore slump, which is unlikely to happen. Mathew Dumba, the No. 7 overall selection in 2012, is likely to be sent back to Red Deer of the WHL, meaning that Keith Ballard, a pickup in the offseason, and recently re-signed Marco Scandella will probably man the second line.
If Dumba remains in St. Paul, or young stars like Jared Spurgeon or Jonathon Blum play well, however, they could easily join Ballard as a part of the second defensive pairing.
Based on what I've seen at the Wild's open scrimmage and read about in the papers, I've done my best to put together logical lines for this slideshow and put together their strengths and weaknesses.
No line is going to be absolutely perfect, but the dynamics will certainly change as the season progresses.
Line 1: Zach Parise, Mikko Koivu, Jason Pominville
Strengths: Talent, Leadership
Parise wore the C for the New Jersey Devils before he was signed on July 4 of last year, and Pominville captained the Buffalo Sabres before he arrived in Minnesota via trade in the middle of the season last year.
Koivu, of course, is the current Wild captain.
All three of these players are among the best in the world. Koivu is an elite playmaker, Parise scores around 30 or 40 goals a season when healthy and Pominville sits in the 20-30 goal range.
The Wild's top line will set the tone for this team both in and outside the locker room.
Weakness: Chemistry
This shouldn't be a problem given that Parise, Koivu and Pominville have had a training camp and preseason together, but Parise and Koivu lost touch in the postseason last year and Pominville was hastily placed on the top line following the trade.
Other than some potential miscommunication among these guys, there are few weaknesses that can be associated with these players.
Line 2: Nino Niederreiter, Mikael Granlund, Charlie Coyle
Strengths: Youth, Talent
Niederreiter was selected No. 5 overall in 2010 and was expected to save the New York Islanders franchise, Granlund was taken four picks later to be the second-line center behind Koivu and Coyle was taken No. 28 overall that same year to back up Logan Couture of the San Jose Sharks.
This threesome of first-round picks from the 2010 draft have joined forces and could potentially make up one of the best second lines in all of hockey if they reach their potential this season.
Weakness: Inexperience
What's that old adage? Youth is wasted on the young.
Thankfully, Bernard Shaw isn't coaching this team, but if Nino and Granny implode and Coyle takes a step back, it will be hard not to call Shaw prescient.
Hopefully these guys will get it together and tear up the NHL like they are supposed to, but there is a lot that has to be learned before a 21-year-old player can be productive at the game's highest level, and these three will be under the microscope all season long.
Line 3: Dany Heatley, Kyle Brodziak, Jason Zucker
Strengths: Size, Experience
OK, Zucker is a second-year player that suffered a concussion as a result of a dirty hit from Corey Perry of the Anaheim Ducks. He spent some time in the AHL last year, but for a guy that was a second-rounder in that 2010 draft, he looks pretty damn experienced to me.
He'll also have the benefit of playing alongside Heatley, a former 50-goal scorer that has added some bulk, and Brodziak, who tore it up two years ago on a less talented Wild club.
It is well documented that Zucker benefitted greatly by playing alongside Matt Cullen, a veteran center, last year, so hopefully Heatley and Brodziak can have the same effect on him this season.
Weakness: Slumps
Slumps suck, Heatley and Brodziak can tell you all about that.
Heater used to be part of the CASH line in Ottawa, which was made up of former Senator captain Daniel Alfredsson (CA), current Sens captain Jason Spezza (S) and Mr. Heatley (H). It was one of the most productive lines in hockey, and Heatley had two 50-goal seasons in his mid-20s in Canada's capital.
Brodziak had 22 goals and 22 assists in 2011-12, which earned him a three-year contract extension, but he wasn't happy with his production last year (eight goals, four assists).
Zucker, of course, is trying to avoid the infamous sophomore slump.
If one of these guys goes in the tank, the other two better hope he doesn't drag them down with him.
Line 4: Matt Cooke, Zenon Konopka, Mike Rupp
Strength: Beef, Puck Possession
Cooke is a pest that will create turnovers on the forecheck. Konopka is known as a brute but is better in the faceoff circle than people think.
Rupp? Rupp will just barrel over you and take the puck.
The Notorious B.I.G. once asked, "What's beef?" The answer, of course, is the Wild's fourth line.
These are big, burly men that look like the came straight out of The Expendables, Gears of War or The Fast and the Furious. Let's just say you wouldn't want to pick up their dinner bill or have to spot them at the gym.
The Wild have always prided themselves on defense and physicality, and these guys will give you just that.
Weakness: Age
Thirty-five, 32, 33: Those are the respective ages of Cooke, Konopka and Rupp.
Hockey players play until they are in their late 30s or early 40s. Jaromir Jagr might play until he's 50, but guys like Cooke, Konopka and Rupp put on tough mileage. They play brutal minutes, duke it out with the NHL's toughest and are expected to take a puck to the body without as much as a grimace.
There is depth on the grinder lines—Stephane Veilleux and Jake Dowell can always jump in—but these guys are great at what they do, and Minnesota will want to have them on the ice as much as possible.
Pair 1: Ryan Suter, Jonas Brodin
Strength: Endurance
Suter and Brodin both look like they could play 40 minutes a night if Yeo allowed them to. Suter usually puts up bigger minutes because he is used more on the power play, but both of these guys take long shifts and don't look short of breath when they hop over the boards.
It's a wonderful thing because Suter has established himself as one of the game's premier blueliners, and Brodin may be the most overlooked player in the game. He was passed over on draft day and snubbed in the Calder race last year but doesn't make much of a fuss about it.
These are two no-nonsense guys that probably skate shifts in their sleep.
Weaknesses: None, Really
You could get nit-picky, I guess, and say they don't score much, but they don't have to. The Wild have more than enough forwards that are capable of finding the twine and pride themselves on defense, so as long as the guys up front do their thing, the guys in the back will just try and make life easy for the goaltenders.
Brodin could have a sophomore slump (he's human), but that's unlikely, and Suter probably has 10-plus good years left in him.
This easily could become the best defensive pair in hockey.
Pair 2: Keith Ballard, Marco Scandella
Strength: Balance of Age
Let's say for a second that Dumba is sent back down to junior, which is likely to happen, that means Spurgeon is the most likely candidate to skate alongside Ballard.
Ballard, 30, has established himself as a sound defensive player with a nasty hip check. He is the anchor on this line.
Scandella, 23, didn't play much in the regular season after a full season in 2011-12, but was called up for the playoffs and earned himself a two-year extension. The Wild clearly like what they see in his game, and he'll likely be the front-runner for the vacant second-pairing spot if Dumba is sent down.
Scandella can learn from Ballard while Ballard benefits from the energy of having a young player jumping over the boards with him. It's a win-win for both guys.
Weakness: Inexperience
Ballard is a new guy this year and while he's been around long enough—making stops in Phoenix, Florida and Vancouver before arriving in Minnesota—it's still a new team with new coaches and a new system.
Scandella, on the other hand, has only played in the Wild system, but he's learning the NHL game.
If Ballard struggles to find a fit for himself, which is unlikely, or Scandella takes a step back, things could go wrong for this pairing in a hurry.
Pair 3: Jared Spurgeon, Jonathon Blum
Strength: Youth, Talent
Spurgeon is a sixth-rounder from the 2008 draft that Minnesota found on the Islanders scrap heap three years ago. Safe to say he's been salvaged. And what he lacks in size, he makes up for with a nasty slapper. Wild fans will recognize a lot of Marc-Andre Bergeron in his game.
Blum is a Long Beach native drafted in the first round of the 2007 draft, making him the highest-selected California born-and-raised player at the time. He struggled to stick with the Nashville Predators and now the 24-year-old has a chance to crack the roster on a budding Wild club.
Clayton Stoner, 28, fell out of favor with the fans, and Nate Prosser, 27, is older, so it's likely that these guys will be given a shot to stick.
Both are young and talented. Spurgeon is best used as a power-play specialist, but Blum has upside and will be placed in a locker room with the Newport Beach-born, Las Vegas-bred Zucker, who has had success taking his game from the West Coast to the Midwest as a member of the Wild.
Weakness: Inexperience, Size
Blum is listed as 6'1", 186 pounds and Spurgeon is 5'9", 185 pounds, so size is a factor—more for Spurgeon than Blum. Also, as mentioned earlier, both players are young—24 and 23, respectively—and are still learning the NHL game.
If need be, the Wild can always use Stoner and Prosser—two older, larger players—as the third pair or mix them in with the young guys.
Conclusion
The Wild are primed for success this season. They have a talented young team and plenty of depth to go around.
Inexperience is what's going to get them, but as long as they find the right balance of veterans and youth, they should be ready to compete in the new Central Division and even go on a little playoff run this season.
Tom Schreier covers Minnesota sports for Bleacher Report and is a contributor to Yahoo! Sports.
Keep Reading

Minnesota Wild: Like this team?