SEC Football 2013 Week 4 Simulation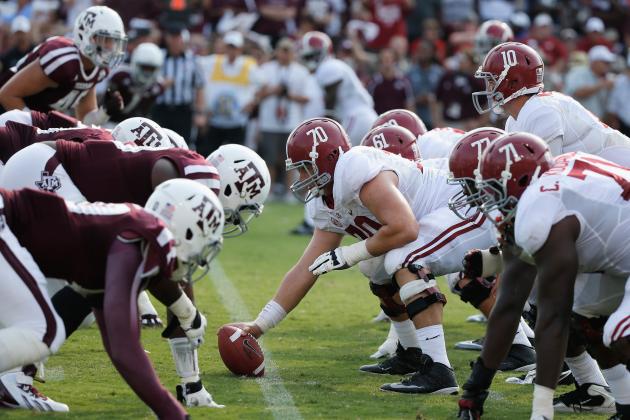 Scott Halleran/Getty Images

After two quick hot-knife-through-butter Manziel touchdowns, it sure looked as though Alabama's defense just wasn't capable of holding A&M back.
No one, and I mean NO one, should doubt Nick Saban. After 35 straight points, the Crimson Tide took a commanding lead. Despite a rally, 'Bama never gave up the lead and is one major hurdle closer to winning a historic third-straight national title.
Other than calling South Carolina's 35 points correctly, the computer had another sub-par week. I managed to outpick it, though both of us were awful against the spread. /shrug
I'm slowly stretching my lead overall and floating [barely] above water against the spread. Let's see what we can do in Week 4.
---
This Week Overall
EA Straight-Up 5-3 24-9
Me Straight-Up 6-2 28-5
EA vs. Spread 2-6 15-18
Me vs. Spread 2-6 17-16
Begin Slideshow

»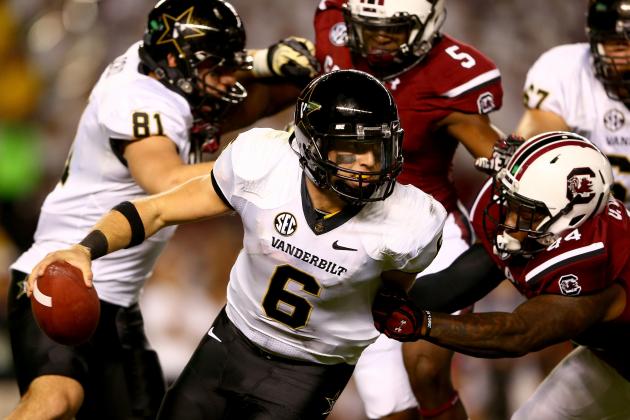 Streeter Lecka/Getty Images

Despite a couple of SEC losses, the 'Dores aren't a pushover. Ole Miss has proven to be a tough matchup for anyone and the Gamecocks are a legitimate national title contender.
This game goes as hoped for the Vanderbilt faithful, as a couple of irrelevant field goals against backups in the fourth are the only points allowed by the 'Dore defense.
Austyn Carta-Samuels enjoys a great game, hitting 17 of 31 passes for 320 yards and three touchdowns. The two interceptions, though, match a painful trend so far. The QB has thrown just four touchdowns this season with three interceptions; that's one a game.
For Vanderbilt to really begin challenging players like South Carolina, Georgia and Florida, play at the quarterback position will need to be more reliable. As a senior, more should be expected.
---
EA PICKS: Vanderbilt to win, UMass (+36)
MY PICKS: Vanderbilt to win, UMass (+36)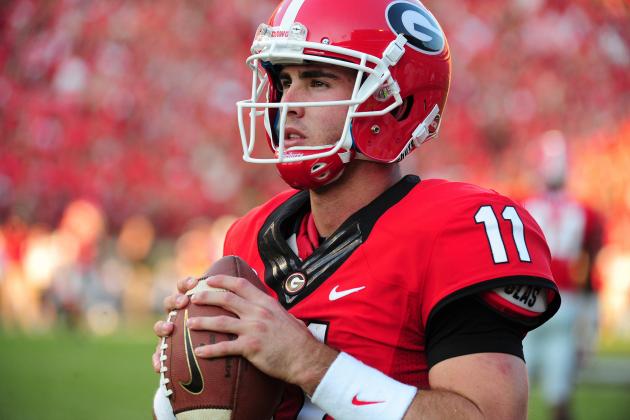 Scott Cunningham/Getty Images

Half of UGA fans are asleep by the second quarter, soundly confident after a two-touchdown performance from Aaron Murray in the first. Apparently, so was the football team.
A pick-six and a rushing touchdown from the Mean Green put UGA up just 17-14 at halftime. Leading just 24-20 headed into the fourth, Murray caps a 14-point final stanza with a 13-yard Todd Gurley reception to ice the game.
Oddly, UNT scores all 20 points on just 140 yards of offense and gives the ball up twice. This simulation has "fluke" written all over it.
Murray goes for four scores and 355 yards after a 36-for-50 performance, with just the one interception. Gurley is muted, averaging 5.8 yards on 12 carries.
Not buying it. This one gets ugly.
---
EA PICKS: Georgia to win, North Texas (+32.5)
MY PICKS: Georgia to win, Georgia (-32.5)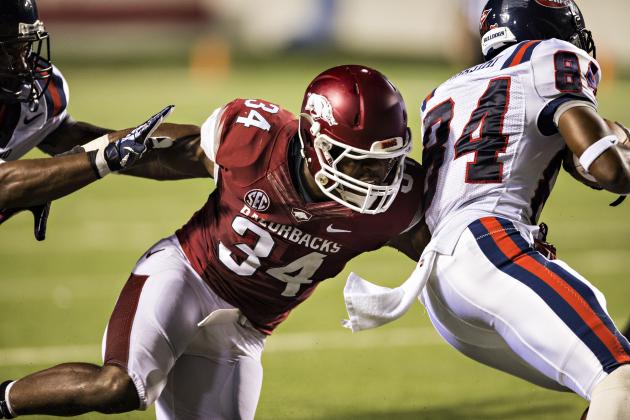 Wesley Hitt/Getty Images

This would be a pretty solid non-conference win for the Razorbacks, who have been struggling against some pretty pathetic competition.
Three-touchdown second and fourth quarters help keep UA with the advantage, each featuring two touchdown passes from Brandon Allen, who finishes with two interceptions and 326 yards after hitting 22 of his 39 passes.
Jonathan Williams has been a bit misunderstood, I think, by the computer. It's convinced Williams is a star receiver, catching seven passes in this one for 124 yards and a score. In reality, Williams is averaging 7.7 yards a carry as a running back, with 393 yards under his belt in just three games.
Not sure that I'm as optimistic for the Razorbacks, but I think they have the talent advantage and are capable of winning the game.
---
EA PICKS: Arkansas to win, Arkansas (+1.5)
MY PICKS: Arkansas to win, Arkansas (+1.5)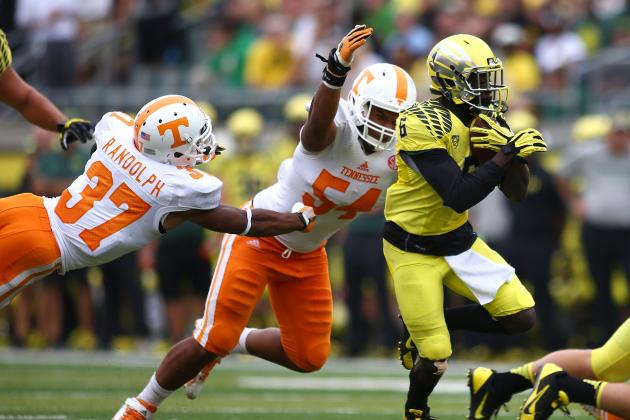 Jonathan Ferrey/Getty Images

Okay, so last week was...embarrassing. Painful. Awful. Don't fret, Vol fans, it's Oregon.
Florida and its dysfunctional offense is coming up and you could have much to be excited about.
Each team hits a field goal in the first, scores on a run in the second, scores again in the third, and the game goes to overtime.
An interception from you-know-who ends the game after a Tennessee field goal in overtime, solidifying the Gators as overrated once again.
In fact, Jeff Driskel gives the ball up three times, hitting for just 13 of 34 passes for 161 yards and a single touchdown. I will say here, as a disclaimer, the computer doesn't think much of Driskel and has underrated him all year.
Here in the real world, Driskel does have a decision-making problem (two touchdowns, two interceptions) but is hitting passes at a 70.9-percent clip.
Justin Worley isn't much better, connecting for no touchdowns, giving the ball away once, and hitting on just 14 of 31 passes for 177 yards. Of note, Florida sacks Worley eight (yes, eight) times but as is tradition with Gator football...this is an ugly one.
---
EA PICKS: Tennessee to win, Tennessee (+17)
MY PICKS: Florida to win, Tennessee (+17)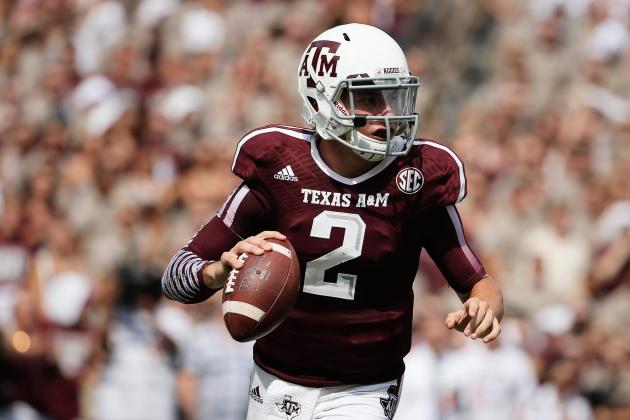 Scott Halleran/Getty Images

Unless SMU has a better defense than Alabama (hint: it doesn't), this simulation is a bit, well, wrong.
Manziel accumulated 106 yards in touchdown passes alone, hitting 16-of-26 passes without an interception and three touchdowns. One of the odd trends of the computer is its obsession with A&M's Brandon Williams, who has only rushed nine times this season but carries the ball 15 times in the simulation for 102 yards.
Maybe a name to look out for?
The computer does, however, know full well how talented Mike Evans is. The talented sophomore has racked up 518 yards receiving in just three games, and the simulation has him adding 162 to that total against SMU.
The Mustangs' one-point home win over FCS opponent Montana State isn't exactly inspiring any confidence. I'm calling the Aggies to blow out the spread in this one.
---
EA PICKS: Texas A&M to win, Texas A&M (-28.5)
MY PICKS: Texas A&M to win, Texas A&M (-28.5)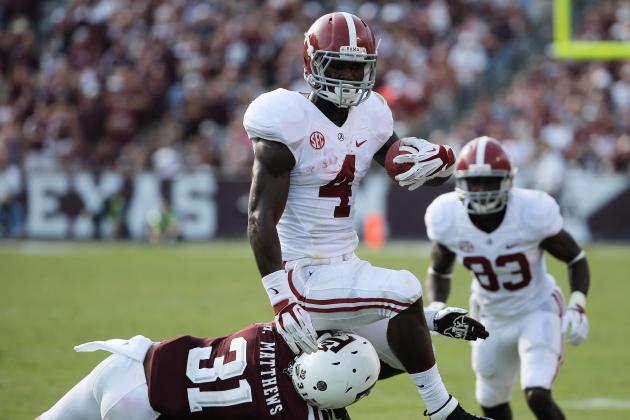 Scott Halleran/Getty Images

Not much to see in this one. Saban knows how to win, whether it's through offense or defense. This one should be both.
Three touchdowns in the first, two from AJ McCarron and one from T.J. Yeldon, push Bama up 21-0 before the second quarter begins. Nothing much changes after that point.
McCarron goes 13-for-18 for 165 yards and two scores, while Yeldon just misses the 100-yard mark on the ground for another two touchdowns.
As with most blowouts, the only interesting part of this game will be the spread.
---
EA PICKS: Alabama to win, Colorado State (+39.5)
MY PICKS: Alabama to win, Alabama (-39.5)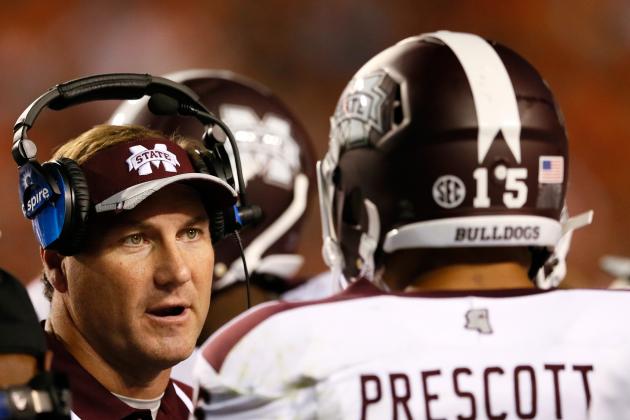 Kevin C. Cox/Getty Images

It appears Dan Mullen has a new starting quarterback, despite his claims otherwise, and it's just in time too.
State has started the season 1-2 and can't afford another non-conference loss. In the simulation, Troy comes close to serving one up.
Both teams strike once each through the air and on the ground in the first half and enter the second tied 14-14. Several three-and-outs and a scoreless third quarter later, a 20-yard chip shot from Devon Bell makes the difference for State.
MSU allows 393 yards and turns the ball over four times, neither of which are characteristic of the Bulldogs this season. If that's what the computer believes it will take for this game to be close, Mississippi State is in good shape.
Tyler Russell, after an in-game injury in Week 1, returns in this one, hitting 19 of 31 passes for 316 yards, a touchdown and three interceptions. Perhaps a bit rusty.
MSU's most standout wide receiver has been Jameon Lewis, and the computer hasn't gotten word yet. Robert Johnson is MSU's leading receiver in this one, catching seven passes for 111 yards.
Mullen's not a bad coach, and I think he uses this one to prepare for SEC play. Shouldn't be that close.
---
EA PICKS: Mississippi State to win, Troy (+14)
MY PICKS: Mississippi State to win, Mississippi State (-14)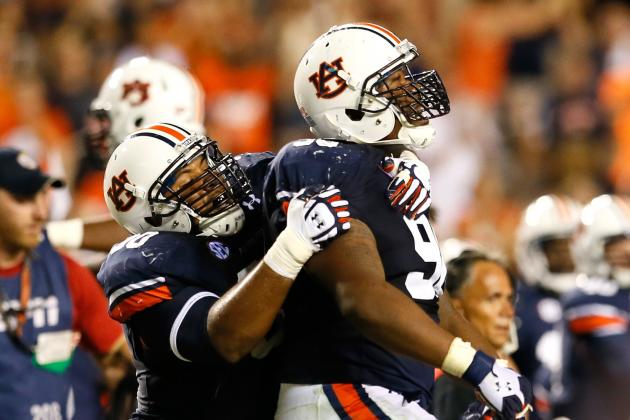 Kevin C. Cox/Getty Images

Auburn's back, y'all.
Don't look now, but the Plains Tigers haven't lost a game and are one big win away from making some serious waves. Will LSU be the victim?
LSU's defense has been suspect; has the simulation picked up on it? Not only does Auburn win this one, it does so in convincing fashion in a game that is never close.
Malzahn's squad is up 27-7 at halftime after three touchdown throws from Jonathan Wallace, two of which total 72 yards. LSU is never really able to recover, turning the ball over three times in the process.
Zach Mettenberger, who's graduated from mediocre to all-star, is average in this one with 204 yards and two touchdowns on 13-of-24 passing. Auburn's Wallace isn't very accurate, just 19-for-40 passing, but doesn't give the ball away and hits on three touchdown passes for 299 yards.
Tre Mason surpasses his average with 81 yards rushing for Auburn and LSU's Jeremy Hill hits three digits for 103 yards.
I didn't think I'd ever say this, but this one will be an offensive slugfest. LSU has home-field advantage, Auburn has Malzahn. This one is a tough call.
---
EA PICKS: Auburn to win, Auburn (+17)
MY PICKS: LSU to win, Auburn (+17)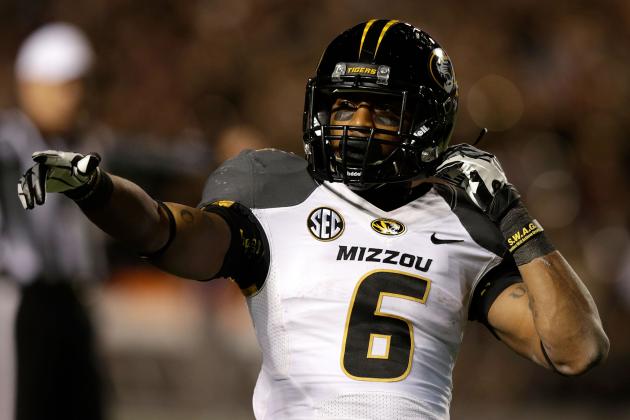 Scott Halleran/Getty Images

Missouri, like Auburn, is off to a quietly surprising and impressive undefeated start. Granted, Missouri's competition has been weaker, but Mizzou seems to have righted the ship a bit after last season's cave-in.
Indiana is the tastiest BCS cupcake there is, and James Franklin wants a big bite. He gets it too, in the form of four touchdowns and 211 yards on 12-of-26 passing. Not great, but it gets the job done.
Henry Josey, the Tigers' leading rusher, goes for 101 yards on 13 attempts and Mizzou starts the season 3-0.
Not sure this one is a blowout, but I'm going with the Tigers. The SEC could use a win against the Big Ten.
---
EA PICKS: Missouri to win, Missouri (+1)
MY PICKS: Missouri to win, Missouri (+1)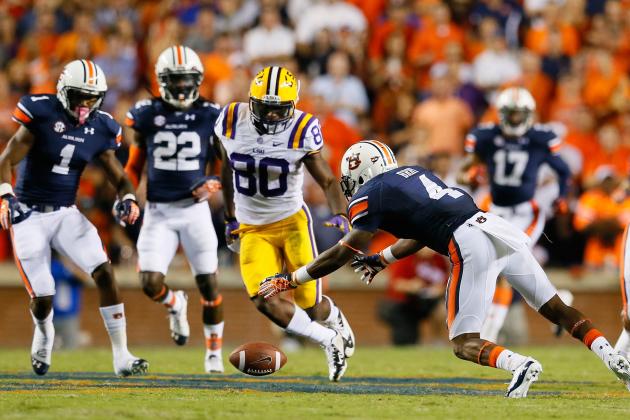 Kevin C. Cox/Getty Images

Auburn's trip to Baton Rouge is a big statement for either team.
For Auburn, this could be the signature win that heralds a major bowl-type season and positive momentum heading into the playoffs in coming years.
For LSU, a trip to this year's national title game will mean its defense will not only need to be as aggressive as it has been, but more effective as well. The trip begins with this win.
Big game, big stakes. Sit back, scream a little, and let's see if I can maintain my lead on the computer.
Follow me on Twitter @SEC_Nerd.