UFC 165: Preliminary Card Predictions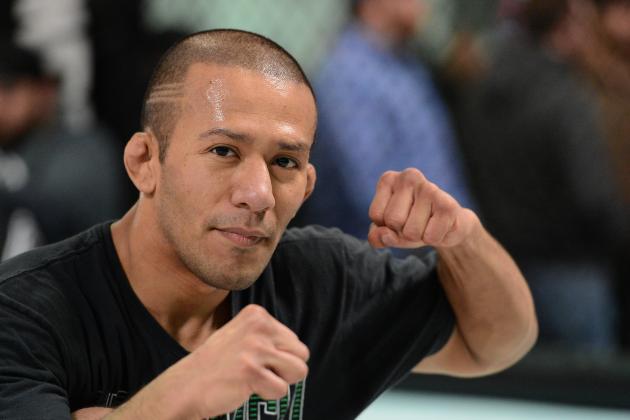 Jayne Kamin-Oncea-USA TODAY Sports

As UFC 165 closes in, the anticipation for the light heavyweight title match between Jon Jones and Alexander Gustafsson grows. It is one of the more intriguing light heavyweight championship fights in recent times due to the Swede's size and length.
Before that fight, UFC 165 has a stacked preliminary card featuring some top Canadian talent. It should set the pace for what looks like a fantastic card.
Here are the predictions for the prelims of UFC 165.
Begin Slideshow

»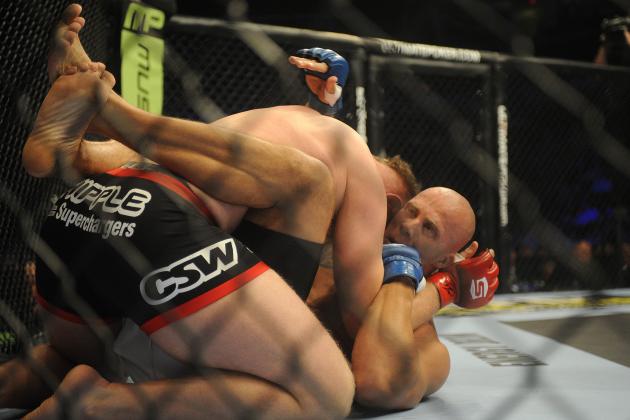 USA TODAY Sports

The Facebook prelims kick off in the heavyweight division, as Strikeforce migrant Nandor Guelmino takes on fellow debutee Daniel Omielanczuk.
Guelmino will look to erase the memory of his only Strikeforce bout, where he was thoroughly dominated by Josh Barnett. That was a tough task, so the Austrian prospect gets another chance here.
Though Guelmino is a striker by trade, he actually has most of his wins by submission. That being said, most of his wins have come against local regional talent in Europe, so anything he takes in the UFC will be a large step up for "The Hun."
Omielanczuk is one of Poland's top heavyweights and works with the respectable Nastula Team. The submission specialist relies on takedowns and top control to wear down opponents. From there, he uses a variety of submission techniques, his favorites being the keylock, kimura and north-south choke.
Guelmino did not show strong takedown defense in his Strikeforce bout and that is something the Pole is going to look for early and often. Guelmino has power on the feet, but he will not get to display it much. Omielanczuk will wear him down from heavy top position and tap the Austrian in the first or second round.
Prediction: Omielanczuk def. Guelmino via submission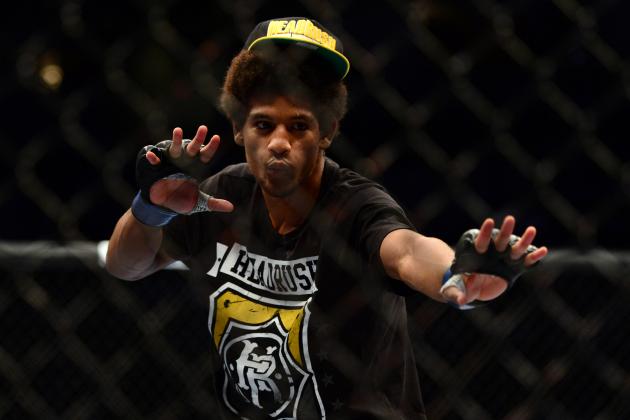 Kyle Terada-USA TODAY Sports

Next up are the bantamweights, as Canadian judoka Roland Delorme takes on the always-entertaining Alex Caceres.
Delorme has not technically lost during his UFC tenure to this point. He took a loss to Francisco Rivera, but that was overturned due to a failed drug test. He owns submissions of Nick Denis and Josh Ferguson, as well as a decision win over Edwin Figueroa in his latest outing.
The Canadian grappler takes on a striker with good takedown defense in Caceres. Since dropping to 135, his only loss came to Figueroa, who only took the decision because of a two-point deduction. He has wins over Cole Escovedo, Damacio Page and Motonobu Tezuka, as well as Kyung Ho Kang, though that was overturned due to a failed drug test.
Delorme needs to close the distance and drag Caceres down, something will be tough against a quicker fighter. Caceres has looked very sharp at bantamweight and will be tough to take down. He should outstrike his way to a decision.
Prediction: Caceres def. Delorme via decision
Jason da Silva-USA TODAY Sports

In the lightweight division, debuting Canadian Jesse Ronson steps up on late notice for Mark Bocek when he takes on Brazilian Michel Prazeres.
Ronson's UFC debut is long overdue, as the Canadian has been tearing it up in regional promotions. The well-rounded Ontario native has powerful striking, but has some skill on the ground as well.
His biggest wins to date came over Ryan Healy, the brother of Pat Healy, and Shane Campbell, another top prospect from the land up north.
Prazeres makes the drop to lightweight after a late-notice battle against Paulo Thiago. Despite a valiant effort, the Brazilian grappler fell via unanimous decision to the more-experienced Thiago.
His best chance of winning relies on him dragging Ronson to the mat. That means he has to get on the inside of Ronson's striking, which could prove dangerous.
Prediction: Ronson def. Prazeres via decision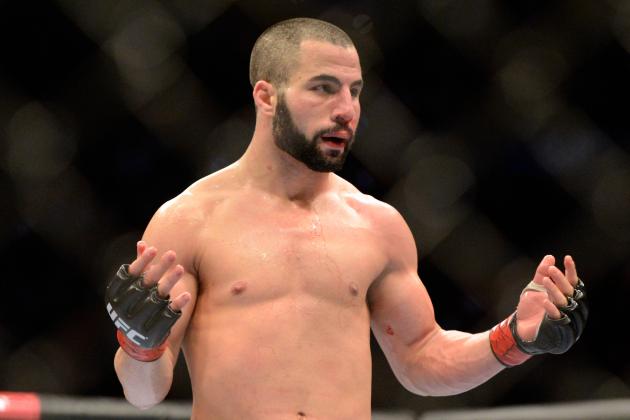 Eric Bolte-USA TODAY Sports

Topping off the Facebook part of the prelims, lightweights John Makdessi of Canada and Renee Forte of Brazil square off to move up the 155-pound ladder.
Makdessi has become one of the most exciting fighters in the UFC. The taekwondo specialist uses flashy striking, a solid jab and good takedown defense to outlast the opposition.
He recently reversed a two-fight skid by outstriking fellow sluggers Sam Stout and Daron Cruickshank. He showed great maturity in those fights and launched his stock up the rankings.
Renee Forte recently saved his job by nailing a huge upset over Brit Terry Etim in England. He used a balanced attack to keep Etim guessing, eventually taking a clear-cut decision.
Makdessi's takedown defense and striking are more advanced than that of Etim, so he should be a stiffer test for the Brazilian. He will sit behind his jab, use his footwork and outstrike the Brazilian to an obvious decision.
Prediction: Makdessi def. Forte via decision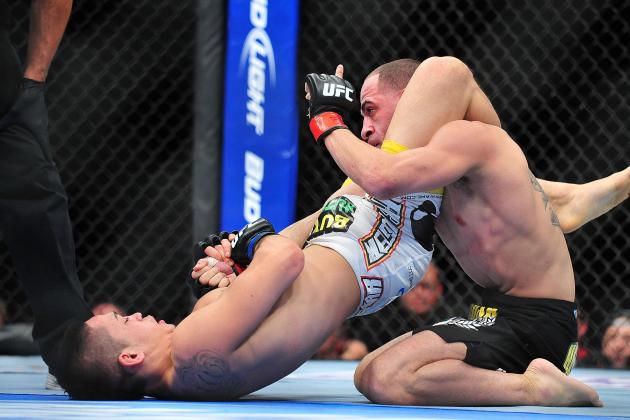 Gary A. Vasquez-USA TODAY Sports

Bantamweights kick off the Fox Sports 1 portion of the prelims, as Canadian Mitch Gagnon takes on Hawaii's own Dustin Kimura.
Gagnon has been nothing but exciting since entering the UFC. He dropped a Fight of the Night performance via submission to Bryan Caraway in his debut, but came back and blitzed Walel Watson to get his first win with the company.
Gagnon has shown good, powerful striking in his UFC tenure, but has won all nine of his profession victories via submission. He is just a blue belt in Brazilian jiu-jitsu, which showed in his tapout loss to Caraway. That is something Kimura needs to expose.
Kimura's lone UFC bout had its ups and downs. Though he completely outgrappled and defeated Chico Camus, he missed weight by over three pounds. If he can get his weight in line, he could be a real dark horse at 135.
Kimura did not display too much striking in his debut, so we should naturally assume he would like to get this fight down. He is comfortable from the bottom and has great sweeps and submissions. That's how he should take this one.
Prediction: Kimura def. Gagnon via submission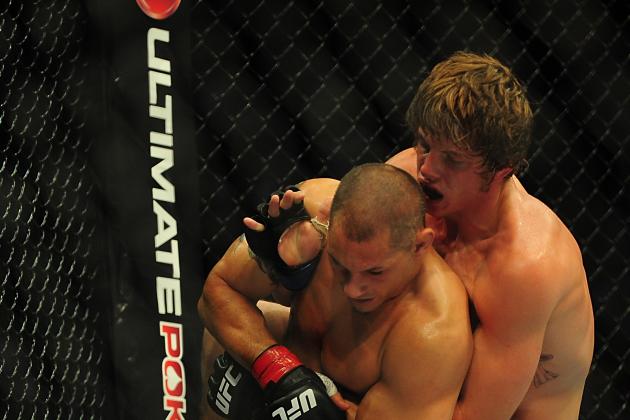 Anne-Marie Sorvin-USA TODAY Sports
Clements hopes to fair better than against Matt Riddle (top)
In the welterweight division, strikers meet as Canadian Chris Clements meets American Stephen Thompson.
Clements has had an up-and-down tenure in the UFC so far. He opened his journey with a decision win over Keith Wisniewski, but was then tapped out by Matt Riddle. Luckily, that fight was overturned due to Riddle's inability to pass a drug test.
So with his record technically clean in the UFC, Clements moves forward. A disciple of the late great Shawn Tompkins, Clements uses his kickboxing prowess to overwhelm opponents. In fact, 10 of his 11 wins have come via knockout.
His opponent, Stephen Thompson, will be a willing opponent on the feet. The high-level kickboxing prodigy is 2-1 in the UFC, owning a knockout victory over Dan Stittgen and a hard-fought decision win over Nah-Shon Burrell.
Both men's weakness is on the ground, so expect this to be a fun striking battle. The more technical, powerful man will win this one.
Prediction: Thompson def. Clements via decision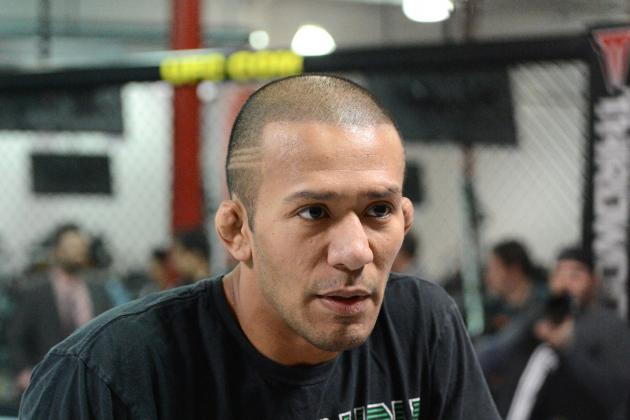 Jayne Kamin-Oncea-USA TODAY Sports

Bantamweights collide, as Tristar rep Ivan Menjivar meets late replacement Wilson Reis. Reis steps up for Kid Yamamoto, who was taken off the card.
Menjivar has consistently stayed in the top 15 of the UFC bantamweight division since arriving on the scene. He is 4-2 in the UFC, earning victories over Charlie Valencia, Nick Pace, John Albert and Azamat Gashimov. When he stepped up in competition, he has faltered (lost to Urijah Faber and Mike Easton).
He is skilled wherever the fight goes, but one would assume he would stay off the ground against his Brazilian counterpart.
Reis is a BJJ black belt with a high level of experience. The Bellator vet's only losses have come against top fighters such as Patricio Freire, Eduardo Dantas and Joe Soto.
Menjivar really needs to keep off his back in this bout and he has solid enough takedown defense to fend off the shot of Reis. From there, he needs to strike and move, which has been a trademark of his gym for a while.
Prediction: Menjivar def. Reis via decision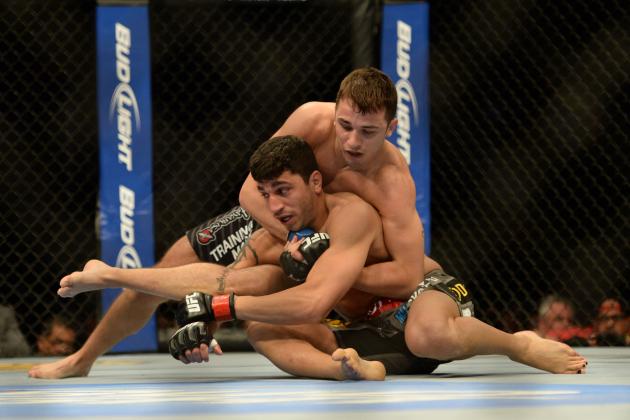 Kyle Terada-USA TODAY Sports

The main attraction of the prelims takes place at lightweight, when TUF 16 runner-up Mike Ricci takes on hot prospect and TUF 13/15 vet Myles Jury.
Ricci is a Tristar rep that dominated his run on TUF 16. In the finale, he was outwrestled by Colton Smith, dropping a decision. Luckily, he came back from the loss with a win over Colin Fletcher, even though it was a lackluster affair.
Jury has been a wrecking ball moving his way up the 155-pound ranks. He choked out Chris Saunders in his debut, dominated Michael Johnson in his follow-up fight and devastated Ramsey Nijem with a huge one-punch knockout in his last outing.
Jury has something that is really going to test Ricci here, and that is wrestling. If Ricci thought Smith's wrestling was a lot to handle, wait until he goes up against a guy who can set up his takedowns with his hands and do damage from top position.
Prediction: Jury def. Ricci via decision