NFL Predictions Week 3: Underdogs That Will Squash Unforgiving Spread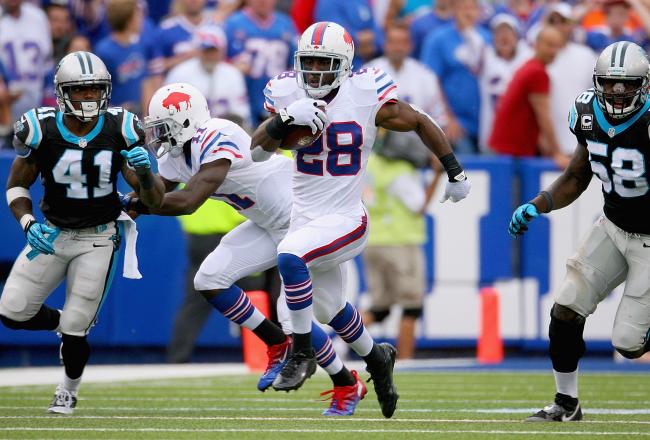 Rick Stewart/Getty Images
Respect does not come to those who don't earn it.
Apparently nobody told that to the oddsmakers who have tabbed many meddling teams as favorites.
They're not facing world-beaters, but many slumping squads are riding home-field advantage to the sunnier side of the spread. None of their opponents will be mistaken for title contenders, but they're still in healthier shape than their lethargic adversaries.
Underdogs will run rampant during the weekend, securing victories over the undeserving favorites.
Note: All betting lines, updated as of Wednesday are courtesy of Vegas Insider.
NFL Week 3 Schedule, Spread and Predictions

| | | | |
| --- | --- | --- | --- |
| Away Team | Home Team | Time | Predicted Winner |
| Kansas City Chiefs | Philadelphia Eagles (-3) | 8:25 p.m. (Thur.) | Chiefs |
| Green Bay Packers (-2.5) | Cincinnati Bengals | 1:00 p.m. | Packers |
| St. Louis Rams | Dallas Cowboys (-4) | 1:00 p.m. | Cowboys |
| San Diego Chargers | Tennessee Titans (-3) | 1:00 p.m. | Titans |
| Cleveland Browns | Minnesota Vikings (-5.5) | 1:00 p.m. | Vikings |
| Tampa Bay Buccaneers | New England Patriots (-7) | 1:00 p.m. | Patriots |
| Arizona Cardinals | New Orleans Saints (-7) | 1:00 p.m. | Saints |
| Detroit Lions | Washington Redskins (-2.5) | 1:00 p.m. | Lions |
| New York Giants | Carolina Panthers (-1) | 1:00 p.m. | Giants |
| Houston Texans | Baltimore Ravens (-2.5) | 1:00 p.m. | Ravens |
| Atlanta Falcons | Miami Dolphins (-3) | 4:05 p.m. | Falcons |
| Buffalo Bills | New York Jets (-2.5) | 4:25 p.m. | Bills |
| Indianapolis Colts | San Francisco 49ers (-10) | 4:25 p.m. | 49ers |
| Jacksonville Jaguars | Seattle Seahawks (-19) | 4:25 p.m. | Seahawks |
| Chicago Bears (-2.5) | Pittsburgh Steelers | 8:30 p.m. | Bears |
| Oakland Raiders | Denver Broncos (-15) | 8:30 p.m. (Mon.) | Broncos |
Vegas Insider
Detroit Lions at Washington Redskins (-2.5)
So the team that allowed more than 1,000 yards through two games is expected to win? Bold call.
After surrendering 262 rushing yards to the Philadelphia Eagles during Week 1, Washington's pass defense felt jealous of the attention obtained by its horrible run-stopping efforts.
So even though the rushing defense continued to stink, giving the Green Bay Packers their first 100-yard rusher since 2010, the passing resistance relinquished 480 yards and four touchdowns to Aaron Rodgers. Good to know the inadequacy has permeated throughout the entire defense to produce equal opportunity for all offensive opponents to flourish.
The Detroit Lions squandered any energy gained from their Week 1 victory over the Minnesota Vikings by falling to the Arizona Cardinals. When Reggie Bush left with a knee injury, the offense stumbled, finishing with 2.5 yards per carry.
Although Bush did not practice on Wednesday, ESPN Adam Schefter reported some encouraging news for the star running back.
Lions believe RB Reggie Bush's knee injury is not serious and he could be available to play as early as Sunday vs. WASH.

— Adam Schefter (@AdamSchefter) September 16, 2013
If Bush plays, Washington has no chance of stopping Detroit's high-powered offense. If Bush can't suit up, well, there's always Joique Bell to carry the load.
Prediction: Lions 34, Redskins 27
Buffalo Bills at New York Jets (-2.5)
Entering the season as the world's punching bag, the New York Jets have defied low expectations by notching a win and playing the New England Patriots tough in a loss.
But the Buffalo Bills have done the exact same thing.
Both unheralded clubs enter their AFC East clash at 1-1, with the one defeat coming against New England. Both major underdogs succumbed to the division powerhouse; the Bills lost on a last-second field goal while the Jets fell by three points.
Each team also etched out slim victories with a little help from the opposition. Lavonte David needlessly pushed Geno Smith after the quarterback scrambled out of bounds, thus receiving a 15-yard penalty that placed the Jets in position to sink a game-winning field goal to top the Tampa Bay Buccaneers.
After Ron Rivera made another late-game blunder by not going for a pivotal 4th-and-1, his gambit that Carolina's defense would stop the Bills' comeback attempt failed. E.J. Manuel led his team down the field, finding Steve Johnson for a wide-open touchdown after a crucial pass interference penalty that prevented a fourth-down situation.
So both squads appear even, and the Jets receive the friendly home-field edge. Fair enough, but Manuel has completed 68.2 percent of his passes while Smith gave away several chances to beat New England with three interceptions.
Manuel's advanced progression along with C.J. Spiller's playmaking prowess eradicates New York's edge.
Prediction: Bills 14, Jets 12
New York Giants at Carolina Panthers
The Giants have run into fistfuls of trouble by constantly digging their grave with early deficits. If they can keep the game close, they should exploit the Panthers' late-game futility and avoid an 0-3 start.
Teams who constantly win or lose close are expected to eventually return to the mean, as such performance frequently varies. But with such mistakes as Rivera's blunder to hand the ball back to Buffalo rather than letting Cam Newton, DeAngelo Williams or Mike Tolbert rush for one yard, Carolina could keep getting the short end of the stick.
Which 0-2 team will win its first game of the season?
Since Rivera assumed head coaching duties, the Panthers are 2-14 in games decided by seven or fewer points.
Eli Manning, on the other hand, has shifted the narrative from "erratic and undependable" to "clutch and never afraid of the moment" with a few huge late drives on the grandest of stages. Of his four interceptions against the Denver Broncos, two were desperate fourth-quarter heaves with the game out of hand. One was a fluky bounce.
If the Giants keep the game close, which they should considering Carolina's slow offensive start, their gaudy passing attack will lead them to victory during the second half.
Prediction: Giants 27, Panthers 20
This article is
What is the duplicate article?
Why is this article offensive?
Where is this article plagiarized from?
Why is this article poorly edited?