TNA Stars That WWE Should and Shouldn't Have Interest in Signing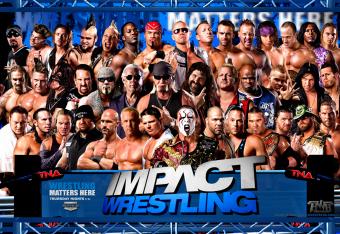 impactwrestling.com

TNA is clearly having some financial problems. PWInsider has reported that they are considering taking Impact off the road circuit. The same report shows that they did not complete a new deal with Knockouts champ Mickie James. The same publication has shown that Hulk Hogan and Eric Bischoff may be finished with the company soon.
The cornerstone of the company, AJ Styles was close to not extending his contract before inking a deal that keeps him with TNA through December (PWInsider). TNA moved this year to a four pay-per-view schedule. The company does not release its buy rates, but it could be presumed this was another cost-cutting measure.
In the last few years, TNA made a number of questionable economic decisions. With big dollar names like Kurt Angle, Bully Ray and Sting under contract, the company moved to sign Jeff Hardy, Mr. Anderson, Hogan, Bischoff and James. They've signed former WWE stars like Chavo Guerrero and Mike Know (Knux), and until recently, had Luke Gallows (D.O.C.) under contract.
Additionally, TNA gave lucrative deals to King Mo and Rampage Jackson, a pair of MMA fighters, with hopes of gaining crossover appeal. It doesn't appear any of these moves made a dent in audience and only hurt the bottom line.
So as TNA deals with financial instability, let's take a look at the roster and see who could or couldn't be of interest to Triple H as he continues to grow the WWE's deep talent pool. We'll alternate talents with a simple "Buy" or "Sell" determination.
I'm not going to cover the entire roster. If there are any names not mentioned, please include them in the comments below and let me know your thoughts.
BUY: Bully Ray/Bubba Ray Dudley
WWE is lacking for established talent. Correction: WWE is lacking full-time established talent. With names like Chris Jericho, Rob Van Dam and Brock Lesnar coming in and out, they aren't around long enough for extended feuds that elevate young talents.
Bully Ray has excelled in TNA, producing some of the best performances of his hall-of-fame bound career. Nobody expected much of this Dudley boy after the tag team disbanded, but Bully found his footing. He would fit perfectly in the upper midcard who could play both face and heel. He could fit as a gatekeeper for the main event scene and occasional title contender.
Of course, nobody would turn down a potential Dudley Boys reunion for a run with the tag belts.
Fantasy Dream Match: Bubba Ray, D-Von and Spike Dudley vs. The Shield
SELL: Austin Aries

There are a lot of big Austin Aries fans out there, but I don't see him having a place in the WWE landscape. He's a very good in-ring wrestler, but I don't think his move set would transition to the WWE style. With the absence of a cruiserweight division, he'd never be taken seriously by Vince McMahon or Triple H.
He also, well, too desperately wants to be CM Punk. His look and promos feel very Punk-lite. He's a solid hand in TNA, but nobody on a national level will ever tune in to see Aries. He could make a killing on the independent scene and would fit in well internationally.
BUY: Jeff Hardy
Promise that my entire list won't be ex-WWE guys who I want to come back, but this one seems like a slam dunk. I don't believe we've seen the last of Jeff Hardy in the WWE. There is still too much money to be made, too many matches to be held.
Were Hardy to not have battled substance abuse and left the WWE, it's reasonable to say he would be one of the biggest stars in the world right now. He left at his greatest popularity and would return immediately as a viable WWE title contender. A rematch against Punk and battles with the likes of John Cena, Daniel Bryan, Dolph Ziggler and Dean Ambrose would all be big draws.
Fantasy Dream Match: Jeff Hardy vs. Brock Lesnar
SELL: Magnus
Some people love Magnus.I don't see the hype.
There isn't any doubt that he has some talent, but many view him as a flagship main event draw for TNA. He's being treated as the top prospect or a franchise player. He hasn't wrestled the matches, cut the promos or shown the personality for me to believe I'd ever plan my night around seeing Magnus.
If he were to show up on the doorstep in Stamford, CT, WWE would say they already have Magnus on the roster. His name is Wade Barrett.
BUY: Samoa Joe/AJ Styles
It's cheating to put both of them together, but as I began to write them up separately, I realized it's the same argument. These two may be the greatest talents of their generation to never compete as full-time WWE superstars.
Recall the final TNA PPV before Hogan arrived and moved Impact to Monday night. The main event of that show was Styles vs. Joe vs. Christopher Daniels for the TNA Heavyweight Championship. It was arguably the match of the year and appeared to be a turning point for the company.
Then Hogan arrived and the next few years of booking for these two men was nothing short of inconsistent. Styles did a Flair gimmick, then turned face...then his friends turned on him...then he did/didn't have an affair with Dixie Carter before he did/didn't have an affair with some awful actress. Then, they tried to make him a dark anti-hero. Now, he's back to being the fan favorite, but this time with a beard.
Joe carried a knife around for awhile, was abducted by ninjas in a van, returned without explanation, had his face painted for a bit, then started wearing a suit, and all while has remained immensely over without any direction, character development or push.
Both men still have a few years left in the tank and could have classic matches in the WWE midcard with the chance to catch lightning in a bottle and break through to a main event or two.
Fantasy Dream Matches: AJ Styles vs. Rey Mysterio and Samoa Joe vs. CM Punk
SELL: Bobby Roode/James Storm
In the way that Joe and Styles have the same explanation, neither Storm nor Roode have a place in the WWE today. Both men can have very good to great matches in TNA, but neither has what it takes to be anything more than a bit player or tag team specialist in the WWE.
That said, if I were to believe WWE were to sign them, bring them in as tag partners and run them in a seriously booked tag team division against the likes of the Wyatt Family, Prime Time Players, the Usos and any team coming up from NXT, I'd be all for it. But until WWE commits to a tag division, neither of these guys have a spot.
BUY: Sting
At Night of Champions, WWE included Sting on their list of greatest U.S. Champions of all time. He won by a landslide. Today, WWE has posted two different Sting matches to their YouTube channel against the Great Muta and Vader. They are clearly trying to lure him in by pulling on the heartstrings.
I wasn't the biggest WCW fun nor have I ever been a major Sting mark, but that doesn't mean I wouldn't mind seeing him bring Showtime to the WWE for a short run. I'd like to see a WrestleMania match against The Undertaker, a SummerSlam semi-main event, a spot in a classic Survivor Series match and a Rumble appearance would be a big deal for any long time wrestling fan. Then put the man in the Hall of Fame and send him off into the sunset.
Fantasy Dream Match (other than Taker): Sting vs. John Cena
Other quick hits
BUY: Kurt Angle, Taryn Terrell, Kenny King, Abyss
SELL: Hernandez, Mr. Anderson, Chris Sabin, Christopher Daniels, Joseph Park
This article is
What is the duplicate article?
Why is this article offensive?
Where is this article plagiarized from?
Why is this article poorly edited?