With Week 3 just days away, it's time to begin tinkering with your lineup, scouring the waiver wire and studying matchups.
Here are some receivers you might want to think about sitting this week as you put the final touches on your roster.
Greg Jennings (vs. Cleveland Browns)
Jennings has logged two mediocre showings thus far, and it is unlikely that he'll be able to break out against the Cleveland Browns in Week 3.
Cleveland lockdown corner Joe Haden has been playing out of his mind this season. He handcuffed Mike Wallace in Week 1, surrendering only one reception. Then against Baltimore in Week 2, Haden kept Torrey Smith relatively quiet.
And with a struggling Christian Ponder at quarterback, even if Jennings does shake Haden, there's no telling if he'll actually get the pigskin.
Viking WRs coach on Jennings: "He understands that everybody can't marry Miss America." Translation: You're not with Rodgers anymore.

— FantasyGuru.com (@Fantasy_Guru) September 14, 2013
Antonio Brown (vs. Chicago Bears)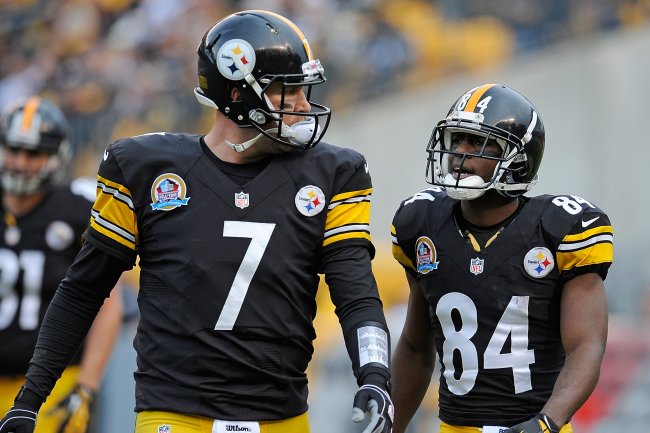 Joe Sargent/Getty Images
After two abominable outings by the Pittsburgh offense, Antonio Brown is no longer a must-start fantasy receiver.
The Bears are 2-0 and will be eager to take advantage of a faltering offense that has yet to prove it can put points on the board.
#Steelers WR Antonio Brown angrily confronts Todd Haley on sideline. Wants more passes thrown to him. http://t.co/dQ5YmQHzvj

— Ed Bouchette (@EdBouchette) September 18, 2013
Hang on to Brown, but until Roethlisberger and company get things figured out, it'd be best to keep him on the bench.
James Jones (at Cincinnati Bengals)
Which performance was the real James Jones?
Jones had a career day against the Redskins last week en route to 11 catches for 178 yards. However, that was the Redskins.
In Week 1, the 49ers ate Jones alive, not allowing him a single reception on the day. This week, he'll be facing a refurbished Cincinnati defense that's ready to make a statement at home against one of the league's elite quarterbacks.
Avoid the temptation to start Jones until he proves he can produce big numbers against quality secondaries on a consistent basis.
Josh Gordon (at Minnesota Vikings)
Gordon will return to the Cleveland Browns this week as the team's top receiver. But it's still the Browns, and they're still horrendous.
To make matters worse, the Browns will be starting third-string quarterback Brian Hoyer Sunday when they head to Minnesota.
BREAKING: Head Coach Rob Chudzinski has informed Brian Hoyer that he will start at quarterback Sunday at Minnesota.

— Cleveland Browns (@Browns) September 18, 2013
This isn't a slight at Gordon—it's just not wise to start any Cleveland receiver at this point in the season.
Cecil Shorts (at Seattle Seahawks)
Shorts has been one of the few bright spots in the Jaguars offense this season. Last week he managed to haul in eight receptions for 93 yards.
However, Jacksonville heads to the loudest stadium in the country to square off against one of the toughest defenses in the league.
Among Seattle's defensive weapons is Richard Sherman. Thanks to his dazzling performance on MNF last week, Sherman earned NFC Defensive Player of the Week honors.