10 Best Finishing Moves in Wrestling Today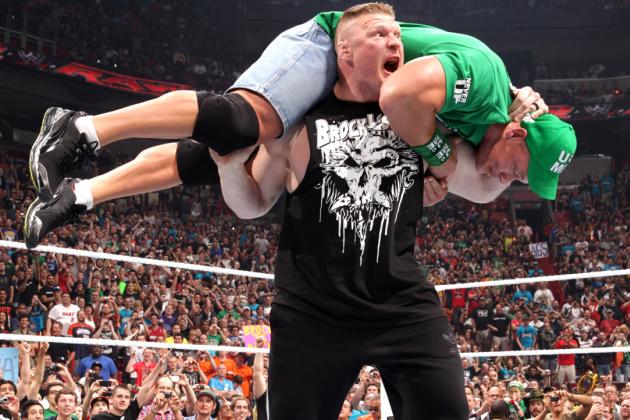 Brock Lesnar picks John Cena up for the F5 (Photo by WWE.com)
A good finisher goes a long way in getting a wrestler over with the fans.
When Jake Roberts debuted in WWE, he was an evil creepy dude who draped snakes over his opponents and made one of them (George Welles) foam at the mouth at WrestleMania 2. He also had the DDT as a finishing move.
Not only was it a dangerous looking move that was brand new to the fans he was performing in front of, but he found ways to hit it out of thin air. Similarly, his protege Diamond Dallas Page owes a lot of his success to the Diamond Cutter finishing move, which also had the "out of nowhere" aspect to it.
With that in mind, let's take a look at some of the best finishers in pro wrestling today. Keep in mind that I don't get to watch as much international and independent wrestling as I used to, so I know I missed some cool stuff.
Begin Slideshow

»
Simple, but effective, though I don't think it's been given an official name after being used for months. Whether you call it the headlock driver, bulldog driver, bulldog DDT, headlock DDT, or some wacky, less descriptive name, it's a good finisher for Dean Ambrose.
While it would be probably be better if he had his own "rush suddenly into frame" move like Roman Reigns' spear or Seth Rollins' Hyper Knee, this suits him well as a singles wrestler. Maybe he can come up with a secondary signature move to use in tags?
I've seen a bunch of people criticize the various knee strike finishers in WWE lately, and I don't know why. Yeah, they're kind of simple, but have you seen some of the crazy powerful knees guys like Anderson Silva, Jose Aldo, Wanderlei Silva, Alistair Overeem, and others of thrown in MMA fights? They're some of the most violent strikes in the sport.
Anyway, I've always liked this move going back to when I first saw KENTA use it in Japan, but Punk wasn't always that good at it. When he first came to WWE, he often had trouble getting bigger wrestlers up for it and it looked "wrong" too often.
Now, that's not an issue anymore. At SummerSlam, he had no problem getting Brock Lesnar up for the move, and it almost always hits cleanly. It's one of the most over finishes in WWE and while it's not as flashy as some of the other moves on this list, it's one of the most violent.
Plus, when he came back and hit Chris Jericho with two in a row at Payback? That was awesome, and there's no way I could use any other clips as the embedded video in this slide.
Hey look, another knee strike.
Like Corey Graves' Fuller Leglock, I've loved this moved since I first saw it years ago, when former shoot-style star Mitsuya Nagai used it as his finisher in All Japan Pro Wrestling. It's a nice fit for Rollins, especially to pull out in tag team matches. When you're watching a wild, frenetic Shield match with bodies being thrown everywhere, I love that Rollins can suddenly fly into frame and bash someone's face in.
Yes, another knee. I swear, this is almost the end of them.
CM Punk throws people into his knee. Seth Rollins flies off the top rope with his knee. Shinsuke Nakamura just hauls off and nails dudes in the face.
With the gimmick of being (as I understand it, and I'm not making this up) a great technical wrestler/fighter who coasts on natural talent while being stoned out of his mind on unnamed drugs, the idea is that he just doesn't give a damn. He knees people in the face with the fury of a guy who doesn't care how they end up.
Sometimes it makes me a little squeamish: When he hit Kazushi Sakuraba (yes, the MMA fighter) with the Bom a Ye at New Japan Pro Wrestling's annual Wrestle Kingdom show at the Tokyo Dome this year, it looked like he legitimately knocked him out. It also looked like there wasn't really any way to do the spot (a quick counter) without legitimate risk. I prefer my wrestling not to be so reckless, but it's still a cool finisher.
This move has never not been awesome, and Lesnar's recent appearances made it look as good as ever as CM Punk was willing to take some crazy-looking bumps taking it.
If anyone else had this as their finisher, like a cruiserweight-sized wrestler, it might look a little too goofy. Not Brock Lesnar, though. He's so strong and such a monster that I can totally buy him doing this to someone in real life, and especially in the world of pro wrestling with its unique grasp of physics.
As you can probably tell, I like moves that look like they can knock people out. Pretty easy to buy as a finisher, no?
Former ECW Champion Masato Tanaka has always been known for his elbow strikes, mainly close-quarters shots to the face followed by his "rolling" (spinning/discus) elbow. In recent years, he's adopted a new variation which he calls the Sliding D. I don't know what the origin of the name is, but it has a nice broken English ring to it.
Anyway, what he does is knock his opponent down, do a baseball slide and hit an elbow right to the jaw as he's sliding. It surprises me that nobody has stolen it to use on Raw.
A modified version of Antonio Inoki's Octopus Hold that was eventually modified by wrestlers like Masato Yoshino into an out of nowhere high flying move. It's a great fit for AJ Lee. Even by the standards of the Divas' division, she's tiny, so an elaborate technical submission makes perfect sense.
Any kind of slam would look wrong, as would most strikes. She needs to use agility and skill to win credibly. It's kind of wacky, but it still looks like it would hurt like hell if a ninja happened to use it in a real fight.
Probably the hottest "new" move in wrestling, I have no idea why more wrestlers outside of Japan haven't lifted it yet. Wade Barrett's Bull Hammer is similar, but still fairly different and not nearly as smooth.
It's a bit overly involved and looks completely ridiculous in cases like the above video when he tries it during a series of counters and both guys jump back and forth like idiots. Still, when he hits it at the end? It looks like he took Hiroshi Tanahashi's head off.
What I like most about the Rainmaker is that it put a twist on a cool older move (the short clothesline, one of Jake Roberts' trademark moves). The "ripcord" effect of spinning the other guy out of a waistlock seems pointless, but it was enough of a change that once he got wins with it, Okada was able to turn a decades old transition move into the most lethal finisher in Japan.
NXT star Corey Graves (Sterling James Keenan on the independent scene) dusted off one of my favorite rarely used holds to use as his finisher. This hold was the trademark of the Fuller Brothers, Ron and Robert (better known to modern fans as Col. Robert Parker in WCW and Tennessee Lee in WWE). Before Graves busted it out, I can't think of anyone who used it since Steve Austin named it "Hollywood and Vine" in WCW in the mid-'90s.
Similar to the "Calf Killer" that A.J. Style is using in TNA, it's a wacky, rolling, inside toehold that ends up in a version of what would now be called a calf slicer submission in mixed martial arts and submission grappling. It looks ridiculously cool and ends up in something resembling a legitimate submission. Plus the Fullers are so much cooler than A.J. Styles that this makes the list and the Calf Killer doesn't.
We end the list with one more knee strike.
Formerly one of the trademark moves of Pro Wrestling Noah GHC Champion KENTA (who also invented the Go To Sleep), it's currently the most protected move in WWE. Even if it doesn't have a name yet.
The Move That Beat John Cena got over in one night because it's...uh...the move that beat John Cena. Daniel Bryan needed a new finisher as a main eventer: There are guys like Cena who WWE doesn't like losing by submission, in turn Bryan needed a new move he could beat anyone with, and the small package/inside cradle roll-up is not exactly finisher material even if it's cool when he wins with it.
Originally known as the Buisaku Knee Kick (presumably because KENTA and Bryan are sort of also kicking and in a dropkick posture when they hit the knee strike), CM Punk briefly used it in Ohio Valley Wrestling, as well. Of the various knees on the list, I think that it looks the coolest: Simultanously graceful and violent, theatrical enough for WWE yet brutally simple.
Hopefully it remains protected as nobody should kick out of it for a very long time.
David Bixenspan has been Bleacher Report's WWE Team Leader and a contracted columnist since 2011. You can follow him on Twitter @davidbix and check out his wrestling podcasts at LLTPod.com.