My Manchester City Wishlist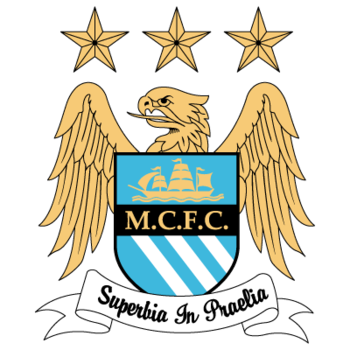 What would the summer be if there were no wild summer transfer rumors or wish-lists. With the transfer window soon to be open, the newspapers are going crazy with rumours.
I have decided to fuel the fire by making a wish-list of my own. These are the players that I would like to see at Manchester City next season.
I have picked players that are not only affordable, but are very talented. They would be great finds for Manchester City. It is not necessary to go off and spend $100 million on a single player.
There are many young and experienced players that we need to bolster up our squad. If we want to be a world-class team, we need depth. Many of our Starting XI players should be coming off the bench.
Four or five signings as well as bringing up our youth will help us. I have listed some players at the same position. I did this because in case Man C doesn't get one player, there is another at that position that I will be happy to see at Eastlands.
Also, I am on of the few people who have faith in Mark Hughes. Therefore, a new manager is not on my wish-list.
Royston Drenthe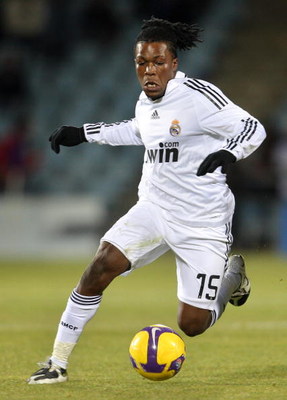 The greatest weakness in Man C's Starting XI, is their defense. That is why it is important to spend the most money there. It is also important to spend wisely.
Royston Drenthe is a 22-year-old stud from the Netherlands. He plays left back for Real Madrid and a future regular for the national team.
Though he played regularly for Real Madrid at first, Drenthe has not seen eye-to-eye with Madrid management. This summer, Madrid will have a new manager and a new president.
Drenthe does not seem to be part of the plan.
Since it seems that he is on his way out of Real Madrid, it is almost perfect for Manchester City. We will not be forced to overspend on him, and we will be getting a much needed position.
He has pace and is a very attack minded defender. From watching him play, it is obvious he has the strength to have success in the Premier He is very similar to Bacary Sagna of Arsenal.
He was bought by Real at €14 million. I would expect that Manchester City could get him at the same price.
Luisão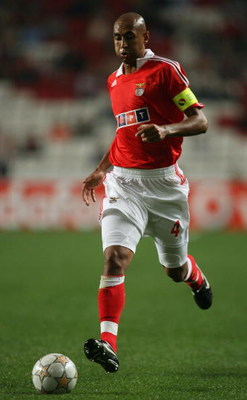 Luisão is a giant at 6'4". He is a central defender that is rugged and is an excellent leader (He is the captain of Benfica).
It has been long rumored that Richard Dunne will leave Manchester City, and this man would be an absolute force in the back with the likes of Nedum Onuoha.
At 27 years old, he is young enough to be able to contribute at the Eastlands for years to come.
Arda Turan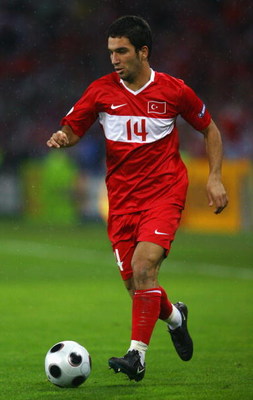 Manchester City has two main wingers: Shaun Wright Phillips and Elano. Both wingers prefer the right side. This of course is a problem because what happens to the left wing?
Do we force a player to adapt to the left side? No, We bring in 22 year old, Turkish International, Galatasaray star Arda Turan.
He first garnered international attention when he led Galatasary through the group stages in the 2006/2007 Champion's League.
He was also the driving force in Turkey's magical run during the 2008 EURO Championships.
Turan has drawn admiration from the likes of Arsenal and Juventus. This may make it a little difficult to lure him to Manchester City. However, if it comes to a bidding war, nobody can compare to City.
Obafemi Martins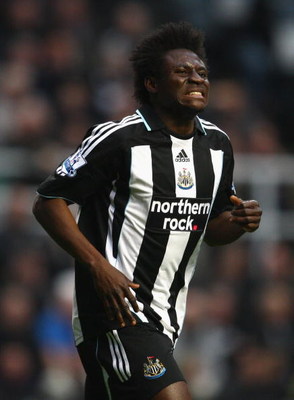 Obafemi Martins has been a shining star in a rather dim situation with Newcastle United. The 24 year old has scored 28 goals in 86 matches. Though this is not spectacular, it is important to note that he has scored these goals with little or no help from Newcastle's middies.
He also recorded the ninth hardest shot the Premier League has ever seen. For evidence, look here (http://www.youtube.com/watch?v=NbvImSXWcQU&feature=related).
If paired with Robinho or Bellamy, he would bring outstanding speed and firing power to our frontline. He is exactly the type of player that Manchester City could use to really spread the field.
Newcastle United has been struggling for years. At the right price, Martins will be let go of. He also in the past has highlighted his unhappiness with his club. This may also make it easier to snatch him up.
Mario Gomez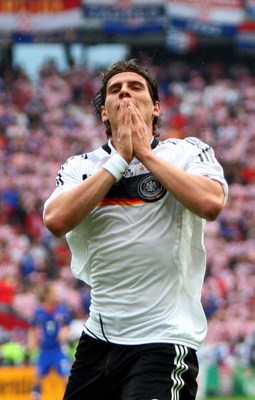 Mario Gomez has been on many teams radars ever since he burst onto the scene in 2003. Though he is only 23, he has much experience at the very top level of footballing competition. He was a starter on Germany's Euro 2008 team, and is a starter for Bundesliga's Vfb Stuttgart.
In 119 games for Stuttgart, he has an astound 62 goals. Statically speaking, for every two games he plays, he will score one goal.
He can also score in many different ways. He can use his size (6' 2") or use his speed. Pick you poison.
He would be an awesome target for the like of Stephen Ireland and Shaun Wright-Phillips.
As I stated before, there are many teams after him. If we had to spend big money on any player, he would have the biggest price tag. Recently, his club put the price tag of €30 million on this guy.
Though it is not more than Robinho, it is still a hefty tag. However, I believe it is worth it.
Keep Reading

Manchester City: Like this team?