NFL TV Schedule 2013: Week 3 Coverage Listings for Every Game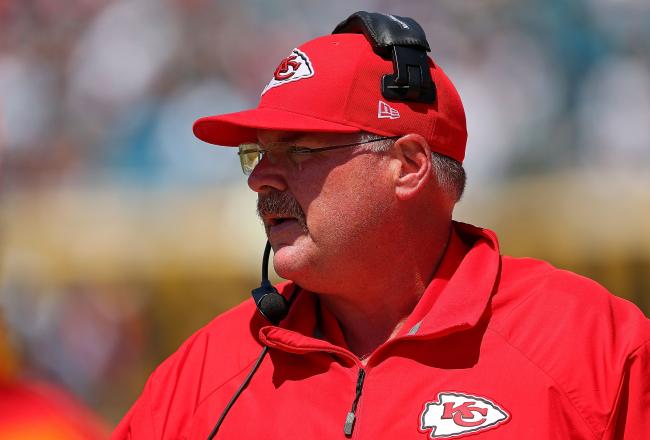 Mike Ehrmann/Getty Images
Andy Reid will be decked out in red on Thursday night as he makes his first return to Philadelphia when his 2-0 Kansas City Chiefs take on the Eagles.
That drama-filled setting will kick off an interesting slate of games for Week 3 in the NFL. And if the first two weeks are any indication, we are in line for plenty of thrilling games.
As USA Today's Tom Pelissero points out, this has been a historically thrilling start to the NFL. Of the 32 games this year, 22 of them have had results within seven points, 11 of them have been within three points and there's already been 14 fourth-quarter comebacks. Those marks either set a new standard for the league or tie the existing one.
Obviously, it is important to be a prepared TV viewer to catch all of this action.
Take a look at the complete TV schedule for all of Week 3's games. Then I'll highlight the three contests I'm most looking forward to.
Week 3 NFL TV Schedule

| | | | |
| --- | --- | --- | --- |
| Sept. 19 | | | |
| Away Team | Home Team | Kickoff (ET) | Network |
| Kansas City Chiefs | Philadelphia Eagles | 8:25 p.m. | NFL Network |
| Sept. 22 | | | |
| Away Team | Home Team | Kickoff (ET) | Network |
| Houston Texans | Baltimore Ravens | 1 p.m. | CBS |
| New York Giants | Carolina Panthers | 1 p.m. | Fox |
| Detroit Lions | Washington Redskins | 1 p.m. | Fox |
| San Diego Chargers | Tennessee Titans | 1 p.m. | CBS |
| Arizona Cardinals | New Orleans Saints | 1 p.m. | Fox |
| Tampa Bay Buccaneers | New England Patriots | 1 p.m. | Fox |
| Green Bay Packers | Cincinnati Bengals | 1 p.m. | Fox |
| St. Louis Rams | Dallas Cowboys | 1 p.m. | Fox |
| Cleveland Browns | Minnesota Vikings | 1 p.m. | CBS |
| Atlanta Falcons | Miami Dolphins | 4:05 p.m. | Fox |
| Buffalo Bills | New York Jets | 4:25 p.m. | CBS |
| Indianapolis Colts | San Francisco 49ers | 4:25 p.m. | CBS |
| Jacksonville Jaguars | Seattle Seahawks | 4:25 p.m. | CBS |
| Chicago Bears | Pittsburgh Steelers | 8:30 p.m. | NBC |
| Sept. 23 | | | |
| Away Team | Home Team | Kickoff (ET) | Network |
| Oakland Raiders | Denver Broncos | 8:40 p.m. | ESPN |
NFL.com
Kansas City Chiefs at Philadelphia Eagles
When: Thursday, Sept. 19 at 8:25 p.m. ET
TV: NFL Network
After posting a 4-12 record last season, the Philadelphia Eagles decided not to bring back head coach Andy Reid for a 15th season. Instead, they brought in the innovative Chip Kelly and haven't had time to look back since.
Kelly installed his rapid-fire offense, and the Eagles offense seems to have taken a liking to it. Philadelphia has scored 63 points in two games. Of course, the defense has allowed 60 points, so the Eagles will enter this game at 1-1—a win worse than where their former coach had them at this point last year.
With victories over the Jaguars and Cowboys, Reid has guided the Chiefs to as many wins as they had all of last season. He has that team playing smart and sound football.
This should be a close and entertaining football game. However—and I'm not one to usually get caught up in the off-field drama—I'm most interested in the reaction Reid gets from the fans.
The passionate Eagles fans aren't exactly renowned for their hospitality toward the opposition. Still, while Reid never got his Super Bowl title in Philly, he won 130 games and six NFC East titles while coaching the Eagles in five NFC Championship Games and a Super Bowl.
Even Eagles fans have to cheer for that...right?
Detroit Lions at Washington Redskins
When: Sunday, Sept. 22 at 1 p.m. ET
TV: Fox
Coming off of his knee surgery, Redskins quarterback Robert Griffin III has completed 63 percent of his passes while throwing for 649 yards and five touchdowns.
While these are solid numbers, rust, hesitancy and a lack of explosion while running have left him looking not nearly as dangerous as last season. His return to form is going to be a process, and unless that process kicks into overdrive, the 0-2 Redskins will soon be preparing for next season.
This week, they'll host the 1-1 Detroit Lions and the fearsome front four on Detroit's defense.
While Griffin's ability to handle the pressure Detroit will put on him will be pivotal, it won't matter all that much if Washington's defense doesn't start to play better. Washington has allowed 71 points in just two games.
This is a make-or-break week for the Redskins.
Atlanta Falcons at Miami Dolphins
When: Sunday, Sept. 22 at 4:05 p.m. ET
TV: Fox
With a 2-0 record, the Miami Dolphins are one of the surprises in this early season. While wins over the Browns and Colts isn't exactly going to flip the balance of power in the NFL, both of the Dolphins wins have come on the road.
That makes this interesting contest the Dolphins home opener.
Miami will be hosting a 1-1 Falcons team that has dreams of making a Super Bowl run this year. After a tough, close road loss to the Saints in Week 1, the Falcons downed the Rams last week.
Now, the Falcons will play their first outdoor game of the year against a team bursting with confidence. This will provide a nice proving ground for both teams.
This article is
What is the duplicate article?
Why is this article offensive?
Where is this article plagiarized from?
Why is this article poorly edited?