NFL Picks Week 3: Road Teams That Will Secure Major Statement Wins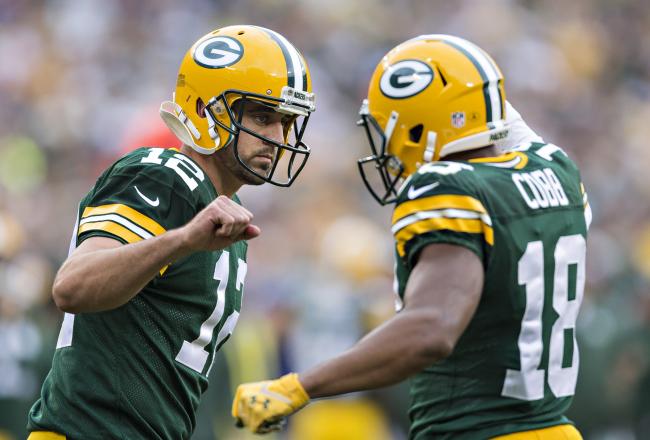 Wesley Hitt/Getty Images
These NFL squads are blistering hot, and no unfamiliar territory can deter their strides.
Seattle's faithful demonstrated the gripping power of home-field advantage in a shocking 29-3 shellacking over the San Francisco 49ers. When the Seahawks pounded their NFC West rivals into submission, the 12th Man received as much credit for the triumph as Marshawn Lynch and Richard Sherman.
And that's not mentioning the real MVP of the night: the climate. Mother Nature interfered with lightning that delayed action long enough to spare fans the unbearable choice of picking between football and Breaking Bad.
So the hosting city can occasionally become a factor, but it's not always enough to offset sharper differences on the field. When a team is firing on all cylinders, it often doesn't matter where it's sleeping the night before.
Expect many fans to grumble out of the stadium when these three teams escape with victories on the road.
Kansas City Chiefs (at Philadelphia Eagles)
Andy Reid makes his heroic return home to Philadelphia, where I'm sure the kind Eagles fans will be waiting with open arms to warmly welcome him back.
After all, when have they ever acted hostilely to a jolly old man with a mustache?
The fans may not miss Reid much after Chip Kelly brought his exciting offensive schemes to town and led the Eagles to 63 points through their first two games. But all the points in the world can't eliminate their issues on the other side of the ball.
Robert Griffin III led the Washington Redskins to 20 second-half points in a last-ditch rally attempt, but all was forgiven since Philadelphia held on and won. Don't expect such generosity after bringing Philip Rivers back from the dead.
Who will win in Andy Reid's return to Philadelphia?
The maligned quarterback's struggles have been well-documented, but Philadelphia allowed Rivers to register his first 400-yard performance in three years. He completed 36 of 47 passes for 419 yards and three touchdowns, and Eddie Royal has now matched his career-high touchdown tally (five) through two weeks, thanks to Philly's listless secondary.
The Chiefs enter the contest much more intact than Washington and the San Diego Chargers. Their defense ranks third in total yards allowed and second against the run. They'll provide a true test to LeSean McCoy while Jamaal Charles will expose the Eagles front seven on the other end.
Philadelphia is far more capable and exciting than last year's sorry bunch, but there's still work to be done. Reid will get the last laugh, as Kansas City continues to prove its belonging as an AFC contender by jumping to 3-0.
Prediction: Chiefs 24, Eagles 17
Green Bay Packers (at Cincinnati Bengals)
Aaron Rodgers is good. I'd go as far as to say very good.
Then again, Washington's defense is bad. Very bad. Don't expect the perennial MVP candidate to duplicate his 480 yards and four touchdowns against a defense that can handle itself, but count on Rodgers doing enough.
How many passing yards will Aaron Rodgers compile against the Cincinnati Bengals?
Even in a losing effort to San Francisco, he compiled 333 passing yards and three touchdowns. Like Cincinnati, San Francisco touts an actual defense capable of stopping people.
The Bengals carry some interesting pieces that can make them big players in the AFC. If Tyler Eifert and Giovani Bernard continue their accelerated progression, they have an assortment of skill players to surround the competent Andy Dalton.
They showed on Monday night why they are likely the team to beat in a quickly eroding AFC North, topping the Pittsburgh Steelers by 10 points. Dalton recorded 280 yards and a touchdown while the Steelers continued to show no semblance of a rushing attack.
That's great, but the NFC is an entirely different beast this year. The Bengals already found that out in a hard-fought loss against the Chicago Bears. From their formidable defenses to their star wideouts, the two squads matched up as evenly as two teams could. Now, Cincinnati meets the team that makes a living besting the Bears in the NFC North standings.
The Packers, who are always a Super Bowl contender with No. 12 under center, will continue to erase memories of Week 1 by improving to 2-1.
Prediction: Packers 27, Bengals 21
Chicago Bears (at Pittsburgh Steelers)
Speaking of the Bears and Steelers...
These two tough franchises are winding down diverging paths. While Chicago looks primed to re-enter the playoff picture, Pittsburgh could see its worst finish in years.
Chicago disappointingly surrendered 30 points to Christian Ponder and Co. when a shootout should have entrenched the Vikings in dire circumstances. Alas, it was defense and special teams that lifted Minnesota into contention. Cordarrelle Patterson opened the game by returning the kickoff the full distance, and Brian Robinson scooped up a fumble recovery for another score.
How will the Chicago Bears finish the season?
Nevertheless, the Bears are 2-0. If their biggest problem is not getting burned by unsustainable return touchdowns, they're in solid shape.
The Steelers, on the other hand, have to be concerned by ranking 31st in total offensive yards, exceeding only the dismal Jacksonville Jaguars. Your team does not want to share a sentence with "offense" and "Jaguars" unless it's "Troy Polamalu led the Jaguars offense to tears with another ferocious tackle."
An offense in shambles will not relish facing a fierce Chicago defense that will pressure the under-protected Ben Roethlisberger all night. Much like Monday night, the Sunday Night Football showing will feature low-scoring, defensive-minded football that results in a loss for the Steelers.
Prediction: Bears 13, Steelers 10
This article is
What is the duplicate article?
Why is this article offensive?
Where is this article plagiarized from?
Why is this article poorly edited?