Champions League: Reviewing Manchester United's Win Against Bayer Leverkusen
Wayne Rooney slips past a Bayer Leverkusen defender.
Michael Regan/Getty Images
Manchester United's opening game in the UEFA Champions League ended in a 4-2 victory against German side Bayer Leverkusen. Despite speculation, United manager David Moyes stepped up to the challenge of his first Champions League group stage experience and came out with a clear plan.
There's no doubt that Wayne Rooney set the tone, scoring two of the goals and playing an assisting role in Antonio Valencia's highlight moment. After seeing such a sharp performance from the Englishman, Chelsea surely regret not bagging the forward during the summer transfer window.
Old Trafford's No. 10 represented his club with a classy performance—a truly invigorating sight to see, especially after the prospect of losing the star only recently. Scoring his 200th goal for Manchester and accomplishing what only a select few at the club have had the pleasure of achieving, Rooney has joined the ranks with Bobby Charlton, Denis Law and Jack Rowley.
While Rooney was on top of his game, fellow forward Robin Van Persie had a rather off night.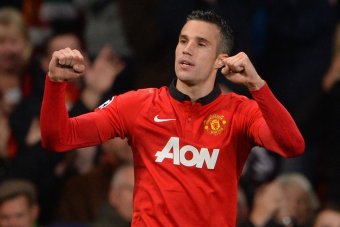 Michael Regan/Getty Images
Though his first touch was spot on, his finishing lacked the conviction that is regularly seen from him. Out of frustration, Van Persie earned himself a yellow card in the late minutes of the first half after an aggressive exchange with referee Damir Skomina. Later, he uncharacteristically missed a wide-open net just a few yards out.
Not all was bad news for the Dutchman, though, as he made up for his troubles by sinking one in the back of the net with a volley on his weaker right foot. Leverkusen keeper Bernd Leno was caught off guard when Van Persie hit his target, giving a helping hand in placing the ball in the right corner to score Manchester's second goal.
Rio Ferdinand was also having a less-than-stellar game, consistently making mistakes around the danger zone. Ferdinand seemed hesitant throughout the match, and his uncertainty was clearly influencing his decision making.
David de Gea has stood his ground well after receiving heavy criticism early on last year. The young keeper wasn't tested very much in this game, but there were still weaknesses that showed through.
Sometimes he gets caught not communicating with his back line enough, which showed at times against Leverkusen. It's difficult to forget Ferdinand heading out the ball for a corner when no one was pressuring him, which led to Leverkusen's second goal. It left the defense frustrated since communication could have easily prevented the mishap.
De Gea also has a bad habit of coming off of his line without getting a hand on the ball, which was the second mistake that led to Leverkusen's Omer Toprak hooking in a goal after Stefan Reinartz's header met the crossbar.
The 22-year-old Spanish keeper did, however, show his knack for shot stopping when a ball made its way through Nemanja Vidic's legs and rocketed into his territory.
Another player that always acts as a solid body on the field but needs more progression is Shinji Kagawa, who has a lot more to offer than what his performance let on. He's capable of getting involved on the attack and making himself present, but meshing with Manchester's style of play has proved to be a difficult task for him.
There's no question that Kagawa has the skills to be an effective player, but the chemistry between him and his teammates has yet to flourish.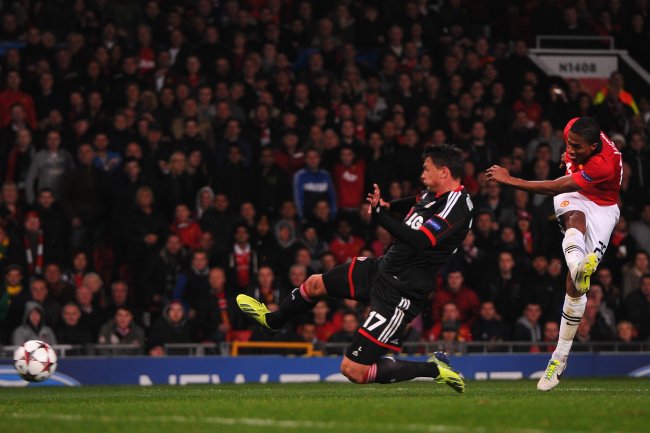 Michael Regan/Getty Images
In spite of a couple of players struggling on the night, the strong points outweigh the negative by far. Valencia shouldered a large part of the offensive attack, rampaging the sidelines and forcing a lot of pressure from the outside.
After Ashley Young slipped a ball to Rooney on the counter, Rooney placed a perfectly waited ball through to Valencia, who made a picture-perfect strike into the near right post.
There's no way to breakdown Manchester's win without mentioning the impact that Marouane Fellaini had on the squad. Getting a hold of the ex-Everton man was a terrific move on Moyes' part, as Fellaini's presence is making a big impact in the central area.
He has the ability to use his body well and cut off the opponent's play, and he has good vision both on and off the ball. By midseason, he will be a major role holder and target player in the midfield. He is already helping to direct Manchester's attack, and once he is given a little more time to fall in sync with his new surroundings, Fellaini will be crucial to keeping Manchester in the top ranks.
After winning this opening game in Group A, Manchester are off to a promising start.
Rooney exampled the true superstar he is, showing fresh legs and an eye for the back of the net. Van Persie will certainly be a positive influence in later matches, so concerns over his performance should be mild. Fellaini is fitting in nicely with the team, and the abundance of wigs throughout Old Trafford imply that the fans have welcomed him with open arms.
It's only the beginning of the season, so every team will have an adjustment period. Thus far, Moyes is doing a fine job working with his newly claimed team. This game is a hopeful prediction of how Manchester will continue to progress throughout the season.
Follow my twitter @OVER7JOYED.
This article is
What is the duplicate article?
Why is this article offensive?
Where is this article plagiarized from?
Why is this article poorly edited?

Manchester United: Like this team?