Freshman Report Card Grades Through Week 3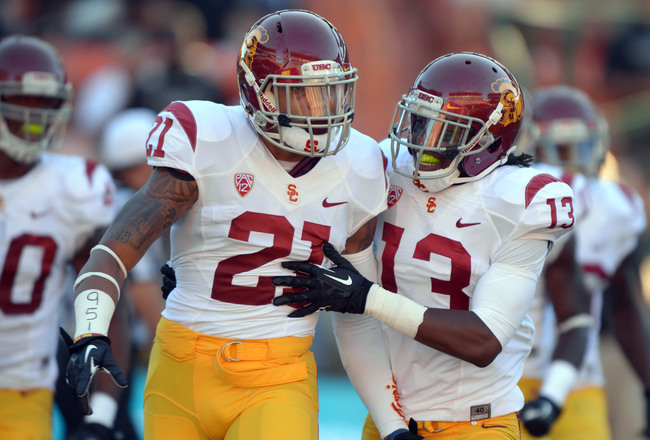 Kirby Lee-USA TODAY Sports
Of the highest-ranked freshmen in America—the most recent 5-star recruits on the 247Sports' composite—a good number have stepped right in and made a quick impact on their new team.
Whether it be on the offensive side of the ball, where blue-chip quarterbacks, running backs and receivers have amassed upperclassmen stats, or with productive play on defense, the Class of 2013 is off to a very good start.
Among those top 25 recruits, though many more have burned their redshirt by playing early, a group of seven has managed to become day-one starters at powerful programs.
But how have they fared in that role?
Note: Only players listed as starters have been included. Players like Florida's Vernon Hargreaves III, who have made an impact in reserve roles, will be added to the report once they crack the first-team.
DE Robert Nkemdiche, Ole Miss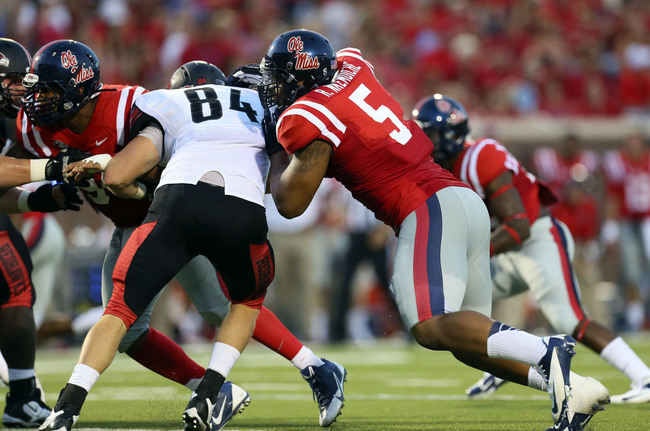 Spruce Derden-USA TODAY Sports
Nkemdiche continues to plug along for the Rebels, not setting the world on fire but looking every bit the part of a No. 1 overall recruit.
He's yet to record a sack, but Nkemdiche has piled up four tackles for loss in his first three games, getting into the backfield and creating negative plays for an improving Ole Miss defense.
As his obvious analog, South Carolina's Jadeveon Clowney—another No. 1 overall recruit who plays defensive end—also had exactly four TFL in his first three college games.
That's pretty good company.
Grade: A-
OLB Jaylon Smith, Notre Dame
Brian Spurlock-USA TODAY Sports
It took a couple of injuries to secure his spot on the depth chart, but the fact of the matter still remains: Smith is the first Irish linebacker to start as a true freshman since 1995.
That is a huge feat in and of itself, but Smith has buoyed it with solid production on the field. Especially against Michigan, when he finished with five total tackles, Smith looked impressive for the Irish, earning praise from Keith Arnold of NBC Sports despite the losing effort.
Still, with just two total tackles (combined) in games against Temple and Purdue, Smith needs to find the consistency of a starter despite his young age.
It's a good thing that he shows up for big games; but now he needs to show up for all of them.
Grade: B
S Su'a Cravens, USC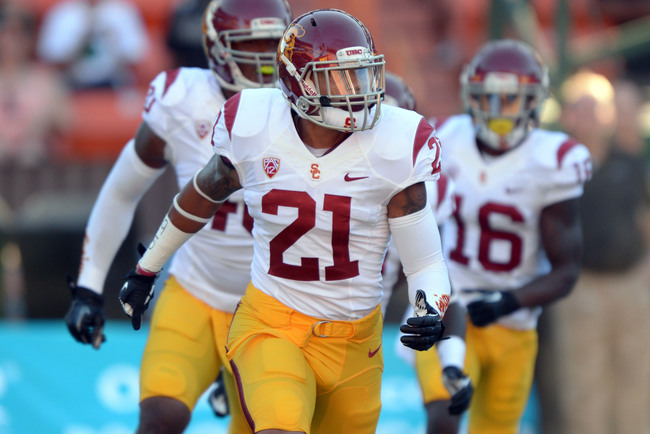 Kirby Lee-USA TODAY Sports
Despite the struggles at quarterback, USC is still 2-1. And if not for a pick-six from Cody Kessler against Washington State, the Trojans would actually still be undefeated.
A big part of that record is the defense, and a big part of the defense's success has been Su'a Cravens. Roaming the back-line of USC's secondary, he's already come up big with 13 tackles and an interception through three games.
As far as alumni comparisons, Cravens is much more Troy Polamalu, the innate-playmaking type, than Taylor Mays, the in-your-face run stuffer.
And effective as Mays was during his tenure, that has to be considered a good thing
Grade: A
QB Christian Hackenberg, Penn State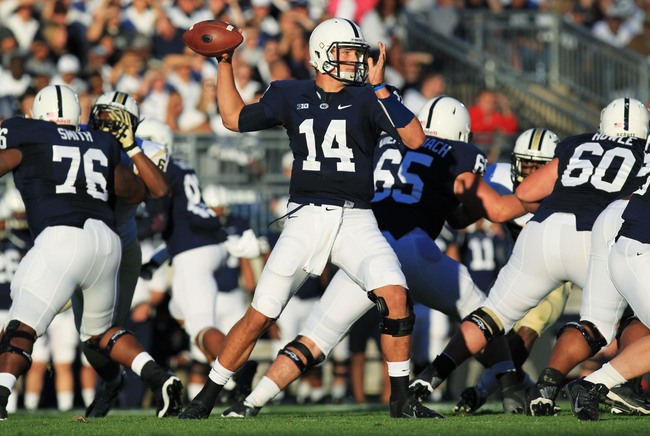 Matthew O'Haren-USA TODAY Sports
Hack has taken some lumps this year, but that's to be expected of an 18-year-old quarterback starting in a complex offensive system.
Sure, he was outplayed by Blake Bortles in a loss to UCF, and fine, he's made some ugly turnovers. Hackenberg has still shown enough flashes on the field—including a couple mind-bending deep balls—to be considered a mild early success.
Penn State cares about winning this season, but it's not the only goal. 2013 is about improving across the board and gearing up for what should be an interesting next few years.
And Hackenberg will be at the center of it.
Grade: B
WR Laquon Treadwell, Ole Miss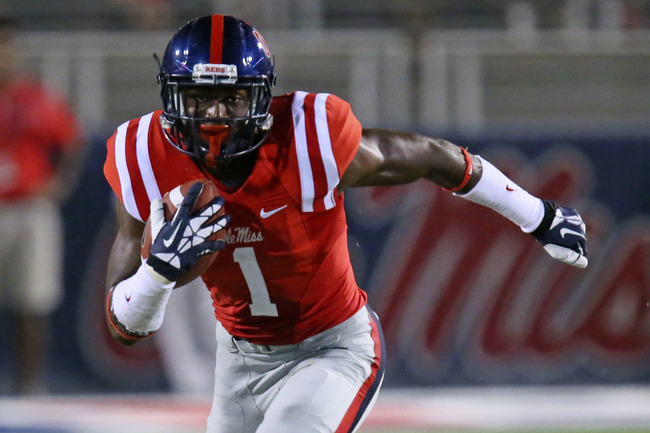 Spruce Derden-USA TODAY Sports
Treadwell was the No. 1 receiving prospect in the nation, and it took all of three quarters against Vanderbilt to see why.
Since then, teaming up with Donte Moncrief and Ja-Mes Logan, he has continued to validate his claim to the top spot—and in the process, he has helped give the Rebels one of the most dangerous offensive attacks in America.
He now checks in with 16 catches for 154 yards this season, working mostly as a physical presence out of the slot.
It would come as a shock to no one if he led BCS freshman in receiving at season's end.
Grade: A-
CB Jalen Ramsey, Florida State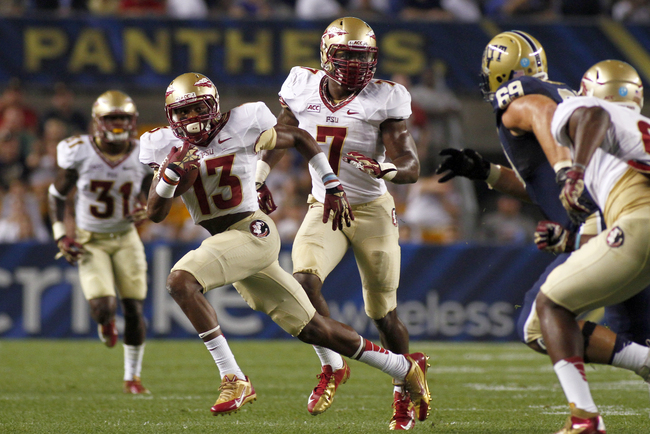 Justin K. Aller/Getty Images
Head coach Jimbo Fisher downplayed comparisons of Ramsey to Deion Sanders. But the fact that he was even asked the question says everything you need to know.
Ramsey is the first freshman cornerback since "Primetime" to start in Tallahassee, and after he recorded a pick in his first career game at Pittsburgh, his playmaking skills were quickly (and predictably) likened to that of the Hall of Famer.
With good size (6'1'') and physical skills to go along with reported 4.5 speed, the sky is the limit for Ramsey's college career. And his feet are already way off the ground.
Grade: A+
CB Kendall Fuller, Virginia Tech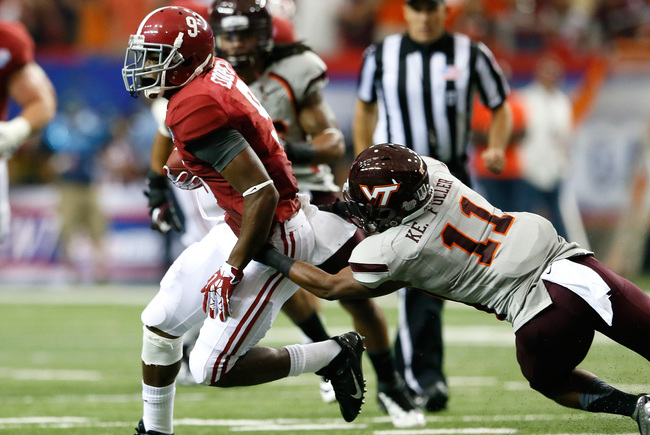 Kevin C. Cox/Getty Images
Fuller has been overshadowed (kind of) by fellow freshman cornerback Brandon Facyson, who already has three interceptions this season.
But there's a reason Fuller is ahead of him on the depth chart, and in the Hokies' three games this season—all of which featured dominant defensive performances—he has showcased why.
Fuller has shown the seedlings of a future lockdown corner, getting pushed into action by Antoine Exum's ACL recovery and going toe-to-toe with the likes of Amari Cooper in his first career game.
Anybody who can hold his own in that setting deserves applause.
Grade: A-
QB Jameis Winston, Florida State (Redshirt)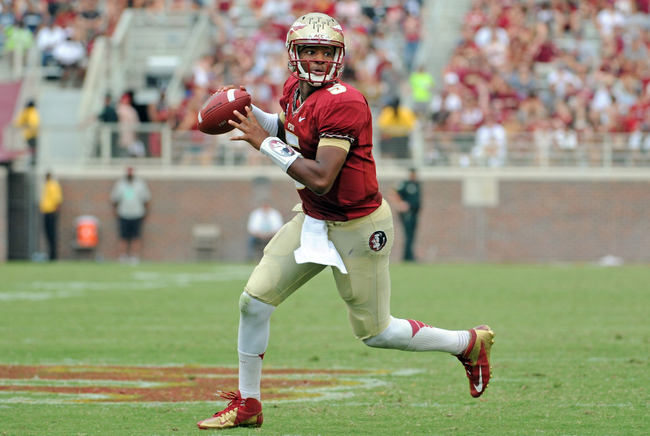 Melina Vastola-USA TODAY Sports
And now, for your redshirt special. Because any list of freshmen that doesn't include Jameis Winston would be woefully incomplete.
Two games into his college career—including an ACC road game at Pittsburgh in his first career start—Winston has more touchdowns (six) than incompletions (five) on 45 passes.
His QB rating of 234.85 trails just Bryce Petty of Baylor among FBS quarterbacks and is almost 80 points higher than any other freshman in America.
Florida State has scored 103 points in two games with Winston at the helm, and it could have been even more had the defense forced them to keep their foot on the gas.
Even with E.J. Manuel looking good—really good—up in Buffalo, folks in Tallahassee have no problems with his departure. The Winston era hath begun.
Grade: A+
Keep Reading