Picks, Predictions and Prognosis for Every Week 4 Big Ten Football Game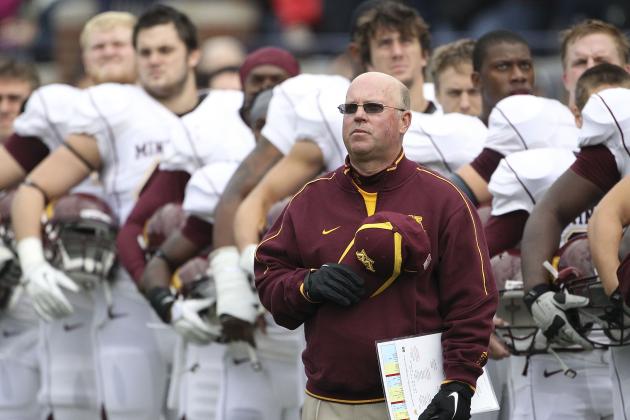 Leon Halip/Getty Images

Can we get a do-over on Week 3 of the college football season? Or at least for the Big Ten? Maybe Wisconsin?
How about my picks?
OK, OK, I'll stop asking. I know it won't be happening.
Point being, Week 3 was brutal on my picking skills and by far the worst week of the season for me. Week 4 makes things a heck of a lot easier as the vast majority of the conference goes back to the cupcake factory.
We should also all be rejoicing because Big Ten football is back! At least on the schedule, as Wisconsin hosts Purdue in the first conference matchup of the season.
Outside of that, the best game of the weekend is likely to be Missouri at Indiana—that's how bad this slate is (Yes I just said that Michigan State fans).
Last Week's Picks: 7-5 (4-8 ATS)
2013 Picks: 29-7 (21-15 ATS)
*All Lines courtesy VegasInsider.com
Begin Slideshow

»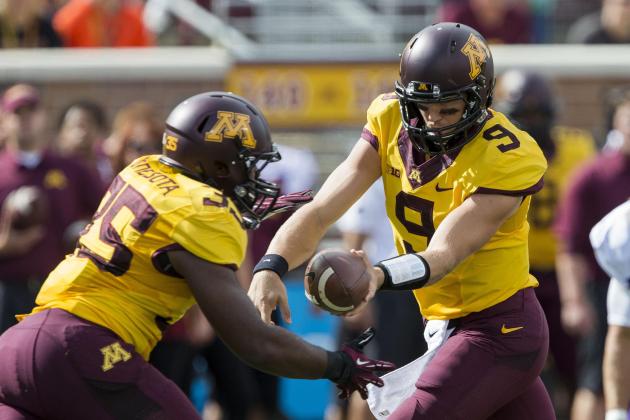 Jesse Johnson-USA TODAY Sports

Saturday, Sept. 21 at noon ET (ESPN2)
It'll be the Mitch Liedner vs. David Fales show on Saturday at TCF Bank Stadium, at least that should be how this one is billed, because it appears that in order for either of these two teams to win football games, their quarterbacks have to be the catalyst for victory.
This game will be very interesting because Fales and Liedner are so different as quarterbacks. Fales is more of the pocket-passer type, completing 60 percent of his passes for 441 yards in two games. Last week against a tough Stanford defense, he was 29-of-43 for 216 yards with one touchdown and an interception.
So, clearly he can get it done through the air against a very good defense. Problem for Minnesota is they have given up more than 200 yards through the air on average and did so against three subpar offensive football teams (UNLV, New Mexico State and Western Illinois).
The only way to keep Fales and the passing attack off the field is to play into the strength of Philip Nelson and the rest of the Gophers offense, and that's running the football.
Nelson leads the team with 221 yards rushing but won't be playing on Saturday due to a hamstring injury, and Roderick Williams, Jr. is barely behind him with 217 yards of his own. As a team, they are inside the top 40 in rushing offense, and that could be their advantage in this one.
If Minnesota can run the football and play solid enough pass defense, something we haven't seen a lot of thanks to three crappy opponents so far, then the Gophers will get it done in "The Bank."
If not, expect Fales to put up over 300 yards passing and have at least a TD, and San Jose State shows why they are going to be a tough out in the Mountain West Conference race.
Prediction: San Jose State 34, Minnesota 27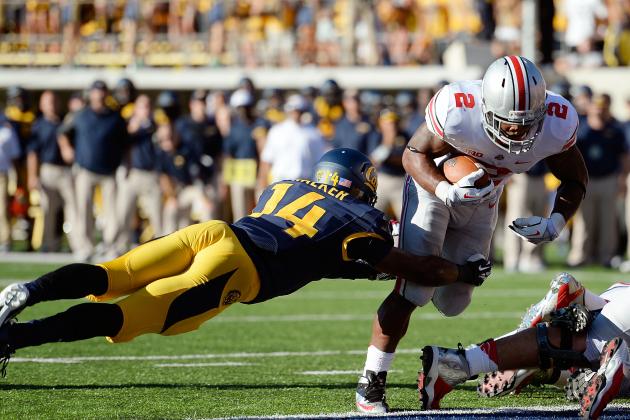 Thearon W. Henderson/Getty Images

Saturday, Sept. 21 at noon ET (BTN)
Ohio State's backups have put a beatdown on the starters of two teams in the past week, so how much of a chance do you give the visiting Rattlers of Florida A&M who have lost twice to fellow FCS foes?
Not much of one at all. Facts are facts, this is the biggest example of a "payday game" we may see all season long.
Ohio State's Urban Meyer has hinted at trying to get Braxton Miller and Kenny Guiton on the field at the same time.
No there isn't and shouldn't be a quarterback controversy in Columbus (but that sure says a lot of how good Guiton was in relief of Miller, huh), but expect both to play plenty in this embarrassing cupcake matchup.
Also expect Jordan Hall and Dontre Wilson to both go over 100 yards and for Carlos Hyde to see about 10 carries as he returns to the field for the first time this season.
What else is there to say other than if No. 4 Ohio State doesn't find a way to score more than 50 and come as close as possible to blanking these guys, it will be seen as a failure in my eyes.
Prediction: Ohio State 61, Florida A&M 6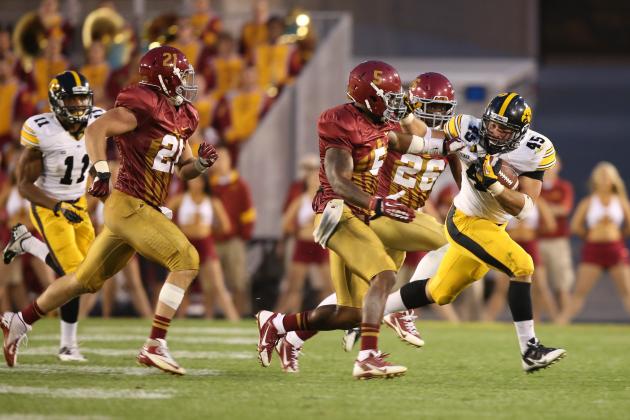 Reese Strickland-USA TODAY Sport

Saturday, Sept. 21 at noon ET (BTN)
Poor Western Michigan. This will be the Broncos' third game against a Big Ten foe this season, and it hasn't exactly gone swimmingly, losing 26-13 to Michigan State and 38-17 to Northwestern.
However, don't let the results totally fool you. P.J. Fleck's team has actually played some good football on the defensive side of the ball.
Against MSU, the Broncos' defense only gave up 13 points to the MSU offense and well, they did hold Northwestern under 40 points—a feat not to be scoffed at.
Iowa comes in to this one a lot more confident on the heels of snapping a two-game losing streak to their in-state rivals, Iowa State.
Mark Weisman is the best "workhorse" back in the Big Ten, and sophomore quarterback Jake Rudock has become a very dangerous QB with his arm and his legs as of late.
However, there are still questions defensively, and luckily this will be a week to work them out as Western Michigan has a long way to go in that department.
Look for Weisman to get over 150 yards on the ground and Rudock to throw for over 250 in a win, but it will be a bit closer than the line suggests.
Prediction: Iowa 30, Western Michigan 17
David Banks/Getty Images

Saturday, Sept. 21 at 3:30 p.m. ET (BTN)
With Northwestern staking claim to some of the best and most consistent football being played by a Big Ten football team and having played a pretty challenging schedule so far, they deserve a break.
Except for the fact that the game this week against FCS-opponent Maine will present a few challenges. After all, the Black Bears come into this game 3-0 on the season and own a win over UMass as well.
Of course, Northwestern is closer to Alabama than they are to UMass in terms of talent level, and they should win this game going away, but it won't be the biggest cupcake of the week, that's for sure.
It appears as if Venric Mark may not play this week once again, but that hasn't been an issue to date thanks to the emergence of Treyvon Green and his 352 yards and five touchdowns on the season.
Kain Colter appears to be working his way back to full steam and just in time for the Big Ten season to get going.
This is the perfect tune-up considering the slate they've faced so far, which is arguably the toughest in the Big Ten to date. Expect Northwestern to roll in this one despite Maine being a good FCS program.
Prediction: Northwestern 41, Maine 10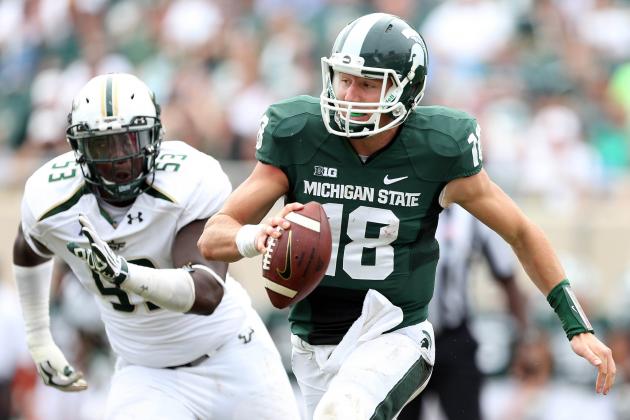 Mike Carter-USA TODAY Sports

Saturday, Sept. 21 at 3:30 p.m. ET (NBC)
Michigan State finally got out of their offensive funk last week, putting up 55 points on FCS-foe Youngstown State.
That's the good news, but don't get too giddy in East Lansing, because you're about to find out if Connor Cook actually is the answer at quarterback when you go down to South Bend to face rival Notre Dame this weekend.
Yes, ND isn't exactly who the college football world thought they were defensively, but they are still a vast improvement over the mighty Penguins.
This one has defensive battle written all over it, so naturally I'm saying watch out for an offensive outburst in this game. Why not? After all, last weekend was all sorts of upside down around the Big Ten.
So, look for Nick Hill and Jeremy Langford to combine for close to 175 yards rushing and Cook to throw for over 250 yards for the Spartans.
However, look for Tommy Reese and the gang that is playing host to have a big game as well, as MSU's defense plays it's worst game of the season.
Prediction: Notre Dame 31, Michigan State 23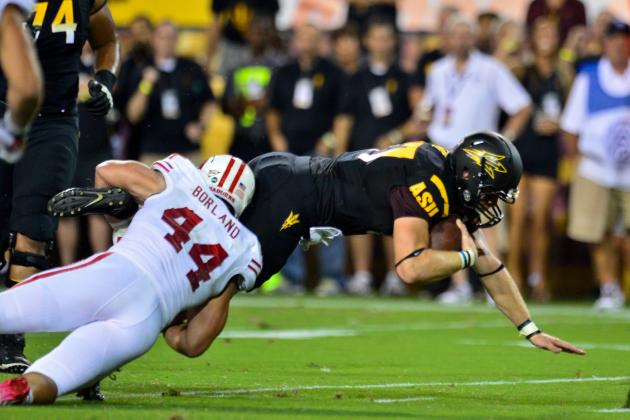 Matt Kartozian-USA TODAY Sports

Saturday, Sept. 21 at 3:30 p.m. ET (ABC)
Yes, Wisconsin got completely hosed last Saturday, but there is nothing better to help you get over that kind of a loss than waking up to realize your conference season is upon you.
It also helps that Wisconsin is facing a Purdue team that they have repeatedly crushed over the past decade. The Badgers have a seven-game win streak going in the series, and UW has won the last three home matchups by 31 points on average, so go with the over in this game if you are so inclined (even if I sucked against the spread last week).
Purdue has a history of playing amazing football against Notre Dame and Ohio State, but not so much against Wisconsin, and I don't see a way they stop the triple-threat backfield of the Badgers this Saturday.
Expect Gordon to go for 150 and James White to lead the team in rushing with over 175 yards himself as the Badgers blow out the Boilers once again.
An interesting tidbit for this game is that this is the earliest home Big Ten opener since 1981 when the Badgers opened against No. 1 Michigan on Sept. 12. Guess what happened that day? UW beat the No. 1 team in the country 21-14 that weekend.
Look for the Badgers to take out some frustration from how last weekend ended early and often in this one.
Prediction: Wisconsin 45, Purdue 10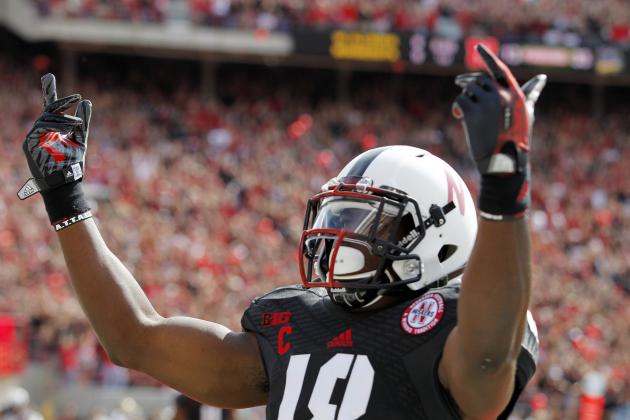 Bruce Thorson-USA TODAY Sports

Saturday, Sept. 21 at 3:30 p.m. ET (BTN)
UPDATE: Taylor Martinez has been officially ruled doubtful and it appears that Tommy Armstrong Jr. will take control of the offense in his absence.
Do you think Saturday afternoon could come fast enough for head coach Bo Pelini? Probably not. However, there could be a silver lining in all the firestorm his comments early in the week created—it took the spotlight off his team.
You know, the team that couldn't score a point in the second half and allowed UCLA to score 31 unanswered points in that same half of football to lose 41-21? Yea, that team.
It could be the best thing possible for them as they could deal internally with all that took place. Luckily for them, they can't rest up against their Week 4 opponent, South Dakota State.
The Jack Rabbits aren't going to be scared by playing in Memorial Stadium or against a historic team like the Huskers. They've played in many great stadiums and they've beaten a Big Ten team themselves in the past.
Look for the Huskers and the guy pictured above, Quincy Enunwa, to have a big game.
Also look for the defense to want to prove they are capable of improving off the beating they took last week. If they can't hold the Jack Rabbits to under 20 points and 300 yards of total offense, the Husker faithful is likely to express a lot of angst once again.
I don't see that happening though as the Huskers players rally the troops and right the ship (could I add any more cliches) against South Dakota State.
Prediction: Nebraska 41, South Dakota State 13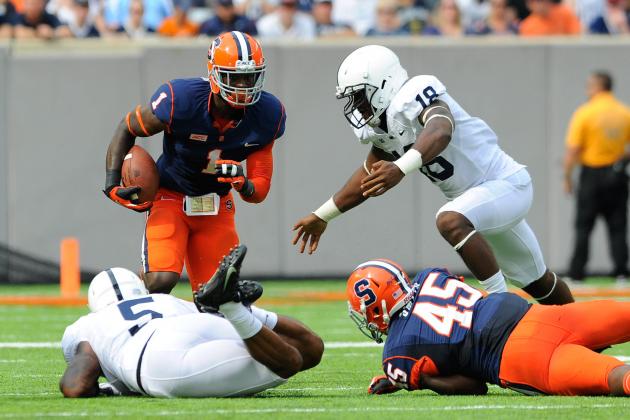 Rich Barnes-USA TODAY Sports

Saturday, Sept. 21 at 3:30 p.m. (BTN)
Well, this was going to be my surprise upset pick until two things happened—Penn State went out and lost to UCF at home last week and Kent State's Dri Archer appears like he won't play in this week's matchup.
An angry Penn State defense combined with a Golden Flash offense minus its one true playmaker just doesn't bode well for the visitors to Happy Valley this weekend.
Kent State quarterback Colin Reardon has looked good at times and has yet to throw an interception, which could give the Penn State secondary a challenge. However, the overall run game for Kent State has been nearly nonexistent, ranking 95th in rushing yards per game as a team (121 average).
Penn State's offense wasn't the issue last week, and Christian Hackenberg continues to grow. Expect more of the same, and look for Akeel Lynch to be the back that surprises and leads the Nittany Lions in rushing as they take care of this MAC foe.
Prediction: Penn State 37, Kent State 17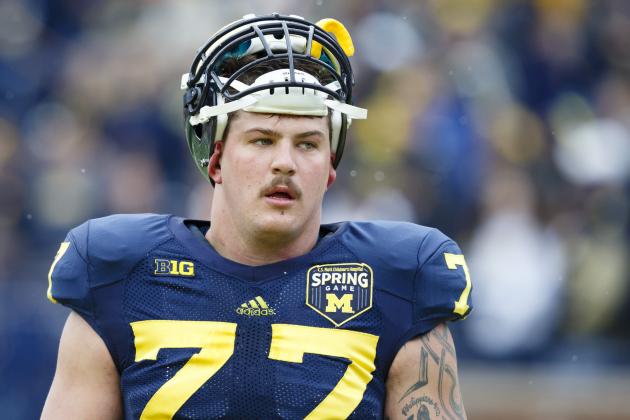 Rick Osentoski-USA TODAY Sports

Saturday, Sept. 21 at 8 p.m. ET (ABC)
Would you want to be Connecticut this weekend? I sure wouldn't.
Seriously, Michigan played right into the old cliche of a trap game last weekend against Akron, and there's simply no way the UConn Huskies are going to stand in the way of this team proving last weekend was a fluke.
Taylor Lewan had a minor injury, and the offensive line looked like crap last week. So did the defensive line, for that matter.
Expect both units to bounce back against a bad UConn football team. So bad that they got worked over by Towson and Maryland already this year.
The only thing that worries me is this is the first trip away from the Big House this season—Ah, who am I kidding, there won't be any letdown in this one.
Look for Devin Gardner to look more like the Notre Dame-version of himself and less like the awful Akron-version as he puts up 300 yards and four touchdowns this weekend.
Prediction: Michigan 47, UConn 17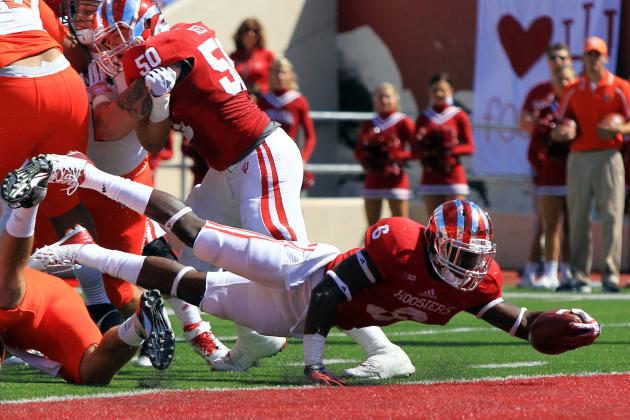 Pat Lovell-USA TODAY Sports

Saturday, Sept. 21 at 8 p.m. ET (BTN)
Well, at least the nightcap won't become an early morning affair—Unless Missouri and Indiana get into a shootout, and then it could be a four- or five-hour affair.
That is a plausible outcome, and for both of these teams there isn't a more telling game as to where their respective bowl game hopes stand than this one. A true road game for an SEC school in Big Ten country? What is going on here?
Missouri offers a lot of the same challenges that Indiana does offensively, and quarterback James Franklin has been impressive to date, raking up a 66.7 percent completion rate to go with 530 yards and four touchdowns to just one interception. He's also added 121 yards on the ground.
It's too bad Missouri's secondary will likely be getting torched as well, and Nate Sudfeld is perhaps the hottest throwing quarterback in the country, if not the Big Ten (the stats really do back that claim up).
This game has a lot to like, and I think it is a very close game, with the potential to be the best game we see all day in Big Ten country, but give me the home team in this one as Big Ten pride shows through against the mighty SEC.
Prediction: Indiana 44, Missouri 38