South Carolina Football: The 5 Biggest Storylines Down the Stretch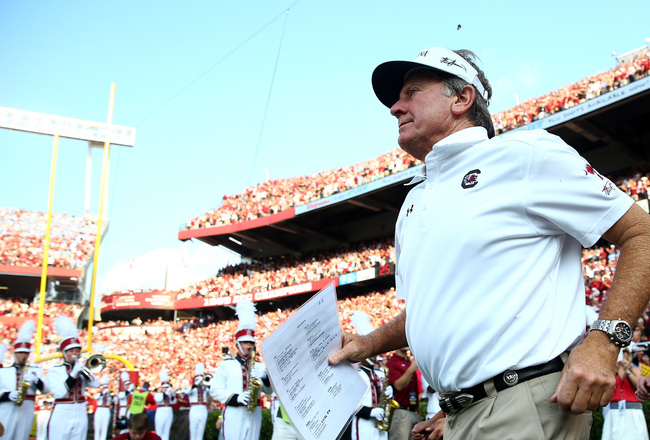 Streeter Lecka/Getty Images
In coach-speak, "looking ahead" is like walking under a ladder, spilling the salt or chanting "Christina Aguilera" 13 times in front of a mirror. If you do it, something bad is probably going to happen.
Just thinking about next weekend's game before you've played the one directly in front of you will send all manners of bad mojo down on your program.
More likely, college football coaches' near-universal refusal to talk about future games is just another way to stiff arm the media without resorting to Pelini-like profanity—definitely, definitely NSFW, unless you happen to work in a strip club or pawn shop. (Seriously, what is that guy's deal?)
Luckily for sports bards, bloggers and bloviators everywhere, those rules don't apply to us.
So, submitted for your approval, are the five biggest storylines as we "look ahead" to the rest of South Carolina's slate this season.
Go ahead, indulge in a little fantasy. You've earned it.
Somebody Gonna Get Hurt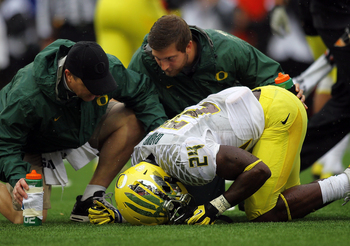 Jonathan Ferrey/Getty Images
Believe me, as a pacifist (and as an all-around decent human being), I wish football could be just as fast-paced and hard-hitting, but with the caveat that somehow no one ever gets hurt. That would be ideal, of course, as would an injury-free season for the Gamecocks.
But here on planet Earth, the odds are pretty good that South Carolina loses at least one key member of its personnel by the end of the brutal October road-game run.
The big story right now is that Jadeveon Clowney and Chaz Sutton are "day to day" due to foot injuries, according to defensive coordinator Lorenzo Ward. Either of these would be big personnel losses, but with tough-as-nails defenses a hallmark of the SEC, it's more likely that the Gamecocks lose a key offensive player before it's all said and done.
In particular, I would take a close look at Connor Shaw. A significant part of Shaw's offensive resume is his patented ability to turn a busted play into a 20-plus yard gain, but he doesn't always make a smooth transition from running to sliding into the turf. Losing Shaw even to a minor injury would be a big loss for South Carolina down the stretch.
Somebody Gonna Win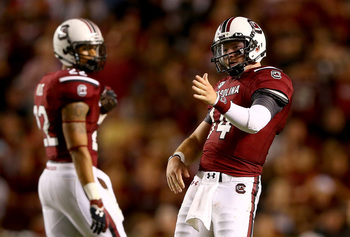 Streeter Lecka/Getty Images
Mark my words: It's unlikely that South Carolina will lose another game this season. I'm not saying it's impossible, and I'm not saying that South Carolina will definitely win out.
I'm simply claiming right here, right now that the Gamecocks will probably not lose another game this season—not to No. 19 Florida and not to No. 3 (seriously?) Clemson, the only ranked teams remaining on the Gamecocks' 2013 schedule.
Both of South Carolina's toughest remaining matchups are on the Gamecocks' home turf, and South Carolina hasn't lost a game in Williams-Brice in almost two years. (They last lost at home to Auburn on Oct. 1, 2011.)
Somebody Gonna Get Mad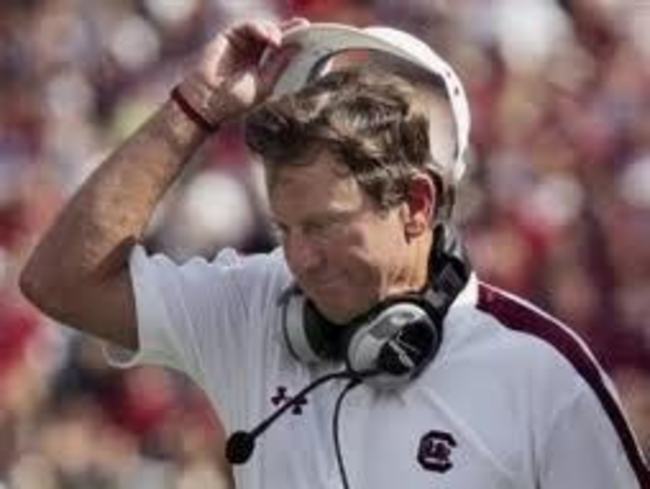 Well, of course...right?
Honestly, the whole "Spurrier throwing the visor" thing has kind of jumped the shark. If Verne Lundquist and Gary Danielson are cracking jokes and chortling every time Spurrier gets angry and throws his headgear, then you know it just isn't that funny.
Sort of like the first time your mom said, "Oh, don't go there." You knew it was over.
Somebody Gonna Get Beat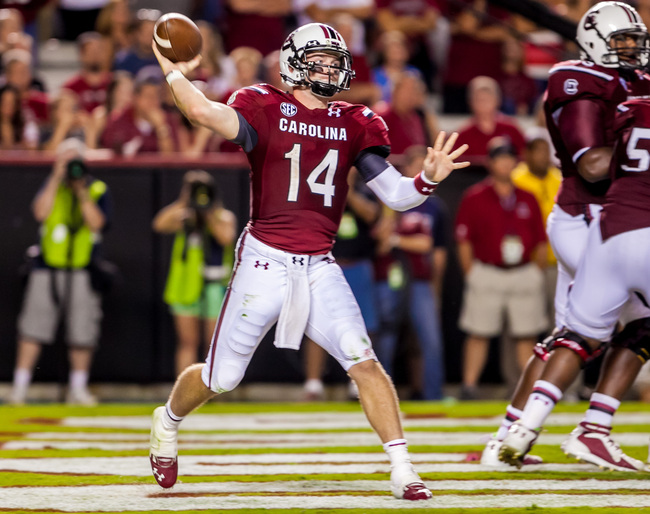 Jeff Blake-USA TODAY Sports
Nearly everyone expects South Carolina to roll over Central Florida and its lone-remaining FCS school in Coastal Carolina at the end of the season.
But it's quite possible the Gamecocks have their way with Kentucky and possibly even Arkansas in a few short weeks.
While Kentucky (1-2) just looks plain bad this year—even by Kentucky standards—Arkansas (3-0) might be vulnerable in a way most Carolina fans are totally unaccustomed to witnessing.
It will be interesting to see how the Hogs fare against the Gamecocks this year, particularly since this year's face-off is uncomfortably sandwiched between No. 19 Florida (1-1) and No. 1 Alabama (2-0).
Somebody Gonna Be Sad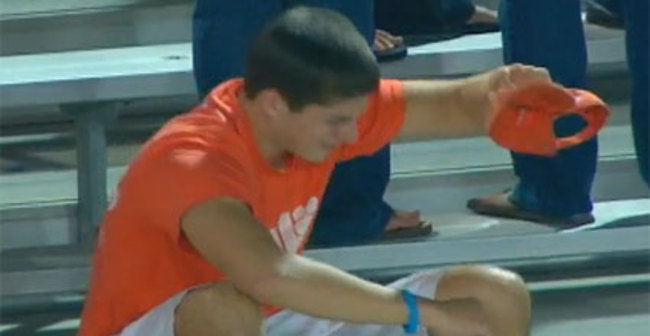 Yep. The bigger they are, the harder they fall, as the man says.
The Mother Ship is betting the house on Clemson to go 12-0 and for Boyd to be a legitimate Heisman contender come December. I think not.
In fact, I don't think Clemson makes it out of their game with North Carolina State as scratch-free as some might think.
North Carolina State is gaining a reputation as something of a giant-slayer, beating Top-10 teams at home in the past two seasons and cutting the Tigers off at the knees a couple years ago.
This is a better Clemson squad than we've seen in recent seasons, but iron sharpens iron, and without a few more big-ticket games after N.C. State on their ACC schedule, this team will fold by the end of November.
Keep Reading

South Carolina Football: Like this team?