Auburn vs. LSU: Live Score and Highlights
LSU 35, Auburn 21—Final

The LSU Tigers beat Auburn's gimmick with discipline in a 35-21 victory in Tiger Stadium.
LSU stayed at home and used the speed of defensive linemen and linebackers to hold Auburn's rushing offense to 213 yards.
Jeremy Hill and the offense took it from there. With 184 rushing yards, Hill marched LSU up and down the field with his downhill running.
Here's a full recap of the game below with analysis on every major play.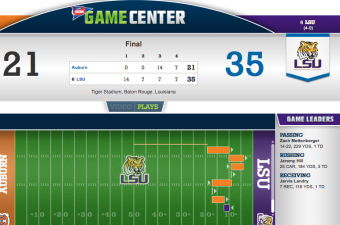 Here are stats from the game.
Turnover on downs. This game is over after LSU takes a knee.
Nick Marshall was doing his best Johnny Manziel impression, but Jordan Allen is just too good of an athlete to get away from. Impressive sack there.
LSU is bringing pressure near the goal line. The Tigers were able to still bracket the intended target. That's a lose-lose for Auburn. Throwing the ball away was the right call.
This Marshall kid has a strong arm, ay? To be able to throw a ball that deep on the run like that is impressive.
Vanilla. Vanilla. Vanilla.
Look, running the clock is one thing, but not trying to pick up the first down is another.
Interception by Jalen Mills! LSU ball at the Tiger 24. #LSUWIN

— LSU Football (@LSUfball) September 22, 2013
Who's going to be replaced? Not Jalen Mills. Mills with the dagger of an interception. Tigers will run the clock here.
Vanilla play-calling is going to give Auburn the ball back with time on the clock to work.
Zach Mettenberger's incomplete pass on third down makes this game interesting again. LSU has a lot to work on, impressive victory or not.
Overturned. First down Tigers...the purple and gold ones. Same mascots is a nightmare for a sports journalist.
Oh wow, Auburn recovered the onside kick. Alright, gang, sit tight with me. This is about to get interesting.
Auburn scored on a 12-yard TD run by Artis-Payne. #LSU leads 35-21 with 6:33 left.

— LSU Football (@LSUfball) September 22, 2013
LSU 35, Auburn 21—4th Quarter (6:33)
Auburn won't go away. LSU needs to come out and dominate the line of scrimmage to finish this football game. Otherwise, Auburn will continue to capitalize on LSU's tired defense.
Sammy Coates is killing LSU with the deep passes. That's the second time Micah Eugene has been picked on. Auburn threatening.
"Robocop," Mr. Danielle Hunter, is an unbelievable athlete. How many defensive ends do you think can track down Marshall from behind like that?
You have to enjoy the way Alexander crashes toward the inside. It's quite violent.
This fourth quarter is taking forever. Somebody better wheel out some more cookies up in here.
Love the sound of "Bluuuueee" echoing throughout the stadium.
Although, I'll admit this is the weakest I've heard it. Fair weather fans, man.
A lot of false starts from LSU tonight. The Tigers need to clean that up before LSU travels to Georgia next week.
LSU is winning this game in every phase of the game. Offensively, LSU moved the ball and scored when needed. Defensively, they've contained Malzahn's dangerous running attack. And on special teams, the Tigers kick and punt coverage has given Auburn bad field position more times than not.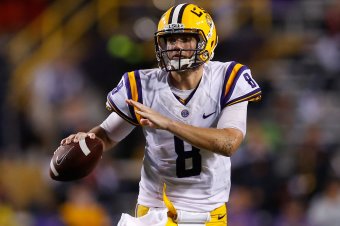 Chris Graythen/Getty Images
LSU 35, Auburn 14—4th Quarter (14:52)
You can't give Mettenberger that much time. He will shred the defense like he just did with a bullet to a crossing Landry.
#Heismanberger? Too soon?
Geaux! Tigers! Geaux! Tigers!
The fans that didn't leave are trying their best to provide energy for the home team. Unfortunately, Auburn has the same mascot...
Beckham is slippery in the secondary, isn't he?
Beckham's break back to the football allowed him separation on that play. Just how you draw it up.
Tre Mason scores on a 2-yd run, pulling within 28-14 of #LSU, 3:00 3Q. Tigers not scoring down deep a minute ago looms large. #LSU #Auburn

— Scott Rabalais (@RabalaisAdv) September 22, 2013
LSU 28, Auburn 14—3rd Quarter (3:00)
Oh, hey, Corey Grant, forgot you were playing tonight. Seriously, where has that guy been?
Give it to Auburn on that drive; the Tigers executed and made plays. This is a game, people. Will the missed field goal come back to bite Les?
If shooting yourself in the foot was a game at the carnival, Auburn would be first in line.
This article is
What is the duplicate article?
Why is this article offensive?
Where is this article plagiarized from?
Why is this article poorly edited?

LSU Football: Like this team?