Full Week 3 Stat Predictions for Dallas Cowboys Offensive Players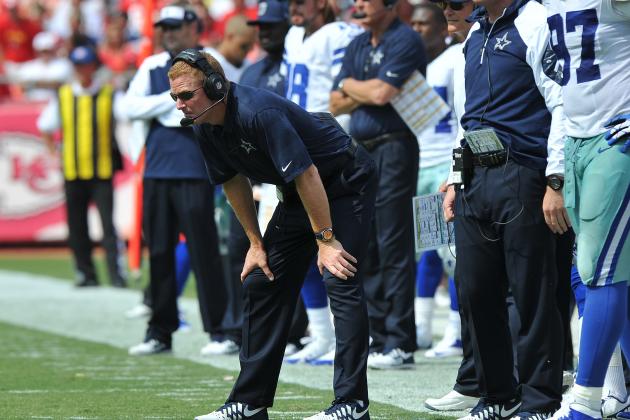 Peter Aiken/Getty Images

The Dallas Cowboys need to move on from their Week 2 loss to the Kansas City Chiefs in order to silence the early doubters and critics. The only way to do that is to get back to work, right the wrongs and make the necessary progress to win games.
Will it be easy? No, but without significant improvement to this offense, the Dallas Cowboys will only create a bigger mountain to climb and apply more pressure to the back end of their schedule. So it's onto the St. Louis Rams and the first chance to erase the misery of Arrowhead Stadium.
The Rams feature a young and talented defense that is much improved since Jeff Fisher has been at the helm of this team. They will absolutely try to put as much pressure on Tony Romo as possible while trying to minimize DeMarco Murray and the running game.
Players such as James Laurinaitis, Alec Ogletree, Cortland Finnegan and Chris Long comprise the Rams defense, and they will look to be disruptive on Sunday. The Cowboys need to run the ball, show more balance and attack this defense early.
It sounds easier said than done, but this will be another winnable game for the Cowboys that needs to be viewed as a must-win. That means that the key offensive players of this franchise need to take the lead and bring home the win.
Let's take a look at not only what they need to do but what they need to produce on Sunday.
Begin Slideshow

»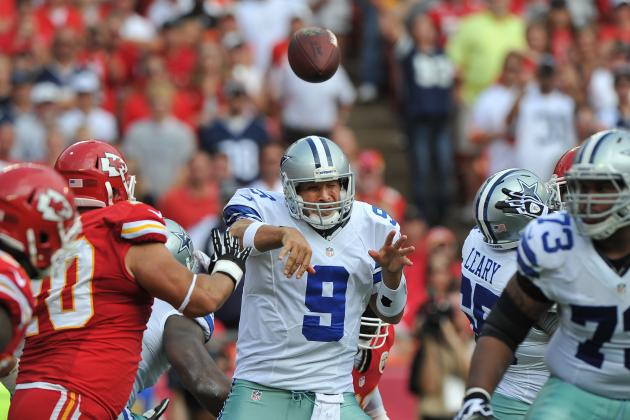 Peter Aiken/Getty Images

Tony Romo has been solid but not stellar in this early 2013 season. But then again, the entire offense seems stuck in mud more times than not, and it's time to snap out of it and find some rhythm. Through two weeks of this season, Romo has 561 yards, three touchdowns and been sacked five times.
He has completed over 70 percent of his passes, but this offense is leaving too many yards and points on the field. Collectively, this entire offense needs to ramp up its game on Sunday and start showing some crispness and snap on their drives.
This game will be all about getting off to a solid start and setting the tone. The talk all week will focus on the Cowboys' need to run the ball, but Romo will need to make his usual number of plays for any chance at victory.
I expect Romo to be assertive in this game, and quite frankly, this team needs that type of performance right now.
Prediction
340 yards passing, two touchdowns, one interception and a solid all-around game that shows significant improvement from last week.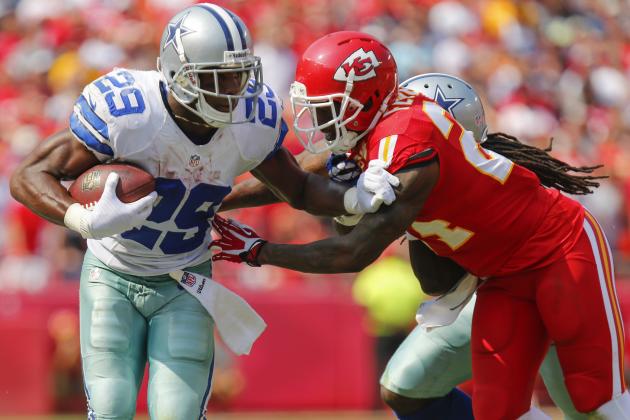 Kyle Rivas/Getty Images

What DeMarco Murray can and cannot do will determine a lot in this game. If he can run effectively, then Romo can operate more efficiently. If he produces another 37-yard game, then Romo has to shoulder more of a load along with his receivers and weapons.
But Murray cannot do this alone, and it will take an equally effective game from the offensive line to create running lanes and get to the second level to make this offense work. For Murray, being able to make the correct cuts and reads is something that he can control.
So how will this running game look on Sunday? That is anybody's guess, but this team can't afford anymore guess work and throwing darts at a board. It's time to start fine-tuning the finer points of an effective run game.
Collectively, Dallas has rushed 39 times for 124 yards and averaged 3.2 yards per carry. Murray is responsible for 32 of those carries and 111 yards.
You think this running game needs to get it in gear?
Prediction
Murray, and the Cowboys, will improve the running game this week, and his stat line should read 20 carries for 84 yards, and he sees the end zone. It might be unrealistic to some, but I'm making a bold prediction for coming off a 37-yard performance.
He will also have five receptions and 40 yards receiving.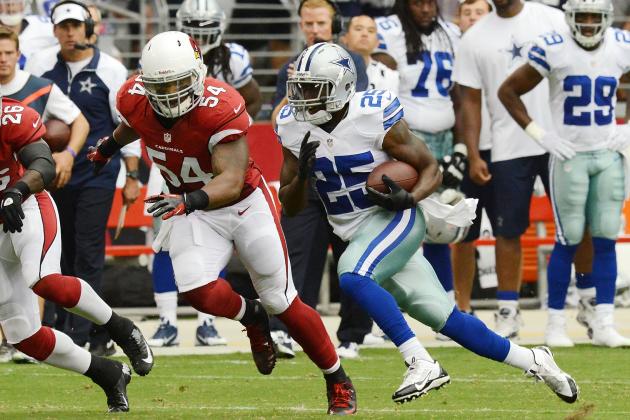 Norm Hall/Getty Images

It would be nice to integrate some juice into this offense with Lance Dunbar, but the issue of trust has come into play. His fumble on Sunday only intensified this feeling a little more, and it seems that getting Murray going is the focal point of the running game.
Dunbar will still see a role on Sunday, but I feel it will be more in the way of passes to the flat, soft spots in the middle of a zone defense and acting as a safety valve. Tanner could see a few carries, but this offense is just not ready to implement him too much more either.
But NFL games have a tendency to change by the minute, and barring any unforeseen events, the fate of these two backs could see an expanded role at any given time.
Prediction
Collectively, these two back combine for 10-12 carries and 30 yards rushing, while Dunbar gives the Cowboys two catches for 15 yards.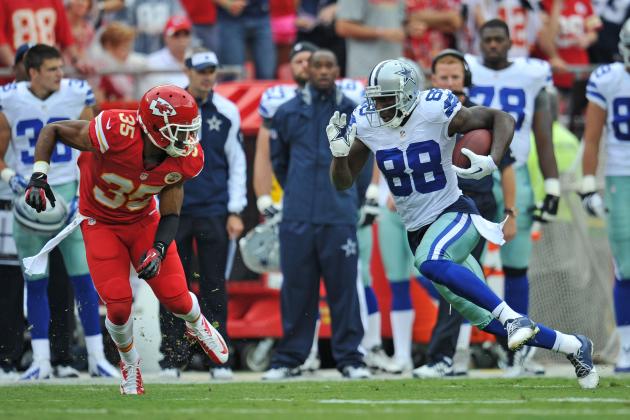 Peter Aiken/Getty Images

Dez Bryant will play this game a little banged up, but he will be a force for sure. He will probably get a healthy dose of Cortland Finnegan, who will look to stir the pot, throw him off his game and play physical. Bryant is also coming off a massive game against Kansas City and will look to do the same against St. Louis.
Getting Bryant off to a good start will be an important factor in this game, and it will force the Rams to keep the safeties deep to provide help. This could help out the running game in possibly allowing for some big yardage.
The Cowboys need to be careful with Bryant and monitor a tight back that hampered him in Kansas City. Dallas will also need Bryant to expand on his 13 receptions and 163 yards amassed early in this 2013 season.
Playmakers need to show up on Sunday, and expect Bryant to do just that.
Prediction
Nine receptions, 125 yards and two touchdowns.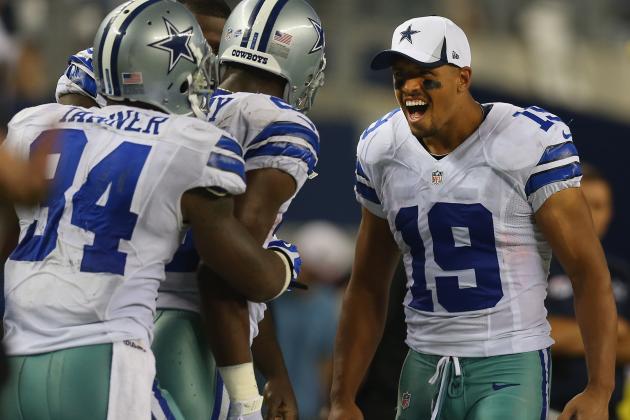 Ronald Martinez/Getty Images

Miles Austin really could have helped the Cowboys more on Sunday, but the Chiefs did a nice job with pressure on Romo all day. He was targeted four times against the Chiefs and only managed 31 yards receiving versus 10 receptions and 72 yards against the Giants.
The Cowboys need the version of Austin that played in the season opener to alleviate the attention that Bryant will command. This is the perfect game for Austin to create mismatches, work the underneath routes and act as a possession receiver to sustain drives.
Time of possession will be critical in this game in order to keep the defense fresh, and Austin could be the elixir to provide that.
Prediction
Eight receptions, 90 yards, no touchdowns, but an overall solid game in which he helped move the chains on third downs.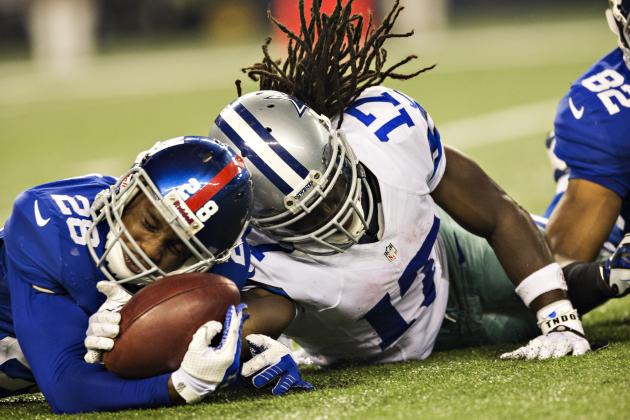 Wesley Hitt/Getty Images

The third receiver position for the Cowboys will continue to evolve as the weeks progress. That means that the combination of Terrance Williams and Dwayne Harris will get their share of looks, but they must be ready to make plays.
It does appear that Williams will continue to gain momentum and has the full backing of the coaches/Jerry Jones, so his involvement is inevitable. Both are talented players, and more than capable, but this third spot has to emerge quickly.
With this offense still in transition and trying to sort itself out, this is probably not the breakout week for either player. The Cowboys need to win this game and lean on their more reliable veterans.
Prediction
Collectively, this combination will compile three catches for 25 yards.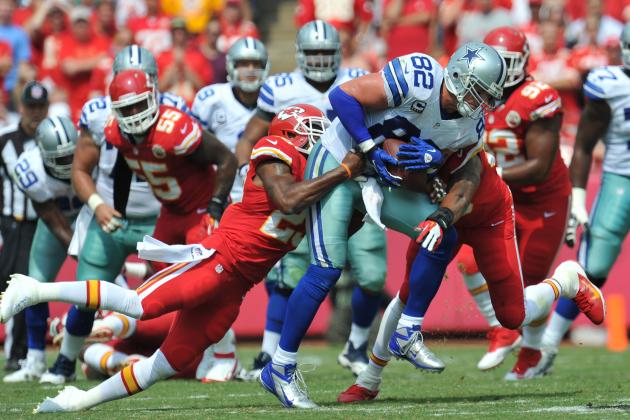 Peter Aiken/Getty Images

Jason Witten is arguably the heart and soul of this team. His leadership, toughness and intensity are second to none, and he goes about his business every year. Unfortunately after facing a swarming amount of pressure against the Chiefs, the Cowboys might max protect a little more in this game.
I fully expect Witten to get his share of targets, but the need to protect Romo is equally significant. In this case Witten will do whatever is asked of him but will still contribute in the passing game. If he can help out in these two areas on Sunday, the Cowboys will get the best of two worlds.
Witten's leadership skills in leading by example will be on display.
Prediction
An all-around solid day for Witten in blocking and receiving. His stat line as a result of the need for him to protect will read five catches for 40 yards.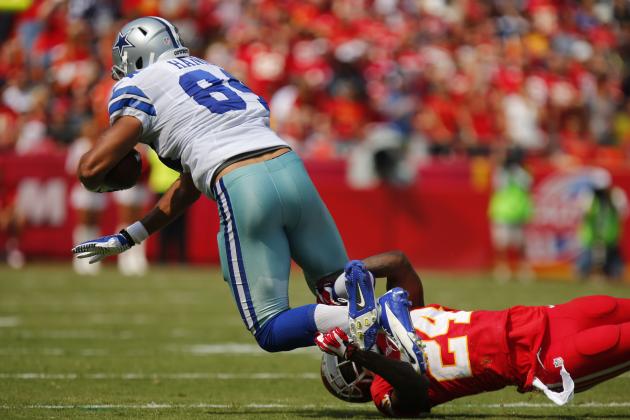 Kyle Rivas/Getty Images

Unfortunately, so far in this early 2013 season, the Cowboys have not fully integrated James Hanna nor Gavin Escobar into this offense. With red-zone failures last week in Kansas City and in the opener, I'm sure many were figuring where Escobar or Hanna were, but such is the life in Dallas.
So with the Cowboys entering this week with a 1-1 record, the time for experimenting needs to take a back seat to getting more guaranteed results from reliable sources. Had Dallas emerged victorious last week, maybe, just maybe you would see some new wrinkles this week.
So while it would be nice to count on either of these two players, expect around the same as the previous two weeks. Again, anything can change rather quickly, but expectations should be in check.
Prediction
Collectively, they will see snaps in this game in the 22 personnel alignment and will have roles in both blocking schemes while presenting themselves as targets. Expect a combination of two catches for 15-20 yards at best. Their integration will take some more time.