The Cleveland Browns are turning to third-string quarterback Brian Hoyer to take the place of the injured Brandon Weeden in Week 3 against the Minnesota Vikings. The organization made the surprising announcement on Wednesday morning via its official Twitter feed.
BREAKING: Head Coach Rob Chudzinski has informed Brian Hoyer that he will start at quarterback Sunday at Minnesota.

— Cleveland Browns (@Browns) September 18, 2013
Following the announcement, Vic Carucci of ClevelandBrowns.com passed along a statement from head coach Rob Chudzinski:
Chud: Based on current off situation and game plan for Vikings Hoyer gives us best chance to win.

— Vic Carucci (@viccarucci) September 18, 2013
Chud: Absolutely my decision (to go w/ Hoyer as starter).

— Vic Carucci (@viccarucci) September 18, 2013
Chud: Hoyer gave us a spark in Chicago (preseason finale).

— Vic Carucci (@viccarucci) September 18, 2013
Chud on Hoyer's arm strength: He can make every throw that you need. No limitations in that regard.

— Vic Carucci (@viccarucci) September 18, 2013
Chud: I'm expecting (Hoyer) to play well.

— Vic Carucci (@viccarucci) September 18, 2013
Prior to making the decision, Chudzinski was quoted by Scott Petrak of The Chronicle-Telegram as saying:
I'm confident in all the guys that we have. I think I mentioned that a few weeks back. We'll put the guy out there that I feel like is going to give us the best chance on Sunday if it's not Brandon.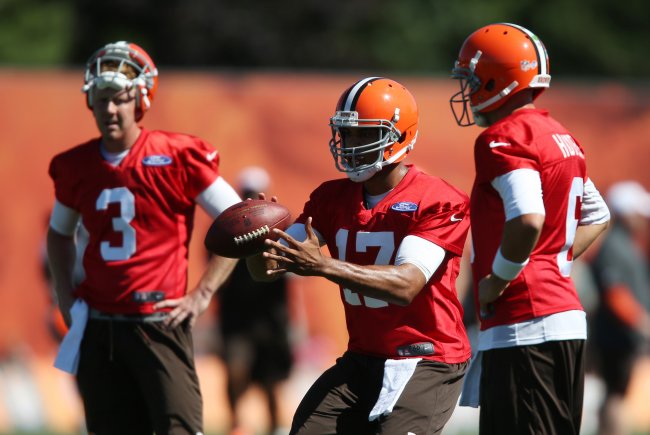 Ron Schwane-USA TODAY Sports
Weeden injured his thumb after slamming it into the helmet of guard John Greco in a Week 2 loss against the Baltimore Ravens. It is currently unknown when he will be able to return.
How will Hoyer fare in Week 3?
Second-string signal-caller Jason Campbell was widely expected to get the nod if Weeden couldn't go against Minnesota on Sunday. Campbell is a former starter who has been practicing with the second team since being signed in the offseason.
The former first-round pick is 31-40 all-time and, with the exception of his one completion in the Ravens matchup after Weeden went down, most recently saw playing time with the Chicago Bears in 2012.
While Hoyer—a five-year NFL veteran—has limited experience, his upside is higher and could give the struggling, 0-2 Browns their best chance of winning on Sunday.
The former Michigan State star has one start under his belt, coming last year with the Arizona Cardinals. In that game, Hoyer completed 19 of 34 passes for 225 yards, one touchdown and one interception in a 27-13 loss.
On #Browns starting QB Brandon Weeden: His thumb MRI showed no long-term damage. Plan: See how a week of rest helps, reevaluate for Week 4

— Ian Rapoport (@RapSheet) September 18, 2013
He may not have much time to make an impression, as NFL.com's Ian Rapoport noted that Weeden's MRI revealed no long-term damage. The second-year starter will be reevaluated prior to Week 4's contest against the rival Cincinnati Bengals.