Full Week 3 Stat Predictions for Oakland Raiders Offensive Players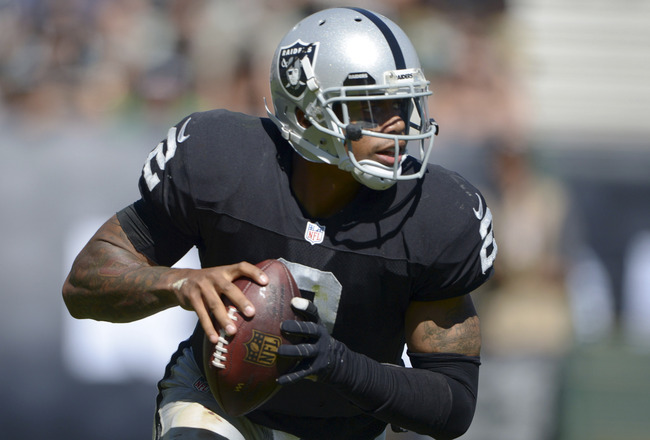 Kirby Lee-USA TODAY Sports
The Oakland Raiders head into their Week 3 Monday Night Football matchup with the Denver Broncos at 1-1 on the season.
The Raiders have put together solid performances on both the offensive and defensive side of the ball, but the Broncos present a far more difficult match up than any other seen thus far.
Going up against a Broncos defense that is currently the league's best against the run, the Raiders will need to have another big day on the ground, similar to that of this past week against Jacksonville.
Here are the full Week 3 stat predictions for the Oakland Raiders offensive players.
QB Terrelle Pryor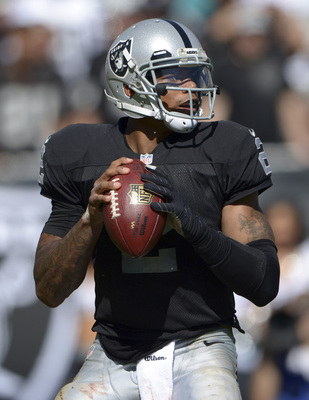 Kirby Lee-USA TODAY Sports
Terrelle Pryor has taken full advantage of his opportunity as the Raiders' starting quarterback thus far.
Not only can he make big plays as a runner, but the mere threat of which completely changes the way opposing defenses game-plan for the Raiders' offense overall.
The Broncos present a much more challenging opponent than the Raiders have faced, but as the read-option game has taken its place in the NFL, we have seen some of the best defenses have trouble finding ways to solve it.
Expect the Raiders to use Pryor in this way quite a bit early on, while also looking to take advantage of defensive adjustments the Broncos may make, and thus taking some downfield shots in the passing game.
For the Raiders to have a chance this week, Pryor needs to continue on his trend of impressive statistical efforts, while also taking care of the football.
240 Passing Yards
1 TD
1 INT
85 Rushing Yards
1 TD
RB Darren McFadden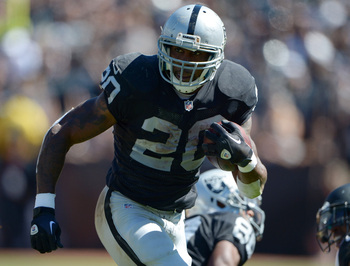 Kirby Lee-USA TODAY Sports
Going up against what has been an efficient Broncos run defense thus far, the Raiders will need a big game from Darren McFadden.
Coming off an impressive effort against the Jaguars, with several big runs, McFadden certainly has the potential to come through and do just that.
Look for the offensive line to continue its improvement in run blocking, and for McFadden to take advantage.
Keeping the defense honest, he should get several opportunities as a receiver as well.
110 Rushing Yards
1 TD
20 Receiving Yards
FB Marcel Reece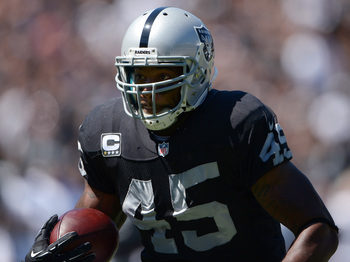 Kirby Lee-USA TODAY Sports
With the matchup nightmare that Marcel Reece can be for opposing defenses, it seems as though the Raiders can never utilize him enough.
The same is true this week, as the coaching staff has to find a way for Reece to get more involved if they want to best attack the Broncos defense.
Whether he is a ball-carrier or a receiver, he has shown the ability to make plays all over the field, and should be rewarded with as many touches as possible.
35 Rushing Yards
40 Receiving Yards
WR Rod Streater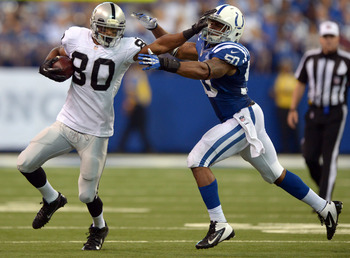 Kirby Lee-USA TODAY Sports
Rod Streater has emerged as the Raiders' No. 1 target at wide receiver, proving more than capable of making key plays when called upon thus far.
While he is not exactly a deep threat, his biggest value comes in the ability to move the chains, and often doing so making tough catches on intermediate routes.
The Broncos are strong at corner, so this does present a difficult matchup, but Streater should be able to put up decent numbers if the number of targets he has been receiving remains consistent.
6 Receptions
70 Yards
WR Denarius Moore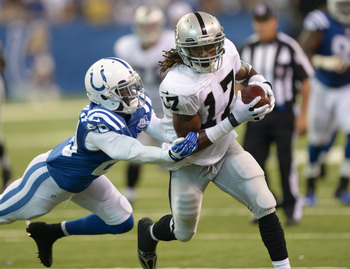 Kirby Lee-USA TODAY Sports
After a decent opening week against the Colts, Denarius Moore was held without a catch in Sunday's win against the Jaguars.
With the success the Raiders have had on the ground, look for the Broncos to make a point of slowing them down early, possibly challenging the Raiders to beat them deep.
If the Raiders look to do that, it should be Moore who gets the most downfield opportunities, so expect for him to have a few long catches this week.
3 Receptions
60 Receiving Yards
TE Mychal Rivera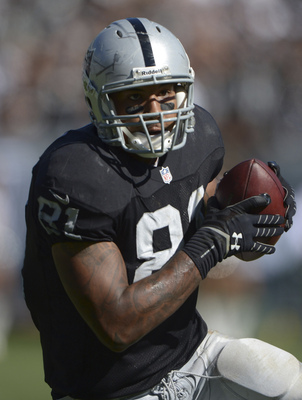 Kirby Lee-USA TODAY Sports
Through two games, it has become clear that Mychal Rivera is the Raiders' top receiving threat at tight end in the absence of David Ausberry.
Although Jeron Mastrud's ability as a blocker will keep him as the starter, Rivera continues to get a good amount of snaps in passing situations.
His five catches for 58 yards thus far is something to build on, and his role should only increase as he continues to get acclimated to the NFL game.
3 Receptions
20 Receiving Yards
Keep Reading

Oakland Raiders: Like this team?