3 Scheme Changes to Make South Carolina's Jadeveon Clowney More Effective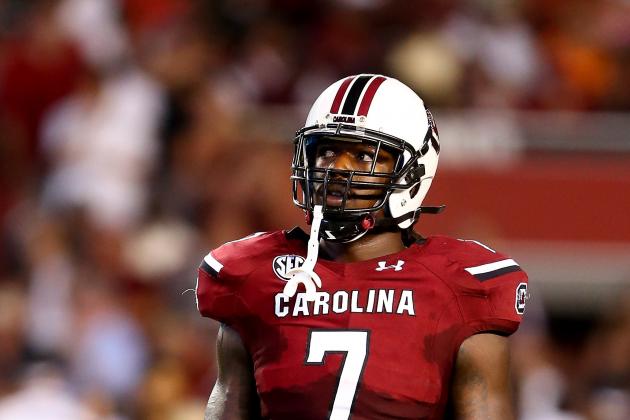 Streeter Lecka/Getty Images

Whether you think South Carolina's Jadeveon Clowney is off to a slow start or not, one thing is true: He is not as involved defensively as he could be.
Teams are playing smart by not looking to shut down Clowney with their own players. Instead, offenses are running plays away from Clowney to make sure he cannot find a way to get involved.
It is a frustrating situation for the Gamecocks' coaches because they want to unleash "The Freak."
Clowney has also seemed frustrated by teams running plays away from him over and over again. He is used to being in the action and being a star.
South Carolina is in need of finding ways to keep Clowney in striking distance of making big plays. So, it's time to get creative.
Here are three scheme changes to make South Carolina's Jadevon Clowney more effective.
Begin Slideshow

»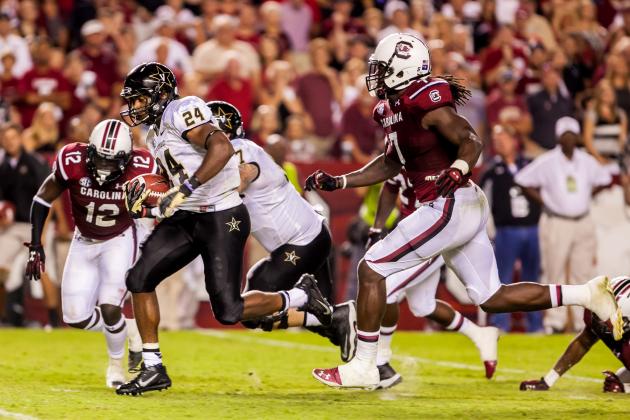 Jeff Blake-USA TODAY Sports

Teams are preventing Clowney from getting involved in plays.
The offensive trend is to run offensive plays as far away from Clowney as possible. If Clowney is constantly on the same side or on the end, teams can get used to it. So, the counter is to line him up inside.
Clowney is talented enough to make plays inside where he can power his way to the quarterback or jump into the backfield to break up runs. He could also jump up to break up passes with his long body and physicality from the interior of the defensive line.
It will mix things up and prevent offenses from getting too comfortable.
Clowney told CBS Sports about his thoughts on his involvement after the Georgia game, saying, "I told the coaches you got to put me somewhere else -- in the middle if you want to -- somewhere I can make some plays [to] help my team get in position to win."
He just wants to be effective, so move him inside to make plays.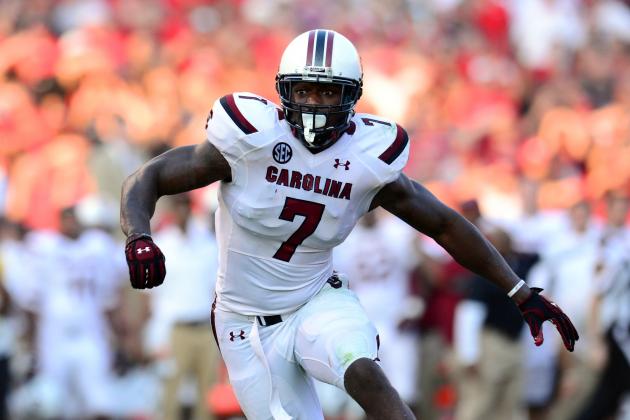 Dale Zanine-USA TODAY Sports

If South Carolina overloads the side opposite Clowney, because that is where teams are running their plays to, then it will force offenses to go toward Clowney again.
Stack multiple players away from Clowney and eliminate that aspect of the game. With that side of the field contained, Clowney will become more effective because teams will need to shift plays his way.
While this could lead to open slots on the field, it gets Clowney involved in the defense again.
Head coach Steve Spurrier told the Associated Press, via ESPN:
'We need to line up on the other side (from Clowney) and put about five guys over there and anticipate they're going to run over there,' the coach said. 'That's what we should do, but we didn't get lined up well the other day.'
It's a trial-and-error process because offenses could have more openings on Clowney's side with a lack of personnel on that side to back him up, but it could provide Clowney with opportunities and some balance to the defense.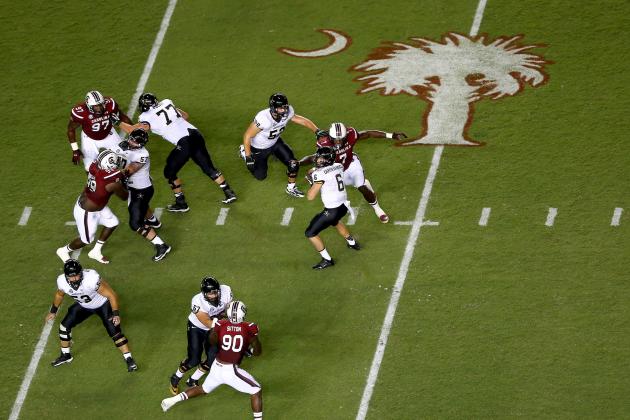 Streeter Lecka/Getty Images

Moving to the middle isn't enough for Clowney. It's unpredictability that will throw off defenses and give him an opportunity to get involved.
Sure, teams can audible away from Clowney after identifying his location and what he is doing, but the shifting will make things more difficult for offenses.
Clowney can line up on both sides at end, though stunts could also be effective.
After lining up on the inside, Clowney can "stunt" to the inside, where the defensive tackle moves outside off the straight, drags the offensive outside and the defensive end hooks around to the inside. The stunts provide one more option for Clowney to be effective. The Gamecocks use these a bit, but once again, they need to try something with the schemes, so they could use them more.
Outside of shifting and stunts, Clowney could drop into coverage.
He's as fast as a linebacker and a whole lot bigger and stronger. So why not stand him up and let him play some linebacker?

There is no need to do this often, but here and there, it can be a major curveball.
Offenses will not know what hit them when they see Clowney standing up or dropping back into coverages. Even if these dropbacks do not lead to big plays, it helps with regaining Clowney's unpredictability and in turn, his effectiveness.