Chicago Cubs: Surprises and Disappointments in 2013?
David Banks/Getty Images
Coming into the 2013 season the Cubs and their fans expectations were mostly on the same page. There wasn't this belief that the Cubs were going anywhere, but there was an expectation that certain players would perform better than they did.
While there was some disappointment, there were also surprises. This article will focus on the MLB level because while there was some surprising developments in the minor leagues, those can be covered at a different time.
Let's take a look at who surprised us and who let us down this year for the Cubs. Feel free to comment on anyone I may have missed.
Surprise: Junior Lake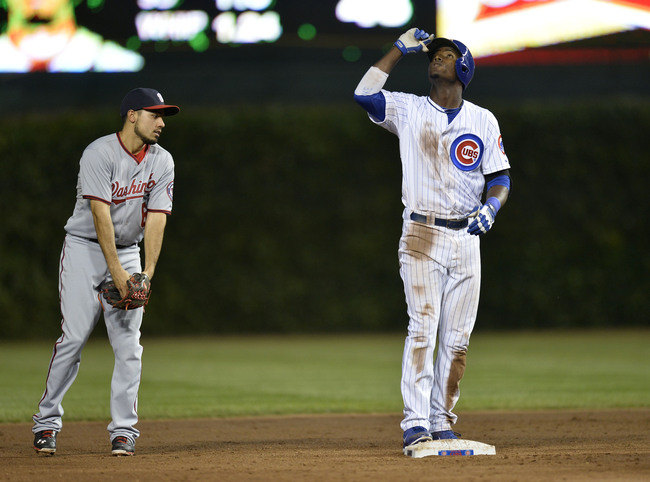 Brian Kersey/Getty Images
Cubs prospect Junior Lake is coming off the best year of his young career finding success in his first attempts at Triple-A and the MLB level.
In 40 games with Triple-A Iowa, Lake hit .295 with four home runs, 18 RBI, and 14 stolen bases. He posted a .341 OBP and a had a K-BB ratio of 33-10. Lake got a late start to the year coming back from injuries, but that didn't slow him down by any means, as he joined the Cubs in mid-July following the All-Star break.
Since then, Lake has been the Cubs' hottest hitter, posting a .304 average with six home runs and 16 RBI. He posted a .345 OBP and and a K-BB ratio of 53-10. Overall, these are pretty similar numbers across the board and they show the level of consistency he's played at all season.
It is unclear what role he will fill in 2013. He played outfield with the Cubs but spent some time at third base in Iowa. Third base is such a crowded position now it is possible he could fill the role temporarily, but that certainly isn't his future.
In fact, the Cubs recently announced that top prospect Josh Vitters has been converted from third base to the outfield. It's obviously a nod to Kris Bryant and Mike Olt who will duke it out over the next year.
A lot will depend on how he comes into camp in 2014.
Surprise: Blake Parker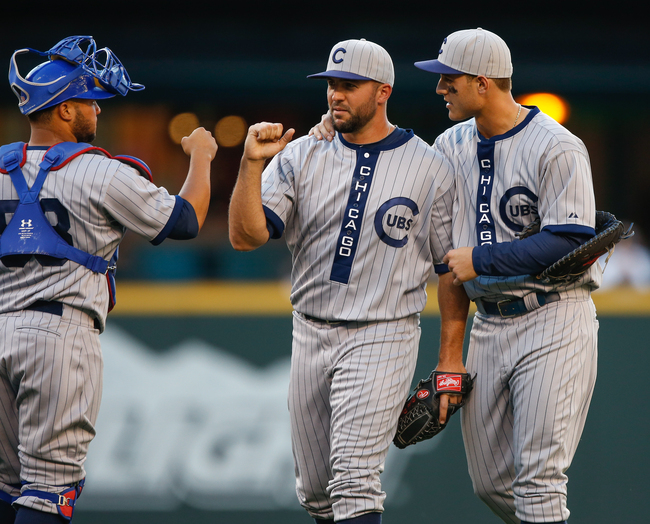 Otto Greule Jr/Getty Images
Cubs right-hander Blake Parker has waited patiently in the wings for his opportunity and that came this year. Having spent time in Triple-A every year since 2008, Parker was recalled this season after an impressive 17.2 innings with Iowa where he posted a 2.04 ERA with a 1.02 WHIP.
He was called up in June and has since appeared in 43 games posting a 2.83 ERA with 48 strikeouts to 15 walks. He owns a 1.21 WHIP.
Parker is finally in the conversation for serious bullpen work but he's not all the way there yet. After a few years of having very few internal options, Parker, 28, may finally be in the mix. He'll need to work on his command as he struggles later in ball games, but there is no reason to doubt him now that he's established himself after years of waiting.
Surprise: Dioner Navarro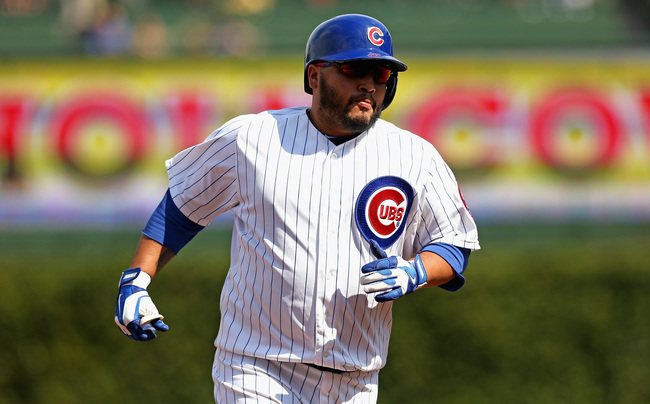 Jonathan Daniel/Getty Images
Signed as a free agent last offseason, Navarro was expected to provide depth behind the plate to catching prospect Wellington Castillo. Instead, he has hit his way into a timeshare and is expected to be high on the Cubs list to bring back in 2014.
Navarro, well aware of his own success, is prepared to cash in this offseason.
"It is a business," Navarro stated. "I have a family. I have to look out for what's best for my family. I will definitely hear what the Cubs have to say. They will be No. 1 on my list."
Both catchers have played well this season and the Cubs appear content with the two sharing duties while the Cubs work out other positions.
Navarro owns a .302 average with 12 home runs and 31 RBIs in 80 games this season.
Surprise: Nate Schierholtz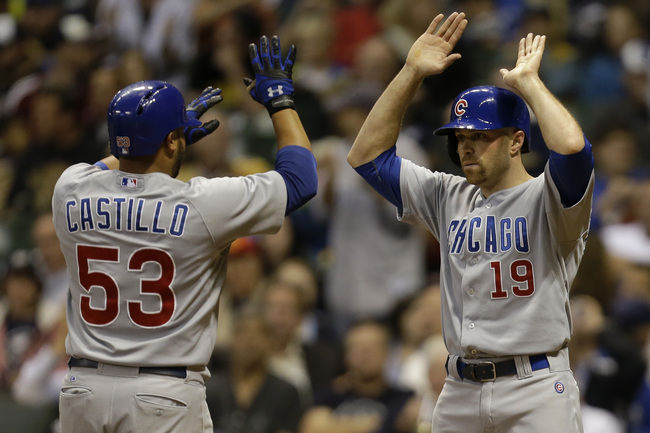 Mike McGinnis/Getty Images
Nate Schierholtz has been a welcome addition to the Cubs outfield this season. Signed this offseason in a relatively quiet deal, Schierholtz got off to the best start of his career by hitting .285 with 11 home runs and 34 RBI.
The outfielder even drew trade interest around the deadline for his strong play.
Since the All-Star break he has struggled, hitting just .224 with nine home runs and a .271 OBP. His August play was about on par with his career numbers but he has fallen off dramatically in September, raising the question of whether the Cubs may part ways with the outfielder instead of paying him this offseason.
Since both he and Navarro are free agents and in line for raises, the Cubs may decide to go with internal options in the outfield where there is some depth.
Disappointment: Anthony Rizzo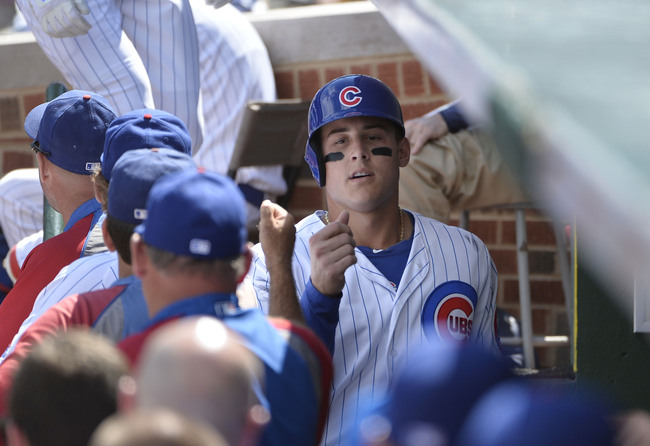 Brian Kersey/Getty Images
After taking the Cubs by storm in 2012, Anthony Rizzo seemed primed to break out in 2013. He finished 2012 with a combined .303 average, 38 home runs, and 110 RBIs between 157 games at Triple-A and the MLB level.
This season has been a regression for Rizzo, who is currently hitting .227 with 22 home runs and 75 RBI. Since the All Star break his play has gotten even worse, posting a .206 average with 21 RBIs in 57 games.
Rizzo needs to salvage whatever he can of this lost season and work to come back even stronger in 2014. The Cubs are more than committed to the talented 24-year old and know that it may take some time for him to emerge as the power hitter they project him to be.
Disappointment: Starlin Castro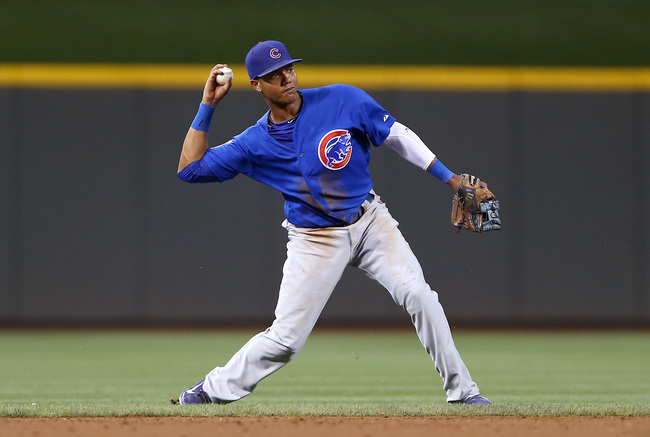 Andy Lyons/Getty Images
Starlin Castro has been consistently mediocre all season long. Which is surprising, considering his average has never dipped below .280 since his debut in 2010. Castro has always been a contact hitter, but this season he already has more strikeouts than he did in his past two seasons.
There is no reason to be overly concerned as he is only 23 years old, but the Cubs need to make a concerted effort to get him on track because the team (and fans) are relying on him and Rizzo to usher in the new generation of Cubs.
Disappointment: Edwin Jackson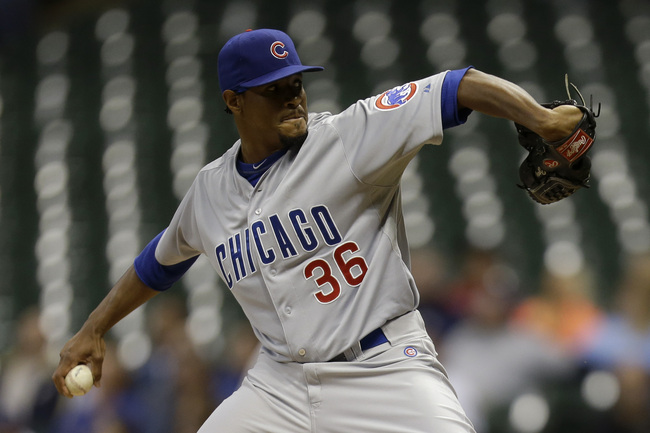 Mike McGinnis/Getty Images
When the Cubs signed Edwin Jackson to a long-term deal, it was a move that drew mixed reactions from fans. For one, this hard throwing workhorse will fit nicely into our weak rotation. However, he is someone who has consistency issues, which is likely a reason he has played for eight teams since 2005.
Jackson is currently tied for the league lead in losses and owns a 4.75 ERA, so it's not even like you can just blame the offense for not scoring runs. Jackson showed flashes of greatest in July, when he posted a 1.83 ERA and three wins in five starts.
Since then he is 1-5 with a 4.67 ERA.
Jackson is locked up through 2016 and hopefully he can find his old form and not run in place in his first long-term contract.
A lot will depend on who shows up in 2014, on offense and on the mound.
Keep Reading

Chicago Cubs: Like this team?