USC Trojans vs. Utah State Aggies Complete Game Preview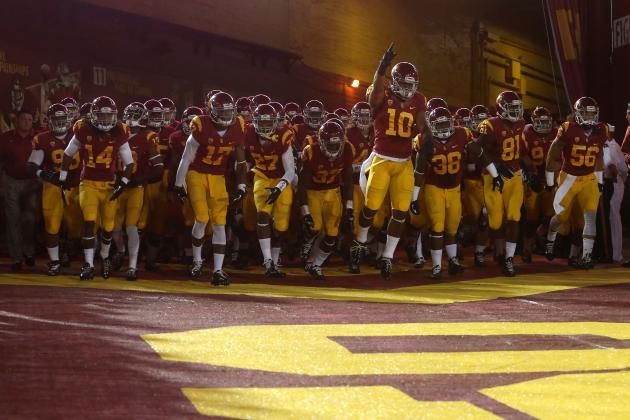 Stephen Dunn/Getty Images
USC concludes its three-game home stand on Saturday against Utah State.
USC welcomes the Utah State Aggies to the Los Angeles Memorial Coliseum for the final tilt of its three-game homestand. The Trojans are riding momentum after handling the Boston College Eagles last week in a way that gave an inkling of hope that USC football will return to form.
With that 35-7 victory in the rearview mirror, USC now prepares for its toughest opponent yet.
The Aggies are newcomers to the Mountain West in 2013, having previously been a member of the WAC for eight seasons. In 2012, Utah State posted its first 11-win season in school history, en route to winning the WAC as well as winning its first bowl game in 19 years.
Utah State is an emerging program, while USC is trying to rebrand itself. This matchup is certainly a must-see this week.
But before the preview, here are the vitals:
Kickoff: 12:30 PT
Place: Los Angeles Memorial Coliseum
TV: ABC (West Coast), ESPN2 (East Coast)
Radio: 710 ESPN
Spread: USC (-6.5)
Begin Slideshow

»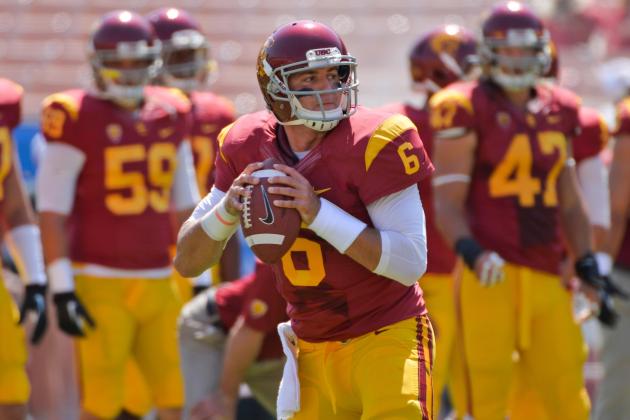 Robert Hanashiro-USA TODAY Sport
Cody Kessler confidently led the Trojans to victory against Boston College. He will need that same poise against Utah State this time around.
With the fans back on its side, USC needs to have a repeat performance of its game plan from last week to be successful against the Aggies.
By that I mean Lane Kiffin needs to let the Trojans loose and play to their strengths.
USC looked like its old self against Boston College because Coach Kiffin took the handcuffs off the offense and let the ball fly. He was confident in Cody Kessler as the starter, and that came through in Kessler's play.
And there was a trickle-down effect: The passing game was in sync, Tre Madden could not be stopped, and soon enough the Coliseum scoreboard lit up again and again in USC's favor.
If the Trojans play a well-balanced offensive game like they are more than capable of doing (they produced over 500 yards of offense last week), USC will have no trouble notching a victory at home.
Defensively, USC just needs to keep doing what it does best: Keep pressure up front, forcing sacks and turnovers. If it can do that, Utah State star Chuckie Keeton will have a hard time throwing for big yards. Since the secondary is still coming together, eliminating big passing plays continues to be critical.
USC's first-team defense has yet to concede a touchdown, and overall, the defense has only given up 21 points.
Utah State is eighth nationally in scoring offense, ninth in passing efficiency and 12th in total offense. USC will certainly have its hands full contending with that, but it has the scheme and talent on defense to neutralize those threats.
This week will show us whether or not the Trojans are as tough on defense as they seem.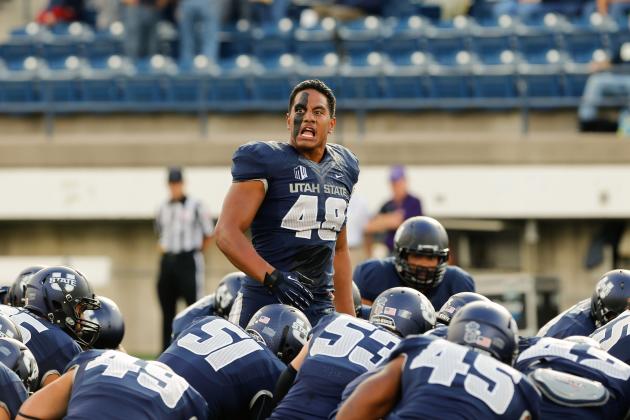 Chris Nicoll-USA TODAY Sports
Chuckie Keeton intends to lead his Aggies to victory over the mighty Trojans. Will he be successful?
Utah State brings an offensive weapon that USC has not yet seen the likes of this season, and that will be the biggest advantage the Aggies have going into this game.
If Chuckie Keeton—who earned All-WAC first team honors for setting Utah State season records for touchdown passes, passing yards, total offense, completion percentage and completions in 2012—can disorient the Trojan defense early, that will put USC defensive coordinator Clancy Pendergast's scheme under the microscope.
It will also be important for the Aggies to contend with USC's rush-blocking, which has greatly aided in Tre Madden's ability to flourish through three weeks. If they can shut down the run, USC will be forced to air it out, which could be an issue because Cody Kessler is still setting his feet with the offense.
Robert Hanashiro-USA TODAY Sport
Su'a Cravens is already shaping up to be an All-American for USC at safety, a distinction that only Troy Polamalu currently holds.
Su'a Cravens
The true freshman safety has played in just three games in his college career, and he's already paying dividends for the Trojan defense.
In his first game against Hawaii he recorded an interception and laid a huge hit later in the game which set up another pick for fellow safety Josh Shaw.
He's already recorded 13 tackles, deflected a pass and forced a fumble on the season.
As Bleacher Report's Kyle Kensing points out, Cravens could be the next great safety out of USC. The way he performs against the pass-happy Utah State will play a significant role in how his legacy as a Trojan unfolds.
Justin Davis
Another vaunted young talent, the true freshman running back had a breakout performance against Boston College in Week 3. He rushed for 96 yards and one touchdown on 10 carries and is showing that he can complement Tre Madden as the No. 2 back in Troy if Silas Redd continues to miss time. He has very reliable hands and a powerful, physical running style.
Look for him to have another strong performance and help the Trojans pull out a victory on Saturday afternoon.
Cody Kessler
Now in his second game as the bona fide starter, Kessler will really be put to the test.
He took a couple licks against Boston College but bounced back and played a good game for the Trojans; he completed 15 of 17 passes for 237 yards and two touchdowns on the day. Kessler will need to maintain that poise and composure likely for all four quarters on Saturday, and his ability to think on his feet will be paramount.
He showed that he can execute play-action passes very well and that he can improvise if the hot route isn't an option. This week, Kessler needs to prove that he has the chops to lead USC through the meat of its season, which looms on the horizon.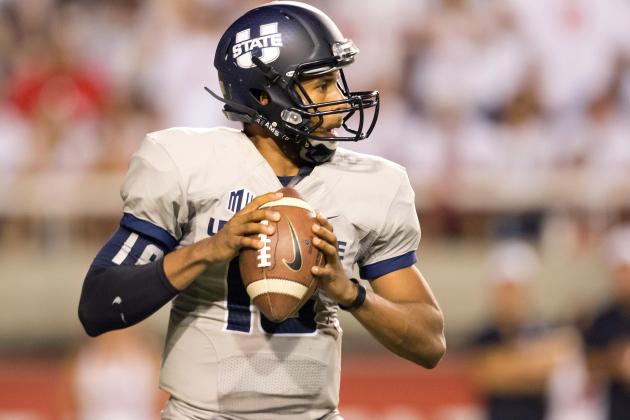 Russ Isabella-USA TODAY Sports
Chuckie Keeton is one of the top passers in college football, earning All-WAC honors while setting a number of records for Utah State in 2012.
Chuckie Keeton
As if this needs any explanation.
This 6'2", 200-pound junior presents just the kind of challenge at quarterback that used to dismantle USC under its old defensive scheme and will still be a formidable task for the new one.
Keeton has thrown for 923 yards and 12 touchdowns with one interception in just three games, completing 78 percent of his attempts. A dual-threat QB, Keeton is also the team's leading rusher—he has gobbled up 187 yards and one touchdown on the ground while averaging nearly seven yards per carry.
He had nearly 400 yards of total offense against Utah earlier this season, and though the Aggies ultimately lost, his performance—most notably, scrambling for a first down without a shoe—stole the show.
With his many talents, Keeton is poised to give the Trojan defense fits if the Trojans are unable to contain him. Look for him to really test Clancy Pendergast's 5-2 scheme, which will give a better indication of what we can expect from it down the line.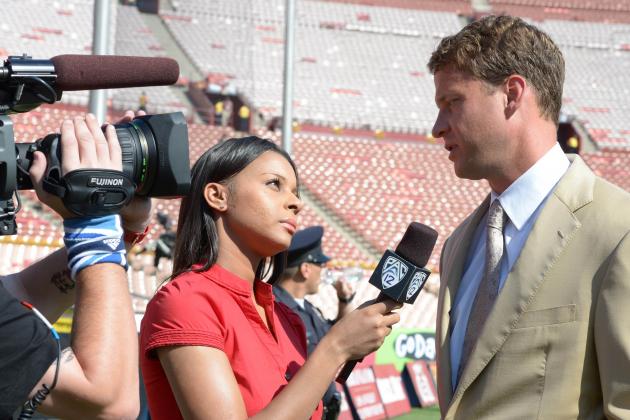 Kirby Lee-USA TODAY Sports
Lane Kiffin is looking to further vindicate himself this week and can do so if USC wins big.
"You can't tackle him, he runs around and makes every throw, he doesn't seem to get rattled and he plays great in big games. This is a really special player."-USC head coach Lane Kiffin on Chuckie Keeton, per Dan Greenspan of NFL Draft 365.
"It would be a benchmark and it would be huge. Hopefully we can play well early and get it to the fourth quarter, then we'll see what happens."-Utah State head coach Matt Wells on the Aggies looking for their first win against USC, per Gary Klein of the Los Angeles Times.
"They're top 10 in like 30 defensive categories."-Wells, on the USC defense, per Klein.
"We haven't really been challenged compared to what's coming."-Kiffin, on facing Utah State, per Klein.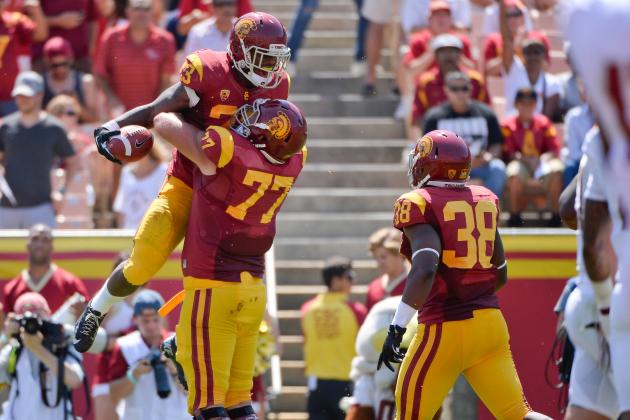 Robert Hanashiro-USA TODAY Sport
USC is finally finding it's groove, and it will pay off against Utah State.
USC wins 35-28.
The Trojans have finally found their groove this season, and this week, all the pieces of the puzzle will come together for an important win.
Utah State is a very good team and brings unique challenges to the gridiron that the Trojans have yet to face under a new quarterback and with a new defense.
It might be rocky at the beginning, but USC will not disappoint its fans on Saturday afternoon.
The defense will bend but not break against the dual-threat menace of Chuckie Keeton, and it will ultimately make adjustments to corral him and shut down the deep passes and his run. On offense, Kiffin will again keep the playbook open, allowing Kessler to let it fly through the air and Tre Madden and the Trojan horses to grind it out on the ground.
This one will be a thriller, but like the other four times Utah State has squared off against USC, the Aggies will leave Los Angeles empty-handed (though with a really good tan!). In series history, USC leads Utah State 4-0 and has outscored the Aggies 213-29, winning by an average of 46 points.
No doubt this clash will be much closer than the last one, but the result will be the same. USC wins and advances to 3-1 on the season.