The Pittsburgh Steelers traveled to Cincinnati on Monday night in hopes of getting a notch in the win column. Instead, the Steelers offense stayed on the back of the milk carton, and they are staring firmly at an 0-2 record.
Things only get worse for the Steelers this week, as they return home and welcome the 2-0 Chicago Bears to town. To help get you ready for this matchup, here are the things you need to know heading into Week 3:
Division Standings

The Steelers are currently staring up at the Baltimore Ravens and Cincinnati Bengals, but there is hope. The Ravens have to tangle with the Houston Texans this week, and the Cincinnati Bengals get the Green bay Packers. As a result, there could be a big jumble at the top of the AFC North standings by the end of the weekend.


Injury Report

If there was anything positive to glean from the loss on Monday night, it was that there were no significant injuries. The injury report going into the Monday night game was as follows:
Player
Injury
Status

Cortez

Allen
Ankle
Out

Le'Veon

Bell
Foot
Out
Curtis Brown
Illness
Doubtful
Steve

McLendon

Hamstring
Probable
Heath Miller
Knee
Out
Shaun

Suisham

Hamstring
Probable
Suisham and McLendon both ended up playing on Monday night, while Brown did not. It will be later in the week before we will know the official status of any of the players who missed Monday night's game.
During the Monday Night Football broadcast, commentators Jon Gruden and Mike Tirico mentioned that Bell and Miller could both be available for this week's game against the Chicago Bears.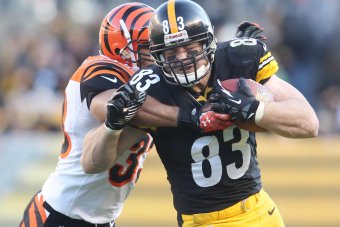 USA TODAY Sports
This optimism was echoed by head coach Mike Tomlin during his postgame press conference (h/t SteelersDepot.com). If the Steelers can get Miller, and possibly Bell, back this week, it would go a long way toward turning this season around.
As for the rest of the injured Steelers, we will have to wait for something official to be announced later in the week.

What Must Improve

Run Blocking: A total of 75 rushing yards in two games is abysmal. This week, the Steelers coaching staff has to focus on finding ways to create some type of rushing offense with this current crop of players.

Play Selection: No one ever wants to see a team appear to be a step behind their opponent, but on Monday night, that's exactly what was happening. Everything the Steelers did on offense was a reaction to what the Bengals were doing, when it should have been the other way around.

Interior Defense: Early in Monday's game, the middle of the Steelers defense was getting gashed on the inside run game. It wasn't until they started playing four defensive linemen that the Bengals were forced to work outside.

Emphasis on Turnovers: Another game has come and gone, and this team has failed to force a turnover. It is disheartening when there are tipped passes that aren't intercepted or when opportunities to make a strip come up just short. Sometimes, turnovers are a matter of luck, and right now, the luck is not falling the Steelers way.