Scouting Report, Video Highlights and Predictions for Auburn Commit Sean White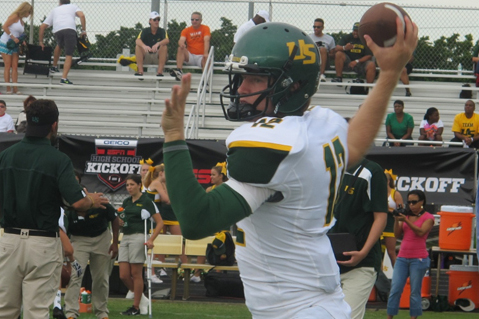 247Sports
Auburn received a commitment from 4-star quarterback Sean White on July 16. He is a talented passer from Florida who could be a great distributor of the football in head coach Gus Malzahn's spread offense.
The Tigers have a big fanbase, and playing quarterback on The Plains is a huge deal in the SEC. White has enjoyed a great offseason, which has helped him rise up the recruiting rankings, so many Auburn fans are becoming more intrigued with the quarterback prospect.
His skills and potential warrant a more in-depth look.
Player evaluations are based on review of tape at Scout.com, Rivals, 247Sports and ESPNU.
Begin Slideshow

»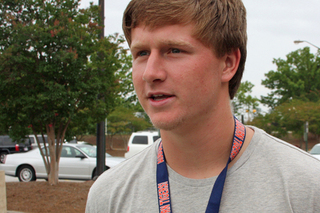 247Sports
White is a quarterback from Florida who attends University School of Nova South in Fort Lauderdale.
He came into this recruiting cycle not considered a top-tier passing prospect, but after winning the MVP award at the Elite 11 quarterback Finals (Derek Tyson of ESPN), his stock skyrocketed. Auburn secured his commitment in the summer, and he is one of the best prospects in the Tigers' class.
As a junior, White threw for 3,348 yards and 40 touchdowns, with remarkably only six passes being intercepted.
He is ranked No. 181 in the Rivals 250, and No. 297 in the 247Sports composite rankings.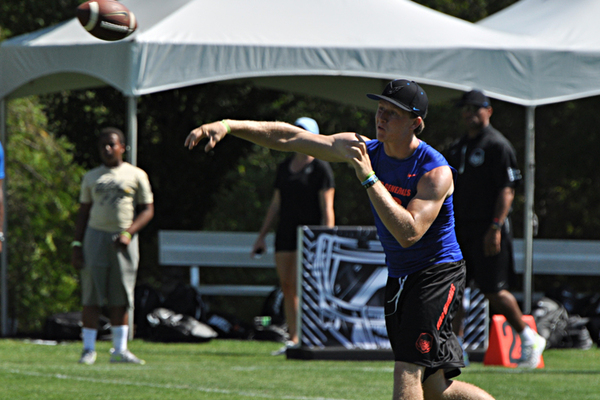 247Sports
White is a 6'2", 204-pound quarterback who can work from under center or out of the shotgun. He shows good mechanics, holds the ball high at times during his drops and can set up quickly.
He makes most of his decisions in the pre-snap phase. By the time he reaches the top of his drop and plants his back foot, White knows where he wants to go with the ball. He displays great quickness in his delivery, can change ball speeds and has good judgement when throwing.
White can pitch accurately with touch. Throwing his receivers open is not a problem for him. He has above-average arm strength that could improve at Auburn with added strength from weight training.
A deceptive trait White possesses is good mobility. He can set up in the pocket, keep his eyes downfield and elude rushers to stay upright and deliver a pass downfield. White may not be San Francisco 49ers quarterback Colin Kaepernick as a runner, but he can make some plays with his feet.
White also shows above-average ability to sell play-action fakes.
He projects to be a solid starter for Auburn, as he can make some throws to win games to not be considered just a game-manager.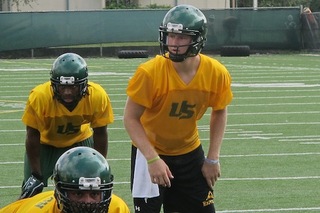 247Sports
The main weakness White has is lack of size. He's listed at 6'2", but he may be shorter. He could have some problems locating receivers in the pocket in college, as his lack of height could hinder his vision.
Auburn may have to run more shotgun plays than it may like with White at quarterback.
This is a clip of White throwing during a 7-on-7 game. His solid arm strength, good accuracy and great decision-making skills are on display. Although there is no rush, White displays good poise in surveying the field and working through his progressions.
White participated in the Miami NIKE Football Training Camp in March. In this highlight reel, you get a good look at his mechanics and footwork.
White also shows off his quick release, as the ball has some "jump" to it when it comes out of his hand on several throws.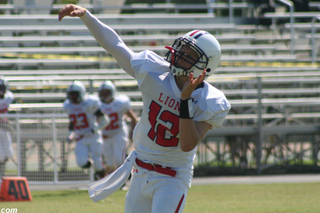 247Sports
If White were 6'3", he may be a 5-star quarterback. He grades out high in several critical position categories, has good intelligence and his ceiling could be higher than initially thought.
White will head to Auburn, where he will get his shot to start soon enough. He will be a quarterback who makes more plays than people will believe he can, and overcome his lack of impressive height by raising other areas of his game.
Edwin Weathersby is the College Football Recruiting Analyst for Bleacher Report. He has worked in scouting/player personnel departments for three professional football teams, including the New York Giants and Cleveland Browns.