NBA 2K14: 10 Things You Must Do After Purchasing the Game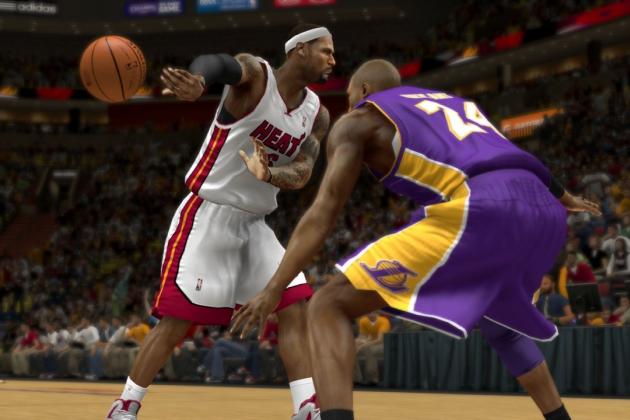 image from 2K Sports
On Oct. 1, the NBA 2K dynasty will attempt to extend its reign as the premier NBA simulation for Xbox 360 and PS3. NBA 2K14 releases on this day and from what we've seen, the franchise has a good shot at repeating.
The game will also release for the next-generation consoles in November, but that's obviously over a month away.
NBA and video game fans will still probably need to scratch their hoops itch with something in the meantime, or maybe you haven't even committed to upgrading to an Xbox One or PS4 yet.
In either case, the current-generation version will hold value. If you're grabbing a copy of NBA 2K14 on or around release day, I've got 10 things you definitely need to try within the first 48 hours the game is in your possession.
Sometimes we get locked into our favorite modes and don't give the full game a good look. You will have paid somewhere in the neighborhood of $60 for it, so you may as well explore every end of it.
Check it out.
Begin Slideshow

»
The LeBron James Path to Greatness mode allows gamers to take control of James' future. It's a different spin on the Michael Jordan Challenge that was included in NBA 2K11. In that mode, you played through Jordan's historic moments from the past. In this mode, 2K Sports attempts to predict the future.
You can choose a path that has LeBron staying in Miami to chase more rings with the Heat, or you can leave after the 2013-14 season and join the N.Y. Knicks to attain championship glory in Gotham.
That scenario may sound implausible, but that's the fun in it. If it comes off as well as planned, it could serve to create a nice little alternate hoops universe. It's almost like Butterfly Effect basketball without the nosebleeds.
I'm a latecomer to the My Player craze. I didn't actually get into the mode until NBA 2K11, but when I created Malik "MK99" Knight, the player spotlighted in the video above, I was hooked.
Believe it or not, there are still gamers who don't bother to play My Career and head straight for Association or online play. You may try this option out and hate it, but the mode has grown so much over the past three years, you'd be cheating yourself not to at least give it a look.
In case you're not familiar with the concept, you are in control of just one player. You must use that player's skills to guide your team to victories game after game. Ultimately, you're attempting to build your created player's legacy.
This mode directly ties into the next thing you must try on this list.
Crews mode is derived from Crew mode, which appeared in NBA 2K10 and NBA 2K11. The mode had some technical issues and was scrapped for the next two versions of the game.
Because it was the most requested mode from the NBA 2K community, per NBA 2K's community manager Chris Manning, it was brought back for NBA 2K14. The only thing is, there are some differences from the original Crew mode that fans loved.
The games are played on blacktop instead of an actual basketball arena. Also, the games are played up to 21 points as opposed to playing with a clock. Some may not like those changes as it isn't true to the original concept, but that doesn't mean Crews won't have its share of positives.
If you have never played Crew, or you were a diehard supporter of the mode and are put off by the new concept, you should still give the new Crews a try to allow yourself to make an informed decision about the direction.
Some less mature gamers can really sour your online experience, but when you find a group that has the same type of playing style as you, online play can be addictive.
There is nothing like that head-to-head competition against another player. You may ultimately still prefer the offline options, but games are moving drastically in the direction of online modes.
Try your hand at competition against another human being. Remember, if you have to, there's always a mute option.
Just like the My Player mode, some gamers never actually play an Association. This boggles my mind, as it is the biggest and most true-to-life mode in sports video games.
I came to understand how doing a fantasy draft and playing through multiple seasons doesn't appeal to gamers who love the NBA—or any other league represented in a video game. If you've never actually played a full season in Association, give it a look for the first couple of virtual weeks in your season.
The NBA 2K series does a good job of incorporating commentary to pull you into the happenings in your virtual season. This is still the bread and butter mode for me in the series.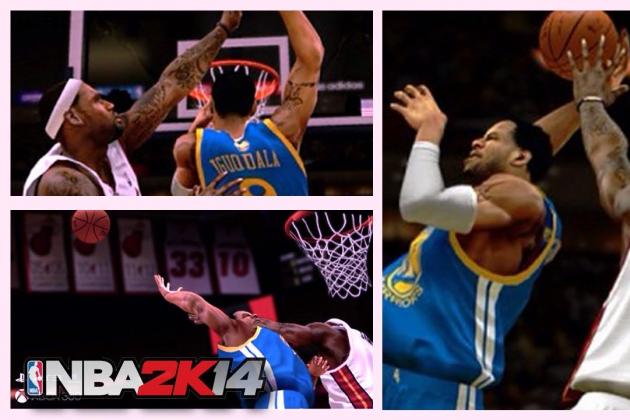 Defense was a bit lacking in NBA 2K13, in my opinion, but that side of the ball seems to have been addressed. One of the more effective enhancements is the ability to block dunks.
When I say effective, I'm not referring to the overall impact on the flow of the game. We all know blocked dunks shouldn't be a regular occurrence in a game.
I use the word in the cheapest but most fun sense. You know, it's going to be one of the things that makes you say: "Oooh!!" You'll subsequently rewind it the first time it happens and irritate whomever you're playing with because you won't let it go.
I named this slide "work the low post" because the enhancements done to collision detection should make things a bit more realistic on the block for offense and defense.
From the gameplay videos I've seen—like the one above—offensive players seem to create contact a little easier. This brings the element of drawing fouls on big men into the game. That was something that was very difficult in the past.
On defense, it was very hard to stop any decent big near the basket in NBA 2K13. Because of the defensive enhancements, the value of having a good low-post defender should be easier to see.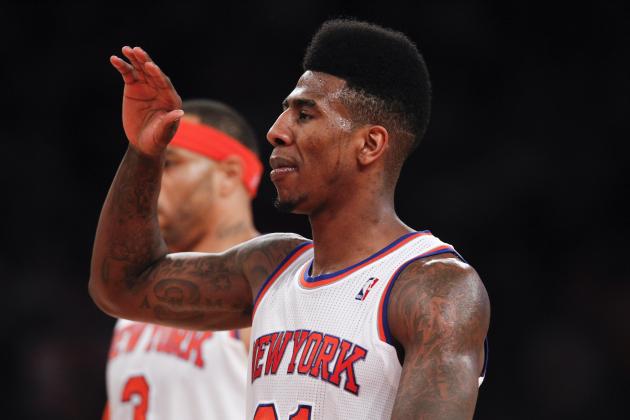 Jeff Zelevansky/Getty Images

The little things count to sports gamers. We want authentic gameplay and presentation, but we also want the players to look as much like themselves as possible.
NBA players have become known for their signature hairstyles and accessories. While it is impossible to keep up with every little cosmetic change the players make, we as gamers hope the big things are captured.
Does Iman Shumpert have his high-top? We can see from the video on the previous slide that he does. What type of hairstyle will Andrew Bynum have? Will Dwyane Wade come to the arena in Manpris?
How deep are we taking this whole authenticity thing?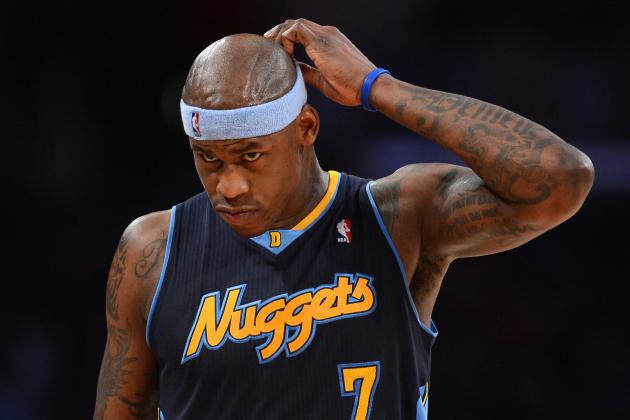 Harry How/Getty Images

Every sports game has a cutoff for rosters. We don't know what that date was for NBA 2K14 just yet, but it is one of the first things I'll check for. With Dynamic Living Rosters, the ratings could change on a daily basis once the season starts, but until then, we may only see one or two updates.
You may want to check the status of Washington Wizards forward Al Harrington. He signed on Aug. 14, per ESPN. If he is in the free-agent pool, you know the rosters are only accurate through July and possibly the beginning of August.
Sometimes the date is shown during the opening script, which most of us bypass when we boot up the game.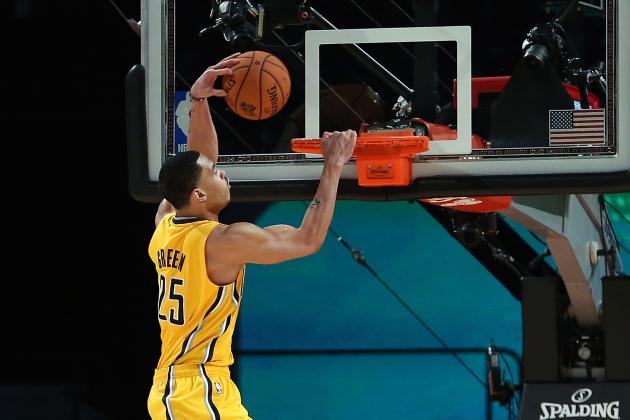 Ronald Martinez/Getty Images

Ronnie Singh of 2K Sports has been releasing some of the player ratings three-at-a-time, but all of the players won't have their overall ratings revealed by the time the game is released.
Even if they are, that overall rating doesn't tell the whole story.
You may want to find the three-point specialists or lightning-fast point guard you can mold if you choose to use him in one of the various game modes that extend for multiple seasons.
In NBA 2K13, I was able to make Gerald Green an All-Star-level player by mastering the release point on his jump shot. His elite athleticism didn't hurt.
Check those ratings—you could find a hidden gem.
Follow me for musings on sports video games, NBA, boxing, MMA and WWE.