The 5 Best Freshmen Performances in Pitt Football History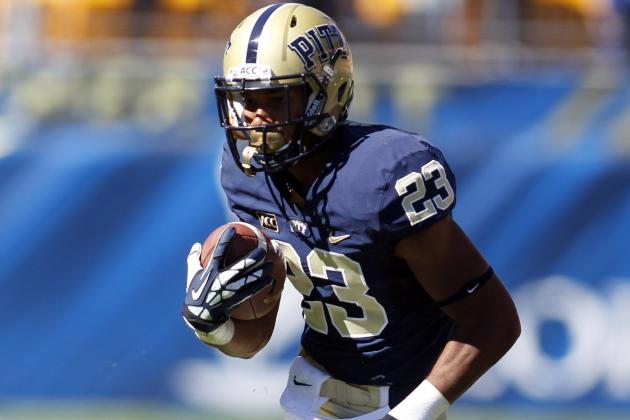 Charles LeClaire-USA TODAY Sport

Okay, kids, gather 'round. It's story time!
Once upon a time, freshmen were not allowed to play major college football.
Forget Cinderella, Snow White or Sleeping Beauty. This isn't a fantasy.
Granted, it is hard to imagine, considering some of the most significant players of the sport in recent memory are that young. Alas, forty years ago, if you coached in the NCAA, it was reality.
In the decades that have come and gone since the association relaxed its policy, Pitt (1-1, 2-1) has seen a number of exceptional novices contribute to its program in their first years on the field. Last Saturday, during a 49-27 win over New Mexico at Heinz Field, wide receiver Tyler Boyd submitted his own legend.
He racked up 205 all purpose yards against the Lobos, including a 33-yard reverse for a touchdown, followed by an improbable 34-yard reception for another.
Falling backward amid stifling coverage, Boyd hauled in a desperate toss from Tom Savage to extend his team's lead as the first half expired, a catch likely to be remembered as one of the greatest—universally—of the 2013-14 season.
Perhaps that play alone would have been enough for 247Sports National True Freshman of the Week and ACC Receiver of the Week honors, both of which Boyd earned in just his second game.
This Saturday brought more of the same when the Panthers took their show on the road for the first time. Boyd performed another balancing act, staying in bounds for a 27-yard catch-and-run that put Pitt up 13-0 in the first quarter, then embarrassed safety Dwayne Norman on a 69-yard bomb to begin the second and pulled in a 14-yard dart moments before halftime to give his team some separation.
In a wild 58-55 win over Duke, Boyd became the first Pitt rookie since Antonio Bryant in 1999 to top 100 yards receiving in back to back games, finishing with 154 on eight grabs. Through just three games, he's averaging 19.6 yards per reception, and 247Sports has given him that award a second consecutive week, while the ACC has declared him its Rookie of the Week.
Dare I ask where would these Panthers be without him?
Dare I ask where would they have been without some of his predecessors?
I've thought about them all, and I've gathered five of the greatest single-game efforts by Pitt freshmen of all time, along with a few that, for better or worse, did not make the cut.
Having weighed such factors as basic stats, school records, strength of competition and long-term value of the individual performances in question, allow me to present my list:
Begin Slideshow

»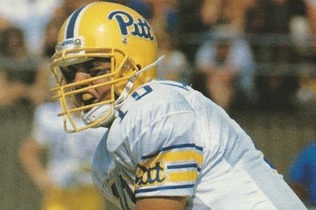 (File Photo Courtesy of Britt Barnett/Fanbase.com)
Pitt freshmen seem to enjoy launching their careers at the expense of the 'Eers, so consider my No. 5 performance a theme warning.
Like the Panthers of present day, the Panthers of the 1980s dealt with fluctuating fortunes on the football field. In 1989, head coach Mike Gottfried, coming off a mediocre season, tabbed quarterback Alex Van Pelt as his new starter.
The offense responded, and the Panthers had every reason to feel confident as they carried a 3-0 record and No. 10 ranking into the Backyard Brawl, averaging over 30 points per game.
Having said that, veteran coach Don Nehlen had guided No. 9 WVU to a 4-0 start, and with third-year starting QB Major Harris gaining Heisman hype, together they believed they could shake that confidence.
Through three quarters, it appeared Gottfried had brought a knife to a gunfight. The Mountaineers held a 31-9 lead that included 17 points off four Van Pelt picks, and "The Brashear Bullet" had been killing his hometown team with three first-half touchdown passes and four altogether.
But a funny thing happened on the way to the morgue...
Pitt decided the best way to contain Harris was to keep him off the field, so Van Pelt, eating up half the fourth quarter clock, got his team in position for a short Adam Walker touchdown run to make it a two-possession game. Still, the Panthers would need more than two to perform their miracle.
Van Pelt hit Henry Tuten for a nine-yard score to cut the deficit to 31-21. The Panthers atoned for their missed two-point conversion by recovering the ensuing onside kick, and again, Van Pelt marched them down the field, setting up Curvin Richards' second touchdown run of the night.
With time ticking away and Nehlen's offense now spinning its tires, Van Pelt stayed on point, and the Panthers got the game's final points on a 42-yard field goal by Ed Frazier as time expired.
The score: 31-31. The miracle: complete. The 68,938 at Mountaineer Field: speechless.
Van Pelt hadn't peaked yet. Pitt would finish the year 8-3-1 with a No. 17 ranking, and its rally past Texas A&M in the John Hancock Bowl, keyed by the arm of the Pittsburgh native, received serious consideration for this list.
In any event, going into hostile territory and brazenly stealing a rivalry game from a quarterback, at the time, far more accomplished than he helps Van Pelt make my cut.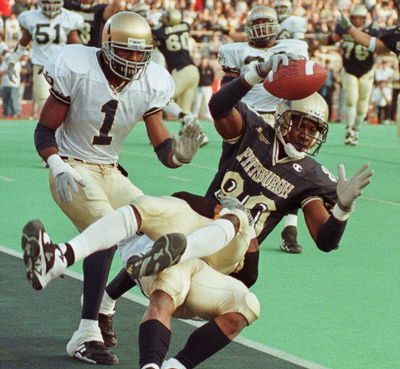 Jamie Squire/Getty Images

Win or lose, some long faces on the 60,190 individuals who left Pitt Stadium on this Saturday evening were to be expected. This was the last hurrah for a deteriorating but still hallowed on-campus venue that, for three-quarters of a century, saw its tenants both fall from and rise to relevance in major college football.
At least freshman flanker Antonio Bryant gave them something to smile about, as the final game played at Pitt Stadium, fittingly, proved to be one of the most well-played football games in its lifetime.
It's easy to argue the performance of another first-year player should have made this cut instead, or at least rode shotgun to Bryant's. Former Peabody star Kevan Barlow ran for two touchdowns that day, including the last points ever scored at Pitt Stadium at 7:06 P.M. local time.
But with a bowl game possibly looming, CBS cameras rolling and history in the making, Bryant, who totaled 95 receiving yards against the Fighting Irish, made three of his four catches count, and announced his long-term presence as an elite playmaker.
John Turman helped set the tone by finding him from nine yards away with 6:23 left in the first quarter for a 7-0 Panther lead. Pitt made Notre Dame pay for an early third quarter fumble when Bryant hauled in a 44-yard strike that set up the first of Barlow's TD's for a 17-10 advantage.
Later in the third quarter, the Panthers, up 20-17, were in business after forcing another turnover. A 28-yard reception by Bryant not only converted a big third down, but also gave Pitt a 10-point lead it finally held.
After seeing Notre Dame turn their rivalry sharply in its own favor, Pitt had paid them back with a 37-27 victory that set off cheers, tears and impromptu souvenir-hunting.
Unfortunately, the Panthers would get manhandled in Morgantown, missing out on bowl eligibility with a season-ending loss in the Backyard Brawl. Nevertheless, on a bittersweet day for anyone remotely associated with the Pitt program, the home team sent its own backyard out with a bang, and, in keeping with a theme of the Walt Harris era, a star receiver was born.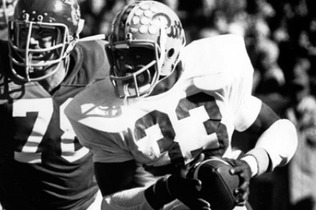 (File Photo Courtesy of Pittsburgh Panthers)
Those currently bemoaning Pitt football, albeit sometimes for good reason, need only a reminder of the sad-sack state of the program before Tony Dorsett arrived on campus to assuage their anger.
In the late 1960s, two football teams played on Cardiac Hill, and you couldn't give away tickets to either one. But while the Steelers began forming a new identity in the early 1970s, the Panthers almost lost theirs altogether. Talk of possibly dropping football at Pitt persisted until it hired Johnny Majors in 1972, and Majors brought top recruit Dorsett with him.
A 7-7 draw with host Georgia to start the 1973 season was a great moral victory for Pitt and several of its newcomers, but it was at Dyche Stadium, today known as Ryan Field, where Hopewell's former first-team all-state running back really put himself and his team on the national radar.
The freshman Dorsett, one of the earliest and most talented beneficiaries of that 1972 NCAA rule change, scored from six yards out and again on a 79-yard jaunt against Northwestern. He set a Division I single-game record with 265 yards on 38 carries in a 21-14 Panther victory.
Thanks to him, Pitt evened its record at 1-1-1 with a win over not the most difficult opponent it would face that year, but a prime example of the middling ones who, back in those aforementioned dark ages, were still good enough to have their way with the Panthers.
Dorsett also went on to set a Pitt freshmen record with 1,586 yards on the season, producing two more 200-yard games in the process.
Although neither record stands anymore, that autumn afternoon in Evanston was a sign post toward a new era of excellence for Pitt, led by its new breakout star.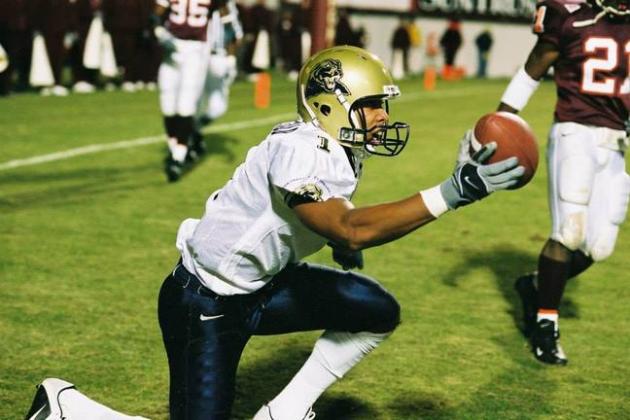 (Photo Courtesy of Pittsburgh Panthers)
The Panthers' premier 21st century face-of-the-program player was certainly making this list. I just couldn't decide where, or for what.
Was it for an overtime win over Big East prodigal Boston College, which started an NCAA-record streak of 18 games with a touchdown reception?
Was it for a bowl game in which he wowed the "Worldwide Leader" and helped Pitt regain the team-to-beat status it had lost years ago?
It was, almost literally, a coin flip. Or, if necessary, a dart toss.
Alas, before there was that prime-time game against Virginia Tech, there was the "other" prime-time game against Virginia Tech, which barely edged out those other games for my No. 2 spot.
The same year Larry Fitzgerald was in prep school, Pitt head coach Walt Harris tried to force-feed his players the spread offense. When they basically revolted, and the team was going down in flames, Harris simplified and the Panthers stabilized.
Part of their season-ending six-game winning streak in 2001 was a pure, straight butt-kicking of the No. 12 Hokies at Heinz Field that probably surprised even Pitt's most loyal fans.
Frank Beamer, given a shot at revenge in Blacksburg, wouldn't let his team get embarrassed by Pitt again, would he?
Fitzgerald wasted no time showing Beamer—to say nothing of the rest of the country—why he was the x-factor when Rod Rutherford hit him for a 37-yard gain on Pitt's first play from scrimmage.
No. 3 Virginia Tech capitalized on Panthers' mistakes to take an early 14-0 lead, but the Panthers answered right back with a 31-yard touchdown pass to Fitzgerald.
When Lee Suggs extended the Hokies' lead with a long touchdown run in the third quarter, Rutherford roared back, and he found Fitzgerald for a nine-yard score on a trademark fade pattern. After a three-and-out, Pitt picked up where it left off offensively, and Fitzgerald followed a 52-yard run by Tim Murphy with a difficult 10-yard touchdown grab that tied the game.
By the time Brandon Miree's late-game outburst triggered another upset, Fitzgerald had 105 yards on five catches, and the Panthers, 28-21 winners, had their first victory over a Top-5 team in 15 years, and their best start to a season in almost 20.
Just as importantly, they now had a marketable player synonymous with that success, and his NFL stock was only beginning to rise.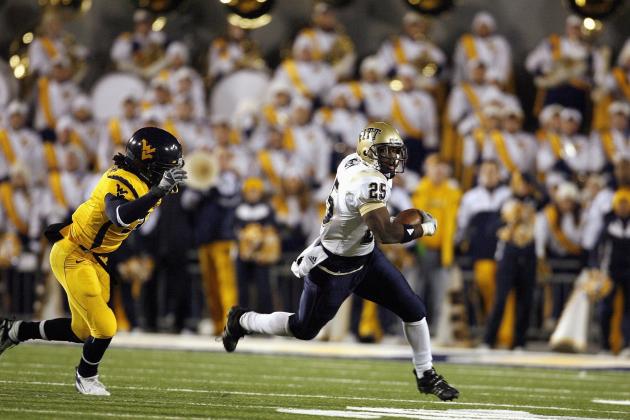 Kevin C. Cox/Getty Images

Keeping all these great performances in context is quite challenging, and it was with some degree of reluctance that I put "Shady" atop my list.
Two plus two will always equal four, the Earth will always revolve around the Sun and Dave Wannstedt will always sport a mustache. History, on the other hand, is constantly being re-examined and reinterpreted.
Did Pitt's 13-9 shocker over the No. 2 Mountaineers in the 100th Backyard Brawl have the long-term effects on his program Wannstedt desired and fans imagined? In retrospect, yes and no.
It signaled a brighter future for the Panthers. The following year they began an ongoing five-year streak of bowl eligibility. It affected the decisions made by a number of recruits in attendance that night who would go on to help the program.
But Wannstedt was never able to channel his watershed moment into anything more than a few above-average years, failing to win an outright conference championship at times when the Big East was generally up for grabs.
West Virginia, despite losing Rich Rodriguez and seeing its window of national championship opportunity slam shut in front of its own fans, has since won two BCS bowl games.
Nevertheless, the rise of future Philadelphia Eagles star LeSean McCoy comes first here because of the circumstance, the spectacle and the sheer absurdity of the event—one of the greatest upsets in college football history, marked by a great performance that could have and should have been even greater.
Was there a conspiracy by that officiating crew to get the home team into the BCS title game? It hasn't been proven there was, but it's also pretty hard to prove there wasn't.
The cloud of suspicion grew rather ominous as a no-nonsense touchdown run and a potential game-clinching third down conversion—both by McCoy—were nullified by patently nonsensical holding penalties.
However, despite the best efforts of the Big East to reinforce stereotypes about its own incompetence, the better team on that particular Saturday night, led by its young tailback, did prevail.
McCoy ran for a game-high 148 yards on a personal season-high 38 carries. He ate up yardage and picked up an important first down prior to a first-half-ending 48-yard field goal by Conor Lee, and he set up the game-winning touchdown in the third quarter, a hard fought one-yard run by quarterback Pat Bostick.
Following a strip and recovery by Tommie Duhart deep in West Virginia territory, McCoy padded his stats en route to an 18-yard field goal by Lee with 9:42 left in the fourth. After an injured Pat White returned to the game, only to overshoot the mark on a hurried, all or nothing forth and 17 pass, Wannstedt let McCoy run out the clock.
The Panthers, 28.5-point underdogs, deprived their arch rivals of a shot at college football's grand prize in about the most torturous way possible, and McCoy, once a recruit who had been given up on by big-name programs for a variety of on- and off-field reasons, proved them wrong and gave a national audience a taste of things to come on Sundays.
Perhaps the iconic play of Fitzgerald's self-abbreviated collegiate career is best captured on film, so let's take a look. The reaction from ESPN analyst and noted radio personality Mike Golic says it all.
The No. 24 Panthers had to work hard in the second half to run away from Oregon State with a 38-13 win in the Insight Bowl, but that 40-yard effort by Fitzgerald, who finished with 88 yards on five catches, essentially touched off his Heisman campaign.
A 22-yard reception by Fitzgerald led to a one-yard run by Rod Rutherford that gave Pitt a permanent lead.
Fitzgerald finished that season with 1,005 yards on 69 receptions, and he would become the first receiver in Pitt history top 1,000 yards two years in a row, while the Panthers finished with a No. 19 ranking.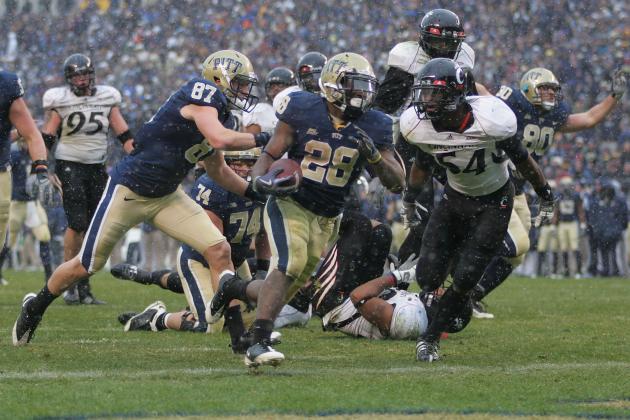 Jared Wickerham/Getty Images

If only Andrew Janocko had gotten the ball down...
If only Dave Wannstedt, typically hands on with special teams, had told Dan Hutchins to kick away from Mardy Gilyard...
If only that vaunted defense hadn't let him get wide open...
If only...ugh, why am I doing this to myself? Never mind that, why am I doing it to you?
The bottom line is, had this script not featured such a nightmarish plot twist, the effort by freshman tailback Dion Lewis against Cincinnati would have made the list.
Instead, the potential $17 million touchdown run of five yards by Lewis was neutralized by a $17 million touchdown pass from Tony Pike to Armon Binns, and Pitt, stunningly, was left out of the Big East title picture again.
Lost in the heartbreak was one of the best performances by a freshman running back since the days of Dorsett. Lewis—like "Shady" McCoy, a prospect under-valued by top schools—set a Pitt single-game record with 47 carries and finished with 194 yards that wintry day. He gave the Panthers leads of 7-0 and 38-24 with runs of four and 15 yards, respectively.
Lewis would finish the season with 1,799 yards rushing and 18 touchdowns, both single-season records for Pitt freshmen.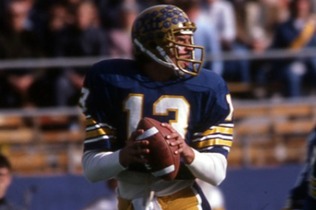 (File Photo Courtesy of Pittsburgh Panthers)
The last game at Pitt Stadium worked out well for the home team, but the last game at old Mountaineer Field didn't turn out that way. Thank a plucky recruit from Central Catholic, a Kansas City Royals draftee and a future Pro Football Hall of Famer for that.
At the start of his collegiate career, Dan Marino competed with the more experienced Rick Trocano for the respect and attention of head coach Jackie Sherrill. Marino hoped he made up his coach's mind once and for all when, on a day the unranked Mountaineers were looking to spoil the party for No. 12 Pitt—winner of six straight—he spoiled theirs instead.
He managed the game effectively, going 14 for 28 with 253 yards and a touchdown pass to Benjie Pryor to silence the hostile crowd of 38,681 and give the Panthers a 24-17 triumph. It was the fourth of what would be seven consecutive wins in the series by Pitt, with Marino starting the rest and Trocano (who would later convert to safety) finishing one due to injury.
In an interesting side note, Marino got excellent support from Pitt's nationally renown defense, which intercepted his counterpart, sophomore Oliver Luck, five times.
Marino continued living up to his hype, and the Panthers won out, including another solid effort by the newcomer at Penn State three weeks later. Pitt would finish in the Top 10 every year with him under center.
Streeter Lecka/Getty Images

In an unwanted preview of the college basketball season, Pitt edged Duke in a 113-point contest, the highest-scoring game in Panther history. But if you were discouraged by their defense (or if you didn't bet the over), which was generally predicted to be this team's strength, don't despair—Saturday still showed the future is promising.
Entering Saturday's Homecoming game versus ACC Coastal Division rival Virginia, true freshmen have scored 84 of the 120 points Pitt has registered. I'll give your fingers a rest and just tell you that's 70 percent of Pitt's offense accounted for by players who, theoretically, we haven't even seen at their best yet.
They're protected by an offensive line featuring Adam Bisnowaty, a redshirt freshman, at left tackle, who has powered through any growing pains you might expect someone in his cleats to endure. Furthermore, Pitt has a future star in Belle Vernon novice Dorian Johnson at the other tackle spot.
James Conner has brought muscle to the backfield. Tight end Scott Orndoff has made key plays up front and out in the open.
Oh, yeah, and Bout Dat Boyd kid...
"You saw him," Savage told me, with a hint of disbelief, after that New Mexico game. "He's a beast."
Imagine if the NCAA hadn't changed its mind 40 years ago?
Frankly, as I watch these Panthers compete, I'd rather not.