5 Reasons to Believe Andrew Bynum Will Shock the NBA in 2013-14
Photo Credit: AP Photo/Tony Dejak via Ohio.com
The reasons to believe Andrew Bynum will shock the NBA in 2013-14 directly relate to the situation he is now in as a member of the Cleveland Cavaliers.
Unlike his previous stop, Bynum is not being asked to be the focal point of the franchise in Cleveland.
While health will remain the ultimate factor for the 25-year-old former All-Star, Bynum will begin this next chapter of his career among a fanbase and organization that is simply happy to give him a chance.
This lack of expectations, coupled with the makeup of his new team and roster, could put Bynum in a better position than most people realize to maximize his opportunity this season.
Begin Slideshow

»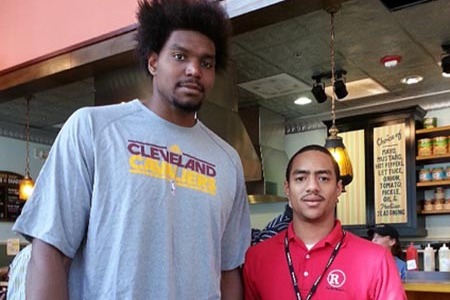 Photo Via BeyondTheBuzzer.com
Cleveland Cavaliers fans are just happy to have Andrew Bynum in town.
The incentive-laden contract that brought him to Cleveland has created a net positive situation that lacks the expectations surrounding his previous stop.
If Bynum is not able to stay healthy enough to complete the season, Chris Grant and the Cavaliers are able to cut their losses at a guaranteed total of $6 million. If he is able to stay healthy, the possibility exists that Bynum could—in a best-case scenario—eventually resemble his former All-Star self.
When Bynum arrived in Philadelphia last year, he was asked to be the best 76ers big man since Wilt Chamberlain. In Cleveland, however, there is nobody expecting Bynum to save the franchise.
That responsibility rests on the shoulders of Kyrie Irving. Bynum is simply on board to help in any way that he can.
David Richard-USA TODAY Sports
Cleveland Cavaliers General Manager Chris Grant
Andrew Bynum will redefine the term contract year this season.
To earn the full $12 million in his first year of the two year, $24 million deal he signed with general manager Chris Grant and the Cavaliers, Bynum must meet a number of performance and health benchmarks.
As opposed to playing for a contract as a free agent the following summer, Bynum will have the motivation to play his way into double-digit millions during the 2013-14 campaign specifically.
If he is able to step onto the floor from a health standpoint, it's likely that Bynum—or any other human being for that matter—will push himself to the limit with a $6 million option hanging in the balance.
Beyond the short-term gains, however, Bynum will also be motivated by that fact that $6 million guaranteed was the highest offer it appeared he could find as a free agent this summer. After establishing himself as an All-Star in 2011-12, Bynum will be playing to prove he belongs among the league's financial elite for years to come.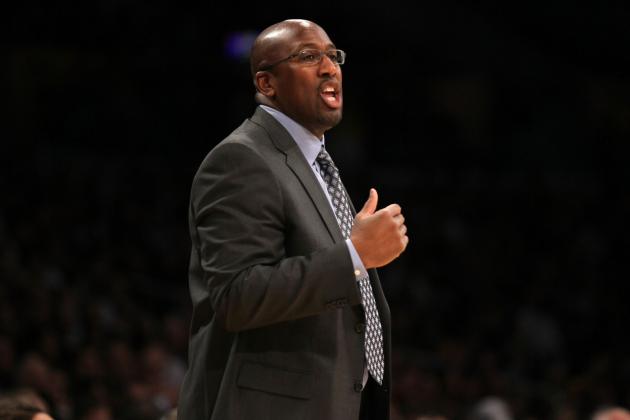 Stephen Dunn/Getty Images
Cleveland Cavaliers Coach Mike Brown
The only All-Star season of Andrew Bynum's career came under the direction of coach Mike Brown.
This summer, it was the same coach who motivated Bynum to take a chance on resurrecting his career in Cleveland, according to Jodie Valade of The Plain Dealer.
Whatever Mike said, Andrew got off the phone and was actually excited to take the meeting. I kid Mike that he should go into motivational speaking, but Andrew was extremely motivated and extremely excited.
During the 2011-12 campaign, as a member of the Los Angeles Lakers, Brown helped Bynum average a career-high 18.7 points and 11.8 rebounds. That rebounding total was fueled by a career-best mark of 8.6 defensive rebounds for Bynum—1.4 more than any other year.
Under Brown, Bynum will assume a role defensively around the rim, with help-side defenders pinching down into the paint, that will manage his energy while maximizing his shot-blocking ability.
Offensively, Bynum will also be able to settle into the paint and feed off an attack fueled by Kyrie Irving.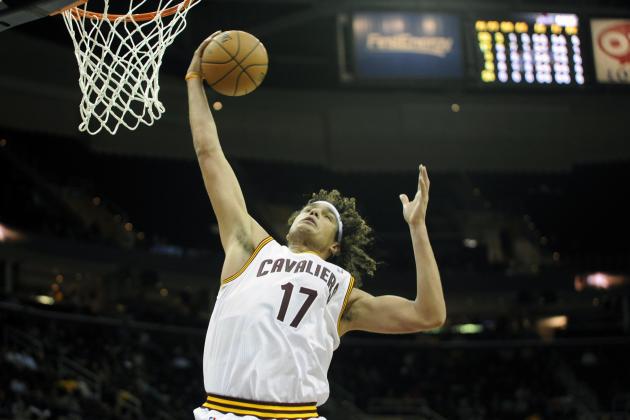 David Richard-USA TODAY Sports
Cleveland Cavaliers' Anderson Varejao
Andrew Bynum, without question, could certainly emerge as the Cleveland Cavaliers' best big man in 2013-14. But Bynum will not enter the season as the only big the Cavs are currently bullish on.
After playing only 25 games last year, Anderson Varejao is expected to make a healthy return for Cleveland as well. If he is able to average anywhere near the 14.1 points and 14.4 rebounds he did before suffering a season-ending blood clot, Varjeao could play himself into the fringe All-Star discussion.
In addition to the veteran Varejao, the Cavaliers will also be welcoming the No. 1 overall pick Anthony Bennett into their frontcourt. While Bennett could eventually find a role as a hybrid small forward, he could also spend significant time at the power forward position.
Tristan Thompson, who continued to improve throughout his second NBA season while averaging 11.7 points and 9.4 rebounds, is also capable of spending time at both the 4 and 5 spots. To a lesser extent, second-year pro Tyler Zeller is too.
This combination of bigs will help Bynum ease his way into the rotation. It will also put him in a position to offer his best effort during 20-25 minute spurts while the Cavs remain competitive inside as he rests on a nightly basis.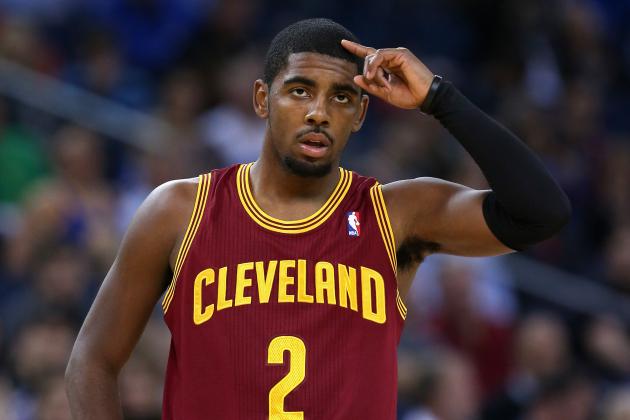 Ezra Shaw/Getty Images
Cleveland Cavaliers' Point Guard Kyrie Irving
As a member of the Los Angeles Lakers, Andrew Bynum played on championship-winning teams loaded with talent. He also played alongside an all-time legend in Kobe Bryant.
But despite the success that he and his teammates experienced, Bynum has never played with an All-Star point guard as elite and effective as Kyrie Irving.
This year he will, and Irving expects to make the game easier for Bynum.
In addition to extending defenses with his scoring ability from the perimeter, Irving will be a willing passer genuinely motivated by the goal of helping Bynum produce on a nightly basis. The space Irving creates inside will also give Bynum an opportunity to make an immediate impact.
The potential exists, frankly, for Irving and Bynum to become one of the best point guard-center combinations in the league if both players remain healthy throughout the year.