10 Things Every Fan Needs to Know About the OKC Thunder for 2013-14 Season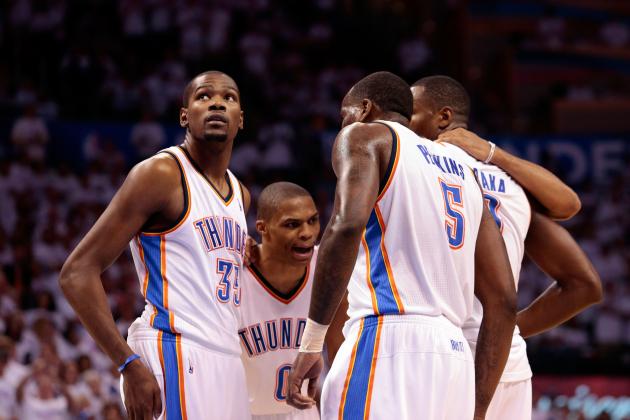 Brett Deering/Getty Images
Eventually, we'll get to see the Thunder play again. Eventually.
The Oklahoma City Thunder didn't have quite as eventful a summer as they did last season (though there's still time—James Harden wasn't traded until late October), but don't make the mistake of assuming that nothing has changed in OKC.
Kevin Martin is suiting up for the Minnesota Timberwolves (leaving two exciting young guards to fill the void), the invincible Russell Westbrook is coming off an injury and Derek Fisher is...well okay, he's still around. The point is, things look a little different in OKC this year.
If you're worried you missed something, there's no need to freak out. Here's a quick summary of everything you need to know about the Thunder for the 2013-14 season.
Begin Slideshow

»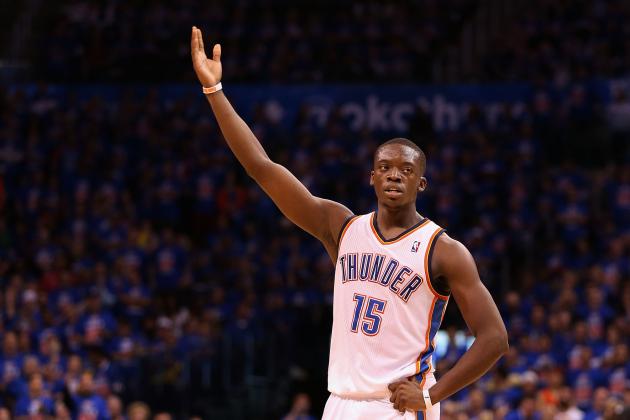 Christian Petersen/Getty Images
Jackson made his presence felt in the playoffs.
Reggie Jackson is going to be good. Really good.
Jackson's numbers from last season may look pretty pedestrian, but he averaged 14 points, six rebounds and four assists per 36 minutes and around those same numbers in the playoffs after Russell Westbrook was injured (per Basketball-Reference). He can play.
In fact, Jackson's ascension is the reason that all the hand-wringing over losing Kevin Martin is unnecessary. Jacksons's a different type of player than Martin, but he should provide similar production off the bench this season.
Unlike Martin, Jackson doesn't have much of a jumper (he shot just 23 percent from the three last year), but he's a great pick-and-roll guard who can get to the rim and finish at will. Last season, Jackson ranked sixth in the league in terms of scoring efficiency in the pick-and-roll, tied with none other than the Los Angeles Clippers' Chris Paul (per Synergy Sports Technology).
Jackson is a patient and probing attacker, and you quite literally can't find a guard in the league who's better around the rim. Last year, Jackson hit a staggering 80 percent of his shots around the rim (per Hoopdata). To put that in perspective, LeBron James shot 78 percent at the rim (though with many more attempts).
Jackson has a gift for fooling bigs in the paint, and though he's unlikely to put up the same numbers around the rim this season now that he'll be shooting more, he should still be very efficient. Especially considering that, without Martin, he'll have more chances to run the pick-and-roll alongside Nick Collison. Expect big things from Jackson this season.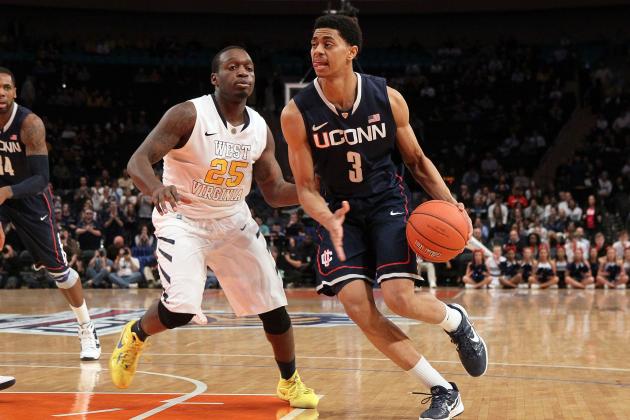 Jim McIsaac/Getty Images
If you have no idea what to expect from Jeremy Lamb...you're not alone.
Predictions for Jeremy Lamb's second season with the Oklahoma City Thunder are all over the map and for good reason. It's hard to nail down a prediction for a guy who's played roughly five significant NBA minutes.
The Thunder were very crowded at the wing last season, and Lamb spent most of his time in the D-League because of it. However, with Kevin Martin gone, Lamb (along with Reggie Jackson) is the guy being called upon to replace his production off the bench.
Lamb certainly has the raw talent to be a productive player and proved as much in the D-League last season. He's a smooth athlete who can score in just about every way imaginable (his floater is an absolute work of art), and he showed flashes of some sophisticated passing ability as well. The NBA is a different animal entirely however, and it's not totally clear how Lamb will handle going toe-to-toe with legitimate NBA defenses.
Lamb might explode this season and be a force coming off the bench for OKC. He might end up being little more than a so-so spot-up shooter. Or he might be glued to the pine because of defensive and turnover issues. There's honestly no telling what's going to happen. Lamb's a true wild card.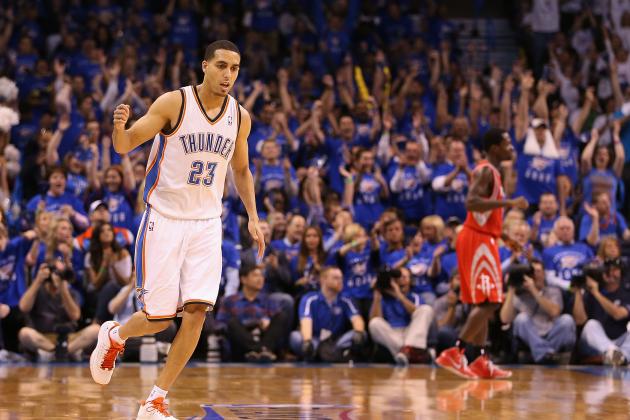 Christian Petersen/Getty Images
At least OKC got a trade exception out of Martin.
Believe it or not, the Oklahoma City Thunder didn't lose Kevin Martin for nothing—they also acquired a $7 million trade exception when he was signed and traded to the Minnesota Timberwolves (per Yahoo! Sports' Adrian Wojnarowski).
The Thunder have a year to use this trade exception, which basically allows OKC to take on up to $7 million in player salaries until the exception expires (one year from when it was acquired). If that doesn't make much sense, HoopsRumors' Luke Adams did an excellent breakdown that explains the finer points.
All that you really need to take away is that the Thunder have just a little bit of wiggle room when it comes to trades, and while it's more likely that the exception is used next summer, Sam Presti has been known to surprise. They could make some noise around the deadline.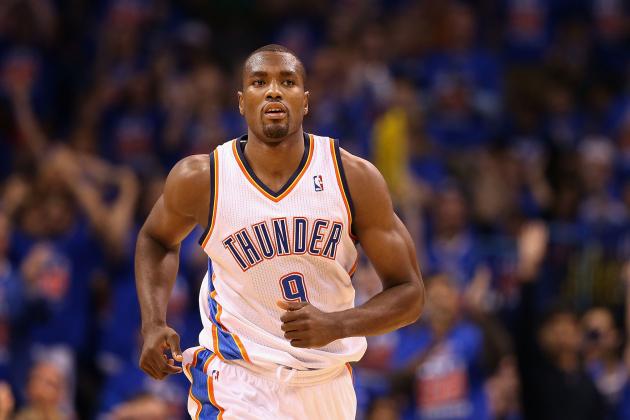 Christian Petersen/Getty Images
Serge Ibaka, sharpshooter.
No, seriously. This could happen.
Serge Ibaka has evolved into one of the league's best jump shooters from inside the arc (per NBA.com), and his pick-and-pop sets with Russell Westbrook have become a critical cog in the Oklahoma City Thunder attack.
By the end of last season, the Thunder often had Ibaka float out around the three-point line, confident that he had the ability to knock down an open jumper if the ball swung his way. And lo and behold, that's exactly what happened—Ibaka ended up with 52 attempts from the corners last season and knocked down almost 37 percent of them (per NBA.com).
As Grantland's Zach Lowe recently pointed out, bigs who can protect the rim and shoot a league-average percentage from three are essentially non-existent, but so long as his shooting holds up over a greater sample size, Ibaka has a chance to be that type of player. Just imagine the offensive potential of a small lineup in which Ibaka (playing the 5) simply spots up from the corner, giving Russell Westbrook and Kevin Durant an open lane. They'd be unstoppable.
Ibaka's not going to start firing up threes like Stephen Curry, but averaging between one and two attempts per game is possible and would make the Thunder even more dangerous offensively. As if defenses didn't have it hard enough already.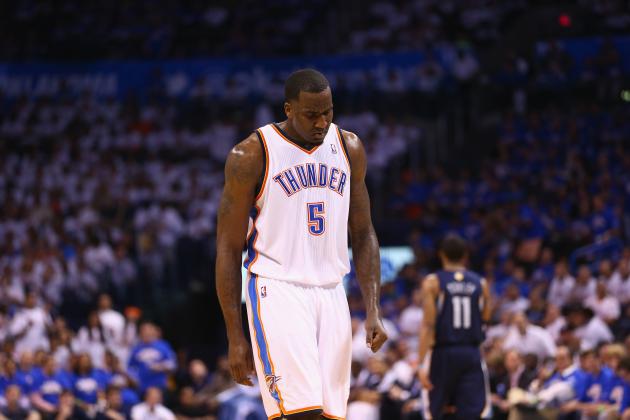 Ronald Martinez/Getty Images
Thunder fans are praying Perkins can up his game just a little bit.
Kendrick Perkins is coming off of an objectively atrocious postseason. We won't get into all the numbers, but trust me when I say it was truly terrible. And unfortunately, unless Perkins magically starts playing like it's 2008 again, that means the amnesty talk is only going to get louder.
Despite what some may say, Perkins does have value to the Thunder. He's still a solid defensive role player (though he's lost a few steps), he's the vocal leader of the defense and he sets fantastic picks—if you ever see Kevin Durant wide open curling off a screen, it's probably because of Perkins.
None of that is enough to outweigh the fact that Perkins is quite possibly the worst offensive player in the league, though (don't let sweet shots like this confuse you), and unless he ups his game in some area, people are going to want him gone.
The Thunder have their center of the future in Steven Adams, and even though he probably won't be ready to play for a few years, it won't take long for fans to start calling for Perkins' head if he continues to struggle.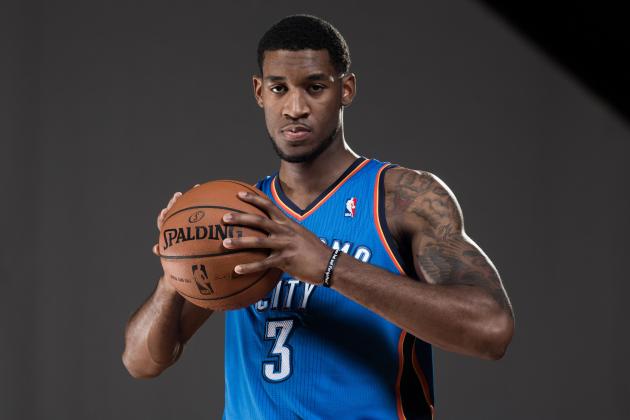 Nick Laham/Getty Images
Perry Jones is raw, but he's an unbelievable athlete.
...None of whom are likely to see the floor this season.
The Oklahoma City Thunder use the D-League as a sort of minor league system, so barring injury, their best young guys—Perry Jones, Steven Adams, Andre Roberson and Grant Jerrett—will be lucky just to get garbage-time minutes this year. But they're all talented and could make a real impact in the future, so they're worth bringing up anyways.
Jones, entering his second year this season, is a project but is also right up there with Kevin Durant and Serge Ibaka in terms of athleticism. He doesn't yet have the sheer skill to pair with that athleticism, but he showed flashes offensively last season and is versatile enough to play multiple positions.
Adams is another work in progress—a raw, but athletic seven-footer who projects to be a very good defender someday. As it is, he'll have to improve as an overall defender and on the defensive glass, but he has an NBA-ready body and is by all accounts a very hard worker.
Roberson is an undersized forward who the Thunder actually traded up to attain with the 26th pick in last year's draft. Roberson has virtually no jump shot to speak of (seriously, it's bad), but he's a great athlete who rebounds like crazy and should be able to defend multiple positions at the next level.
Finally there's Jerrett (assuming he signs a contract), a stretch forward out of Arizona who seemed like a long shot to make the roster until he hit 50 percent of his threes in the Orlando Summer League. Jerrett is a poor (to put it nicely) defender, but he stretches the floor nicely and could play a Matt Bonner type of role in the future.
Again, you probably won't see much of these guys next season, but you never know. They're certainly worth keeping an eye on.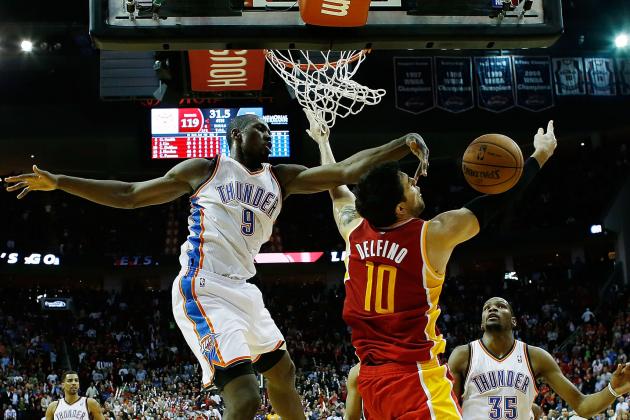 Scott Halleran/Getty Images
Serge Ibaka is one of the top interior defenders in the league.
The Oklahoma City Thunder are known first and foremost as an offensive team, which is totally understandable given that they boasted the top offense in the league last season (per Basketball-Reference) and employ two of the best offensive players alive in Russell Westbrook and Kevin Durant.
However, the Thunder are also a stellar defensive team (they finished fourth last season), and it wouldn't be surprising if they came close to hitting, or hit the top mark in the league next year.
Losing Kevin Martin is sure to hurt the Thunder offense, but it's just as sure to give the defense a big boost. Martin's a defensive sieve at this point in his career, and when he rode the bench last season, OKC gave up 100.2 points per 100 possessions, just a fraction of a point under what the second-ranked Memphis Grizzlies surrendered (per Basketball-Reference).
The Indiana Pacers topped the league last season, but they traded defense for offense when they picked up Chris Copeland and Luis Scola, putting the No. 1 spot up for grabs. There are a lot of teams that will vie for that spot, with the Grizzlies, San Antonio Spurs, Washington Wizards and Chicago Bulls probably being the top contenders.
But Oklahoma City was fantastic last season, and another year of growth from Serge Ibaka and Durant (who's quietly becoming a fantastic defender in his own right) will put them right in the mix.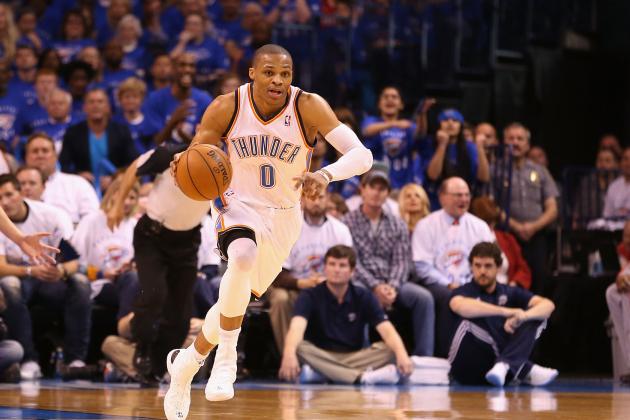 Christian Petersen/Getty Images
Westbrook might finally get some slack for once.
It's hard to imagine a world in which Russell Westbrook is completely without criticism, but at the very least that criticism should be subdued this season.
Westbrook's aggressive style of play has always made him an easy target for critics. But in the postseason we finally saw what the Oklahoma City Thunder's offense looks like without him, and it was ugly.
The Thunder offense led the league throughout the regular season at 112.4 points per 100 possessions (per Basketball-Reference). In Westbrook's absence it plummeted to 100.3 points per 100 possessions—almost exactly the same rate as the Washington Wizards' 30th-ranked offense (per NBA.com). That's bad.
To be fair, some of that decline was due to the fact that the Memphis Grizzlies (the Thunder's opponent for most of the playoffs) are an outstanding defensive crew. Still, much of it was simply the result of OKC being without their second-best player.
Say what you will about Westbrook's sometimes errant decision making—he prevents defenses from throwing multiple guys at Kevin Durant and impacts the game in just about every way imaginable. That's well worth the price of a "meh" pull-up jumper or two, and this should finally be the year critics recognize that.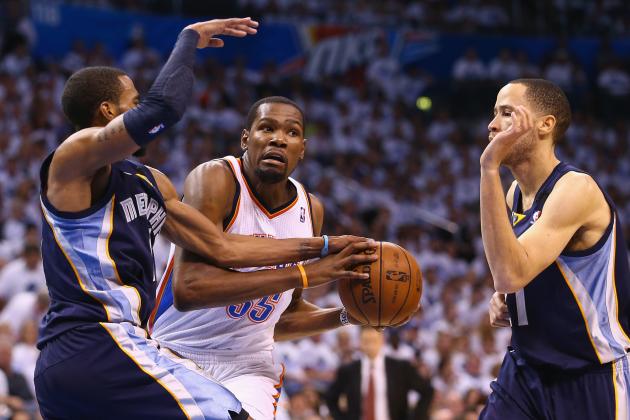 Ronald Martinez/Getty Images
Even when he's double-teamed, Durant still manages to amaze.
There's no need to get into Kevin Durant's historic 50-40-90 regular season (which was pretty dang impressive in its own right). What Durant did in the playoffs after Russell Westbrook was injured tells the whole story.
Despite being triple and sometimes even quadruple-teamed without Westbrook on the floor, Durant had one of the greatest all-around playoff performances in NBA history. Durant averaged 32 points, 10 rebounds and six assists per game, something that only two other players ever—LeBron James and Oscar Robertson—have done (per Basketball-Reference).
It's hard to imagine Durant becoming a better scorer, but he made serious strides as a passer and particularly as a defender last season, holding opposing small forwards to a PER of just 10.5 (per 82games.com). Eventually, Durant will reach his ceiling, but he's not even close right now and probably won't be for a few years. So yes, believe it or not, Durant is probably going to get even better.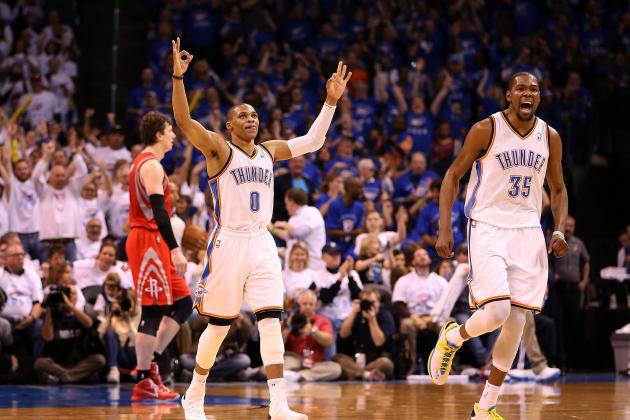 Christian Petersen/Getty Images
As if a team with Durant and Westbrook on it could avoid being a title contender.
The Oklahoma City Thunder's uneventful offseason has been slammed by just about everyone. But though the offseason was a tad disappointing, it's important to remember that this team is still really, really good.
Kevin Martin is the only member gone from a team that won 60 games and topped the league in point differential last season. The Thunder have two potential studs to take Martin's place and three of the best young players in the NBA in Kevin Durant, Russell Westbrook and Serge Ibaka. They're likely to finish in the top five on both ends of the floor and will probably win around 60 games again.
In short, the Thunder are still one of the top three or four teams in the league and are a surefire title contender. Don't let all the talking heads stir you into a panic. OKC is doing just fine.