Picks, Predictions and Prognosis for Every Week 4 Pac-12 Football Game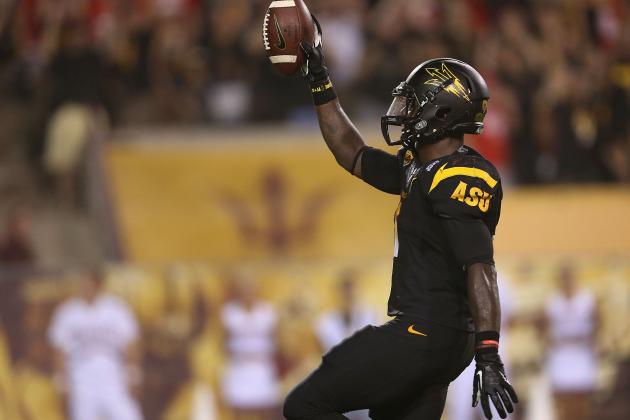 Christian Petersen/Getty Images

Week 3 of Pac-12 football featured an overtime classic, six clashes against BCS conference competition and several individual, breakout performances. Week 4 is a decided step back.
Saturday is the final game day of this season technically falling in summer. Naturally, a quarter of the conference's teams are on bye—though presumably not spending the downtime to hit the beach.
Conference play is on the horizon for many Pac-12 members, and already started in a few instances. The biggest league showdown yet gives an otherwise pedestrian Week 4 slate a much-needed marquee matchup.
Arizona State's trip to Stanford marks the first time two Top 25 teams have faced off in the conference this season. The Cardinal are also the Sun Devils' second ranked opponent in as many weeks.
The other notable Week 4 match pits USC against Utah State.
Record last week: 9-1 (6-4 Against The Spread)
Overall Record: 25-3 (17-11 Against The Spread)
All lines courtesy VegasInsider.com
Begin Slideshow

»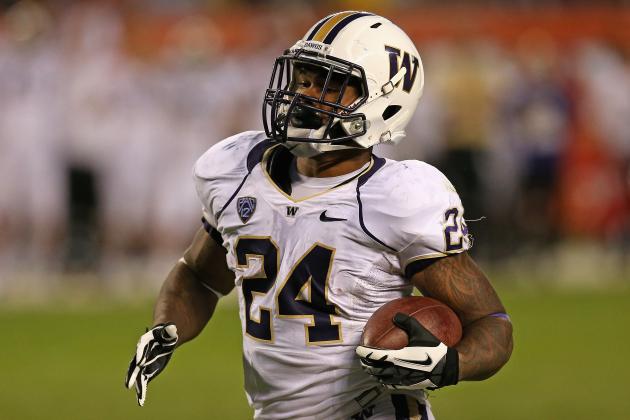 Jonathan Daniel/Getty Images

Saturday, Sept. 21 | 3 p.m. ET | Pac-12 Network
Don't adjust your monitor, that line is correct. Oregon was the heaviest favorite of any Pac-12 team this season with its 59-point status against Nicholls State, but this might actually be an even greater mismatch.
Idaho State is a perennial cellar dweller in the Big Sky Conference, last year finishing 0-8 in league play and 1-10 overall. For context on how greatly the Bengals struggled, consider they lost to Portland State 77-10—and Portland State surrendered a record 45 first half points to Washington.
With the no-huddle offense firing and the Husky defense playing well, this one should be over quickly, allowing Steve Sarkisian to give his reserves plenty of playing time.
My Prediction: Washington 63, Idaho State 10
Saturday, Sept. 21 | 3:30 p.m. ET | ABC/ESPN Regional Coverage
Quarterback Cody Kessler's new-found confidence injected much needed life into the Trojan offense last week. He'll need another solid performance to keep Utah State's stout defense honest against the rush.
Silas Redd is once again questionable, per Scott Wolf of The Los Angeles Daily News, and "questionable" has translated to "unavailable" each of the first three weeks. Should the senior remain sidelined, the spotlight is on sophomore Tre Madden.
Madden has been outstanding through three games, but the Aggies are allowing just 3.3 yards per carry behind the stellar pursuit of linebackers Zach Vigil and Jake Doughty. Himself a former linebacker, Madden's wheels-always-moving style provides a worthy counter.
Aggie quarterback Chuckie Keeton's two-way playmaking ability poses the greatest challenge an excellent USC defense has seen yet, but the real X factor for the Aggies is running back Joe Hill.
Clancy Pendergast's new defensive base has maximized the Trojan front seven's playmaking abilities, shutting down the rush and forcing the issue via the pass. USC has parlayed that into six interceptions.
USC's defense proves too much, in turn setting the table for Kessler and Co. to control tempo. The offense continues its progression and the heat on head coach Lane Kiffin turns down another couple notches when the Trojans return to conference play for an important three-game stretch.
My Prediction: USC 27, Utah State 17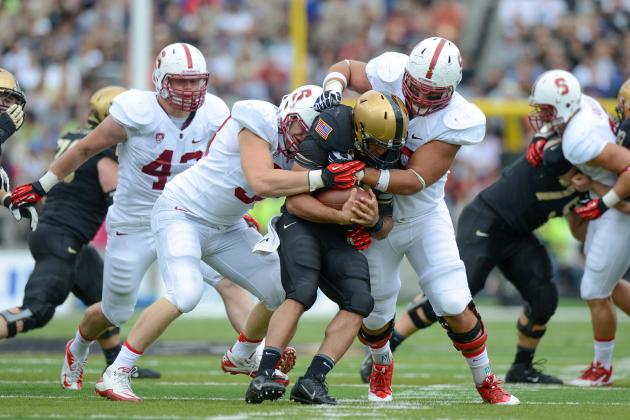 Ron Antonelli/Getty Images

Saturday, Sept. 21 | 7 p.m. ET | FOX
Kickoff time for the Pac-12's best game of Week 4 is fitting for a number of reasons, among them that Stanford is the quintessential test for measuring just how ready Arizona State is for prime time.
Obviously, much has changed for both programs in the time since ASU last visited The Farm. Stanford was just laying the foundation for what has become a gold standard in program building. Since, the Cardinal have appeared in three consecutive BCS bowls, and won last year's Pac-12 championship.
Sun Devil head coach Todd Graham has stated repeatedly that his goal is winning the conference title. Knocking off the reigning champion on its home turf is certainly a start.
The Cardinal and Sun Devils boast some of the conference's most celebrated individual defensive talents—ASU with defensive tackle Will Sutton and linebacker Carl Bradford, Stanford with linebackers Shayne Skov and Trent Murphy, and safety Ed Reynolds.
As talent laden as each defense is, both offenses feature enough playmakers to force tempo. Establishing Marion Grice against the Stanford is essentially for the Sun Devil offense, but only feasible if blockers can maintain their assignments.
As the always insightful Chris Brown broke down following Stanford's defeat of Oregon last season, the strength of the Cardinal defense is each individual players in the front seven's ability to shed blockers at the line. Unless Grice and cohort D.J. Foster can make sizable gains, Taylor Kelly will be forced to throw against a secondary that was particularly adept at exploiting mistakes.
On the opposite side, Arizona State struggled somewhat with the rush in its win over Wisconsin.
Stanford lacks the same diversity in its backfield that Wisconsin boasts in its, but Tyler Gaffney and Anthony Wilkerson should see a considerable workload initially to set up Kevin Hogan and Ty Montgomery for the potential game breaking, big play.
Arizona State is close to the top tier of the conference, but Stanford remains at its pinnacle.
My Prediction: Stanford 31, Arizona State 21
Saturday, Sept. 21 | 7:30 p.m. ET | CBS Sports Network
Inconsistent, if not downright abominable quarterback play punctuated current Oregon State head coach Mike Riley's tumultuous few years as San Diego Chargers head coach. Riley returns to Qualcomm Stadium Saturday with a much different offensive outlook.
Sean Mannion had his best game yet last week, in what has been a stellar 2013, throwing five touchdown passes and no interceptions in the Beavers' 51-48 win at Utah.
"He's making good decisions," Riley said of Mannion on Tuesday's coaches teleconference call. "He's been very accurate with the ball."
Pass defense has vexed San Diego State early this season, a surprising departure from recent seasons. Ohio State reserve Kenny Guiton and Eastern Illinois' Jimmy Garoppolo gashed the Aztec secondary. Mannion should be able to similarly exploit SDSU, despite Riley's concerns about the running game.
Oregon State has struggled defensively early this season, but SDSU is a team without an offensive identity. Running back Adam Muema was among the nation's best rushers in 2012, but an ankle injury has hindered him early in 2013.
Further good news for Riley and his Beavers: there's an In-n-Out Burger just a block from The Q.
My Prediction: Oregon State 41, San Diego State 14
Saturday, Sept. 21 | 10:15 p.m. ET | ESPN2
This year's installment of Utah vs. BYU is the Holy War of Attrition. BYU discovered its formula for offensive success came via the rush, which kick-started the Cougars to arguably their most impressive showing on that side of the ball since 2010. Running back Jamaal Williams and quarterback Taysom Hill rank among the nation's top ball-carriers at 163 and 150.5 yards per game.
Conversely, Utah's strength is its defensive line. Trevor Reilly, Nate Orchard and Tenny Palepoi have combined for 11 tackles for loss and 4.5 sacks. The Utes have also allowed just 290 rushing yards in three games, though 173 came from Utah State.
USU was able to move the ball on the ground because quarterback Chuckie Keeton's passing ability spread the field. Expect the Utes to load the box initially and force Hill to be more of a passing quarterback.
Hill must utilize outstanding wide receiver Cody Hoffman, who was quiet in his one appearance this season coming off a hamstring injury. Similarly, Utah quarterback Travis Wilson needs to operate quickly and decisively to avoid the ever-present danger of Kyle Van Noy blindsiding him in the pocket.
Offense will come at a premium in what should be another rivalry classic. The final possession could decide this year's edition, as was the case last year. The last valuable lesson to be gleaned from that Ute win: don't rush the field prematurely.
My Prediction: Utah 21, BYU 20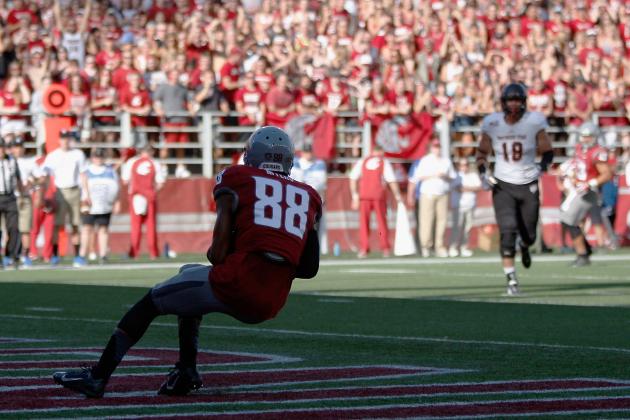 William Mancebo/Getty Images

Saturday, Sept. 21 | 10:30 p.m. ET | Pac-12 Network
Just nine miles separates Moscow, Idaho and the University of Idaho campus from Pullman, Wash., home of Washington State. And yet, the renovated Martin Stadium is worlds away from the Kibbie Dome.
Washington State is after its best start since 2006. A win matches the Cougars' win total of a season ago, and has them halfway to ending their decade-long bowl drought.
Idaho played Northern Illinois surprisingly close in Week 3, even leading the defending MAC champion at halftime. The Huskies deluged the Vandals with 352 rushing yards, though. Perhaps Mike Leach will open his playbook more to the ground game, as he showed glimpses of against Auburn?
Realistically, the Cougars won't need to establish the run. Connor Halliday is coming off a five-touchdown outing in Washington State's lopsided, Week 3 win over Southern Utah. The quarterback should attack Idaho's secondary early and often, as the Cougars cruise.
My Prediction: Washington State 45, Idaho 21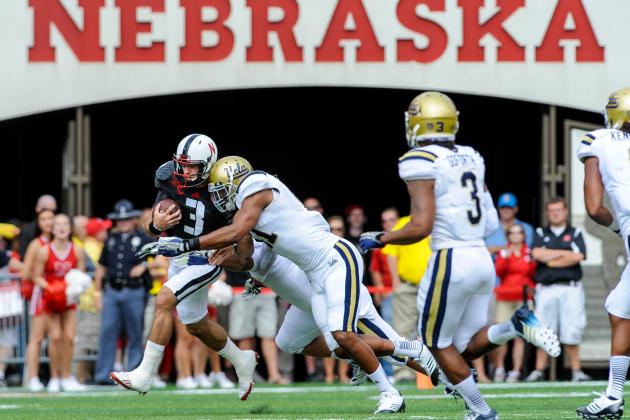 Eric Francis/Getty Images

Saturday, Sept. 21 | 10:30 p.m. ET | Pac-12 Network
Interesting fact about New Mexico State: the university's "Aggie Fight Song" is the only to my knowledge that references getting drunk in the lyrics. See for yourself:
And when we win this game
We'll buy a keg of booze
And we'll drink it to the Aggies 'til we wobble in our shoes
There won't be much toasting of NMSU this week. An Aggie team that is 0-3 with a 31-point per game average margin of defeat is up against its most imposing challenge yet.
Star linebacker Anthony Barr may not see a ton of playing time, because this game is a perfect opportunity for head coach Jim Mora to play reserves, but expect Barr to pull a Charles Jefferson-against-Lincoln High on the overmatched Aggies in limited action.
Mora's halftime adjustments won't be necessary this week. Things should get out-of-hand in the Rose Bowl relatively quickly.
My Prediction: UCLA 52, New Mexico State 10