NFL Power Rankings: Where All 32 Teams Stand After Week 2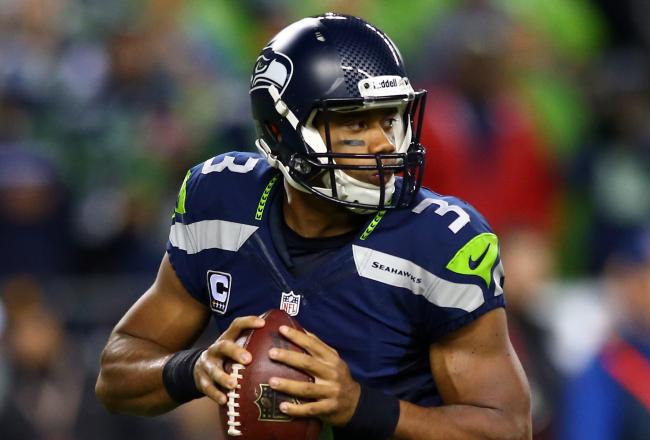 Jonathan Ferrey/Getty Images
With two weeks down in the NFL season, we are seeing what all of these teams are really made of.
Offseason hype and predictions are important things to look at heading into the season, but now we can start to buy or sell these teams based off of the first two games of the year. As of right now, we have two playoff teams from 2012 at 0-2 and four teams that weren't in the playoffs at 2-0.
The NFL is popular in part because of the parity between teams. We're seeing that already this season, and the power rankings are starting to take a different shape than we expected before the season began.
32. Jacksonville Jaguars
This is one that no one is really surprised about.
The offense for the Jaguars is nonexistent. Through two games, they've put up just 11 points and have a league-worst minus-36 point differential.
Until the quarterback situation gets fixed, which isn't likely in 2013, this team is going to be the favorite to "win" the No. 1 overall pick in April.
31. Cleveland Browns
The Browns almost won against the Baltimore Ravens, but things still did not look good for the offense.
According to coach Rob Chudzinski, Brandon Weeden could possibly miss time due to a sprained thumb as well, via the team's Twitter account.
Coach Chud is waiting to name a starter to see how QB @bweeden3's thumb responds to treatment. http://t.co/SgjfMj5bQ7

— Cleveland Browns (@Browns) September 17, 2013
It's hard to think that this offense could be much worse, but it likely would be if Weeden has to miss time. Things are bleak in 2013, and it looks like it's going to be another rebuilding year in Cleveland.
30. Oakland Raiders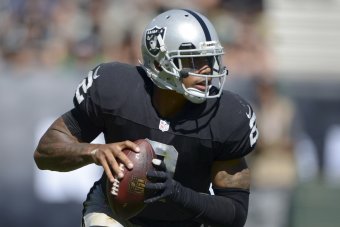 Kirby Lee-USA TODAY Sports
The Raiders are still one of the lowest teams on this list, but it's looking like they could move up the boards as the season moves on.
Terrelle Pryor is looking a lot better than expected. He almost led the team to a win over the Indianapolis Colts and then came back and led the team to a win over the Jaguars. Darren McFadden looked healthy and ready to go for the rest of the season after running for 129 yards on Sunday.
A team that didn't look to have a lot of talent on its roster is playing at a pretty high level so far, and the Raiders should start moving up this list assuming they keep playing like they are.
29. Tampa Bay Buccaneers
I'm tempted to have the Bucs up higher on the list, but Greg Schiano needs to get his players under control.
There appears to be a real lack of discipline on this team. Josh Freeman reportedly has a rocky relationship with the head coach. The team had 10 penalties for 118 yards, and the Bucs barely lost their game 16-14.
Until this team gets rid of sloppy penalties, I'm not putting the Bucs any higher than No. 29.
28. Washington Redskins
Something is seriously wrong right now in Washington.
The Redskins have been beaten easily two weeks in a row by the Green Bay Packers and Philadelphia Eagles. Robert Griffin III hasn't been the same player, and the defense is giving up way too many points. Aaron Rodgers went off for 480 yards and four touchdowns in Week 2.
The Detroit Lions come into town next Sunday with an intimidating defense, and Redskins fans will be praying that RGIII can stay upright for the majority of the game.
27. Pittsburgh Steelers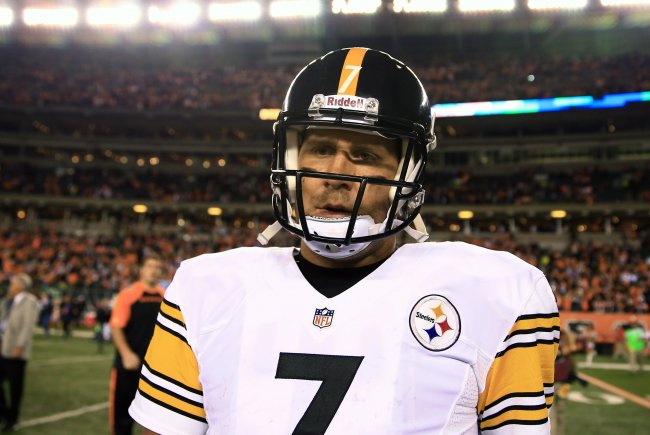 Andrew Weber-USA TODAY Sports
Ben Roethlisberger isn't going to be able to do it all for the Steelers, and the running game is not going to do him any favors this season.
The ground game for the Steelers produced just 44 yards on 16 carries against the Cincinnati Bengals on Monday Night Football. Running backs are dropping like flies on this team, and now Felix Jones appears to be the starter.
This team is already dealing with a number of injuries, but the return of Heath Miller might turn things around. We will have to see if that can actually help this aging and banged-up team.
26. New York Jets
The Jets are looking better than a lot of people were expecting, but there are still things they need to work on.
The defense has been solid, limiting Tom Brady to just 185 yards and a touchdown last Thursday. On the other hand, the offense is struggling as predicted. Geno Smith had a tough game, throwing three interceptions to the Patriots.
Smith needs weapons, sure, but he also needs time to develop. His upside is limited, but this team could be better than people were expecting, if only by a little bit.
25. Minnesota Vikings
If it wasn't for Adrian Peterson, this team would probably be in even more trouble right now.
The defense and special teams looks pretty good to start the season, but Christian Ponder is not getting the job done so far. He has four interceptions and two touchdowns to start the season, and he's missing some easy reads and making some bad throws.
I still think that Ponder can turn it around. We've seen flashes at times, but they've been just that. He has a chance to be a serviceable QB, but the Vikings might be looking for a new option in the draft if he doesn't turn it around this season.
24. New York Giants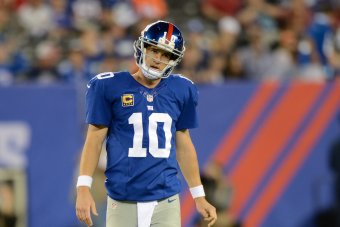 Ron Antonelli/Getty Images
The Giants have committed 10 turnovers in two games. That's simply not acceptable.
Eli Manning—yes, Eli—leads the NFL with seven interceptions. The team is not looking like it used to, and Tom Coughlin has to be going crazy in his office.
Expectations are still high for this team, but the Giants need to start winning games now.
23. Carolina Panthers
This is a hard team to judge. The Panthers are 0-2, but they're just a handful of plays from being 2-0.
The defense looks like it has the potential to be really good down the road with a lot of nice pieces, but the team is working on gelling together right now. Cam Newton is still looking like a strong quarterback who could lead this team to a strong season.
The Panthers will be playing the Giants this week, and the loser will be 0-3. Ron Rivera is as good as gone if that happens.
22. Buffalo Bills
Is E.J. Manuel the answer in Buffalo? He just might be.
The rookie QB out of Florida State led his team to a comeback victory over the Panthers and looked incredibly calm and collected throughout the game, even after throwing a critical interception.
A close loss to the Patriots and a win over the Panthers is giving the Bills some credibility, but they need to show that they can stay consistent, unlike in years past.
21. Detroit Lions
Another team that's struggling staying disciplined. The Lions arguably have one of the more talented rosters in the NFL, but penalties were an issue against the Arizona Cardinals, having eight of them for 101 yards.
The offense now has an extra dimension with Reggie Bush, but he needs to stay healthy after having several injury concerns through just two weeks. The offense is going to win some games, but the defense is going to need to hold up if this team wants to be a playoff contender.
20. Tennessee Titans
I really think this would be a team that could make a push in the AFC if Jake Locker wasn't its quarterback.
The Titans came incredibly close to starting the season 2-0 but lost in overtime to this Houston Texans. Chris Johnson is off to a good start, and the defense is holding its own. If Locker proves me wrong and plays well all year, this team can go above .500.
19. Arizona Cardinals
Patrick Peterson should play quarterback.
OK, not really, but that was a heck of a throw. Meanwhile, Carson Palmer is looking much better than any of the quarterbacks who played last season.
The team as a whole is improving this season, but it's a hard division for the Cardinals to succeed in. Still, this team could get seven or eight wins this season.
18. St. Louis Rams
Sam Bradford almost had no one to throw to last season, but that looks a lot different this year. Jared Cook and Tavon Austin have been welcome additions to the passing game.
The defense is also very underrated, and this team nearly came back from down 24-3 against the Falcons. There's a lot to like about the Rams, and we will see if they can start the year 2-1 this Sunday against the Dallas Cowboys.
17. Dallas Cowboys
The NFC East is wide open this season, and the Dallas Cowboys need to prove that they can stay consistent enough in 2013 to take control of the division.
Tony Romo hasn't been a bad quarterback over the past few seasons, but the offense hasn't taken a lot of games over for the past few seasons, either. The Cowboys will be looking to do whatever it takes to avoid another 8-8 season, and they hope they can do that by winning more games rather than less.
16. Philadelphia Eagles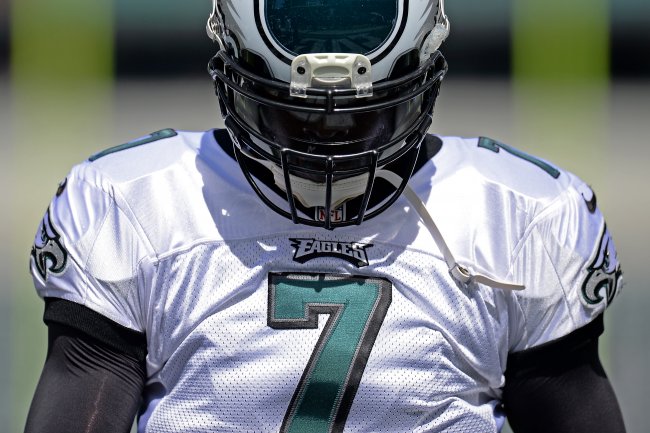 Patrick Smith/Getty Images
That offense is so much fun to watch.
Michael Vick is looking like his old self for the moment, and LeSean McCoy has been electric. Unfortunately, the defense has struggled. The unit has allowed 721 yards through the air, the second worst in the NFL.
This offense is going to win them some games, but the defense needs to step up. Regardless of how the season ends, I'm going to enjoy watching this offense for the rest of the year.
15. Indianapolis Colts
Andrew Luck comes up with some incredible plays late in games, but his magic ran out against the Dolphins in Week 2.
The pass rush looked a little better this past week, but Ryan Tannehill had way too much time to throw on some plays. The Colts also lost offensive guard Donald Thomas in the game, a huge loss to the offensive line. According to Mike Chappell, Thomas was put on injured reserve and is done for the year.
#colts place G Donald Thomas on IR; waived FB Dan Moore from IR with injury settlement

— Mike Chappell (@mchappell51) September 17, 2013
This team has even more questions after this game, but Luck will find ways to win games.
14. San Diego Chargers
An epic collapse in their first game was a concern, but the Chargers offense still looks really good.
Philip Rivers is off to a very hot start. He has 614 yards, seven touchdowns and just one interception. Eddie Royal has been the surprise of the year so far in catching five touchdowns, already tied for the most in one season during his career.
This team is trying to prove it's the real deal, and thanks to the offense, I'm buying into it for now.
13. Baltimore Ravens
The defending Super Bowl champions are struggling so far, but at least they're 1-1.
Joe Flacco and the rest of the offense has been very bland so far. Jim Caldwell was supposed to make Flacco look like he did in the 2012 playoff run, but it looks like the Ravens are missing Anquan Boldin more than originally anticipated.
The ground game has been surprisingly bad so far, but that should turn around as the season moves on, even if Ray Rice isn't healthy this week.
Ray Rice may not practice this week, but the Ravens want to get him ready to play Sunday. http://t.co/gq3ryRzkJK

— Baltimore Ravens (@Ravens) September 16, 2013
People are concerned about the Ravens right now, but that defense should help them turn it around after a rough start.
12. Miami Dolphins
Winning on the road is tough. Doing it in two straight games to start the season is even tougher.
The Dolphins secondary has looked very good through two games, and the pass rush looks even better. The combination of Dion Jordan and Cameron Wake could be very dangerous as the season progresses.
On offense, Mike Wallace finally got the chance to prove himself and stepped up big, grabbing nine catches for 115 yards and a touchdown. Ryan Tannehill now has another option to go along with Brian Hartline.
This could be the year the Dolphins finally make it into the playoffs for the first time since 2008.
11. Atlanta Falcons
The Falcons receivers are hobbled already, and that means that the team is slow coming out of the gate.
A 1-1 record isn't how the Falcons wanted to start, but they'll have to manage. Matt Ryan and the offense are still producing with Julio Jones and Roddy White playing through injury, and the defense is making plays.
They may not be the best team in the NFC South right now, but they're still a team that will likely be in the playoffs at the end of the year.
10. Kansas City Chiefs
Andy Reid and Alex Smith have taken a team that was 2-14 last season and matched that win total in just two games.
The defense has been very good so far, but some of that might have to do with playing the Jaguars in Week 1. The offense looks balanced with Smith through the air and Jamaal Charles.
While this team isn't a Super Bowl contender just yet, the Chiefs have turned it around very quickly after such a bad season in 2012.
9. Cincinnati Bengals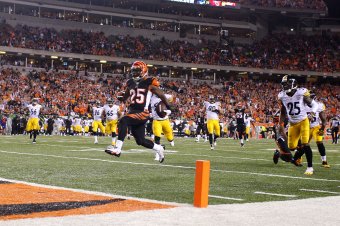 Kirk Irwin/Getty Images
There are a lot of pieces to like on this Bengals team.
I'm still a supporter of Andy Dalton, and he's playing alright to start the year. The defense will do a good job of keeping the team in games, and A.J. Green presents an excellent target for Dalton that can shift the momentum of the game at any moment.
This is a top-10 team right now, but the Bengals could fall out of it if they have a bad showing this week against the Green Bay Packers.
8. New Orleans Saints
The Saints shouldn't have won their game against the Tampa Bay Buccaneers, but this is still one of the best teams in the NFC.
The defense looks so much better than it did last year, and the team has allowed just 31 points through two games. Drew Brees is going to put up numbers every week, and if the defense plays at this level, the Saints will always be in contention in all 16 games this year.
This team is going to be a legitimate threat in the NFC, but we will see how good New Orleans really is when it plays teams like the Bears, 49ers and Seahawks.
7. New England Patriots
I don't know what's going on in New England, but it doesn't look good.
Tom Brady looked clearly frustrated with his receivers like Aaron Dobson and Kenbrell Thompkins, who both looked lost out there at times. The defense really bailed the team out last Thursday, and that's not something I'm used to hearing when it comes to the Pats.
These receivers are going to look better this week, mostly because Brady is going to make sure they do. If the Pats struggle again, this team is going to be a big question mark in the AFC.
6. Houston Texans
Talk about some close games. The Texans have won by an incredible comeback against San Diego and now an overtime win over the Titans.
DeAndre Hopkins has shown that he's a legitimate No. 2 receiver opposite of Andre Johnson, and that makes this offense even more dangerous and balanced.
The AFC South isn't looking too strong right now, so the Texans should take it without much trouble. What they will struggle with, however, is proving that they can make a deep playoff run.
5. Chicago Bears
When the pressure isn't in Jay Cutler's face, this is apparently one of the better teams in the league.
Somehow, Cutler has been sacked just once in two games. The offense is looking a lot better this season, and the defense is meshing decently without Brian Urlacher.
Marc Trestman has done a great job so far coaching this team, and that could be big as the season goes on.
4. Green Bay Packers
One week after the defense couldn't contain Colin Kaepernick, the Packers as a whole looked a lot better by beating down the Redskins.
The offense looked unstoppable. Rodgers threw for 480 yards, and James Starks ran for 132. According to ESPN Stats & Info, Starks broke the streak of 44 straight games for the Packers without a 100-yard rusher.
James Starks: snaps @Packers streak of 44 straight regular-season games without a 100-yard rusher

— ESPN Stats & Info (@ESPNStatsInfo) September 15, 2013
Rodgers is probably the best QB in the NFL at the moment, and the team around him looks good enough to try and make a Super Bowl run, although the Packers will have to get through some tough NFC teams.
3. San Francisco 49ers
The 49ers got picked apart by the Seattle Seahawks, but there might not be many other teams that can take them down.
The secondary looks like it's struggling a little bit, but the pass rush should hide that to a degree. Kaepernick looked uncharacteristically bad on Sunday night, but that likely won't be the case when his offense can actually hear what he's saying.
2. Denver Broncos
Peyton Manning is getting up there in age, but it doesn't look like he's showing any signs of slowing down.
Who do you think is the best team in the NFL?
Knowshon Moreno stepped up big in the win over the Giants, running for 93 yards and two touchdowns. As if the offense couldn't be any more deadly, a healthy and consistent Moreno could make this the best offense in the NFL without question.
Once Von Miller returns, this team is going to be even scarier and will be a Super Bowl favorite in the AFC.
1. Seattle Seahawks
Regardless of the offensive firepower from the Broncos, there isn't a more complete team in the NFL than the Seahawks.
Russell Wilson is becoming a great NFL QB, Marshawn Lynch is truly a beast, the defensive front seven is continuing to improve, and the secondary is hands down the best in the league. Seattle showcased all of this in one game against the 49ers, winning 29-3.
When the Seahawks play at home, they're unstoppable. If they can play as well on the road, this team would easily go 16-0.
This article is
What is the duplicate article?
Why is this article offensive?
Where is this article plagiarized from?
Why is this article poorly edited?