Notre Dame Fighting Irish vs. Michigan State Complete Game Preview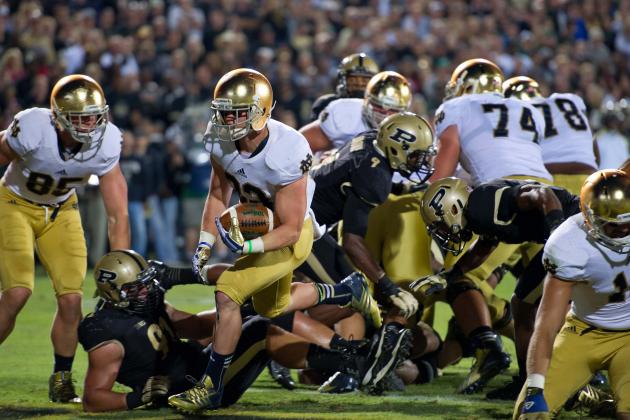 Matt Cashore-USA TODAY Sports

The proverbial birth of the dominant 2012 Notre Dame defense transpired within the confines of Spartan Stadium last September during a rivalry game that has been earmarked by stingy defensive play and physicality.
Roughly one year later, the Irish defense is the team's leading storyline once again, though for unfavorable reasons this time around.
Defensive coordinator Bob Diaco's unit allowed 24 points and 294 total yards to Purdue's 116th-ranked offense last week in West Lafayette, Ind., a sign that this season's Notre Dame defense has certainly regressed from its 2012 form.
Meanwhile, Michigan State has been enjoying incredible defensive success during its first three games, earning a No. 1 ranking in total defense.
That unit spurred the Spartans to a 55-17 home victory against Youngstown State last week, limiting the Penguins to just 172 total yards.
The Spartan defense could well indeed be a critical factor in avenging last season's 20-3 loss to the Fighting Irish.
Here's what you need to know about Saturday's meeting.
Time: 3:30 p.m. EDT
Place: Notre Dame Stadium
TV: NBC
Radio: Notre Dame IMG Radio Network, Spartan Sports Network
Spread: Notre Dame by 6.5, per VegasInsider.com
Begin Slideshow

»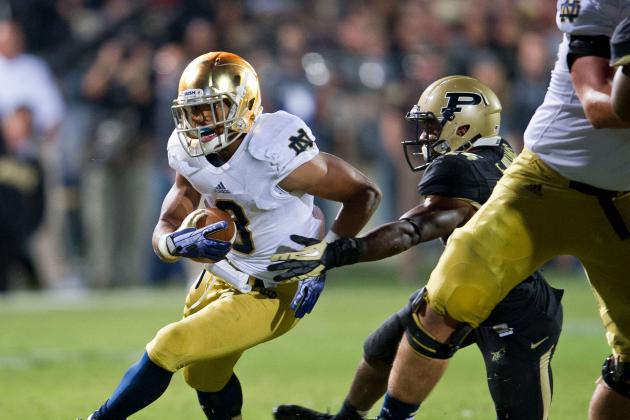 Matt Cashore-USA TODAY Sports

In Notre Dame's two consecutive victories against Michigan State, the Irish have dominated the line of scrimmage, particularly in the running game. The Spartans were out-rushed in both games. The Irish combined to 236 yards (114 yards in 2011 and 122 in 2012), while the Spartans combined to just 79 yards (29 yards in 2011 and 50 yards in 2012).
However, Notre Dame head coach Brian Kelly and Co. haven't experienced similar success in that facet of the game during the last two weeks.
Both Michigan and Purdue limited the Irish to less than 100 rushing yards, perhaps a terrible omen for this week's matchup against the nation's No. 1-ranked defense.
Clearly, it's paramount for the Notre Dame offense to establish the run early. If not, the Spartan defense will wreak havoc while forcing the Irish offense to become one-dimensional.
Defensively, Notre Dame must overcome its deficiencies at the linebacker position.
Inside 'backers Dan Fox and Carlo Calabrese have been wholly ineffective in pass coverage, allowing for opposing offenses to "dink and dunk" down the field as Kelly quipped following his team's season-opening 28-6 victory against Temple, per NBC Sports.
Should Fox and Calabrese persist as liabilities in pass coverage, things could get ugly Saturday afternoon.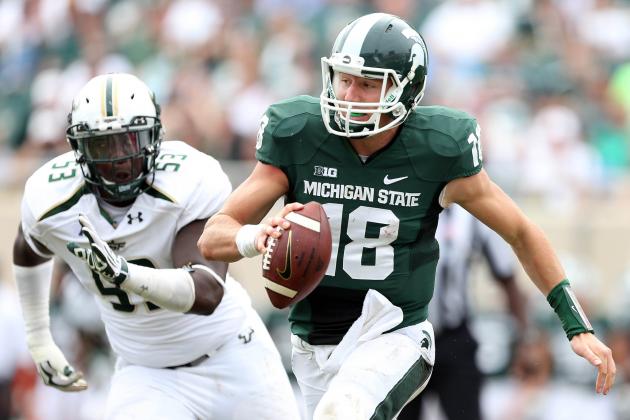 Mike Carter-USA TODAY Sports

As previously mentioned, the Spartans have been ineffective running the football against Notre Dame during the past two editions of the rivalry.
Michigan State head coach Mark Dantonio prides himself as a gritty, run-it-down-your-throat tactician. That philosophy played out well last week, as his team amassed 270 rushing yards against Youngstown State.
The Spartans need to go to the ground early and often against Notre Dame to open up the passing game, operated by starting quarterback Connor Cook.
With both teams intent upon winning the battle at the line of scrimmage, Michigan State must assert itself from the start.
However, a winning effort will be necessary from a Spartan defense that has played lights out during the first three games of the season—three consecutive victories.
Should defensive coordinator Pat Narduzzi's unit consistently corral the Irish rushing attack, quarterback Tommy Rees will be forced to beat Michigan State with his arm. Rees was tasked with the same challenge against Michigan, a game that ended with a 41-30 Notre Dame loss.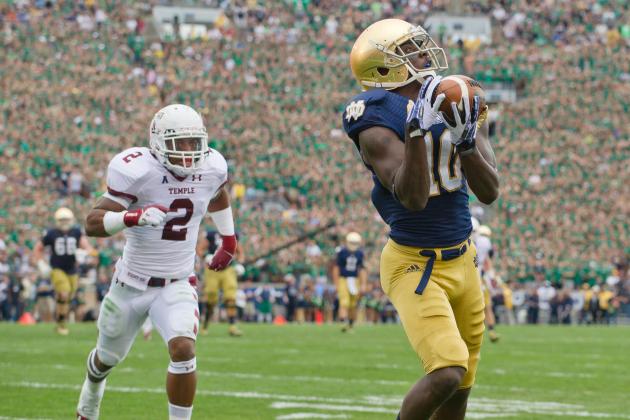 Matt Cashore-USA TODAY Sports

No single player on the Notre Dame roster has been more explosive this season than receiver DaVaris Daniels.
The 6'2", 190-pound wideout leads the team in receiving yards, having racked up 299 yards on 17 receptions. The Lake Forest, Ill., native also leads the team in touchdown receptions with four—two each against Temple and Purdue.
Three of Daniels' scores have come from 32 yards, 32 yards and 82 yards, respectively, signifying his ability to stretch the field as a deep threat.
While not having made as much noise or generated as many headlines as Daniels, safety Austin Collinsworth has led an Irish secondary that has come under fire during the first three weeks of the season.
Kelly spoke highly of Collinsworth during his weekly meeting with the media Tuesday afternoon, via Notre Dame's official athletics website.
I think the word that I would use the most is trustworthy, words like consistency. He's not going to wow you with a physical presence, but yet those two words are so important at that position that he's really settled us down in that sense. He's really smart, communicates well, and as you can see by the number of reps that he's picked up over the last game and a half, you could probably know what my answer was going to be relative to Austin Collinsworth. It's been trustworthy and consistency.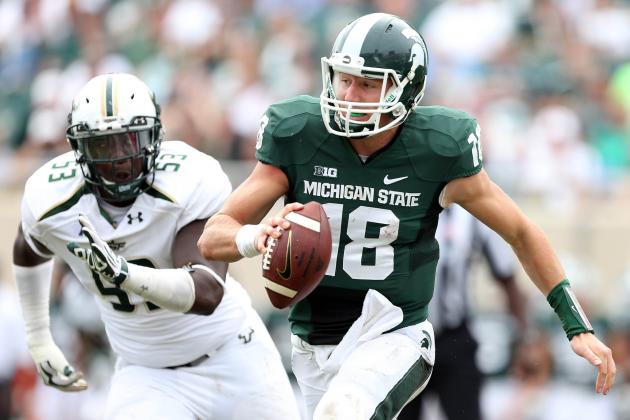 Mike Carter-USA TODAY Sports

The quarterback position at Michigan State remained largely unsettled through the first two weeks of the season, but an answer has arisen in the form of sophomore Connor Cook.
The Hinckley, Ohio native had an extremely efficient performance against Youngstown State last week, completing 15 of 22 passing attempts for 202 yards and four touchdowns.
Yet what makes Cook more of a threat than fellow quarterback Andrew Maxwell is his ability to move the chains with his feet when necessary. Now, Cook isn't a run-first quarterback by any means, but he's mobile enough to pick up first downs as a rusher should the play break down.
Matching Cook's productivity has been defensive end Shilique Calhoun, a 6'4", 240-pounder out of Middletown, N.J.
Calhoun has recorded two sacks, three tackles for loss and an interception through three games.
Such a disruptive defensive presence along a fearsome defensive line could cause headaches for the Notre Dame offensive line.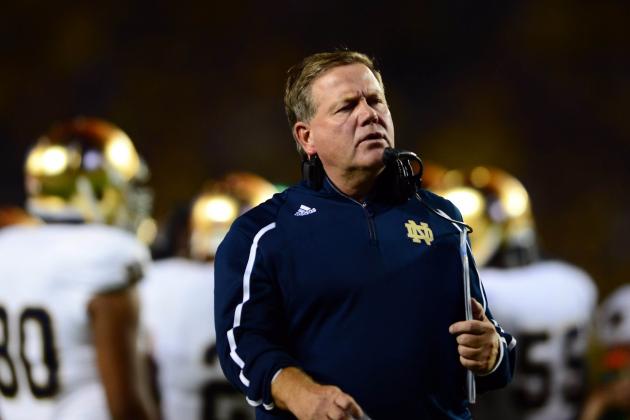 Andrew Weber-USA TODAY Sports

Notre Dame head coach Brian Kelly on matching Michigan State's physicality, per UND.com:
"Our kids have played in the game and a lot of them have played in it; they know the kind of game it is. So it's not like I have to stand in front of them and get them ready for this fight. They know what kind of fight it's going to be."
Michigan State head coach Mark Dantonio on Notre Dame quarterback Tommy Rees, per msuspartans.com:
Obviously he uses the clock a lot, checking a lot, doing those types of things. The ball can be snapped at any time. That's what is the tough thing about it. Sometimes you have to show things, get out of things, make adjustments. But he does a great job doing that. He does a great job throwing the ball down the field. I've been very impressed with him standing in there and taking a hit, getting out of a bad play, getting into another one.
Kelly on Michigan State defensive end Shilique Calhoun, per UND.com:
"Well, you'd better know where he is. Obviously, he's had a couple fumble recoveries. He's tall, he's long, extremely athletic."
Dantonio on the meaning of the Notre Dame rivalry, per msuspartans.com:
"For me personally, it's always been a big game, very big game...I think it's one of those games you take stock. After your career is over, you say, 'This is what happened there.'"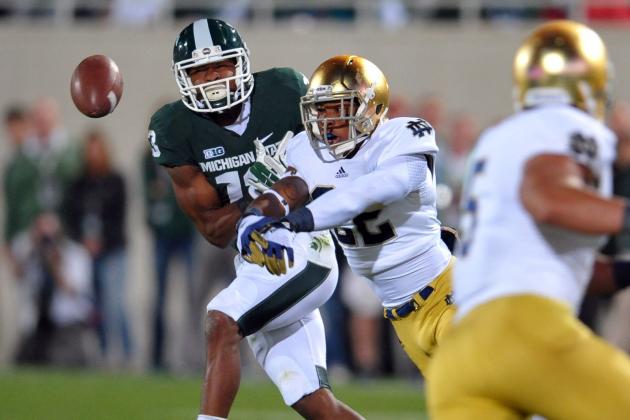 Matt Cashore-USA TODAY Sports

Notre Dame has followed, perhaps, the simplest formula for success to defeat Michigan State in consecutive seasons: run the football and play outstanding defense.
But with a running game that has failed to hit on all cylinders and a defense that appears to be a much lesser version of the legendary 2012 unit, winning on that formula seems nearly out of the question, particularly facing a stout Michigan State front seven.
The Irish have already struggled to produce the type of rushing output they would have liked against the likes of Michigan and Purdue, and the task doesn't become any easier against Michigan State.
And with the Spartans seeming to have hit their stride during their victory last week, the outlook doesn't look too bright for the Irish.
However, having performed in disappointing fashion last week at Purdue, Notre Dame should come home with a vengeance.
Kelly and Co. win by a touchdown.
Prediction: Notre Dame 28, Michigan State 21